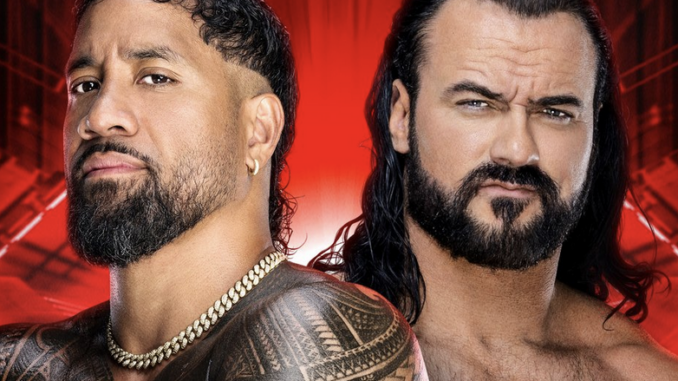 ---
SPOTLIGHTED PODCAST ALERT (YOUR ARTICLE BEGINS A FEW INCHES DOWN)...
---
Ongoing Jey Uso Saga – HIT: While the Bloodline and Jimmy Uso are sputtering on Smackdown lately, Jey Uso continues to be part of good work on Raw. This week's theme was about the Judgment Day giving him an ultimatum to decide whether he would join their faction by the end of the night. We got multiple segments and matches that surrounded Uso and the Judgment Day along with Cody Rhodes, Sami Zayn, Kevin Owens, and Drew McIntyre. It was all well done starting with the opening segment all the way through the main event. I will highlight a few of those individual segments, but overall this story was a Hit.
KO – HIT: I continue to enjoy Owens' reactions to Jey now that he is on Raw. This week, he had a chance to question why Cody Rhodes helped to coordinate this move. Rhodes's answer that he wants to make the fans happy was weak, but the overall segment was strong from Owens' performance. I appreciate how he doesn't trust Uso, but does trust both Sami and Cody. What will this all lead to? Time will tell.
Ivar vs. Kingston – HIT: This was a good match. The two-out-of-three falls match between the Viking Raiders and New Day would have likely been very good, but this was a perfectly fine consolation prize due to Erik's injury. This was a good 13 minute match between Ivar and Kofi Kingston. I wasn't thrilled with the ending. That moonsault from Ivar should have ended the match. That should be a finisher. AEW is worse at having these big moves not finish matches. They have fallen in love with the surprise near fall and go to it far too often. But, WWE is bad at it too. It also felt like the Raiders needed the win more here. But, the match itself was good enough to get a Hit despite my issue with the end.
Nakamura vs. Ricochet – MISS: The match was good until the ending with Ricochet being disqualified for using a chair on Shinsuke Nakamura. I wasn't a fan of having Nakamura get DQ'd in their first match. Having Ricochet do the same thing wasn't good either. Ricochet's role in the Nakamura vs. Seth Rollins feud hasn't been great. It would be okay to have Nakamura just beat him clean. The aftermath with Rollins worked well to continue the injured back angle. They effectively set up a big moment for next week's show to see if Nakamura accepts his challenge and what stipulation he picks.
Nia Jax – MISS: WWE is doing a very good job of telling the story of Nia Jax's return and building her up as an unstoppable monster who is taking on the entire women's division on Raw. I just wish they had picked someone else for this push. She isn't good enough for this treatment. Put the same energy into getting over some of the actually talented women who are currently being wasted on this roster.
Reed vs. Gable – HIT: I was sure that Chad Gable would get the win over Bronson Reed here, so I was pleasantly surprised that Reed got the win. The win means something for Reed given the push that Gable has been getting lately in his feud against Gunther. I felt that Gable should go on a journey to once again earn an Intercontinental Championship match. I assumed that story would start with this victory, but having him lose to start the journey will make that journey much better in the long run as he can overcome adversity on his way to the top. I am a big fan of Reed, so hopefully this can be the start of a push for him. Plus, it was a good match.
Lynch vs. Natalya – MISS: I would have rather seen the reported original idea for this match with Tegan Knox accepting Becky Lynch's open challenge for an NXT Women's Title match. No offense to Natalya, but she's at a level where she always will be. She's good. She can play a heel or a babyface. She can have good matches with any decent opponent. But, we don't know Knox's ceiling yet. She has a big upside, but hasn't connected with the audience yet. She hasn't been on TV in a long time. Giving her a long, surprisingly competitive match against The Man would be a big boost to her career. Imagine a good showing in a good match with an endorsement from Lynch afterwards. That would have meant something. This meant nothing. It was fine, but at only six minutes, half of which took place on a commercial break, it didn't do anything for either of these women. It wasn't a good way to capitalize on Lynch's Title win last week or the ratings bump she gave NXT.
Uso vs. McIntyre – HIT: This was a good main event that culminated the Jey Uso/Judgment Day story. McIntyre continues to lean into the heel turn. He took advantage of the distraction from Judgment Day at the end to hit the Claymore on Uso for the win and then he left Uso by himself to get beat up by Judgment Day afterwards. Of course, that was preceded by Uso making his decision clear in kicking the Judgment Day members off the ring apron, rejecting their attempt to recruit him. I wonder if they end up with Jimmy instead. Rhodes made the save at the end which makes sense. Plus, it came at the end of a very good match between two good wrestlers.
(Jon Mezzera is PWTorch.com's WWE Raw Hits & Misses Specialist, providing his point of view for Raw each week. Email him at jmezz_torch@yahoo.com. Follow him on Twitter @JonMezzera.)
---
RECOMMENDED NEXT: WWE Smackdown leaving Fox and returning to USA Network in 2024, four NBC Network specials also part of new five year deal
OR CHECK THIS OUT AT PROWRESTLING.NET: Vince McMahon's departure and return to WWE featured, WWE and UFC merger piece