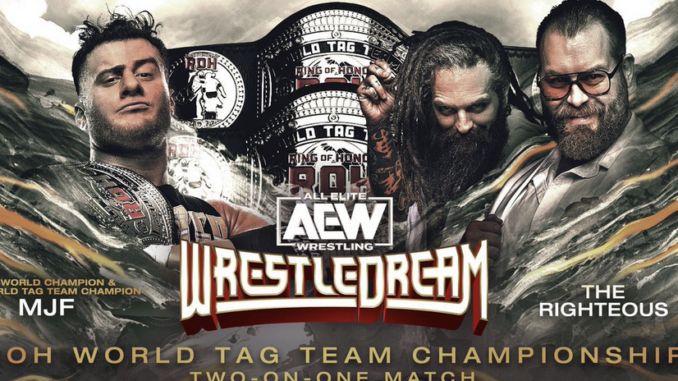 ---
SPOTLIGHTED PODCAST ALERT (YOUR ARTICLE BEGINS A FEW INCHES DOWN)...
---
HITS
Eddie Kingston vs. Katsuyori Shibata (ROH Title & NJPW Strong Openweight Title): I didn't go into this thinking that Shibata had much of a chance of winning but the match was still very enjoyable and well worked. The physical, hard hitting style was a lot of fun and plays to Kingston's strengths. Shibata did take more shots closer to the head and neck than I've seen him take since coming over the US. If you know Shibata's history that should surprise you also. However, it's great to see Shibata having matches on PPV in 2023 considering his career was given a death sentence just a few years back.
Kris Statlander vs. Julia Hart (TBS Title): This was better than most thought it would be. Hart has improved so much in the past year or so and she's still only 21-years old. There was one, maybe two, clunky spots but it was still a strong match. I still might've pulled the trigger on a title change here. Hart is very over with he live crowds and, as stated, she's much improved. Statlander hasn't recaptured the buzz she had before he most recent injury. Is it because she was vaulted right to the top of the division without us seeing the recovery? Perhaps. I think an argument could be made that if we'd seen her climb back to the top on TV she'd be much more over right now than she is. I'm not saying she's dead in the water but she still seems to be missing something that didn't come back with her when she returned this past summer.
Swerve Strickland vs. Hangman Page: Depending on how you like your wrestling, you could argue this was the match of the night/show stealer. Strickland and Page had a heck of a match here. The crowd was really behind the hometown Strickland and really laid into Page! It was fun to see Page lean into the heat but not actually go heel just for one night. The same could be said for Strickland. While he soaked up the adoration, he still held true to being a heel at the end to help push along this story that definitely feels like is not over. I'm looking forward to the continuation of what has been a very good feud so far.
Bryan Danielson vs. Zack Sabre Jr.: And depending on how you like your wrestling, you could argue this was the match of the night! This was a technical showcase of the highest order for sure. I do get the feeling that Danielson and Sabre will run this one back since Sabre declined the handshake at the end. That means we might be getting a rematch of this and a rematch between Danielson and Kazuchika Okada in the next 12 months. If you're a fan of great in-ring pro wrestling, that should really excite you. What would excite me about a rematch between Danielson and Sabre is that the next match between these two could be completely different from this one and also be a classic. I look forward to that potential rematch.
Kenny Omega & Kota Ibushi, & Chris Jericho vs. Will Ospreay & Konosuke Takeshita & Sammy Guevara: If you're gonna put these six in a match together it might as well be a spot fest and it certainly delivered and I mean that in the best way possible. The finish with Don Callis nailing Jericho with the bat to go over ensures that this feud will continue and I'm open to seeing where it goes. I did enjoy Jericho and Omega teaming on Collision and would be open to seeing more of that. I also was encourage by Ibushi as he continues to round more into form with each AEW appearance. However, I wouldn't be surprised if most of this feud continues without the services of Ibushi and Ospreay.
FTR vs. Aussie Open (AEW Tag Titles): This was a great tag title match! Kyle Fletcher and Mark Davis will be future tag champs in AEW but tonight was not the night to do it. I'm very hopeful that Tony Khan starts to book them the way that they should be because they could be a major force in the tag division for years to come. Even more impressive is that it looked like Davis was working with a badly injured wrist. I wouldn't be surprised if it was broken during the match but I'm just speculating. Assuming Davis can still work I hope Aussie Open gets back on track and starts to get pushed like a top tier tag team going forward because the sky is the limit for them as a team.
Christian Cage vs. Darby Allin (TNT Title): I already stated this on Twitter/X (follow me there!) but Christian Cage is largely known due to his WWE work. However, his best solo work has been in TNA and now in AEW. He is a tremendous heel and his dedication to kayfabe rivals that of MJF. I truly salute him for that. As for this main event, I was totally into it. The first fall with Christian being foiled by Allin using the turtleneck was comical and equally amazing. I have to also salute Darby Allin for his blatant disregard for his own safety when it comes to some of these spots. But, while I salute him, someone needs to take him aside and talk some sense into him. I know he doesn't expect to have a long career because of some of these bumps he's taking but I don't think anyone wants to see his career end in match either. I thought the Nick Wayne turn was set up well and didn't need to feel as convoluted as it did but that's just me nitpicking. Christian taking on Wayne as his understudy could be a ton of fun and I'm certainly looking forward to that. Christian is doing the best he can to breath life back into the TBS Title and elevate it much in the way that Orange Cassidy elevated the International Title this past year.
Adam Copeland debut: While it was a bit silly that Christian waited through a full vignette and Copeland debut entrance while deciding not to pull the trigger on completing his attack, this was still a lot of fun. I suppose it could be argued that Cage really did believe that Edge was there to join him and that's why he didn't continue the attack. I'm a bit shocked that WWE let the "Rated R Superstar" copyright expire. Reports from Sean Ross Sapp recently stated that Copeland would be able to basically use the same entrance that he did in WWE so that wasn't quite as surprising. Despite Copeland's age, he doesn't work like he's 49-years old and this is a good get for AEW. This was definitely treated like the big deal that it should've been but I do have more to say on this below.
Overall Show: This was a very good show from top to bottom. Despite there being some misses, there wasn't a poorly worked match on the card (usually typical for AEW shows). This was the second straight show where the AEW World Title wasn't defended and, honestly, both shows delivered in big ways. If built properly, some PPVs can be headlined by the International, AEW Tag Team, or TNT Title. I'd love to add the AEW Women's Title to that list but the division is not there yet. The big thing with AEW PPVs though is still the length. Two of the matches I talk about below could've been cut and the show would've benefited from it. The old saying of "addition by subtraction" or "less is more" come to mind. AEW does give you a ton of bang for your buck when it comes to these shows. However, 4 hours with little-to-no buffer between matches is a lot for any fan to swallow. I don't think any fan would feel cheated with the main show going 3-to-3.5 hours instead of 4-plus. If this isn't something Tony Khan wants to do, then maybe start the shows an hour earlier because east coast fans have a tough go with shows going past midnight. My overall grade: B+
---
MISSES
The Righteous vs. MJF (Handicap match; ROH Tag Titles): There was nothing wrong with this match and it was well worked by MJF and both Vincent & Dutch. If/when MJF faces someone the caliber of Vincent & Dutch this is how the match should be booked. Everyone worked hard to get over what needed to be done. Having said that, it's more the idea that MJF is still in this match. There's no point in keeping the ROH Tag Titles on MJF (and Adam Cole for that matter) at this point. I assume this is part of a bigger, over-arching story that will make sense down the road but MJF is a legitimate star for AEW and shouldn't be showcased in this type of match on a PPV. I understand the idea of MJF defending these title by himself to show his true commitment to Cole in their friendship but this is a miss just because it's a blatant misuse of MJF on a PPV.
Young Bucks vs. The Gunns vs. The Lucha Bros. vs. Hook & Orange Cassidy: This gets a mild miss for me. The match itself was fine and there were no real complaints there. But, the match had no real heat and the build for it was minimal. There's also a logic gap in having, what is basically, a Number One Contenders match for the AEW Tag Titles when there's an ongoing open challenge for them on Collision. Why put in the work when you can show up and just have a title match on Saturday night? The crowd also didn't seem to be excited about The Bucks winning. Were they apathetic due to the "same old" attitude or did they just expect them to win? Having said that, this does mean we'll get another Bucks vs. FTR match and I think they'll build on the match that they had at All Out (which, I said was very good but could've been better; perhaps they held back with this in mind?).
Wheeler Yuta vs. Ricky Starks: Another minor miss and I can basically make a similar argument here for Starks that I did for MJF. Starks' star continues to brighten but this could've easily been a featured match on Dynamite or Collision. I understand wanting to get Starks on PPV but this match was a throwaway. Both guys worked really hard and I have no complaints with the in-ring work. As stated above in the overall review, a few matches could've been trimmed off of this card and this was one of them.
The "New Era": Adam Copeland arriving is a huge deal. I don't care how old he is. He can still work and he's a big name. Having said that, promoting this as a "new era" when the signee is just shy of 50-years old is hyperbolic. For most, the "new era" would've been Tony Khan buying a part or all of New Japan Pro Wrestling or, more importantly here in the U.S., signing a new deal with Warner Brothers Discovery and announcing the end of this PPV model and getting those shows on Max. This is not me crapping on the idea that Copeland is a big deal. He certainly is. But a "new era?" No, certainly not.
(Tony Donofrio is a PWTorch.com contributor. You can contact Tony at tonydonofrio@icloud.com and follow him on Twitter/X and Threads @TonyDonofrio.)
---
RECOMMENDED NEXT: LECLAIR'S AEW WRESTLEDREAM 2023 REPORT: Alt perspective, detailed coverage of Cage vs. Allin, Danielson vs. Sabre Jr., Page vs. Strickland, more
OR CHECK THIS OUT AT PROWRESTLING.NET: AEW WrestleDream Hit List: Adam Copeland debuts, Darby Allin vs. Christian Cage in a best of three falls match for the TNT Title, Bryan Danielson vs. Zack Sabre Jr., Swerve Strickland vs. Hangman Page