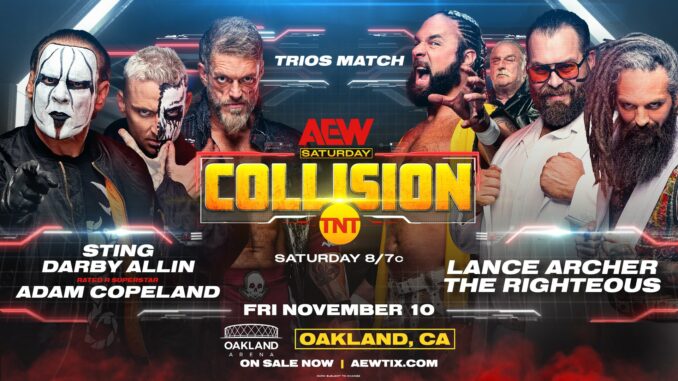 ---
SPOTLIGHTED PODCAST ALERT (YOUR ARTICLE BEGINS A FEW INCHES DOWN)...
---
AEW COLLISION – HITS & MISSES
NOV 11, 2023
OAKLAND, CALIF.
AIRED LIVE ON TNT
BY DAVID BRYANT, PWTORCH CONTRIBUTOR
Commentators: Nigel McGuiness, Tony Schiavone
---
– Hey! Welcome to another AEW Collision Hits & Misses column! I am so sorry this column is so late. I live in the a—crack of bumf—-, and my electricity is secretly being controlled by the monster in NOPE. Therefore, this column will be written while my nieces are running around me like hooligans sucking cocaine out of a PEZ dispenser. And despite my natural instincts, I am not going to Christian-Cage them into a basement I dug in the backyard because I love them.
COLD OPEN — HIT
– Adam Copeland asked, "What happens when an icon, an iconoclast, and a freak walk into a wrestling ring?" I don't know, but I'm pretty sure the answer is why aliens avoid Earth.
– Daniel Garcia asked if we wanted to see him dance over Dalton Castle's fallen body, and I don't know about my straight readers, but I'm pretty sure the answer is yes.
– The Righteous asked if we "got what they were saying," and I'm pretty sure the answer is no.
DANIEL GARCIA vs. ANDRADE EL IDOLO — HIT
These are two great athletes who gave us everything we could expect them to give, including a Miz jacket-entrance and a dance inspired by the resting face of a 1980s video game character.
C.J. PERRY's CHARACTER DEVELOPMENT — MISS
I like C.J. Perry, and I've always considered her to be a good actress. (Her Russian heel character is still one of the best-performed wrestling characters of all time.) However, even the best actresses need a good script (according to Joan Crawford, whose ghost lives in Toni Storm now), and whatever script Perry is reading from appears to have been written by 100 percent of Akiva Goldsman's creative decisions before 1999.
Side Note: I feel like I should introduce my nieces to video games. Those involve sitting still, right?
MIRO CARESSES A MONITOR — HIT
After this match, Miro shook his head and lovingly caressed a monitor so hard that the tips of his fingers left white streaks on the screen. (That man is a very, very strong man.)
DALTON CASTLE vs. NICK WAYNE — HIT
Dalton Castle played with a Persian cat for four minutes, and the cat won.
Side Note: My niece just pulled my hair. There is now gum in my hair.
CHRISTIAN CAGE EXISTING IN PUBLIC — MEGA-HIT
All of it.
HANGMAN PROMO —MISS
My main takeaway from this was that Adam Page wants to watch his son pee on Swerve Strickland. Cool.
Side Note: One of my favorite Texas Death Matches was Adam Page vs. Lance Archer (You can watch some of that match HERE), and if this match follows a similar formula (crazy but not so crazy it loses the plot to Akiva Goldsman), it could end up surprising everyone. I'm not predicting this match will be Saturday's match of the night, but there is certainly a universe in which it could be.
RUSH & DRALISTICO vs. J.D. DRAKE & ANTHONY HENRY — MINOR-MISS
This got more time than Dalton Castle vs. The Persian Cat?
Side Note: Rush is a serviceable babyface, and there are good ways to showcase him, but I'm not sure teaming him with Dralistico and Preston Vance is the best way. However, I'm open to being proven wrong on this, and I hope I will be.
Side Note: It wasn't gum. It was slime my niece says she made herself.
HOUSE OF BLACK PROMO — HIT
I loved Malakia Black's promise to pursue the AEW Tag Team Championships, and I really liked Julia Hart describing Willow's ability to overcome the effects of her black mist as "rejecting my gift." My only note would be that Julia Hart shouldn't cross her hands in front of her in a charming manner while cutting a scathing promo; she looked like what would happen if an American Girl doll were sold at Hot Topic.
STATLANDER & WILLOW INTERVIEW — MISS

Kris Statlander forgot what her title belt was.
Listen, all it would take to end this community-theater-car-crash-word-carnival is a manager. So, please… Get. Her. A. Manager.*
*See last week's column.
Side Note: Have you ever noticed how small children have really sharp nails? Well, my nieces are small children, and they hurt.
DARIUS MARTIN (BROTHER OF SPIDERMAN) vs. RODRICK STRONG — MINOR-HIT
Speaking of small children, Dante Martin is still injured, and I hope we get good news on that front soon.
Side Note: A highlight of this match was seeing the crowd pop for Rodrick Strong's "FDR moment," and unlike the anachronistic movie "Pearl Harbor," this one was being cringe on purpose.
WEINER PUNCH — MEGA-MISS
For the love of God…
TONY KHAN ANNOUNCES DANIELSON IS HAVING HIS LAST MATCH AT ALL IN, AND YOU SHOULD BUY TICKETS NOW — MINOR-HIT
This did not feel as exploitative as it sounds when typed out.
TONY KHAN MAKES AN UNANNOUNCED ANNOUNCEMENT — HIT
In this segment, Tony Khan announced that AEW was introducing a new round Robin-style tournament called The Continental G1assic.
Side Note: Kudos to Tony Khan for not announcing this announcement ahead of time. I cannot emphasize enough how much that helped this segment to not suck.
JULIA HART vs. WILLOW NIGHTINGALE — HIT
This was a stellar match, and I am excited to see Julia Hart wrestle for the Women's Title. That said, I really hope Tony Storm wins this one. Hart has the perfect built-in excuse because, unlike other wrestlers, Storm is already very familiar with Hart's black-and-white style.
STARKS & BIG BILL PROMO — MINOR-HIT
Bill of the Big family, possibly related to Show, is getting very good at doing words, and I am surprised.
Side Note: Speaking of "surprised," my nieces found a Nerf gun. I did not know they owned a Nerf gun. I am now very aware.
POWERHOUSE HOBBS vs ALEXANDER— MINOR-HIT
The main purpose of this squash match was to set up a stare-down between Powerhouse Hobbs and Big Show, who was able to stand up without assistance.
CALLIS CUTS A PROMO — MEGA-HIT
I'm really enjoying Kyle Fletcher as a member of the Don Callis family. Fletcher's new funeral director look helps to separate him from his old tag team, and that is a good thing. By removing Aussie Open's colors from Kyle's presentation, AEW is increasing the chance fans will consider Fletcher's solo run a byproduct of Fletcher's own abilities and not a byproduct of his partner's injuries. Also, Callis's wood-tick line was terrific.
Side Note: I have confiscated the Nerf gun.
FTR INTERVIEW — HIT
FTR did a stellar job of discussing the value of starting their journey down the road of what I hope will be a future tag team championship victory.
Side Note: My nieces and I are discussing the value of starting their journey down the road of what I hope will be a future nap.
STING & ADAM COPELAND & DARBY ALLIN vs. LANCE ARCHER & THE RIGHTEOUS — HIT
This was a quality main event match, and Adam Copeland looked ten years younger tonight. I don't know if he accidentally bumped into Beth Pheonix while she was wearing a questionable amount of retinol or if he accidentally bumped into Billy Gunn while he was sweating, but whatever happened, he should do it every week.
Side Note: My nieces have agreed to nap.
FINAL THOUGHTS
There wasn't anything wrong with this week's show, but there also wasn't much to write home about. Honestly, I don't find this episode's lack of newsworthy content to be particularly offensive. Not every show is going to be Grand Slam or Winter Is Coming, and every story needs its share of "downs," so that its "ups" feel that much higher. That said, if next week's go-home episode delivers in the same way as this week's episode, that delivery would be a miscarry.
SHOW GRADE: C+
Thank you all for reading. I truly appreciate it. And as always, I'm still working on my sign-off, but until next week, remember, the evil of Nerf guns may come in many foams, but some of them are niece.
(David Bryant's new bathroom-selfies can be found on his "Artist Formerly Known as Twitter" account @IamDavidBryant; a video of David Bryant being knocked unconscious by an exploding television set can be found on his Instagram account @IamDavidBryant, and David Bryant's Threads account is threadbare and also located @IamDavidBryant because David Bryant sucks at usernames. David is a published author, circus artist, drag promoter, male pageant winner, unrenowned musician, sloppy figure skater, and inventor of the world's first fork with a stick in it. Less impressively, he studied screenwriting at the University of North Carolina School of the Arts.)
---
RECOMMENDED NEXT: AEW COLLISION RESULTS (11/11): Keller's report on Sting & Darby & Edge vs. Archer & The Righteous, Garcia vs. Andrade, Julia vs. Willow
OR CHECK THIS OUT AT PROWRESTLING.NET: McGuire's Mondays: The five most confusing things in pro wrestling today