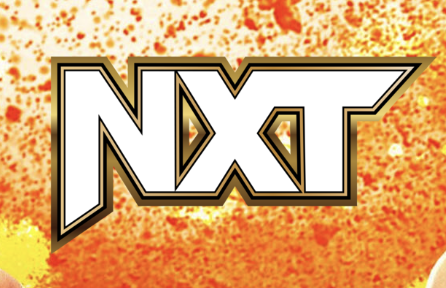 ---
SPOTLIGHTED PODCAST ALERT (YOUR ARTICLE BEGINS A FEW INCHES DOWN)...
---
NXT ON USA
NOVEMBER 14, 2023
WINTER PARK, FLA. AT THE CAPITOL WRESTLING CENTER
AIRED ON USA NETWORK
REPORT BY KELLY WELLS (@spookymilk), PWTORCH CONTRIBUTOR
NXT Commentators: Vic Joseph, Booker T
Ring Announcer: Alicia Taylor
Backstage Correspondent(s): McKenzie Mitchell
---
[HOUR ONE]
-Chase U were interviewed about the investigation outside. A gaggle of interviewers tried to get more words with them as Andre Chase powered through.
(1) CHASE UNIVERSITY (Andre Chase & Duke Hudson) (c) (w/Thea Hail & Jacy Jayne) vs. THE FAMILY (Tony D'Angelo & Channing "Stacks" Lorenzo) – NXT Tag Team Championship match
The Chase U students were half into the Chase U entrance, and half concerned with the scandal rocking Chase U. The challengers got a mixed reaction and the crowd mostly booed Chase U, which was…dubious. Chase and Stacks did some mat grappling to start. Quick reversals. Stacks managed a hip toss and Chase tripped Stacks and rolled him up for two. More quick reversals and rollups. We got another look at the Chase U students, mugging a bit too much in an attempt to show disinterest. Tony D made a blind tag and grounded Chase. Rope run and Hudson made a blind tag. D dominated both members until Duke hit a big boot for two. Hudson battered D'Angelo in the Chase U corner and made the tag. D charged Chase into the Family corner to make the tag. Hudson made another blind tag and hung Stacks up on the top rope. D'Angelo reentered, dumped Chase U, and tossed Stacks on top of them outside as the match went to split-screen. [c]
Hudson hit a release uranage on Stacks. Stacks got back into it and dropkicked Hudson to the floor, then dropped an elbow on him. Stacks rolled Hudson back in for two. Chase got distracted by the fact that some of the Chase U members in the crowd were walking out. Chase fired up and dominated both of the Family. Clearly the crowd was either being asked to boo Chase U or the Chase U PC members were loud. Chase hit a high cross-body on Stacks for a long two. Stacks hit a thrust kick and tagged D'Angelo. The Family teamed up for a European Uppercut from the second turnbuckle. Again there was a "Walk Out" chant, but I didn't see a single fan chanting, so it was likely just Chase U members as more left. Hudson dominated as he tagged in but D yanked him to the floor and ran him into the steel steps. Chase hit a plancha and fired up. It seemed like the regular fans were behind him and it was primarily the PC contingent produced to boo. Back inside, Stacks broke up a cover late. "NXT" chant.
Chase dumped Stacks and went back at it with D, the legal man. Russian leg sweep by Chase. He did the CHASE U stomp and again was distracted by Chase U members walking out. D hit a spinebuster and Stacks tagged in. Bada bing, bada boom, new champions.
WINNERS: The Family at 13:53.
(Wells's Analysis: They dragged a two-minute story out for about the last twelve minutes of the match. It looked silly that there were heavy boos but no actual fans were visibly booing. Also, despite the story they're telling, Chase U are potentially the most universally cheered act on NXT. It seems a bit risky to try to get people to boo them)
-Earlier, Lita picked this week's two Iron Survivor qualifying matches. She put over Roxanne Perez's chances to win it all again and gave Lash Legend a chance to really step up. She quickly ran down the saga of Trick Williams and said Joe Coffey could beat him if he can turn it into a slugfest. Again, nothing earth-shattering here but I love the touch of legends making these matches. [c]
-Dominik Mysterio and Baron Corbin ran into each other backstage. Mysterio was wearing an Art Barr shirt. Huh. They had a pleasant exchange where they gassed each other up ahead of their various championship matches.
-Supernova Sessions. Noam Dar said that tonight, we get to see Lash Legend advance to the Iron Survivor Challenge. He dejectedly introduced Alpha Academy as his guests and did some sarcastic applause. Good pop for Chad Gable, Otis, Maxxine and Akira Tozawa. Dar said they've accomplished a lot but asked if this was the highlight of their careers to be this close to the NXT Heritage Cup. The Cup was on a podium, in a case covered by a locked chain. Otis suggested he would be the next champion to cheers. Legend took issue with this and Otis said "You can say anything you want to me, Lash Legend" as he started suggestively dancing to huge cheers and Legend freaked out. Things broke down and Gable shooshed everyone. Dar said NXT had to do an international tournament just to find a suitable opponent for him. Gable said he had the next challenge right here (Otis). Noam Dar said next week, they're on. Maxxine said the next challenger had a huge gas tank that can go all night. More dancing from Otis. The group then tricked Meta Four as the real next challenger is Chad Gable, another guy who seems to be made for this kind of match. Meta Four wasn't happy about it. [c]
(2) ROXANNE PEREZ vs. LASH LEGEND – Iron Survivor Challenge qualifying match
Perez slipped out of some early trouble and hit a crucifix for two. Perez hit some palm strikes and the size mismatch was stark as they stood across from one another. Perez hit an arm drag and dumped Legend. Perez ran the ropes and Jakara Jackson tripped her. Legend got in a cheap shot. The ref tossed Meta Four from ringside to cheers. In a rare move, Vic called out the name of the ref who made the call.
Legend caught Perez in a torture rack and Perez almost passed out before working her way into a guillotine. Legend put Perez in a corner, then charged a missed, spilling to the floor. Perez hit a tope suicida. Perez rolled Legend into the ring and went up and hit a cross-body. Rope run and Perez slammed Legend for two. Legend reversed a move into a backbreaker, then did a cartwheel and missed a splash. Jakara Jackson was back to distract the ref, and Kiana James appeared and grabbed Perez's leg to allow a big boot from Lash. Lash hit her finisher.
WINNER: Lash Legend at 5:04.
(Wells's Analysis: Perez eats another pin – something she's done a lot of lately. Bruce Hazelwood called this in our chat and I agreed as Legend has improved enough to be put in a spot to sink or swim)
-Hank, Tank, Briggs & Jensen, Enofe & Blade and Nathan Frazer and Axiom all talked backstage about the need for new #1 contenders for the tag team championship. Carrillo and Garza showed up and talked big. Tony D, Stacks and their cousin showed up and said this isn't the time yet, because it's the time to celebrate. The Family left and everyone else devolved into a near-brawl.
-Lyra Valkyria watched film with Robby Brookside and another trainer. They were watching Xia Li and talking about her strengths and what to avoid. The feed went to an invitation from Xia Li to a Tea Ceremony. Valkyria said she was definitely going. [c]
-Tea Ceremony. It was a pre-taped segment in a room made to look like a Chinese tea shop. Xia put a formal dress on Valkyria. They bowed at one another. Li said a deep bow demonstrates deep respect. Valkyria said she didn't expect to get respect from Li. Li said she wants them to be on even footing. Li said it was time to choose the tea leaves. She poured the water to transform the leaves. She said tea must brew at the correct temperature for the right amount of time or the tea will be ruined. Valkyria said the tea must be more delicate than it looks. Li said the tea sometimes breaks down and crumbles, as this will happen to Valkyria next week as Li consumes Valkyria. Li told Valkyria to consume the tea. Valkyria said respectfully, she will not. Li said she'll regret it next week. Valkyria said next week, the best woman will win. Li bowed. Valkyria bowed deep without lowering her eyes. She left, and Xia watched her go. It wasn't the kind of thing you normally see on a wrestling show, which was what I really liked about it.
-Trick Williams and Carmelo Hayes were with McKenzie Mitchell. They got some tense stuff out of the way. Hayes said tonight he'd have Williams' back. Williams said it was good to be on the same team again.
-Joe Coffey entered ahead of the next match. [c]
[HOUR TWO]
-Moments ago, Kiana James walked into the women's locker room and bragged about what happened earlier. Gigi Dolin went at her verbally. Jaida Parker and another young heel took issue with Gigi. Karmen Petrovic tried to speak and Arianna Grace said Petrovic isn't allowed to speak after what happened last week. Petrovic left, ticked off. Grace got the last word.
-McKenzie Mitchell interviewed Bron Breakker. Dijak stepped in on it and they talked about the inevitability of going to the Iron Survivor Challenge. Dijak said he's the one person Bron can't break.
(3) TRICK WILLIAMS (w/Carmelo Hayes) vs. JOE COFFEY (w/Mark Coffey & Wolfgang) – Iron Survivor Challenge qualifying match
Long "whoop that Trick" chant. The two did an early test of strength. Coffey dominated early. Williams came back and Coffey kneed him in the midsection. The two had some quick evasions and Williams hit a trio of body slams. Back elbow and a shoulder block by Coffey. Coffey ran the ropes and went for a backslide. Williams planted his feet and evaded it. Williams hit an uppercut. Coffey bailed and Williams went after him, but the other members of Gallus blocked him. Coffey got in some shots.
Back inside, the two threw hands. Coffey leaned on Williams for a two count. Coffey snapped on an armbar. Williams powered free but Coffey dumped him once again to the ramp side, where the heels stood, leading to commercial. [c]
COffey drove Williams to a corner, did so again, and hit a backbreaker. Handstand into a splash by Coffey. Coffey did some shoulder blocks but Williams hit a big back body drop. Coffey hung Williams on the top rope but Williams hit a jumping neckbreaker. Both guys sold on the mat. They got to their feet and exchanged yay/boo shots. Coffey got the last shot in and worked an armbar again. Rope run and Williams hit a lariat. Williams battered Coffey by the ropes and hit a big lariat and an axe kick, then a flapjack. Williams wanted the uranage and Coffey fought it off but Williams eventually hit it for a long two. Action broke down and Hayes could've taken a shot for Williams, but he seemed to ensure Williams took the shot. Back inside, Coffey got a near-fall but Williams hit a flash knee to finish.
WINNER: Trick Williams at 11:53.
Vic and Booker argued over whether Hayes put Williams in the line of fire or not.
(Wells's Analysis: A perfectly decent match that continued the Trick-Melo story but stayed far short of giving too much away. They're telling a strong story that sets a hook every time either Trick or Melo is out there and making it seem like every segment could be the one where things break down)
-Backstage, Wes Lee ran into Ilja Dragunov. Lee sold being stunned as Ilja came around a corner. Lee said he was back and had a lot of things on the agenda, starting with Baron Corbin. Ilja told Lee to leave a piece of Corbin for him. Lee said he had other things in mind also. The two shared a fist bump, and Dragunov watched Lee walk away.
-The Brawling Brutes were announced ahead of the next match. [c]
-Baron Corbin prepared near the lockers. Lexis King showed up and the two exchanged respect. Corbin asked how King "got it done." King said that's the million dollar question. He told Corbin he'll be watching him get it done tonight.
(4) THE BRAWLING BRUTES (Butch & Ridge Holland) vs. OUT THE MUD (Bronco Nima & Lucien Price) (w/Scrypts)
Vic asked Brook who he wouldn't want to fight. Book said both. He called Bronco Nima "Lima" and Vic called him out and said he hoped Nima didn't hear. Butch dominated the early going and all four got involved early. The Brutes hit the Sheamus clubbing blows, but OTM stopped them at seven shots each and dumped the Brutes, then took control. Price rained down rights on Butch on the mat. Nima tagged in and booted Butch to the mat. Nima took a cheap shot to put Holland on the floor. Nima leaned on Butch on the second rope, and after the ref pulled Nima away, Scrypts flew in with a dropkick.
Price tagged back in and kept up the heat on Butch. Clothesline in the corner. Nima tagged in and Butch reversed a uranage into a DDT. Both guys tagged and Holland dominated both members of OTM. He battered Price and hit him with a swinging uranage for two. Ridge tossed his elbow pad and charged but Price caught him. Butch tagged in and Price slammed him on Holland. Booker said these guys "remind me of someone but I can't think of who it is. Two brothers." Butch tagged back in and took control. He went up the turnbuckle and Price followed. Butch couldn't managed the powerbomb so Holland tagged in and hit it. The Brutes hit their finisher.
WINNER: The Brawling Brutes at 5:50.
(Wells's Analysis: A very enjoyable tag team brawl. Hopefully OTM gained something in defeat here and will continue to be seen as a major threat)
-Joe Gacy gave another fiery promo on top of a building. He said others might be reminded of other wrestlers when he shows up, but he's just him and…he's here. He moved his head, and behind him was the logo for the Performance Center. He tossed the camera (phone?) he was using off the building. Vic said they have to get Gacy down from there. Yet again, it's baffling that Gacy was saddled with his last gimmick for so long when he was capable of this.
-Gigi Dolin entered ahead of the next match. [c]
(5) GIGI DOLIN vs. ARIANNA GRACE
Grace caught Dolin with a quick early shot and posed. Dolin shoved down Grace, who almost lost her composure, but gave a winning smile before scowling again. Dolin grounded Grace with an armbar, then ran the ropes for a block. Grace threw some rights and covered for two. Grace put Dolin in a corner and ran in for a back elbow. Cover for two. Near-fall. Grace tried a few other covers for two. Grace put Dolin's head into the mat a few times. Grace worked a chinlock. Dolin hit a short clothesline for two. Grace rolled up Dolin in the corner but caught her with her feet on the buckle. Grace protested and Dolin hit Black Mass and then her finisher.
WINNER: Gigi Dolin at 3:43.
After the match, Grace held on her sash and tiara and, through tears, tried to wave at everyone.
(Wells's Analysis: Grace is so much closer to a finished character product than you'd think, given that she's been on TV just a short time.)
-A voice-over guy ran through Mr. Stone and Von Wagner's saga. He said the two were hired on the same day, unaware how their paths would cross. We got the history of their friendship story. Stone and Wagner were watching the video. Wagner was grabbing at his head and Stone made sure he was okay. Stone invited Wagner over for pasta and Wagner got excited and asked for two plates. He yelled not to make the asparagus this time, though, because it sucks. Well, it had comedic intentions, anyway.
-Wes Lee walked ahead of the main event. [c]
-McKenzie was with Eddy Thorpe, who said he's been gone because the strap match took a lot out of him. He said he hoped he was being seen for the Iron Survivor Challenge match. Drew Gulak, Myles Borne and Charlie Dempsey showed up. Gulak said if Thorpe thinks he's going to make it, he's as delusional as Joe Gacy. Dempsey said he's never known failure because he's never fought guys like them.
-Andre Chase tried to talk to some reporters outside. Jacy Jayne drove through and told them to clear out so he could get to the car and leave.
-The rules of the high-concept Iron Survivor Challenge were run down. JBL will choose the competitors for next week's qualifying matches.
-Next week, Lyra Valkyria defends against Xia Li while Noam Dar defends the Heritage Cup against Chad Gable.
(6) WES LEE vs. BARON CORBIN
This was a bigger size mismatch than Legend-Perez. Corbin yanked Lee to the mat to open, then threw a big right to put Lee on jelly legs. Corbin charged Lee to a corner but he jumped up and hit a rana. Dropkick by Lee for a one count. Suplex by Corbin. Corbin missed a running senton. Lee hit a kick to the temple on a grounded Corbin, then covered but got shoved off to the apron. Back inside and Lee hit some quick combo kicks. Lee went for a tope and Corbin caught him for a Deep Six on the floor heading into split-screen. [c]
[OVERRUN]
Vic talked about Lexis King poking around when the match returned. Corbin hit a massive clothesline to turn Lee inside out. Eddy Thorpe-Charlie Dempsey was also announced for next week. Corbin battered Lee in a corner and the ref broke it up. Corbin threw more forearms and elbows and the ref broke it up again. Corbin charged and ate the post as Lee moved out of trouble. Lee threw knees and a shotgun dropkick that put Corbin on the floor. Tope suicida and both guys ended up on the announce table. Corbin went around the post and Lee used it to swing around and kick Corbin. Back inside and Lee hit a dropkick for two.
Lee threw some kicks and stomped Corbin. He ran the ropes and Corbin caught him for a Death Valley Driver for two. Corbin tried End of Days but Lee rolled through. Both guys hit impact shots that allowed a breather for each. Corbin got up first and went up in the corner, but Lee kicked him to the floor. Lee went for a plancha but Dominik Mysterio had shown up and Lee ended up hitting him. Lee ended up making it back into the ring at nine but he walked right into End of Days.
WINNER: Baron Corbin at 10:27.
Corbin tried to keep throwing fists after the match, but Ilja Dragunov ran to the ring and casually suplexed Corbin. He charged at Corbin, who caught him with End of Days. Dragunov grabbed the mic afterward and said Baron made a grave mistake and now he had to live with the consequences. He said if Corbin wants a  championship match, he's got it, and he'll see him at Deadline.
(Wells's Analysis: This was a good big-small affair that furthered two storylines and essentially did everything right, though I can't shake the feeling that no matter how well it goes and no matter how strong Corbin is in his role, he's just not credible as a person who's going to win a major main event or championship. Maybe they'll throw a curveball, but he's been little more than a guy to allow others to extend their young title reigns for so long, it's hard to imagine him being anything else)
---
FINAL THOUGHTS: Lots of little things were done right tonight, though the Chase U stuff is utterly baffling this week and it seems so counterproductive to ask the fans to boo one of their most popular acts. The Iron Survivor Challenge matches continue to take shape and the matches are being used to tell stories rather than simply eat up the clock and stop the momentum of other stories being told, which has been a strength of NXT for a while now. Trick and Melo continue to have the most interesting dynamic on the show as we continue to wonder "did he or didn't he?" A quietly strong episode of NXT as the march to Deadl1ne continues. Tonight we've got all three of us in the booth for PWT Talks NXT. Check us out or stream tomorrow. Cheers.