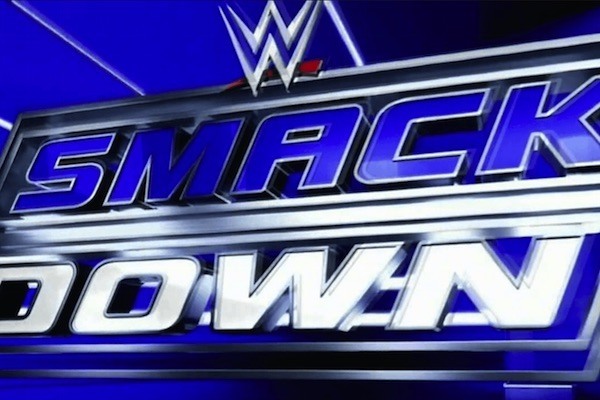 ---
SPOTLIGHTED PODCAST ALERT (YOUR ARTICLE BEGINS A FEW INCHES DOWN)...
---
This week on Smackdown, The Wyatt Family take on The Prime Time Players and The Lucha Dragons in a traditional Survivor Series match. Also, Dean Ambrose faces Kevin Owens.
WWE Smackdown review
November 5, 2015
Taped 11/3/15 in Colorado Springs, Col.
Aired on SyFy
By Greg Parks, PWTorch Columnist (Twitter: @gregmparks)
– WWE Open.
– Smackdown Open.
– Following fireworks, Rich Brennan narrated an introduction as the camera panned the crowd. Looked like a small arena at the home of the U.S. Air Force Academy.
– A Traditional Survivor Series tag match was plugged featuring The Wyatt Family taking on The Prime Time Players & The Lucha Dragons.
– Also, Dean Ambrose vs. Kevin Owens.
– Zeb Colter and Alberto Del Rio came out on stage. Colter said he knows what fans are thinking, wondering how he and Del Rio can portray a unified front. They went on about MexAmerica, with Colter saying haters are not allowed in their new country. I don't know how that is supposed to make them heels, but whatever. Del Rio said they don't need borders in their lives. Colter said everybody hates, and if they don't believe that, they're lying to themselves. What a mess this is. I liked it better when it was MVP and Better-Than-Utopia in the WWE Smackdown vs. Raw video game. Del Rio headed to the ring for a match.
– Brennan, Jerry Lawler, and Booker T. were shown on-camera, and they played up the confusion over this storyline.
1 – ALBERTO DEL RIO vs. NEVILLE
Neville bumped around early for Del Rio in impressive fashion. Lawler made a crack about the recent traffic accident in which he was involved. A back-stabber to Neville sent the high-flying Superstar outside the ring. Del Rio celebrated as they cut to break at 2:31 of the match.
[Commercial Break]
Back at 5:38 with Neville working out of a rest-hold. They showed Del Rio whipping Neville into the barricade during the break. After some kicks by Neville, Del Rio took a break outside the ring. Neville moonsaulted onto Del Rio from the top rope. Del Rio missed a running enziguiri and Neville hit a spke-rana for two. That looked brutal, with Del Rio appearing to land right on the top of the head. Looked a tad better on replay, but still. Neville was tripped up on the top rope and hung in the Tree of Woe. Neville tried to free himself to no avail, as Del Rio landed the double-stomp for the pinfall.
WINNER: Del Rio, at 9:21. I thought their Raw match a couple weeks ago was better. Del Rio could be one to watch in the upcoming WWE World Title tourney. If Neville gets a berth, I wouldn't expect him to go far, but he could be booked as an underdog who gets a win depending on the number of participants in said tourney.
After the match, Del Rio went outside the ring to meet with Colter, then re-entered the ring, superkicked Neville, then applied a cross arm-breaker. Jack Swagger ran out to make the save. Swagger has a poor track record of defending America, so I'm not sure how excited I should be here. He and Del Rio had a standoff before Del Rio backed down.
– The Usos return to tag-team action next.
[Commercial Break]
2 – THE ASCENSION vs. THE USOS
The Ascension was finishing up their entrance out of break. Jimmy did some dancing, but ended up getting dumped out of the ring by Viktor. Konnor caught him with a big boot while Jimmy was outside. Monkey flip into a running spinebuster by The Ascension. Konnor stayed in control of Jimmy in the ring. The crowd got behind Jimmy as he tagged Jey at just inside the three-minute mark. Samoan drop to Viktor. Konnor broke up a pin following a running butt splash by simply picking Jey up off the cover by his hair. Double superkick sent Konnor out of the ring. Another set put Viktor down. Splash off the top rope for the pin.
WINNERS: The Usos, at 4:14. Good win for the returning Usos, and The Ascension didn't look bad, either. I wouldn't expect either team to make the WWE World Title tournament, but if they want to build the Usos up for New Day, WWE could have them win a traditional Survivor Series match at the event (if they aren't challenging for the titles then).
Replays of some big moves of the match were shown.
– Next, we'll get a look back at Bray Wyatt's comments from Raw this past week.
[Commercial Break]
– The Kansas City Royals were congratulated for winning the World Series, and Triple H's Tweet with the Royals WWE World Title belt was shown.
– The announcers sent it to Bray Wyatt on Raw, talking about harvesting the souls of Undertaker and Kane.
– The Wyatt Family entered the arena for the elimination tag match. Booker called Wyatt "the personification of evil." The match is next.
[Commercial Break]
3 – THE WYATT FAMILY vs. THE PRIME TIME PLAYERS & LUCHA DRAGONS – ELIMINATION TAG-TEAM MATCH
Erick Rowan began the match with Darren Young. Rowan tossed Young around, then tagged Luke Harper. Young caught Harper with a kick to the back of the head, which led to a tag to Titus O'Neil. Young came back in, but found little success. Side kick by Rowan to Young showed a lot of light. Young got his boots up on a Wyatt charge, but Young was put right back down with a clothesline. Braun Strowman tagged in for the first time at the 4:17 mark of the match. Booker called him "unstoppable." Young briefly slowed Strowman, but Strowman got him in the bear-hug/choke on the apron. He dropped Young to ringside where Young was counted-out at 5:11 of the contest. When O'Neil came to check on his partner, Strowman attacked him from behind. He was thrown into the barricade. They went to break at 5:45 with the Lucha Dragons staring down Strowman, and Strowman looking at them like he was looking at a delicious steak dinner.
[Commercial Break]
Back at 8:58 with O'Neil still taking the brunt of the Wyatts' punishment. DDT by Wyatt put an end to O'Neil's comeback attempt. O'Neil was finally able to take Wyatt down and he tagged in Sin Cara at 10:56. Flying headscissors by Cara on Harper, and another. Springboard moonsault and a suicide dive, which brought some energy to the crowd. Hurricanrana on Harper for two. Springboard DDT on Harper, but Rowan broke up the pin. Harper turned Cara inside-out with a discus clothesline, sending Cara packing at 12:24. Springboard seated senton by Kalisto. Harper with a half-nelson overhead throw to Kalisto. Pumphandle back-breaker to Kalisto from Rowan. Kalisto dumped Rowan out of the ring with a headscissors. Strowman pulled O'Neil's legs out when Kalisto tried to make the tag. The heels were all getting involved at this point and Kalisto was fending them all off. O'Neil was still out and Rowan surprised Kalisto with a shoulder tackle. Full-nelson slam and Kalisto was pinned at 15:33. O'Neil cautiously approached the ring while the entire Wyatt Family waited for him. O'Neil got the crowd behind him as he held his own. Powerslam for only two on Harper. Clash of the Titus broken up by Wyatt and Rowan. The official ushered them to their corner when Strowman tagged in. Strowman caught O'Neil in his finisher, and Wyatt tagged in. Wyatt finished him with Sister Abigail.
WINNERS and SURVIVORS: The Wyatt Family, at 19:28. I refuse to call them "sole survivors" when they all survived. I have no problem with all of the Wyatts surviving. Bray is likely the only one who will be included in the WWE World Title tournament, and a victory would increase his cred as he lines something up with Undertaker and Kane at some point. He's in the conversation to win it, certainly.
Replays of the eliminations were shown.
– Ambrose vs. Owens is tonight.
– Ambrose was backstage with Renee Young. She asked how he had been preparing for his match with Owens. Ambrose said he woke up early, opened his chakras to the universe. He said the future looks bright. Owens walked in and asked Ambrose what world he's living in. He said he's in a constant fantasyland. Owens said Ambrose is annoying Renee, and he's going one-on-one with the greatest-ever Intercontinental Champion. Ambrose reminded Owens that he pinned him on Monday. Owens said there's a difference between that ten-man "circus" from Monday and a one-on-one match. Ambrose said they'd find out.
[Commercial Break]
4 – KING BARRETT vs. RYBACK
In an inset interview, Ryback said Barrett may be King of the Ring, but Ryback is King of the Jungle. Barrett quickly took the fight to the outside and whipped Ryback into the steel ring post on two occasions. It didn't take Ryback long to recover once they were back in the ring. Winds of Change wasn't enough to put Ryback away. Ryback turned a rest-hold into Shell-Shock for the win.
WINNER: Ryback, at 2:18. Surprisingly quick win for Ryback. Barrett would be an early out were he to be in the tournament. Ryback could be a wild card and advance a round or two, but he could also have a first-round exit. It's hard to tell sometimes with Ryback.
– The announcers sent it to Team BAD distracting, then attacking Natalya from Smackdown last week, causing her to lose to Paige.
– Renee Young was backstage with Team BAD. Sasha Banks said Nattie is always seeking attention, and that's what they gave her last week. On WWE's Facebook page earlier today, Nattie challenged the leader of Team BAD. Young asked who that's going to be. Team BAD said Nattie isn't going to split them up like she did Team PCB. Naomi said the leader will finish what she started last week. "Damn right she is," responded Sasha, who then walked away. Naomi seemed taken aback by Banks' comment, thinking Banks was referring to herself.
[Commercial Break]
5 – NATALYA vs. TAMINA
No entrance for Nattie. Both Sasha and Naomi kept stepping forward to face Nattie. Before fireworks could erupt, Tamina pushed them aside and stepped in. Both Sasha and Naomi seemed pleased, so I'm not sure if that was the plan all along. Tamina dropped a knee across the face of Natalya as the crowd chanted "We want Sasha." Basement dropkick by Nattie for one. Naomi got on the apron, distracting Nattie, and allowing Tamina to hit a superkick. Rear chin-lock by Tamina. Discus clothesline to Tamina, who sold it clunkily. Nattie went for the Sharpshooter, but a distraction by Sasha allowed Tamina to hit a Samoan drop. Nattie got her feet up on a Superfly splash (never called as such by the announcers) and Nattie rolled up Tamina for the win.
WINNER: Natalya, at 3:47. Tamina was never that good to begin with, but her lack of skill has been accentuated by the recent call-ups and the improved work of the Bellas and others.
– Owens vs. Ambrose is still to come.
– Next, we'll see the now-superfluous showdown between Seth Rollins and Roman Reigns from Raw.
[Commercial Break]
– Some positive press that WWE Network's Breaking Ground has been receiving was shown.
– The announcers transitioned from discussing Breaking Ground to sending it to the Reigns vs. Rollins hype from Raw.
– Brennan voiced-over an ESPN Tweet and a pic of Rollins being tended to overseas, giving an injury update on Rollins and mentioning the WWE World Title tournament that will take place at Survivor Series.
– Dean Ambrose made his entrance for the main event, which is next.
[Commercial Break]
6 – DEAN AMBROSE vs. KEVIN OWENS
Ambrose toyed with Owens a bit, and Owens wasn't having it. Owens taunted Ambrose by saying that his headlock was better than Ambrose's. Them's fightin' words! A couple of arm-drags by Ambrose led to Owens angrily heading to the outside. They cut to break at 1:49.
[Commercial Break]
Back at 5:16 with Ambrose in control via arm-bar. Owens responded with chops in the corner. He missed one, and Ambrose came back with a few of his own. Owens was clotheslined out of the ring. Ambrose tossed Owens back in, but Owens grabbed him and brought him down throat-first across the top rope. Senton by Owens for a two-count. Owens jawed with the crowd and the announcers as he climbed the top rope. If Lawler hadn't had the heart-attack (or was a few years younger), a brief Owens vs. Lawler feud could've put Owens over big as a heel. Ambrose ended up superplexing Owens off the top rope. Clothesline off the top from Ambrose for two. Owens and Ambrose found themselves fighting on the top rope again, and once again, Ambrose got the better of the exchange, knocking Owens down and hitting a dropkick. Chops and jabs from Ambrose. Rebound clothesline by Ambrose followed a superkick from Owens. Owens claimed Ambrose hit him low as they tussled on the ground. He sold the injury as Charles Robinson called for the bell.
WINNER: Owens, via disqualification, at 13:46.
Upon replay, Owens was kicked squarely in the mid-section. Ambrose hit a suicide dive onto Owens outside the ring, and another on the other side. Owens created enough separation to leave through the crowd. Ambrose celebrated in the ring despite the loss.
Did you watch Thursday's Smackdown episode? Send your 0-10 score & Reax to pwtorch@gmail.com for our TV Reax feature.
Greg Parks has been covering WWE Smackdown for PWTorch.com since January of 2007. He is the host of "Moonlighting with Greg Parks," a PWTorch VIP-exclusive audio show posted each weekend. Follow him on Twitter @gregmparks for live Tweeting during Raw, Impact, and PPVs, as well as other bits of wisdom. Comments, questions and feedback are welcome, and can be sent to g_man9784@yahoo.com.