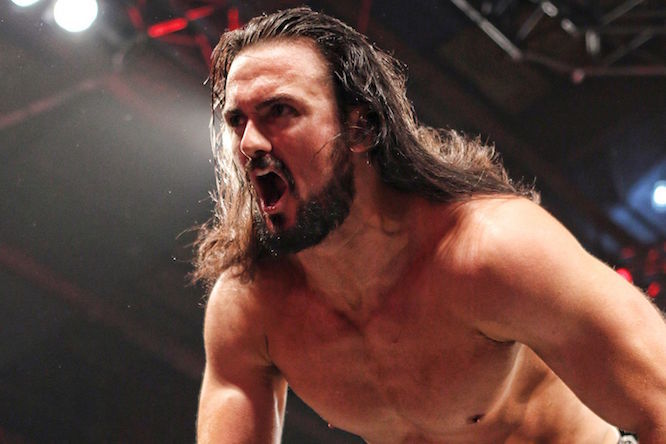 ---
SPOTLIGHTED PODCAST ALERT (YOUR ARTICLE BEGINS A FEW INCHES DOWN)...
---
TORCH TODAY – Saturday, November 7
– WWE's European Tour continues Saturday with the Ric Flair crew in Leeds, England without Seth Rollins and Roman Reigns's crew in Madrid, Spain. (Full European Tour Line-ups) (Reports Wanted to pwtorch@gmail.com)
– New Japan's huge "Power Struggle" show takes place Saturday in Osaka, Japan (early Saturday morning in the U.S.). The event will be live and on-demand via New Japan World.
– WWNLive presents EVOLVE 52 on Internet PPV from Orlando, Florida at 7:00 p.m. EST. The main event is Timothy Thatcher vs. Drew Galloway for the EVOLVE Title after Thatcher retained the title against Johnny Gargano on Friday night.
– SATURDAY EVENTS: There are several big independent shows on Saturday, including Chikara, ECIII in Toronto, Rhyno in Canada, Nick Dinsmore (Eugene) opening his promotion, "Road Warrior" Animal in New York, and a fundraiser in Florida. (Full Weekend Events Center)
– WWE NETWORK HIGHLIGHTS: New programming includes "This Week in WWE" at 3:00 p.m. EST. WWE will likely highlight the Seth Rollins news and preview the start of a WWE Title Tournament.
– Mick Foley believes NXT is changing the perception of independent wrestlers. Foley offered his thoughts in an interview with AuburnPub.com promoting Friday's NEW show in Auburn, New York.
"I certainly think it shines a light on how much great talent is out there on the scene. We used to have a tendency to look down on indy wrestlers. Now indy wrestlers are looked at and treated with a new respect. It's a conversation I just had with some of the indy guys. Having come from an indy background myself, I understood how difficult it is to work hard each night and, in 'wrestle speak,' get over with a different audience without the benefit of known entrance music, that Pavlovian response, and an established fan base. So I think NXT is great for indy wrestling, and knowing that when we come to Auburn, fans may very well be seeing the stars of the future of the wrestling business," Foley said.
– Drew Galloway is on a mission to visit every children's hospital in his home country of Scotland to give back. The Daily Record talked to Galloway about mixing in visits with his busy schedule taking him across the U.S., Europe, and Asia. Next weekend, Galloway returns to ICW for a sold-out show in Glasgow.
– Bill Goldberg is aiming for a movie career like "The Rock" Dwayne Johnson. Goldberg told the Huffington Post that he eventually wants to branch out from action movie roles and "show some range" to be taken more seriously. Goldberg is currently promoting the new military-themed "Check Point" movie.
– Shelton Benjamin won the B Block of NOAH's Global League  tournament in Japan. Former GHC Hvt. champion Naomichi Marufuji won the A Block after defeating Chris Hero in the final match. Benjamin and Marufuji meet in the finals on Sunday (Nov. 8). (Full Results via PuroresuSpirit.com)
– Big Show and Paige were interviewed on Sky Sports promoting WWE's European Tour and the upcoming Survivor Series PPV. The interview is only available to watch in the U.K.
– Sgt. Slaughter talked to a San Antonio publication about WWE wanting to break their indoor attendance record at WrestleMania 32 in AT&T Stadium in Texas. Slaughter said he's not sure about getting back in the ring again.
– Mark Henry was interviewed by the Dallas Morning News promoting WrestleMania 32 tickets going on-sale this week. Henry mainly talked about the Cowboys.
– Bret Hart is heading to New York next weekend. Hart is scheduled for the Diamond's Gentlemen's Corner Barber Shop at the New Hartford Shopping Center. The story about what is bringing Hart to the location next Sunday, November can be read HERE.
– Ric Flair is booked for the New Orleans Comic Con running January 8-10. William Shatner, who is narrating WWE's "Breaking Ground" series is also scheduled.
– NEXUS FLASHBACK: Wade Bad News King Barrett has not been the same since the end of Nexus five years ago. WWE has tried to re-boot him several times since the end of Nexus, but former Nexus member Michael Tarver has an idea why there have been mixed results for group members since 2010.
"We didn't know what the direction was (going into Summerslam 2010) and honestly I don't think that they did either," Tarver said on the "Two Man Power Trip of Wrestling" podcast. "We all had our own experiences and are smart enough to know it really makes the most sense for us to win and it doesn't hurt them, it actually helps them if we win and continue because then they can keep building. That was the first time in a long time that Cena had real sympathy because people were kind of over him and he's even though he is always going to be over no matter what because he's John Cena but that was the first time in a long time that he had real sympathy. He did his thing and John Cena is great, he's amazing.
"To me, I think they got greedy.  That storyline should have ended at WrestleMania. We should have won, grown stronger added Mason Ryan, added Bray Wyatt (Husky Harris), added Joe Hennig (Curtis Axel), or maybe even add C.M. Punk and make it a super or even bigger group."