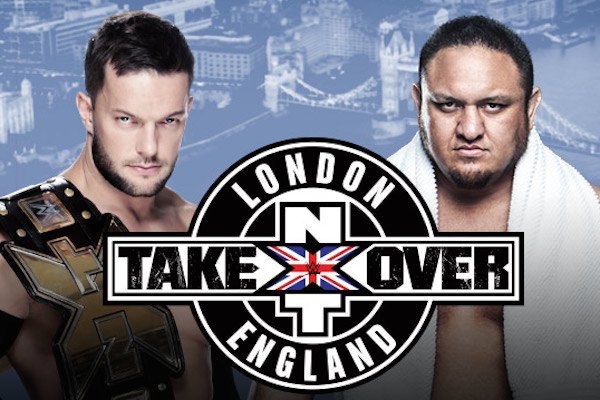 ---
SPOTLIGHTED PODCAST ALERT (YOUR ARTICLE BEGINS A FEW INCHES DOWN)...
---
NXT Takeover Poll Results 
– We asked what the best match was at Takeover. The poll results are…
48% – Balor vs. Joe (NXT Title)
27% – Asuka vs. Emma
14% – Bayley vs. Nia Jax (Women's Title)
10% – NXT Tag Title match
2% – Corbin vs. Apollo Crews
NXT Takeover Reax
– Derrick from Utah (9.0): The consistent NXT vibe was alive and well, tinged with an evident London flavor. I can't express how nice it is to see classic time tested wrestling fixtures play out in front of a receptive crowd in the 21st century.
Every match contained a clearly defined villain and a crowd-supported hero. The heels were dastardly and the babyfaces were heroic. The contrast between the protagonist and the antagonist created the needed atmosphere for the fans to not just applaud the action, but to cheer for the competitor they wanted to be victorious and boo the competitor they wished would fall. The finishes were not over complicated, and they were all effective. Each match was unique and the main event was a fitting capstone to another NXT home run.
– Randy in Pittsburgh (8.0): Best Match: Asuka vs. Emma. Worst Match: Corbin vs. Crews.  Overall, it was a really good, not quite great show from NXT.  I felt the best match on the card was the first one out, Asuka vs. Emma.  Emma has grown into a great heal and developed her mannerisms in the ring well.  As a fan of Asuka (Kana) for years, just seeing her do her thing under the WWE umbrella is enjoyable. I loved that the shenanigans at the end of the match didn't lead to an eye-rolling finish, and the babyface was smart enough to overcome them.
The crowd was molten for Enzo & Cass, but I have to question them losing yet another big match.  They are very close to being a team that can't get the job done.  I know it's overstated, but Dash & Dawson remind me so much of the Andersons.
Crews vs. Corbin underwhelmed.  The match never quite clicked.  It was disappointing, as Crews is capable of more, and Corbin has been steadily getting better.  I can say the same thing for Bayley and Nia Jax.  It was a well-booked match, but the hesitancy in Jax's moveset takes me out of her matches every time. She doesn't come across as a monster. I'm looking forward to more focused on Asuka, Emma, and Dana Brook as challengers.
I don't know what it is about Finn Balor, but I can never get into his matches like I want to.  Technically he is superb, but is lacking something in the story and emotion that keeps me from connecting with him.  Given how the story was set up for Joe vs. Balor, the match never felt personal enough; the pacing was all wrong.  I'm not as high on the title match as others may be.  Excellent, yes, but not one of the best of the year.