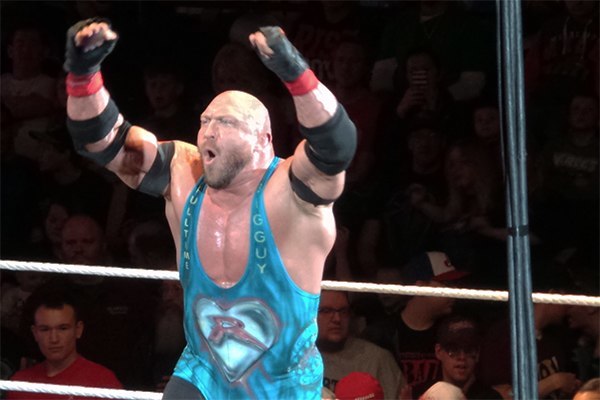 ---
SPOTLIGHTED PODCAST ALERT (YOUR ARTICLE BEGINS A FEW INCHES DOWN)...
---
Former WWE Head of Talent Relations Jim Ross regularly writes at jrsbarbq.com that talent issues come to down the two c's – Cash and Creative. In the case of Ryback (Ryan Reeves), both came into play leading to his exit from WWE TV on Monday night.
Feed Me More – Today I sit and fly home and for the first time in years feel absolutely free. I will start… https://t.co/B8QMdPOUd6

— The Big Guy (@Ryback22) May 3, 2016
Reeves wrote a lengthy blog detailing his side of a dispute with Vince McMahon over his WWE contract. Specifically, why is he paid a lot less to lose matches when the outcomes are pre-determined?
"Today I sit and fly home and for the first time in years feel absolutely free," Reeves opened his blog. "I will start by saying I did request to be taken off of WWE television until myself and Vince could get a yes or no on a new deal. This has been going on since my IC Title run (in mid-2015) and had been nothing but a major strain on my life as all I ever wanted to do was work for WWE.
"I was told to head home until we agree or not agree to specific terms and contrary to reports it isn't over money or a bus that stuff was settled a while ago. It comes down to a major problem I have with not only WWE but wrestling in general.
"It blows my mind how in a sport which is pre determined from a company standpoint winners are paid so much more than the losers. Every single person who works for WWE from top to bottom is absolutely just as valuable as the next. The winners cannot win unless the losers go out there and agree to lose to them."
As we reported on Monday night, Ryback was initially the betting favorite to top Kalisto at the Payback PPV. However, the odds flipped over the weekend and Ryback ended up losing to Kalisto for the second consecutive PPV. Reeves said he finally had enough.
"Personally seeing my money go down over the years though even though I was working as much as ever and being denied magazine covers and other projects as well as watching my role diminish no matter what I did or how hard I tried takes its toll on a human," Reeves wrote.
"It isn't solely about money, it is about commitment. Commitment to a guy who f—— cares and who loves this more than anything in the world and wants to know that his passion his efforts and his determination to constantly improve is going to be recognized and taken care of."
Reeves, sounding similar to Adam Rose when he spoke out about his Wellness Policy suspension, said he knows he is risking his WWE future by speaking publicly. However, he has enough "f-u" money to walk away from WWE and pursue other ventures.
"WWE may very well release me, which if it is the case so be it," Reeves said. "If we can work things out a lot needs to change as I am not living in fear and creatively cannot continue to live a life that limits me creatively. I have many other interests and passions and have been very smart with my finances over the years."
Reeves also said he wants to speak out on behalf of a locker room that is too afraid to voice their concerns with pay and positioning for fear of being released.
"Why not pay the talent equally? The winners have more MERCH as it is or are supposed to anyways so they get that extra perk, but why make the guy who is told to and agrees to lose earn less and sacrifice spots in big pay per view match ups etc. This is one of the major problems with wrestling and WWE today," Reeves said.
"Most guys take great satisfaction in helping making other talent, the b—— and the moaning we always hear about stems from the fact they know they are ultimately over time going to make less and live in fear of being released."
Reeves ended his blog with a message to WWE management that there is a world outside of WWE and he will tap into it if he cannot work out a new deal.
"I thank every WWE superstar from top to bottom for their sacrifices and for working with me. The world is an amazing place and there is more than just a WWE universe; there is The Universe, and I will prove one way or another over time I am the greatest big guy in the universe!" Reeves closed.
Reeves's issues with WWE were boiling to the surface in April when he noted his frustration with his WrestleMania positioning and other disputes that he did not want to get into.
On the side, WWE and Reeves were battling over trademarks for "The Big Guy" and "Feed Me More."
After Payback, the issues boiled over to the surface and Reeves decided to head home until the dispute could be resolved.