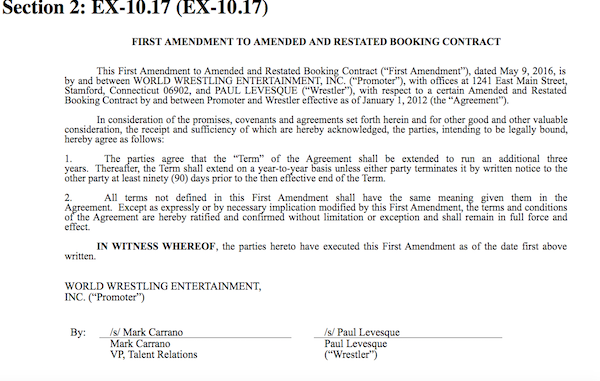 ---
SPOTLIGHTED PODCAST ALERT (YOUR ARTICLE BEGINS A FEW INCHES DOWN)...
---
As expected, WWE executive/wrestler Triple H has re-signed with WWE in his role as a wrestler.
Hunter's previous wrestling deal expired on March 30 – the week before WrestleMania – and he officially re-signed on Monday (May 9).
The "amended and restated booking contract" notes that Hunter's agreement has been extended for an additional three years.
Going forward, the contract will "extend on a year-to-year basis unless either party terminates it by written notice to the other party at least ninety (90) days prior to the then effective end of the Term."
The agreement was made between WWE, Triple H, and Mark Carrano, the VP of Talent Relations.
WWE disclosed the new booking contract because of Hunter's executive status and new appointment to the Board of Directors.
***
This follows WWE releasing details on Hunter's wrestling status in early March when they announced details of the Annual Shareholders Meeting.
According to the original contract, Hunter is entitled to a $1.0 million downside guarantee. WWE noted that Hunter "out-earned this minimum guarantee" over the "past several years" through his TV wrestling role and merchandise sales.
WWE added in March: "The agreement currently runs until March 30, 2016, and we contemplate extending this agreement on the same terms and conditions for an additional three years after its current term ends."
In 2015, Hunter earned a total of $1.713 million as a WWE talent, up from $1.647 million in 2014, but down from $1.868 million in 2013.
Hunter also earns salary as a WWE executive. In 2015, his base salary was set at $577,500 – his official earnings were $573,269.
The base salary will increase to $606,375 in 2016 after the executive team surpassed key performance goals in 2015.
Hunter also earned "incentive plan compensation" of $526,000, nearly doubling last year's bonus of $283,140.
Triple H's 2015 Earnings
$1,713,360 million as talent
$573,269 as executive (fixed compensation)
$526,000 bonus (variable compensation)
TOTAL PAY: $2.812 million
Hunter was also awarded performance stock units (PSUs) valued at $299,995, which is considered long-term equity incentive compensation, as part of WWE's accounting disclosure.
This brought his total 2015 compensation package to $3.112 million, as disclosed in WWE's total value table.