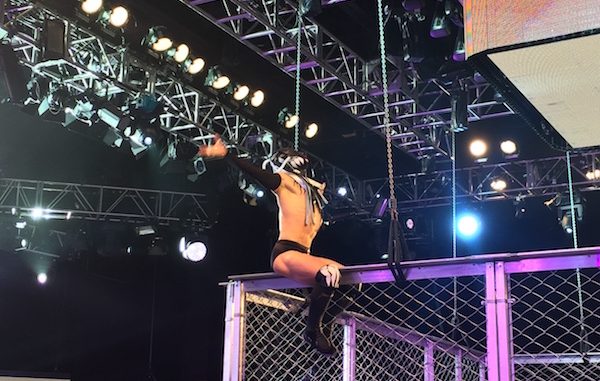 ---
SPOTLIGHTED PODCAST ALERT (YOUR ARTICLE BEGINS A FEW INCHES DOWN)...
---
By Jon Mezzera, PWTorch Hits & Misses specialist
RAW HITS 7/25
Balor vs. Cesaro vs. Rusev vs. Owens: While I didn't like the opening of Raw, the rest of the show was very good, particularly the in-ring portion of the show. The opening fatal four-way was great. It went 20 minutes and while it was annoying that it was interrupted by two commercial breaks, it was still a joy to watch. Everyone contributed to the quality of this match. It was well booked and well executed. Everyone had a chance to shine. The ending sequence was particularly strong with Finn Balor surprising Kevin Owens with a drop kick after Owens had hit Rusev with a corner cannonball. That led to him hitting a series of quick hitting moves on Owens and Rusev leading to the Coup De Gras for the victory.
Use of Jobbers: WWE did a nice job using jobbers to help introduce a new wrestler in Nia Jax, reintroduce a returning wrestler in Neville (Curtis Axel is a regular roster member, but he is a jobber at this point), and help get over a wrestler in Brawn Strowman after he broke away from the Wyatt Family. Using local jobbers for Jax and Strowman made sense. I wish WWE had done more to introduce Jax to the larger audience – a series of vignettes would have helped. Strowman is established already as a character, so he didn't need vignettes, but I didn't understand why the announcers didn't mention The Wyatt Family (did I miss it?). The jobber he was paired with was great and the short pre-match interview in the ring with him added to the effect of selling Strowman as an unstoppable monster. And Neville needs something more to get the fans connected to him after being out for four months with an injury. Yes, getting a win while hitting his cool moves was good, but not good enough. But over all, this was a strong use of jobbers.
On an aside, I want to say that I really hope Smackdown finds a way to introduce American Alpha to the larger audience that doesn't watch NXT. They should not be on this week. Daniel Bryan should talk about them and give a date in 3-4 weeks for their Smackdown debut. Then they should be featured in a series of videos that tell their story. Part of why they got over in NXT (in addition to their talent in the ring) was the story that NXT told of how they became partners. Show videos recapping that great story of Jason Jordan looking for a partner while Chad Gable auditioned for the part, leading to Jordan reluctantly agreeing to tag with him, to being a good team but not friends, to becoming friends and Jordan eventually agreeing to finish Gable's Ready, Willing and Gable catch-phrase. Give the fans a glimpse of their journey, culminating a week before their debut with a highlight package of winning the NXT Tag Team Championship. Spend a month building anticipation from fans who already want to see them and the new fans who will grow to want to see them when they finally debut.
Reigns vs. Jericho vs. Zayn vs. Sheamus: The outcome of this second fatal four-way was predictable as Roman Reigns was going to be in the main event as the most likely guy to face Seth Rollins at Summerslam for the new Universal Championship. But, that did not take away from my enjoyment of yet another very good match. This one wasn't as long as the first at 17 minutes, but at least it was only interrupted by one commercial. This wasn't as good as the first, but it was close. It was also fun to watch from start to finish. The dynamic with Sami Zayn not wanting to join in with the heels beating down Reigns was interesting, only to have him reluctantly do so a moment later. There was one sloppy spot when Chris Jericho seemed to bump early for a Superman Punch, but they covered it okay. Reigns is relying on that one big move too much. He should only hit it once in a match, even if it is a match with three opponents like this. But it was still a good match setting up the main event.
Banks vs. Charlotte: The Women's Championship match was another very good match. It was not surprising that when you put Sasha Banks and Charlotte into a singles match for the Women's Championship, give them nearly 17 minutes, and keep the outside interference to a minimum and only early in the match, you would get a very good match. I loved the nod do Eddie Guerrero when Banks slyly got Dana Brooke kicked out of the ringside area, especially the way she smiled and waived at Brooke as if to say "I got you." Getting that out of the way early was great as it meant that we could just enjoy the match without waiting for Brooke to get involved. I thought this match would happen at Summerslam, but I'm guessing that's when we get the re-match. I certainly won't complain about seeing more between these two. My only complaint is that this should have been the main event. Reigns vs. Balor should have been saved for next week to help get viewers who tuned in after the PPV and to see the first night of the new era Raw hooked for next week beyond just an appearance by Brock Lesnar. The post-match interview with Banks on her big win was also a very good touch. It probably deserves a Hit itself.
Reigns vs. Balor: As I said, this should have been saved for next week's Raw, but whenever it took place, it was a good main event. I could see this match going either way with Reigns winning to take on his old nemesis Seth Rollins, but I could also see WWE going with a huge push out of the gate with Balor getting the win. That uncertainty added to the quality of the match. No, Reigns is not a great worker in the ring. But, he has shown that he can have good if not very good matches against top opponents like Daniel Bryan, Brock Lesnar, A.J. Styles, and now Finn Balor. 13 minutes felt like the perfect length for this match. It made sense to go shorter than you might get other weeks considering they had both had physical matches earlier in the show. The Balor win was a great ending to the show. I liked the post-match interview with Reigns (other than how he called Balor "dude"). I am curious to see where they go from here with him being out of the title picture at Summerslam.
New Feel to Raw: I have mixed feelings about some of the changes made to the presentation of Raw. I hate the new logo. I wasn't impressed with the new song, but it was okay. I'm okay taking the announcers away from the ring side area. I'm assuming that they will still be in the old spot on Smackdown as a way to help differentiate between the two brands. However, Shane McMahon was the one talking about making changes to the presentation, so this would have made more sense as a change on Smackdown instead of Raw. Stephanie could have made this change two years ago if she wanted to. I liked the use of pre and post-match interviews. I liked how they had the video package on both Reigns and Balor before the main event. And I am happy to have Corey Graves finally on a main roster announce team. He was much better than JBL. I still don't like three man announce teams. Even though I like Graves, I don't like the continuation of having the other announcers make fun of Byron Saxton. If part of your plan is to make fun of Saxton for being bad at his job, then you are acknowledging that he is bad at his job, and therefore he shouldn't be doing the job. But, I will take Graves making those jokes over JBL. So while I have mixed feelings, it was important to make Raw feel fresh after the draft and they did an overall good job with that aspect of the presentation.
RAW MISSES 7/25
Opening Segment: A great episode of Raw did not get off to a good start. I understand how this show had to start with the authority figures addressing their new roster of wrestlers, but it didn't make for a good segment. I appreciate that this was the only appearance by Stephanie McMahon and Mick Foley, but the roles of commissioner and general manager are ill defined at this point. I was thrilled when the Battleground main event triple threat WWE World Title match ended clean. I expected some type of double pin to have a Raw and Smackdown wrestler with a claim to the Championship. I was happy when that didn't happen. But, we found out at the start of Raw that Raw will have its own major Championship (as opposed to one Champion defending on both shows as I had hoped) and that the new Title has the horrible name of Universal Championship. Having two fatal four-ways followed by a singles match leading to another singles match at Summerslam felt too convoluted as a way of getting to that new Champion being crowned. They did set up some big matches which was good.
New Day Celebration: This was probably the worst segment of the show. I did not like how WWE followed up on New Day's loss at Battleground to the Wyatts with this celebration of their record breaking Title run. It continued part of the tone deaf problem that I had with the New Day vs. Wyatt feud to begin with. Moving past that, this was not New Day at their best. The bit with their fan Sonny Boy was lame. It went on too long and wasn't funny. I am fine with the attack by The Club at the end to move New Day onto something new, but the celebration before that was bad.
Enzo & Cass: I continue to not buy whatever Enzo & Cass are selling. Their mic work at Battleground was some of their best in WWE even though it went on far too long. The follow up on Raw was not nearly as good. The list of things that Big Cass likes raw was rough to listen to. He usually does a better job of transitioning into his S-A-W-F-T bit, but here after being interrupted by the Shining Stars he just said the line with no transition at all. The match was absolutely nothing. It ended with the distraction from the Pokemon Go playing R-Truth which was okay (I will say that I laughed out loud earlier when Truth mistook the Pittsburgh Penguins's logo for a Pokemon). Overall, this felt like the type of segment that should be cut to make the show two hours, because even on a great Raw, there is still an hour that should be cut out.
Jon Mezzera is PWTorch.com's WWE Hits & Misses Specialist, providing his point of view for Raw and Smackdown each week. Email him at jmezz_torch@yahoo.com.
Act now and become my 62nd Twitter follower @JonMezzera (pretty clever handle right?). Just be aware that I don't live tweet Raw, I don't tweet much about wrestling, and I don't tweet much at all. I finally hit 60 followers, but why stop there?
For another view from the original Hitlist author, compare Jason Powell's views to mine by visiting prowrestling.NET's "Hitlist" section here.