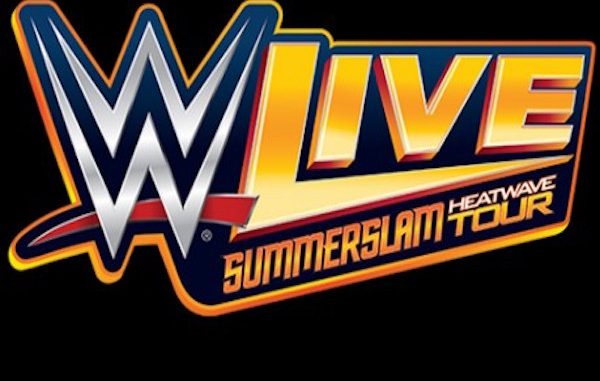 ---
SPOTLIGHTED PODCAST ALERT (YOUR ARTICLE BEGINS A FEW INCHES DOWN)...
---
WWE Live Show Results
August 11, 2016
Melbourne, Australia
Report by VIP member Dan
(1) Apollo Crews beat Sheamus. Decent opener with Shamo playing up to the crowd who immediately started with the 'You look stupid' chants. Apollo hit a nice slingshot plancha to the outside, but Sheamus rallied with a reverse slingshot against the top rope that looked nasty on the neck. Crews got a two count from the standing Shooting Star, then got the win when he slipped off an attempted White nNoise and rolled up Sheamus for the 3.
(2) Braun Strowman beat Jey Uso. Strowman is a mountain; I couldn't believe the size of him. Not much in the match, as Uso got in a few kicks and the corner rear splash before being caught with the front-face slam for the finish. Strowman left, but returned to beat up Jimmy Uso, but they rallied and double superkicked him over the top to clear the ring. Strowman is deceptively quick.
(3) WWE tag champions New Day beat Karl Anderson & Luke Gallows to retain the WWE Tag Titles. New Day was really really over with the crowd. Kofi was the stand-out hitting all his signature offense. The match broke down when all guys entered the ring and brawled. Gallows and Woods went to the outside leaving Anderson sizing up Kofi in the ring to finish him when on the microphone you heard Big E. saying 'Awww Melbourne.' The crowd went ape. He finished his mic routine as he came out to the top of the ramp and Anderson turned into Trouble in Paradise, which resulted in the pin. Good match made better by the surprise of Big E.
(4) U.S. champion Rusev (w/stunning Lana) beat Titus O'Neil. Lana got heat saying Melbourne was a terrible city that resembled a pathetic village. Very quick match that Rusev won. Titus looked quite sloppy and slow.
(5) Roman Reigns & Finn Balor beat Seth Rollins & Chris Jericho in a tag match. People were confused as these were meant to be single matches but that was quickly forgot about when Jericho got on the mic. The man is amazing, so entertaining. The crowd chanted 'You're a wanker' at him to which he replied 'I'm the biggest and best wanker here.' Rollins pitched in, too, saying he was also a big wanker. It was all very funny stuff. By the way, both heels got great receptions on entrance. Balor did to and Roman, well, he got booed of course. A good match, with all four getting in good action. The end came when Balor hit the Coup de Grace to take out Rollins while Roman speared Jericho for the pin.
[Intermission]
(6) Women's champion Sasha Banks beat Charlotte with a backstabber float-over into the Bank Statement.
(7) Sami Zayn beat Kevin Owens. This was a peach, as the crowd were well into this one. They started by going toe-to-toe in the middle before Owens got Sami in a rear chinlock while talking smack to the crowd. Owens hit a Cannonball while Sami fired back with a Blue Thunder Bomb for a nearfall. Owens hit a face-shattering superkick for a nearfall before hitting a Swanton bomb. They hiked the crowd up more going at it again in the middle with punches before Sami some how managed to cheekily roll through whilst being in the air for the pop-up powerbomb to win. Great match.
Best news of the night was Jojo announcing NXT would be coming to Australia soon.
Next was the main event of A.J. Styles vs. John Cena. Man, the crowd was hot for this. The "Let's Go Cena / A.J. Styles" chants went for ages and were loud.
(8) John Cena beat A.J. Styles. Styles took control but the opening was mainly kick/punch by both. Styles got Cena in a couple of sleepers which got a couple of boring chants from people not knowing that he was working up the crowd to get behind Cena, which did eventually catch on. Cena got back into it with his shoulder tackles and Five Knuckle Shuffle. He then applied an STF, but Styles got a rope break. Styles turned it around and hit a gorgeous top rope 450 onto Cena for a close two. Cena then hit the AA for a 2. Styles got momentum again before working into position for the phenomenal forearm, but Cena side-stepped and caught A.J. before putting him in another STF. Again, a rope break. With both guys back to their feet, Cena slapped A.J., who retaliated with a standing enziguiri, but Cena ducked and the ref took it. Cue The Club to run in, hit the Magic Killer, and roll in the ref, but Cena kicked out. Styles covered again and there was another kick-out, but onto the ref for a second ref bump. Gallows and Anderson came in again, this time with a chair. Anderson held Cena and as Gallows went to hit Cena, he moved and Anderson took it. Cena removed Gallows, then A.J. walked into an AA for the three. Cracking main event.
Afterward, Cena sat in the ring and thanked the fans. He spoke about how upset he was to have missed last year's trip because of injury. He also said he'd been doing this tour for 15 years, but there's a guy back there that he just wrestled who is finally here main-eventing after waiting for the chance for 15-plus years. Nice thing to say and the crowd really liked that from Cena. All in all, great show. Can't wait for the NXT show.