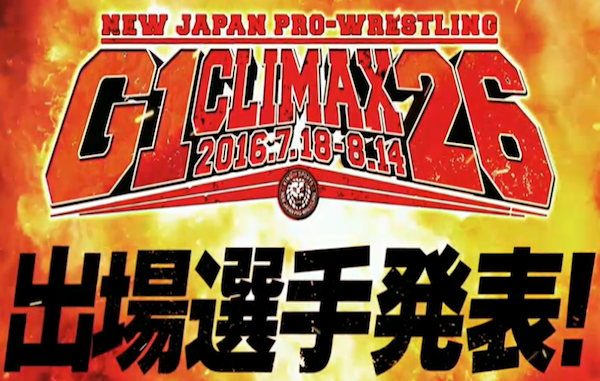 ---
SPOTLIGHTED PODCAST ALERT (YOUR ARTICLE BEGINS A FEW INCHES DOWN)...
---
New Japan G1 Climax Standings
Through Night 19 – August 14 (Tournament Finals). (Full Tournament Central)
Kenny Omega won the 2016 G1 Climax tournament with a dramatic victory over Hirooki Goto. Omega advances to the Tokyo Dome Show on January 4, 2017 to challenge for the IWGP World Title.
A Block Standings
Hirooki Goto (6-3, 12 pts) (A BLOCK WINNER)
IWGP Champ Kazuchika Okada (5-3-1, 11 pts)
Hiroshi Tanahashi (5-3-1, 11 pts)
Naomichi Marufuji (5-4, 10 pts)
Bad Luck Fale (5-4, 10 pts)
Togi Makabe (4-5, 8 pts)
Tomohiro Ishii (4-5, 8 pts)
Tama Tonga (4-5, 8 pts)
Sanada (4-5, 8 pts)
Tenzan (2-7, 4 pts)
B Block Standings
Kenny Omega (6-3, 12 pts) (B BLOCK WINNER) (G1 TOURNAMENT WINNER)
Naito (6-3, 12 pts)
IWGP IC champion Michael Elgin (5-4, 10 pts)
NEVER Openweight champion Shibata (5-4, 10 pts)
Katsuhiko Nakajima (5-4, 10 pts)
Toru Yano (5-4, 10 pts)
EVIL (4-5, 8 pts)
Yuji Nagata (3-6, 6 pts)
YOSHI-HASHI (3-6, 6 pts)
Honma (3-6, 6 pts)
MATCH
DATE
WINNER
TIME
LOSER
BLOCK
1
7/18
Tenzan
(1-0, 2 pts)
14:10
Pin
Tomohiro Ishii
(0-1, 0 pts)
A Block
2
7/18
Togi Makabe
(1-0, 2 pts)
10:38
Pin
Tama Tonga
(0-1, 0 pts)
A Block
3
7/18
Hirooki Goto
(1-0, 2 pts)
9:20
Pin
Bad Luck Fale
(0-1, 0 pts)
A Block
4
7/18
Sanada
(1-0, 2 pts)
19:30
Tap-out
Hiroshi Tanahashi
(0-1, 0 pts)
A Block
5
7/18
Naomichi Marufuji
(1-0, 2 pts)
19:08
Pin
Kazuchika Okada
(0-1, 0 pts)
A Block
6
7/22
Katsuhiko Nakajima
(1-0, 2 pts)
3:51
Pin
Toru Yano
(0-1, 0 pts)
B Block
7
7/22
YOSHI-HASHI
(1-0, 2 pts)
12:16
Pin
Kenny Omega
(0-1, 0 pts)
B Block
8
7/22
EVIL
(1-0, 2 pts)
10:54
Pin
Michael Elgin
(0-1, 0 pts)
B Block
9
7/22
Yuji Nagata
(1-0, 2 pts)
15:32
Pin
Yuji Nagata
(0-1, 0 pts)
B Block
10
7/22
Honma
(1-0, 2 pts)
11:11
Pin
Honma
(0-1, 0 pts)
B Block
11
7/23
Tenzan
(2-0, 4 pts)
10:31
Pin
Tama Tonga
(0-2, 0 pts)
A Block
12
7/23
Hirooki Goto
(2-0, 4 pts)
11:49
Pin
Tomohiro Ishii
(0-2, 0 pts)
A Block
13
7/23
Bad Luck Fale
(1-1, 2 pts)
9:36
Pin
Naomichi Marufuji
(1-1, 2 pts)
A Block
14
7/23
Kazuchika Okada
(1-1, 2 pts)
13:20
Pin
Sanada
(1-1, 2 pts)
A Block
15
7/23
Togi Makabe
(2-0, 4 pts)
14:04
Pin
Tanahashi
(0-2, 0 pts)
A Block
16
7/24
Honma
(2-0, 4 pts)
13:07
Pin
YOSHI-HASHI
(1-1, 2 pts)
B Block
17
7/24
Yuji Nagata
(2-0, 4 pts)
10:54
Pin
EVIL
(1-1, 2 pts)
B Block
18
7/24
Kenny Omega
(1-1, 2 pts)
9:05
Pin
Toru Yano
(0-2, 0 pts)
B Block
19
7/24
Shibata
(1-1, 2 pts)
14:08
Pin
Katsuhiko Nakajima
(1-1, 2 pts)
B Block
20
7/24
Naito
(1-1, 2 pts)
22:12
Pin
Michael Elgin
(0-2, 0 pts)
B Block
21
7/25
Tomohiro Ishii
(1-2, 2 pts)
9:35
Pin
Bad Luck Fale
(1-2, 2 pts)
A Block
22
7/25
Togi Makabe
(3-0, 6 pts)
12:25
Pin
Sanada
(1-2, 2 pts)
A Block
23
7/25
Naomichi Marufuji
(2-1, 4 pts)
12:29
Pin
Tenzan
(2-1, 4 pts)
A Block
24
7/25
Tama Tonga
(1-2, 2 pts)
11:10
Pin
Tanahashi
(0-3, 0 pts)
A Block
25
7/25
Kazuchika Okada
(2-1, 4 pts)
16:11
Pin
Hirooki Goto
(2-1, 4 pts)
A Block
26
7/27
Yuji Nagata
(3-0, 6 pts)
11:56
Pin
YOSHI-HASHI
(1-2, 2 pts)
B Block
27
7/27
Katsuhiko Nakajima
(2-1, 4 pts)
10:31
Pin
EVIL
(1-2, 2 pts)
B Block
28
7/27
Naito
(2-1, 4 pts)
4:54
Pin
Toru Yano
(0-3, 0 pts)
B Block
29
7/27
Kenny Omega
(2-1, 4 pts)
13:59
Pin
Honma
(2-1, 4 pts)
B Block
30
7/27
Michael Elgin
(1-2, 2 pts)
15:53
Pin
Shibata
(1-2, 2 pts)
B Block
31
7/28
Togi Makabe
(4-0, 8 pts)
10:08
Pin
Tenzan
(2-2, 4 pts)
A Block
32
7/28
Sanada
(2-2, 4 pts)
12:05
Pin
Hirooki Goto
(2-2, 4 pts)
A Block
33
7/28
Tomohiro Ishii
(2-2, 4 pts)
12:14
Pin
Naomichi Marufuji
(2-2, 4 pts)
A Block
34
7/28
Kazuchika Okada
(3-1, 6 pts)
11:45
Pin
Tama Tonga
(1-2, 2 pts)
A Block
35
7/28
Tanahashi
(1-2, 2 pts)
15:05
Pin
Bad Luck Fale
(1-2, 2 pts)
A Block
36
7/30
Toru Yano
(1-3, 2 pts)
4:21
Pin
Honma
(2-2, 4 pts)
B Block
37
7/30
YOSHI-HASHI
(2-2, 4 pts)
12:48
Pin
EVIL
(1-3, 2 pts)
B Block
38
7/30
Katsuhiko Nakajima
(3-1, 6 pts)
12:32
Pin
Yuji Nagata
(3-1, 6 pts)
B Block
39
7/30
Michael Elgin
(2-2, 4 pts)
16:44
Pin
Kenny Omega
(2-2, 4 pts)
B Block
40
7/30
Shibata
(2-2, 4 pts)
19:24
Sleeper
Naito
(2-2, 4 pts)
B Block
41
7/31
Tama Tonga
(2-3, 4 pts)
11:00
Pin
Tomohiro Ishii
(2-3, 4 pts)
A Block
42
7/31
Bad Luck Fale
(2-3, 4 pts)
9:06
Pin
Sanada
(2-3, 4 pts)
A Block
43
7/31
Naomichi Marufuji
(3-2, 6 pts)
10:39
Pin
Togi Makabe
(4-1, 8 pts)
A Block
44
7/31
Kazuchika Okada
(4-1, 8 pts)
12:30
Pin
Tenzan
(2-3, 4 pts)
A Block
45
7/31
Tanahashi
(2-3, 4 pts)
17:47
Pin
Hirooki Goto
(2-3, 4 pts)
A Block
46
8/1
YOSHI-HASHI
(3-2, 6 pts)
12:02
Pin
Katsuhiko Nakajima
(3-2, 6 pts)
B Block
47
8/1
Michael Elgin
(3-2, 6 pts)
10:35
Pin
Yuji Nagata
(3-2, 6 pts)
B Block
48
8/1
Toru Yano
(2-3, 4 pts)
1:05
Pin
Shibata
(2-3, 4 pts)
B Block
49
8/1
Kenny Omega
(3-2, 6 pts)
10:15
Pin
EVIL
(1-4, 2 pts)
B Block
50
8/1
Naito
(3-2, 6 pts)
20:38
Pin
Honma
(2-3, 4 pts)
B Block
51
8/3
Bad Luck Fale
(3-3, 6 pts)
8:22
Pin
Tenzan
(2-4, 4 pts)
A Block
52
8/3
Hirooki Goto
(3-3, 6 pts)
12:29
Pin
Tama Tonga
(2-4, 4 pts)
A Block
53
8/3
Naomichi Marufuji
(4-2, 8 pts)
10:39
Pin
Sanada
(2-4, 4 pts)
A Block
54
8/3
Tanahashi
(3-3, 6 pts)
16:10
Pin
Tomohiro Ishii
(2-4, 4 pts)
A Block
55
8/3
Kazuchika Okada
(5-1, 10 pts)
15:04
Pin
Togi Makabe
(4-2, 8 pts)
A Block
56
8/4
Toru Yano
(3-3, 6 pts)
4:22
Countout
Yuji Nagata
(3-3, 6 pts)
B Block
57
8/4
Michael Elgin
(4-2, 8 pts)
9:49
Pin
YOSHI-HASHI
(3-3, 6 pts)
B Block
58
8/4
EVIL
(2-4, 4 pts)
9:49
Pin
Honma
(2-4, 4 pts)
B Block
59
8/4
Shibata
(3-3, 6 pts)
12:28
Pin
Kenny Omega
(3-3, 6 pts)
B Block
60
8/4
Naito
(4-2, 8 pts)
19:08
Pin
Katsuhiko Nakajima
(3-3, 6 pts)
B Block
61
8/6
Tama Tonga
(3-4, 6 pts)
10:40
Pin
Sanada
(2-5, 4 pts)
A Block
62
8/6
Bad Luck Fale
(4-3, 8 pts)
8:38
Pin
Togi Makabe
(4-3, 8 pts)
A Block
63
8/6
Hirooki Goto
(4-3, 8 pts)
10:02
Pin
Tenzan
(2-5, 4 pts)
A Block
64
8/6
Tomohiro Ishii
(3-4, 6 pts)
18:43
Pin
Kazuchika Okada
(5-2, 10 pts)
A Block
65
8/6
Tanahashi
(4-3, 8 pts)
19:00
Pin
Naomichi Marufuji
(4-3, 8 pts)
A Block
66
8/7
Toru Yano
(4-3, 8 pts)
4:59
Pin
Michael Elgin
(4-3, 8 pts)
B Block
67
8/7
Shibata
(4-3, 8 pts)
11:08
Pin
YOSHI-HASHI
(3-4, 6 pts)
B Block
68
8/7
Katsuhiko Nakajima
(4-3, 8 pts)
12:34
Pin
Honma
(2-5, 4 pts)
B Block
69
8/7
Kenny Omega
(4-3, 8 pts)
14:17
Pin
Yuji Nagata
(3-4, 6 pts)
B Block
70
8/7
Naito
(5-2, 10 pts)
21:28
Pin
EVIL
(2-5, 4 pts)
B Block
71
8/8
Naomichi Marufuji
(5-3, 10 pts)
10:54
Pin
Tama Tonga
(3-5, 6 pts)
A Block
72
8/8
Sanada
(3-5, 6 pts)
12:18
Submit
Tomohiro Ishii
(3-5, 6 pts)
A Block
73
8/8
Tanahashi
(5-3, 10 pts)
11:17
Pin
Tenzan
(2-6, 4 pts)
A Block
74
8/8
Bad Luck Fale
(5-3, 10 pts)
11:16
Pin
Kazuchika Okada
(5-3, 10 pts)
A Block
75
8/8
Hirooki Goto
(5-3, 10 pts)
14:12
Pin
Togi Makabe
(4-4, 8 pts)
A Block
76
8/10
Kenny Omega
(5-3, 10 pts)
10:29
Pin
Nakajima
(4-4, 8 pts)
B Block
77
8/10
EVIL
(3-5, 6 pts)
2:57
Pin
Toru Yano
(4-4, 8 pts)
B Block
78
8/10
Naito
(6-2, 12 pts)
15:01
Pin
YOSHI-HASHI
(3-5, 6 pts)
B Block
79
8/10
Shibata
(5-3, 10 pts)
12:16
Sleeper
Yuji Nagata
(3-5, 6 pts)
B Block
80
8/10
Michael Elgin
(5-3, 10 pts)
18:43
Pin
Honma
(2-6, 4 pts)
B Block
81
8/12
Sanada
(4-5, 10 pts)
12:12
Pin
Tenzan
(2-7, 4 pts)
A Block
82
8/12
Tomohiro Ishii
(4-5, 10 pts)
12:33
Pin
Togi Makabe
(4-5, 10 pts)
A Block
83
8/12
Tama Tonga
(4-5, 10 pts)
8:39
Pin
Bad Luck Fale
(5-4, 10 pts)
A Block
84
8/12
Hirooki Goto
(6-3, 12 pts)
A BLOCK WINNER
13:17
Pin
Naomichi Marufuji
(5-4, 10 pts)
A Block
85
8/12
Kazuchika Okada
(5-3-1, 11 pts)
30:00
Draw
Hiroshi Tanahashi
(5-3-1, 11 pts)
A Block
86
8/13
Honma
(3-6, 6 pts)
10:29
Pin
Yuji Nagata
(3-6, 6 pts)
B Block
87
8/13
Toru Yano
(5-4, 10 pts)
3:31
Pin
YOSHI-HASHI
(3-6, 6 pts)
B Block
88
8/13
EVIL
(4-5, 8 pts)
9:42
Pin
Shibata
(5-4, 10 pts)
B Block
89
8/13
Katsuhiko Nakajima
(5-4, 10 pts)
16:50
Pin
Michael Elgin
(5-4, 10 pts)
B Block
90
8/13
Kenny Omega
(6-3, 12 pts)
B BLOCK WINNER
28:12
Pin
Naito
(6-3, 12 pts)
B Block
91
8/14
Kenny Omega
(B Block Winner)
(G1 CLIMAX WINNER)
26:40
Pin
Hirooki Goto
(A Block Winner)
G1 CLIMAX
FINALS