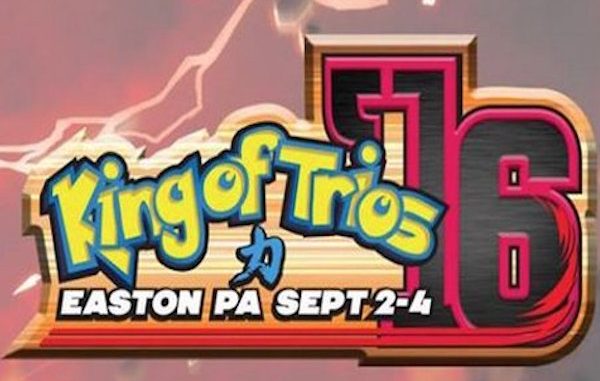 ---
SPOTLIGHTED PODCAST ALERT (YOUR ARTICLE BEGINS A FEW INCHES DOWN)...
---
Two of the biggest weekend tournaments of the year take place this Labor Day weekend.
On the West Coast, PWG's annual Battle of Los Angeles tournament in Reseda, Calif. features the likes of Cody Rhodes, Zack Sabre, Jr., Will Ospreay, John Morrison, Jushin Liger, and more Cruiserweight tournament competitors in a three-night tournament.
On the East Cast, Chikara's annual King of Trios tournament in Easton, Pa. features Cruiserweight competitors, an all-star WWF/E Women's division team, and Japanese women's stars.
Meanwhile, WWE does not have any shows this weekend. It's a rare weekend off before a gaggle of international tours to close the year.
BOLA Tournament Line-up
Night 1 – Sept. 2
BOLA First Round: Zack Sabre, Jr. vs. Tommy End
BOLA First Round: Will Ospreay vs. Fenix
BOLA First Round: Chris Hero vs. Jushin Liger
BOLA First Round: Matt Sydal vs. John Morrison
BOLA First Round: Ricochet vs. Jeff Cobb
BOLA First Round: Marty Scurll vs. Pentagon, Jr.
Non-Tournament match: Young Bucks & Adam Cole vs. Dalton Castle & The Boys
Night 2 – Sept. 3
BOLA First Round: Cody Rhodes vs. Sami Callihan
BOLA First Round: Matthew Riddle vs. Kyle O'Reilly
BOLA First Round: Dalton Castle vs. Jack Gallagher
BOLA First Round: Mark Andrews vs. Pete Dunne
BOLA First Round: Kamaitachi vs. Trevor Lee
BOLA First Round: Cedric Alexander vs. Mark Haskins
Non-Tournament match: Will Ospreay & Ricochet & Matt Sydal vs. Young Bucks & Adam Cole in a six-man tag match
Non-Tournament match: Chris Hero & Tommy End vs. Fenix & Pentagon, Jr.
Night 3 – Sept. 4
Quarterfinals, semi-finals, and Final matches
Annual multi-man crazy tag match
PWG BOLA entrants
(1) Cody Rhodes
(2) Kamaitachi
(3) Jeff Cobb
(4) Mark Haskins
(5) Dalton Castle
(6) Pete Dunne
(7) Sami Callihan
(8) Tommy End
(9) Trevor Lee
(10) Cedric Alexander (replacing Adam Cole)
(11) John Hennigan/John Morrison/Johnny Mundo
(12) Jack Gallagher
(13) Chris Hero
(14) Mark Andrews
(15) Ricochet
(16) Matthew Riddle
(17) Marty Scurll
(18) Matt Sydal
(19) Kyle O'Reilly
(20) Fenix
(21) Zack Sabre, Jr.
(22) Will Ospreay
(23) Pentagon, Jr.
(24) Jushin "Thunder" Liger
***
CHIKARA KOT Tournament Line-up
Night 1 – Sept. 2
KOT First Round: Team SHIMMER vs. Team WWF Women
KOT First Round: Team CWC vs. Warriors Three
KOT First Round: Team JWP vs. Amasis & Argus & Ophidian
KOT First Round: The Colony vs. Team Big Deal
KOT First Round: Team Police Squad vs. United Nations
KOT First Round: Hallowicked's Trio vs. The Ants
KOT First Round: Team Sendai Girls vs. Heidi Lovelace's team
Night 2 – Sept. 3
KOT Quarterfinals #1-4
Rey de Voladores Eliminator #1
Rey de Voladores Eliminator #2
Night 3 – Sept. 4
KOT Semi-Finals #1 and 2
KOT Finals
Tag Team Gauntlet match
Arik Cannon vs. Mark Angelosetti
King of Trios Teams
(1) Team Sendai Girls (Meiko Satomura & Casandra Miyagi & Dash Chisako)
(2) Team SHIMMER (Madison Eagles & Candice LaRae & "Crazy" Mary Dobson)
(3) Team Original WWE Women's Wrestlers (Mickie James & Victoria & Jazz)
(4) Team JWP (Command Bolshoi & Hanako Nakamori & Manami Katsu)
(5) Heidi Lovelace & N_R_G (Hype Rockwell & Race Jaxon)
(6) The Colony (Soldier Ant & Fire Ant & Silver Ant)
(7) The Warriors Three (Princess KimberLee & Thunderfrog & Oleg the Usurper)
(8) Team WWNLive/NXT (Johnny Gargano & Cedric Alexander & Drew Gulak)
(9) United Nations (Juan Francisco de Coronado & Prakash Sabar & Proletariat Boar of Moldova)
(10) Team Police Squad (Bill Carr & Dick Justice & Warren Barksdale)
(11) Obariyon & Kobald & Kodama
(12) Team Major League Moustache (Dasher Hatfield & Trent Seven & Tyler Bate)
(13) Team Big Deal (Hornswoggle & Caprice & Rick Roland)
(14) Team JWP (Argus & Ophidian & Amasis)
(15) CHIKARA Grand champion Hallowicked & ??? & ???
(16) Arctic Rescue Ant & Worker Ant & Missile Assault Man