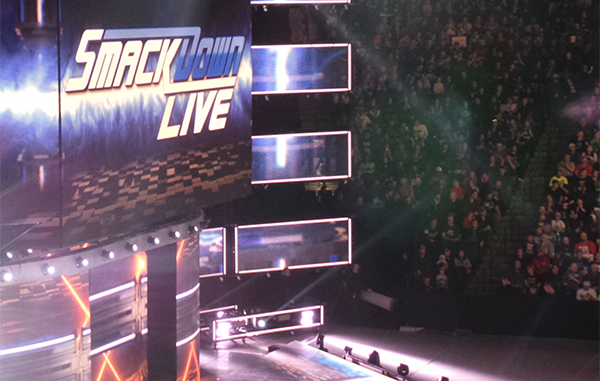 ---
SPOTLIGHTED PODCAST ALERT (YOUR ARTICLE BEGINS A FEW INCHES DOWN)...
---
SMACKDOWN PREVIEW
APRIL 11, 2017
BOSTON, MASS. AT TD GARDEN
By Joey Galizia (@RamJam89), PWTORCH SPECIALIST
"THE ONLY THING THAT'S FOR SURE…IS THAT NOTHING IS FOR SURE."
TODAY'S PRIMER IS GOING TO GO A LITTLE DIFFERENTLY.
Last night on Monday Night Raw, we had the esteemed pleasure of witnessing phase one of the Superstar Shake-up. AND OHHHH WHAT A SHAKE-UP. There were some moves that were predictable: Alexa Bliss has certainly showcased herself well on SD, and shifting her to Raw where she'll be able to have more eyes on her is best for business. Kalisto to Raw is also a smart move, but only if they allow him to compete with the Cruiserweights, or in an Ironman match against Braun Strowman. (I'm kidding, but am I?) Other picks were more surprising: Intercontinental Champion Dean Ambrose has returned to the red brand right when he was in the midst of a much improved feud with the "Lone Wolf" Baron Corbin. The Miz and wife Maryse have come back to Mondays as well and apparently they still have a beef with the Lunatic Fringe.
The biggest surprise was Bray Wyatt, who immediately made use of his opportunity and called out Finn Balor. Even after the severe mishandling of Bray's character for years, the pop he got last night proves what an asset he is to the company. However, even as a Raw guy now, he apparently still owed his rematch for the WWE Championship against Randy Orton, and apparently that will take place at the Raw PPV Payback in a House-of-Horrors match. This does give the feud an added layer of brand supremacy; wonder if Orton will respond to this matchup tonight.
Mickie James, Curtis Hawkins, Apollo Crews, Heath Slater, and the man-beast Rhyno also shifted from team blue to team red. Unfortunately, some of these names were only mentioned and not shown so they may not be top priority.
That leaves SD tonight with a lot of uncertainty. A lot of fans are speculating that Tuesday nights have lost a WHOLE bunch of talent and it may be difficult for them to recover. While I agree that guys like Bray, Miz, and even Dean are a hard pill to swallow, let's look at the positives of this situation.
-The greatest wrestler in the world, A.J. Styles, appears to be staying on Smackdown. He's not officially a babyface again, but his encounter with Shane last week could be a step in the right direction.
-Rumor is that The Club will be moving to Tuesdays. Perhaps they can finally link back up with the Phenomenal One so they can BEAT UP JOHN CENA and everyone else.
-SD Live could literally fire every superstar they have and only keep Shinsuke Nakamura and I'd still watch. Shinsuke would come to the ring every night and just pose and shake his body Michael Jackson style while never wrestling and I'd STILL WATCH. That's how you know you have a superstar. In reality, the King of Strong Style will most likely be in action tonight, and hopefully a feud will be built for him going into Backlash.
-Since the I.C. Title has gone to Raw, it would really only make sense for the U.S. Title to move to SD. While this isn't confirmed, I think K.O. on SD would certainly draw viewers. He could be the mid-card baddie that the Miz was. However, Sami Zayn has been rumored to go to SD as well. I'm indifferent on that situation: On the one hand, Zayn and Owens put on Shakespearean esque poetry every time they square off against one another. Every match different, every move important, every segment an added layer. On the other hand… we've seen it so many times. Both guys could benefit from a brand change. Let's see if they pull the trigger.
-This is a total guess, but if they do keep K.O. and the U.S. Title on Monday nights, perhaps the purple brand gets shifted to Tuesdays. I mean, the Cruiserweights do travel with the SD crew anyway since 205 Live (Someone should live report them on this site, OH WAIT I DO!) goes on right after. This could give the high-flyers more time than an oddly squeezed in segment on a very crowded Raw show. Time will tell; no one has guessed this yet, so it probably won't happen, BUT NEVER SAY NEVER.
-Possibility that we see some NXT call-ups tonight as well. Maybe Cien Almas? Maybe Elias Samson who was supposedly rummaging around Raw last night with his stupid guitar. Even if there are no debuts, do not forget that the most over man in professional wrestling is on SD Live. TEN. TEN. TEN.
-Which women from Raw will be joining Naomi, Natalya, Becky, and company? Charlotte is almost a guaranteed lock since she took a loss last night to Nia Jax in what felt like a farewell match. They are in Boston, but would they really pull Sasha off of Raw during this build up to her feud with Bayley? I'm not saying they wouldn't, I'm just saying it would be a NOT VERY SMART decision. More likely, I'd guess Emma is the one who moves, and MAN am I excited for that. The one trait that SD Lives always defeated Raw in was giving the women ACTUAL time on the show. Hell, Elimination Chamber had THREE women's matches on it. THREE! I look forward to the Queen being able to make use of her time.
PREDICTIONS: Charlotte, Emma, The Club, New Day, and Kevin Owens will join the blue brand.
You watching?
---
NOW CHECK OUT LAST WEEK'S ARTICLE: SMACKDOWN PRIMER: WrestleMania 33 fallout including next stage in Orton-Wyatt feud, Mojo celebrates, what's next for A.J., Naomi basks