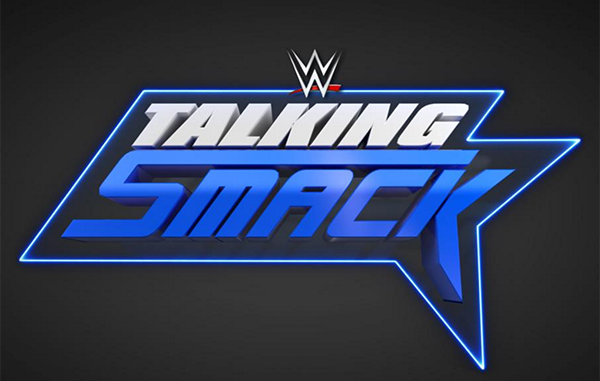 ---
SPOTLIGHTED PODCAST ALERT (YOUR ARTICLE BEGINS A FEW INCHES DOWN)...
---
Talking Smack has quickly become must see TV. That is very high praise for a network special that promotes sitting down and talking over wrestling on a wrestling network. It's smooth, easy viewing that appeals to those who want to know more about what really goes on without ever damaging the overall characters. Every episode gives us a few interesting things that are definitely with knowing.
I'm Tom Colohue and this is Talking Points From Talking Smack.
Follow Tom Colohue on Facebook and @Colohue for updates.
---
Talking Points From Talking Smack
1. Shane the best of a bad bunch
From the first second, Shane McMahon was trying to bring more energy to his typical performance. He did a drum roll. He sang a song. With Bryan away, is there anybody left who could step in for him other than Shane McMahon? No, no there isn't. Talkers who fit it in this environment don't exist on Smackdown right now.
You can usually tell by promo style who would be comfortable as a backstage personality. The Miz always had it. Cena always had it. Ambrose? No. Harper? No. Probably the nearest contender was one of the guests tonight in Charlotte. Can you think of anyone? Answers @Colohue.
2. Mahal takes up the mantle
Jinder Mahal on Talking Smack is extremely different from Smackdown's Jinder Mahal. He plays down his race and religion by wearing the sort of shirt that Daniel Bryan would be proud of. Despite following his script, he loses a lot of aggression and becomes quick a slick, positive talker.
Is it the change in look that convinced McMahon to give him a chance? Rumours persist about steroid abuse due to the sudden change in body shape but the fact is that Mahal is building himself as a new midcard heel from this. The crowd responded strongly to Mahal and Shane drew more passion in order to help maintain that momentum. All the signs are there.
3. Primo & Epico seize the spotlight
When's the last time you heard Primo & Epico talk? I haven't. They highlighted 2012 to detail their accomplishments, which was a sad highlight of their last five years.
A win, an interview, and a gorgeous vertical double-underhook gutbuster have given a bit of fire to the two of them, but it's going to take a while for anybody to consider these two former Raw jobbers as a big deal again. Epico in particular clearly had a lot to get off of his chest and, though it was a typical Talking Smack undercard conversation, everything that they were saying was true.
4. Champs feel out of place
In the current Smackdown roster, nobody feels more out of place than Randy Orton. His length of service works against him, as does his lack of physical intensity and verbal aggression. While he is the WWE Champion, he is not being given the focus of the company, with that honor going to the U.S. Title. Randy is sort of in a bubble right now.
The same can be said for Kevin Owens. His challenger is set but, like Randy, he still has unfinished business elsewhere, leading to a feeling of detachment that is not helped when fending off jobbers. When Shane and Renee were talking about either of these men, it felt like they were talking about another show entirely.
The same could potentially be said about Naomi, given how short her push to the top has been relative to the brand split. The same for the Usos given how little attention the whole tag division gets and that Alpha have a storyline but the champs do not. It's an odd time to be a champ on Smackdown.
5. Charlotte's face turn continues
Charlotte made the final guest on Talking Smack, a show that featured all heel guests because Smackdown brought in primarily heels to fix an imbalance. Charlotte, however, will not be a heel for long.
During Smackdown she faced Naomi, but tension was teased far more strongly with Natalya, Carmella, and Tamina – the three heels of the division. When Charlotte made her entrance for her match there were no boos. She won clean and convincingly using her brain to counter the rear view. All of these are face tactics. An attack by the heels next week could spell a big turn that the audience is more than ready for. Did she follow through with this on Talking Smack?
In abundance. She opened with a bit of ego but, outside of kayfabe, Charlotte Flair is a tremendously likeable person. She was all smiles, showed plentiful gratitude to Shane and even her voice is noticeably different. Shane pushed her talent and her gall; meanwhile, she went from being arrogant to being brilliantly confident.
Even her picture in the Naomi vs. Charlotte graphic was smiling.
Charlotte is not a smooth conversationalist in character. This became clearer and clearer over the course of the interview. Being heel does not suit her in reality and Talking Smack made that inescapable. Her lack of ability to improvise could be damaging to her career before long. Some time on Talking Smack and the impending switch to a more natural character will do her the world of good and push her into the top draw echelons typically reserved for world champion men.
Follow Tom Colohue on Facebook and @Colohue for updates.
---
NOW CHECK OUT LAST WEEK'S ARTICLE: TALKING POINTS FROM TALKING SMACK 4/11: Post-Superstar Shake-up with Owens, filling Bryan's pending void, Jinder and Dolph step up