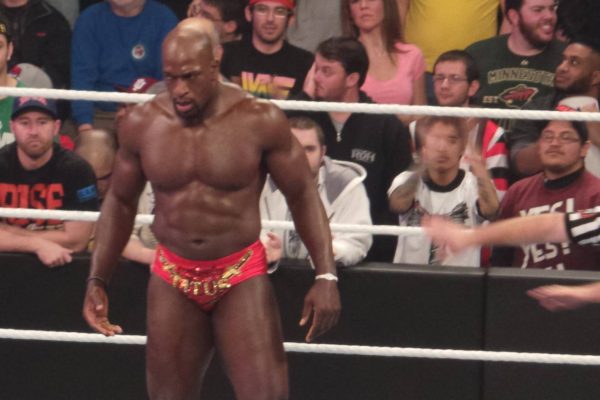 ---
SPOTLIGHTED PODCAST ALERT (YOUR ARTICLE BEGINS A FEW INCHES DOWN)...
---
RAW HITS
Opening Segment: If you can never start off Raw with a wrestling match, then at least don't start it with an overly long promo. Here, we got a short promo from Braun Strowman about what he did to Roman Reigns last week before Kurt Angle came out. Their exchange was kept fairly short as well. Angle admonished Strowman for what he did last week, announced his match against Reigns at Payback and Strowman threatened more violence this week. They recapped the situation well with Reigns' injuries and put an ominous cloud over Raw with the threat from Strowman to keep people tuned in to see what he might do. It worked well.
Jericho vs. Joe: I don't get having this match in the first place. Samoa Joe needed the win to continue to establish himself as a dominant presence on Raw heading into his PPV match against Seth Rollins. But, Jericho needs to be kept strong heading into his rematch for the US Championship against Kevin Owens at the same show. In these situations, WWE usually does a cop out finish, especially with Rollins on guest commentary. So, I give them credit for giving Joe the strong clean tap out win over Jericho. And Jericho got some momentum back in his amusing interview later in the show where he put The Drifter on The List. The match only went 9 minutes, but what we saw of it was good. I will call this a minor Hit for the clean win and the good action while being skeptical of having it in the first place and for it not going longer.
Joe-Rollins Exchange: The good early start to Raw continued nicely after that match with the verbal exchange between Joe and Rollins. Joe was particularly good at first in taunting Rollins over the snapping sound his leg made when he debuted. I'm not as high on Joe being personally offended by what happened to Stephanie McMahon at WrestleMania, but it is ok. Rollins was also good in his comeback. He has been doing better with his babyface mic work the last two weeks. I would be fine however if we could go one year without the "Payback is a bitch" line from someone heading into this PPV.
Miz TV: Ugh. I am "this close" to giving this a Miss because it could have been on Smackdown. This isn't a new match up that we were promised with the Superstar Shakeup. I continue to feel vindicated in my Miss for the Shakeup announcement from Vince McMahon. This is a feud between two Smackdown wrestlers on a Monday night. Dean Ambrose even acknowledged that he won the Intercontinental Championship from The Miz in the first place. Even on Smackdown, this wouldn't feel that fresh as it hasn't been that long since they faced each other. I am reluctantly giving it a Hit as the performances from Miz and Ambrose were strong. Ambrose in particular was good in really showing a spark of what can make him so special, and it isn't zaniness. He was more serious here. He got in some good shots at Miz's wardrobe, but it wasn't as silly as he can be. And when he got serious, he was very good in talking about what makes him special, what makes him who he is, and why the fans love him for it. I hope this is the direction that his character continues to go in.
Perkins vs. Gallagher: This was a good match with a special appearance by Neville, and an even specialer appearance by Austin Aries. That opening with Aries coming out and offering Neville a banana was great. The match itself was entertaining. I liked how Corey Graves talked about the new attitude from TJ Perkins. He hasn't changed that much which is good, because a lot of what he did as a babyface was annoying and not getting over with the crowd, so keep doing it as a heel. Graves can't start praising Perkins for those things without losing credibility, so he still speaks against Perkins dabbing and playing too many video games, while praising his new focus in the ring and for aligning himself with Neville. This all makes sense. Perkins and Gallagher worked well together in the ring to put on a good match and the sick bump from Aries off the ring apron was very memorable.
Hardys-Cesaro & Sheamus Exchange: This is a minor Hit for the fact that The Hardys finally got to talk since returning to WWE. There wasn't anything special about their interview. It was just ok. Cesaro and Sheamus interrupted and were also just ok. They teased a little tension between them as Cesaro was going out of his way to be respectful to the new Tag Team Champions, while Sheamus was a bit snarky, but that does go along with their characters. There just wasn't much meat on the bone here and part of it is the fact that they don't have the right to the Broken Universe (yet?) and this is a babyface vs. babyface match up which can be great in the ring, but there isn't as much fire to it as a babyface vs. heel match would have.
Women's Fatal Four-Way: This is another minor Hit. The wrestling was good. The right woman won the match and a feud between Alexa Bliss and Bayley has a ton of potential. I am hoping that Bayley starts to get back on track as a character to get away from the boos that she is starting to get lately. Bliss is a popular heel, but has a great way of turning those cheers around. She isn't trying to be a cool heel that gets cheered. She wants to be booed and it shows. The problem is that Mickie James hasn't connected with the crowd well since her return. She needs a chance to do so before being put in a big match like this where the crowd wasn't behind her at all. Also, you can't keep calling Nia Jax the most dominant person on the roster, when she keeps losing these big matches. Yes, she had an out here as she did the damage and Bliss picked up the scraps, and yes, she had an out at WM with the other three women ganging up on her to eliminate her. But, at some point she has to win a big match. Sasha Banks also seemed lost in the shuffle at times during this match, but she did get a few chances to shine with some nice sequences in the middle of the match.
Big Show to the Rescue: I did not see this coming. After Strowman had destroyed The Golden Truth, intimidated a referee, and then threw Kalisto into the trash, Big Show stepped up and put a stop to it. That worked well. It was a good surprise and set up the main event nicely.
Hardy vs. Cesaro: Jeff Hardy's first singles match on Raw in several years should have meant more than this and should have been hyped and treated like a bigger deal. We did get the interview earlier on Raw which is good. But, this match suffered from the babyface vs. babyface dynamic just like the interview exchange did earlier on. It was still a good match. These are two world class wrestlers given 14 minutes and they showed what they can do in the ring together. It was fun to watch. I kept wondering if Sheamus or Matt Hardy would get involved, and was glad when they didn't. Hardy got the clean win which is good. Too often in these cases, WWE gives the challenger the win to make the Champion vulnerable. I'm glad they didn't go that route here since this is Jeff Hardy we are talking about. I kind of assume we will get Sheamus defeating Matt next week. Anyway, the sportsmanship at the end was good to see. I don't want to see a heel turn for Cesaro & Sheamus as I am enjoying their team. We will have to see what happens.
Show vs. Strowman: This was not as strong as their main event several weeks ago, but it was still good. Big Show and Strowman have chemistry in the ring together and have been able to now have two good super heavyweight matches against each other. Of course, the big story here is the ring collapse at the end. I saw it coming, but it has been a long time since WWE went with this gimmick and it worked. The referee took a great bump. He deserves a raise for that. The live fans were obviously into it. The visual was stunning even if we've seen it before (you can never top the first time with Brock Lesnar vs. Big Show, but this was still memorable). And this gave them a different way to get Strowman over as a monster without having him win the match. Having him stand up at the end while Show stayed down was the right way to go.
Reigns Not on Raw: I don't want to sound like I am just celebrating a week off from Roman Reigns, although I am. This Hit is for doing the right thing and keeping Reigns off of Raw for at least a week to sell the injuries that he sustained at the hands of Strowman last week. I kept fearing during the main event that Reigns would make his way to the ring to try to fight Strowman, so I was pleasantly surprised that WWE showed restraint for once. I would hold him off Raw next week too to build anticipation for what his condition will be when he finally returns at the PPV. WWE is telling a good heel (Strowman) vs. face (Reigns) story, but unfortunately, the fans are going to be behind the heel and against the face because the face is terribly miscast.
RAW MISSES
Booker T: I'm glad that Booker T is only filling in for a few weeks while David Otunga is filming a movie. Otunga has improved a lot on Smackdown over the last few months and hopefully he will continue to improve on Raw. But, I had forgotten how much I didn't miss Booker on commentary. He doesn't add anything. He has a lot of lame platitudes. He seems to contradict himself at times. He also has poor timing often talking about how Wrestler A has no chance against Wrestler B right when Wrestler A is in control. This happened multiple times during the show with Michael Cole saying something like, "Well Booker, Wrestler A is looking pretty good now." He just isn't good.
O'Neal and Crews: I'm not sure what role I have in mind for Apollo Crews now that he has shifted to Raw. He has been a bust since getting called up from NXT and he needs to do something to find himself as a character and connect with the audience beyond his athleticism and skill in the ring. Whatever role I might come up with for him on Raw, it would not have included Titus O'Neal. That segment with O'Neal trying to sig, Crews as a client and giving him a bunch of bad puns based on his name as marketing gimmicks was terrible.
Bray Wyatt: More gobbledygook from Bray Wyatt talking about his House of Horrors match against Randy Orton at Payback. Apparently that isn't a WWE Title match. I sure thought they announced that it would be when they first made the match. Am I wrong? I even wrote last week that it didn't make sense for Daniel Bryan and Shane McMahon to trade the #1 contender for the WWE Title to Raw where he could win the Title at Payback and take it to Raw with him. Nobody corrected me at the time that it was non-title. It doesn't make sense. He should get a rematch for the Title. I really didn't care about whatever Wyatt was talking about in this promo. When he starts to talk, I find myself tuning him out more and more often these days.
Fox, Brooke, Emma: I like the idea of having a feud between Emma and Dana Brooke. It would have been annoying if WWE had ignored their past together since they were a team when Emma got hurt. So, it is nice that they are acknowledging it and I am fine with the idea that Emma would try to prove to Brooke that she needs her with Brooke trying to prove that she can make it on her own. However, if annoying segments like this are what we are in for going forward, then I'd just as soon see them not do anything together. This was poorly written with bad acting from Brooke, Emma and Alicia Fox. They all came off poor here.
NOW CHECK OUT LAST WEEK'S COLUMN: WWE RAW HITS & MISSES: Strowman kills Reigns, Seth's strong promo, annoying Sami Zayn, TJP turn, Superstar Shake-up
OR CHECK OUT JASON POWELL'S HITLIST ARTICLES AT PROWRESTLING.NET HERE.
---
Jon Mezzera is PWTorch.com's WWE Hits & Misses Specialist, providing his point of view for Raw and Smackdown each week. Email him at jmezz_torch@yahoo.com. Act now and become my 68th Twitter follower@JonMezzera (pretty clever handle right?). Just be aware that I don't live tweet Raw, I don't tweet much about wrestling, and I don't tweet much at all.