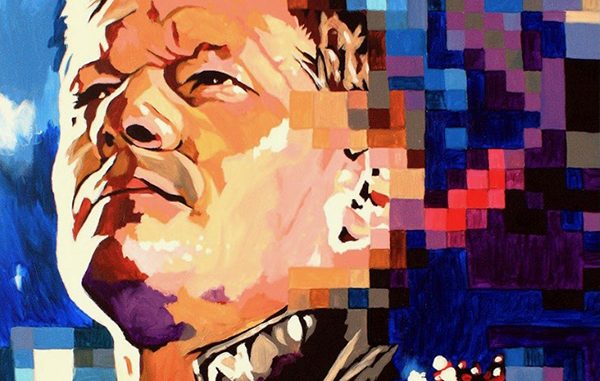 ---
SPOTLIGHTED PODCAST ALERT (YOUR ARTICLE BEGINS A FEW INCHES DOWN)...
---
Every two weeks or so I come to you with a look at what's hot, what's not and what's new in the Topps WWE SLAM Digital Trading Card App.  Along with the most recent news I've also got an ongoing series of chronological reviews looking at the various insert sets that Topps has produced.  Last time we looked at the first four sets in the app, and this time we'll take a look at the next four.
The last couple of weeks have been primarily focused on the Raw/Smackdown Live Shakeup which saw 28 performers moved from one show to another.  Big moves included Charlotte Flair and Kevin Owens moving to SDL, and Dean Ambrose, The Miz (and Maryse), and Alexa Bliss going to Raw.  
In the app Topps went with new Dark Blue and Red shakeup cards that were eerily similar to the original Draft Pick cards from 2016, only there were no award cards released this time for completing the set.
Topps also issued four new "NOW" singles for Alexa, Dean, Charlotte and KO, none of these are trading at the same rates as other NOW singles.  Perhaps because they've gone to the well one too many times with these particular performers (Both Owens and Flair already had five NOW cards issued).  
The final tie-in to the roster shakeup was new 2017 base set cards in all the variants for each performer's new brand, and once these were issued, they sold out their original 2017 base cards.  Now this has created a short print situation for all the variants, but it made the already volatile Black variant cards even more volatile.  Alexa Bliss' Black SDL has sold for as much as $30 recently, as has Shinsuke Nakamura's Black NXT card.  Considering one of the rarest cards in the game is Eva Marie's 2016 NXT Black (remember there's only 3 of them) if you're interested in sold out cards you may wish to get in now before the pricing and demand increase.  To be sure the other variants will be more valuable as well, even the white, because there were only a couple of weeks worth of these cards produced before they sold out, and collectors who focus on individuals will be wanting to get these to finish their hoards.
The newest insert sets released this time around are: Rob Schamberger Art, Tax Day, Colorful Characters, Mood, Limited and Voices of the WWE.  Base variants in Gold, Purple and Lime Green have returned, as has the basic Signature Series.
The WWE and artist Rob Schamberger have had a relationship for some time now producing some of the hottest selling T-Shirts, posters and prints in the industry.  It's only natural that his stuff would appear on trading cards, fortunately for us they have appeared in the app first!  Yes, that's right there are no other current Schamberger trading cards available.  
Unfortunately Topps decided to put three of the 9 card set behind a paywall, so if you're looking for Bray Wyatt, Chris Jericho or Undertaker you're going to end up paying quite a bit for them as they were the ones you had to pay real cash to get your hands on.  Those three all have card counts under 181 with Jericho under 150.  It appears that those collectors who purchased the cards with cash are keeping them too, as there haven't been more than a handful available on eBay.  The remaining six cards in the set are nice, but have nowhere near the long-term value that these three do, and the Shawn Michaels Award which will be released in a couple days should also have great long-term potential.  
On Tax Day Topps released a special two-card I.R.S. (that's Mike Rotunda as Irwin R. Schyster also known as Bray Wyatt's Father) set.  Same basic card, only one was an "audit" and one was a "return".  Both were 1:10 in a 5K pack, but pulling the audit card cost you 500 coins and pulling the return card gave you 5,000 coins.  There's just under 1900 cc on these, and I don't see too much interest going forward.  Unless you collect IRS or the Wyatts.
A new "mini-marathon" called Colorful Characters appeared last week with Ric Flair being the first card of a 15 card set.  Awards will be Finn Balor, Sting and Ultimate Warrior.  These have 48 hour availability and the Flair sold out at over 11K cards.  The design looks nice, and the Finn award will be popular.  Otherwise with that much CC it won't be a long term investment.
Topps Limited will be a set with huge long-term potential with just 100 and 10 copies of the two variants, this set will undoubtedly be popular for all types of collectors.  The only issue is that it is completely behind the paywall, and paying only gives you a chance at getting the cards.  The first card, Tye Dillinger, is selling for under $15 for the 100cc, and the sky's the limit for the 10cc.  If further cards in this set are more popular performers you may see some ridiculous prices for those 10cc variants.  
2017 Base Variants have returned to the app with new Gold Rush (50cc variants), purple and lime-green being made available.  The first set of Purples were the Hardys, and since they are so new to the app they will carry a premium above normal Purple pricing.  Base signatures have also reappeared, but considering the performer choices (Daniel Bryan & Sasha Banks) are repeats thus far, interest cannot be all that high.  Though Sasha cards are always in demand.
Continuing the trend of limited-edition releases is Topps Mood, which are limited to 1000 cc and feature, well, dudes with bad attitudes.  The cards aren't much to write home about, they're simple black bordered designs, but the checklist is strong and it's a six card set with Mankind as an award.  Pricing is in the $1-3 range currently.
The latest set to be released, which just happened a little while ago, is "Voices of the WWE" and while it has an appealing design, is not starting off well as JBL is the first card.  If you've been paying attention lately JBL is not the most popular of announcers right now, and #fireJBL is trending on Twitter and other social media.  Dropping this set so soon after the 35 person strong "Masters on the Microphone" which contained many an announcer is just stupid, and starting off with JBL is a complete mistake.  The two variants are an open edition and a 24 hour availability variant.  
I'll close the news roundup this week with the issuing of the Marathon awards.  It was a long 30 weeks that saw a lot of collectors end up very happy with their choices.  The flurry of trading at the last minute was palpable.  I doubt we'll see 30 week marathons in the future.  The Green variant of HOF Stone Cold Steve Austin saw only 51 cards issued.  The Green variant of The Rock Stars of the 1990s came in at 81.  Blue Stars of the 1980's Randy Macho Man Savage ended up at 124.  So these awards are in very very short supply, and as the player base grows and player collectors end up missing out on these they will command a pretty penny in the secondary market.  I managed to complete all five of the marathons I had been chasing since Week 1, and I will never do that again (though I am collecting all three of the new mini-marathons so far).  
Insert Set Focus Part 2
5.  Dynamic Duos
The first set to focus entirely on Tag Teams came with only one variant and 1:20 odds with a 1500 card count limit.  Featuring only one current team the legends were quite popular with collectors, selling out the entire allotment within hours of release.  The design, reminiscent of a racing stripe, really popped when viewed with the rest of the then released inserts
Singles of this set still sell for $1-3.  The Hart Foundation award comes in at 413 CC, which is just under 1/3rd of the possible number of sets and as such was in very high demand for quite some time until Hart Foundation and/or Bret Hart collectors who didn't collect the set got theirs.  Now it sells for under $5.  There is a Series 2 that came out some months later.
Brothers of Destruction

Usos

Edge & Christian

Natural Disasters

Harlem Heat

Dudley Boyz

Jerishow
Award – Hart Foundation
6.  Ultimate Warrior Tribute
I will go on record as saying this is my least favorite insert set of all time.  I personally never cared for Warrior as a wrestler (I even saw him defeat the immortal Andre the Giant in person at a house show for the IC title).  I certainly never cared for him as a human being, and the one and only time I ever met him at San Diego Comic Con back when he was shilling his comic book didn't leave me with an impression that he was all there.  Either he played the character 100% of the time, or he was simply looney tunes.  
This four-card set came with a whopping 4 variants an open edition, a 24 hour variant, one capped at 2000 cc and one at 1500 cc.  You can't GIVE these cards away anymore.  They're terrible.  Each card looks exactly like the others, there's no real way to tell the variants apart, and they just suck.  Another problem is that you would see them in practically every trade for a long time.  
Day 1

Day 2

Day 3

Day 4
Award – Card
7.  Speed
The second of the "Noun" sets focused on those performers who were supposedly faster than the rest and actually featured all current performers (except for the award).  It has the same basic design as the Charisma set and the same parameters.  Three variants, an open (1:10), a 24 hour (1:15) and a fixed cc (1500 at 1:25).
Due to the vagaries of how Topps releases the open editions (i.e. every Open Edition is available until the end of the set, meaning the last card issued is actually very very hard to pull) the Finn Balor card commanded a huge premium just prior to the award being issued.  This will be a recurring theme.  As with Charisma there is a Series 2 as well.
Dolph Ziggler

Becky Lynch

Hideo Itami

AJ Styles

Kalisto

Asuka

Finn Balor
Award – Daniel Bryan
8.  Family Ties
In sports cards Topps has for years produced cards featuring family members, be it brothers or fathers and sons.  For IRL collectors these hold a special place because they link two different eras in that sport, and in a field such as Professional Wrestling we have a unique situation as there are actually performers that are 3rd and 4th generation Wrestlers (If either of the McMahon children's children become performers that would make them 5th generation!).  Family Ties celebrated these performers with a very cool card set featuring a legend and their current progeny or siblings.
This set featured three variants, Black was open, Brown was capped at 1500 cc, and Red was available for 24 hours.  I really liked this set, it's no-nonsense framed design featuring two photos won me over from the start, and I collected the open-edition and a couple of the higher-tier variants.  Once again the final card of the open edition proved very difficult to pull, and at the time of the award only 533 of the Rikishi/Usos card were produced, meaning that the Open Edition award is actually in shorter supply than the 24 hour variant!  Sadly there's no love for this set currently, awards are under $5 with singles and full sets being super-cheap.  
Cowboy Bob Orton / Randy Orton

Ric Flair / Charlotte

Nikki & Brie Bella

Jim the Anvil Neidhart / Natalya

Dusty Rhodes / Goldust

Rikishi / Jimmy & Jey Uso
Award – Rocky Johnson/The Rock
Next time, the next four sets in order.  
Don't forget you can find me in game at GRENDELSEN, and I'm always happy to trade or answer any questions you might have.  Leave questions or concerns here and I'll see you next time.
---
NOW CHECK OUT LAST WEEK'S ARTICLE: DIGITAL DABBLINGS #8 – What's New and Insert Set Focus Part 1