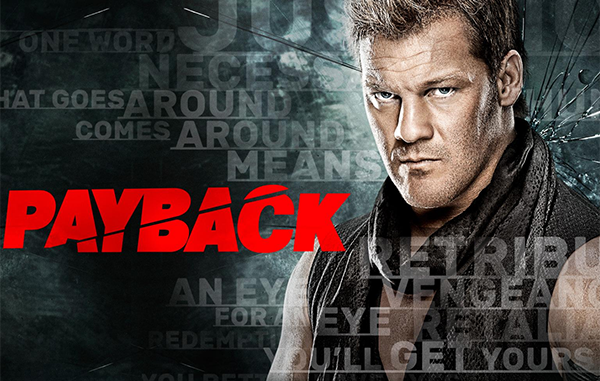 ---
SPOTLIGHTED PODCAST ALERT (YOUR ARTICLE BEGINS A FEW INCHES DOWN)...
---
KICKOFF SHOW: ENZO & BIG CASS vs. LUKE GALLOWS & KARL ANDERSON
Even though this is a Kickoff Show match, both teams could really benefit from a victory. All 4 of these men have been right in the thick of the 50/50 booking mentality of WWE and aside from Enzo's mic skills, have really struggled to separate themselves from the pack.
With not much on the line other than pride, both teams will have to be on the top of their game and show that they can do more than just talk. MizTV is also booked for the Kickoff Show, so it is likely that this match will get ten minutes or less, putting a huge level of importance on being efficient and telling a good story.
Should the Hardys be victorious later on in the evening and with The Revival still out for an extended period of time, the winner of this match could very well be put in line to be the new no. 1 contenders. Meanwhile, the team on the losing end will slip right back into that tag team mid-card and featured in dead segments to simply fill three hours on Monday nights.
RAW WOMEN'S CHAMPIONSHIP: BAYLEY (c) vs. ALEXA BLISS
With the arrival of Alexa Bliss to the Raw Women's Division, Bayley's underwhelming mic skills and presence in the ring has been quite exploited. It is unbelievable to see the most beloved NXT star getting spattering a of boos less than a year into her main roster run. A lot of the issues with Bayley could be blamed on the creative team, but she has not done herself any favors with her delivery and body language during promo segments on Raw. With this match, the WWE has an opportunity to show that they still have faith in Bayley as champion or hot shot Bliss right to the top and reward her for the work she has done.
Alexa Bliss came into Raw like a ball of fire (by the way, do you believe they are naming a PPV that now?), making it clear that she would run rough shot over the red brand just like she did on Smackdown. She has out performed both Bayley and Sasha and showed that she can not only cut a better promo, but also outsmart the best friend duo. A victory here would be monumental for Bliss, as she would continue to show that she should be taken just as seriously as someone like Charlotte. It would also prove that WWE believes in everything she is currently doing. After all the momentum she has built for herself, she would need to be extremely protected in defeat which could be hard to do. We have already seen Sasha interfere once, and going to that well one more time would be an awful decision given that both Banks and Bayley are positioned as babyfaces. The real money here would be Bliss as champion with a refreshed Sasha Banks chasing if they choose not to turn her heel.
I have taken no pleasure in naming Bayley an "Under Performer" for what feels like weeks on end, but she and the WWE creative team really hasn't given me a choice. While a win or loss at Payback is extremely important for Bayley given her championship is on the line, the most important outcome of this match might just be if and how Sasha will get involved. It would benefit Bayley greatly, champion or not, to be able to stand on her own and fight her own battles as Sasha has done more harm than good to her character. Should Sasha cost Bayley the match, she would be protected and also have a meaningful program to work moving forward, freeing up a newly crowned champion to move on to a fresh matchup against someone like Emma, Dana, or maybe even Nia Jax. Given the crowd response and positioning on the card, this is an extremely pivotal match in Bayley's career and how it plays out will speak volumes as to how WWE sees her moving forward.
WWE CRUISERWEIGHT CHAMPIONSHIP: NEVILLE (c) vs. AUSTIN ARIES
It will be interesting to see what Neville and Austin Aries do to top the match they had at Wrestlemania. Buried at the very beginning of a 6+ hour show, Aries and Neville wrestled a tremendously high flying and hard hitting match that impressed almost everyone watching. Now they move onto a rematch that will shape the Cruiserweight Division moving forward.
Neville has done a wonderful job reinventing himself into the vicious heel we see today, and he's truly embodied the moniker of "The King of the Cruiserweights" for quite some time. While he has been booked extremely well and kept protected, it is hard to see a path to victory for Neville this Sunday simply because of how little WWE has invested in any other wrester on 205 Live other than TJ Perkins. That said, it would only make sense to have Neville come up short on Sunday to allow for his program with Aries to continue for a few months longer to give WWE the time to build up new contenders. If victorious, however, it would show the true investment WWE has in Neville to carry this division forward. It is just difficult to envision any other babyface cruiserweight that could believably be the next challenger.
This Sunday, Austin Aries is in a big time "put up or shut up" situation. After losing at Wrestlemania, A Double earned a second championship opportunity after winning a number 1 contenders match and needs to cash in. A victory here not only allows these two to square off again down the road, but also primes a newly repositioned TJ Perkins to get a shot after his conflict with Aries playing out over the past few weeks. If defeated, it would leave Aries in somewhat of a quandary as he would then have blown two opportunities to take the title and fall back down to the bottom of the card which would not do anyone any good.
RAW TAG TEAM CHAMPIONSHIPS: THE HARDY BOYS (c) vs. SHEAMUS & CESARO
The recent build to this match has featured an interesting dynamic between these two teams. The Hardys have played the obligatory nostalgia babyfaces while Sheamus & Cesaro have struggled with whether or not to be respectful to one of the greatest teams in WWE history. Each participant has had solid performances in singles competition leading up to Sunday, but the booking of said matches open many questions as to how this could play out.
Matt & Jeff Hardy have made a tremendous impact within WWE's tag division as fans have welcomed them back with open arms. It would seem that this would be far too soon for these two to drop the titles but it is not entirely unfathomable. If the Hardys are defeated, it could further fuel the rumors spreading that WWE would like these two to move on to singles runs with Jeff moving to the top of the card and Matt potentially regaining his broken character. I can't foresee a breakup due to a falling out between the brothers, but a loss so soon could start to plant those seeds, especially if they were to lose the rematch. If victorious, however, it would show that WWE is invested in Matt & Jeff being paired up for much longer and could have plans to have them keep the titles until Summerslam and maybe beyond. It will be very important for The Hardys to come out of this match looking as strong as possible. While the fans are absolutely invested in their characters, solid performances in big matches will only heat them up further.
As I mentioned above, Sheamus and Cesaro have been cordial but somewhat conflicted as to how to handle this match and situation with the Hardys. The duo has earned the respect of the fans, but with a crowded tag division and weak mid-card on Monday nights, this could be the perfect time to split them up. A devastating loss could help kickstart that story. There are a crop of new wrestlers on Raw like Dean Ambrose, The Miz, and Bray Wyatt that could square off against either of these men moving forward to provide fresh match ups and maybe a future title opportunity if booked correctly. Regardless of the outcome here, both Sheamus and Cesaro need to define themselves in this match, be it heel or babyface. That will give them a base either as individuals or a team moving forward. Don't forget that both Sheamus and Cesaro lost to Matt and Jeff in the last two weeks, and based on the way WWE books, that would usually mean they would go over at the PPV. We shall see.
UNITED STATES CHAMPIONSHIP: KEVIN OWENS (c) vs. CHRIS JERICHO
This will be an incredibly bittersweet match for many fans because it is not only the end of one of the most entertaining storylines we have seen in recent memory, but also the end of Chris Jericho's latest run in WWE. While the outcome of this match might be the most predictable given Fozzy's tour dates following Payback, the implications mean a great deal to Kevin Owens moving forward.
It is no secret that Y2J will be taking his band on tour this summer and this match will be his final chance to leave a lasting impression while making Kevin Owens look as incredible as possible on his way out. With Kevin Owens now a centerpiece on Tuesday nights, WWE has an opportunity in front of them, similar to when John Cena was United States Champion, to make this title extremely relevant and exciting again. Owens has portrayed a slightly different, more buttoned up character since he moved over to Tuesday nights and has not had much time in the ring. Sure, it is basically the same audience watching Raw and Smackdown, but Owens needs to reinforce his dominance and ruthlessness to send a message to the locker room that Smackdown is indeed the Kevin Owens show. Further, A.J. Styles will be waiting for him as the #1 contender, so look for KO to make an example of Jericho and get him ready to take on one of the best wrestlers in the world.
Now, I understand that I have been incorrect in thinking that some matches are as predictable as they seem on the surface, and WWE may look to create a shocking situation with Jericho coming out on top and set Smackdown up for the future. While Jericho is going on tour, his first gig does not come until May 5th. With the "Jericho moves to Smackdown if he wins" stipulation in place, Y2J could pull off an upset victory and lose a rematch the following Tuesday night. As long as Owens is protected, he would still prevail with the championship and it would ensure that when Fozzy completes their tour, there will be guaranteed star power coming to Smackdown in the fall.
SETH ROLLINS vs. SAMOA JOE
The grudge match between Seth Rollins and Samoa Joe has the potential to compete with Kevin Owens vs. Chris Jericho for match of the night. Both men have been very strong in building to this match, and given the history between the two this is shaping up to be a very hard hitting affair. The challenge for WWE will be keeping both looking strong coming out of his match as each man figures to be a prominent figure at the top of the Raw card moving forward.
Wth Samoa Joe being left off of the Wrestlemania card, this will undoubtedly be his biggest match to date in WWE. Joe has embodied everything about his "Destroyer" character and recently picked up a clean win against Y2J to set himself up nicely for this match. Opposite Joe will be Seth Rollins who has also been booked very strong on TV leading up to the Payback PPV, even debuting a new finisher (much to the dismay of Kenny Omega).
For the first time since beginning this series of articles, I am at a loss for words when it comes to the implications this outcome may impose moving forward. With Roman Reigns and Braun Strowman both lining up for a shot at the Universal and the Intercontinental Championship picture featuring The Miz and Dean Ambrose, I am not sure where a victory or a defeat leaves both Joe and Rollins. My gut tells me that there will be some sort of non-finish involving interference or a double count out with both men fighting into the crowd or backstage area. This would allow for WWE to keep these two together with confidence that they will always have a stellar match, and move forward with some sort of no-DQ or even cage match stipulation for the next Raw branded PPV. This way, both major title programs could play out and open the door for one of these men to challenge for either the Universal or Intercontinental championships down the road. One thing I am sure is – This match will absolutely deliver.
HOUSE OF HORRORS MATCH: RANDY ORTON vs. BRAY WYATT
Quite frankly, the most appealing part of this match to most fans is the fact that after this House of Horrors escapade, the feud between Randy Orton and Bray Wyatt will be over. In a program  the featured almost no mention of the WWE Championship and way too much community theatre, both men couldn't move on fast enough. Nonetheless, we have a match this Sunday that still has many fans in suspense as to how it will play out.
Randy Orton has been the personification of "going through the motions" over the last year or so and that persona has really shined through in the build to this blow-off match. At the end of the day he is still the WWE Champion, but the title being taken out of this match leads us to believe that this could be a long night for Orton. After winning at Wrestemania, Wyatt needs a big win and his House of Horrors would be the perfect place to do it. Wyatt could set the tone for how impactful he could be on Raw moving forward, and Randy would regain steam once he shifts his focus to his new adversary, Jinder Mahal.
If Wyatt were to lose here it would be another huge blow to whatever momentum he has left after Wrestlemania. His title reign was forgettable and irritating to ardent fans who were frustrated that the championship was just a prop in a story that went way too far into a fictional world. Disbelief has no longer been suspended and the WWE fan base would much rather see Bray as a cult leader rather than a character with mythical powers. A strong, ruthless victory for Wyatt may restore some of the fans' faith that he could still be a major player in WWE and this would be a big step towards that.
ROMAN REIGNS vs. BRAUN STROWMAN
Whether you are a fan of Roman Reigns or not, you have to admit that he and Braun Strowman have done great job building to this match. The story being told here has been an interesting one in that WWE deviated from just featuring these two only interacting with one another each week, and allowed both men to take on different challenges while still being intertwined (Braun with Sami and Roman with Undertaker). The first match between these two was clearly a showcase for Roman to gear up to retire Undertaker, but this match may go a different way.
As I wrote in this week's All Stars & Under Performers piece, Wade spoke about how Braun is past simply being a roadblock for Reigns and is considered to be a legitimate threat to beat anyone. While Roman might be on a crash course towards a match with Brock Lesnar at either Summerslam or maybe even next year's WrestleMania, WWE would not want to showcase a match like that on a secondary PPV. Enter – Braun Strowman. WWE has teased a Strowman-Lesnar encounter on television and it would most certainly be a match fans would want to see. If victorious, look for Braun to be absolutely dominant similar to how Brock destroyed John Cena years ago. Roman could sell the fact that he still is not 100 percent and Braun could get over as an even more maniacal monster by exploiting his injuries. If defeated, however, it would be a stark contrast from how the creative team has portrayed Braun and leave him in an awkward position moving forward. People would still take him seriously because of his size, but it would cast great doubt as to whether or not Strowman will enter the title picture in the foreseeable future.
From a storyline perspective, Roman is in a very protected place heading into this match. Given how tough these last few weeks have been for him (professionally, as I will not speak to how he is personally after the loss of his brother), it would be easy for him to explain a loss to Braun after the injuries he has sustained. On the flip side, if he were to win he would be seen as someone who overcame all of the obstacles to beat one of the most dangerous men in WWE. He also just beat Undertaker at Wrestlemania, so there's that. The most important thing for Roman and Braun during this match is the way Roman sells and if in fact he does play up the lingering injuries. If he does, it could be an early indication of who comes out on top and how the winner and loser is viewed in the coming weeks.
---
NOW CHECK OUT THE PREVIOUS COLUMN: PPV OUTCOMES & IMPLICATIONS – WRESTLEMANIA 33's Top Matches: Taker vs. Reigns, Jericho vs. Owens, Orton vs. Wyatt, Goldberg vs. Lesnar
---
(Michael Souza is a new PWTorch Specialist who will contribute "Outcomes & Implications" before WWE PPV events looking at the pros and cons of each potential outcome.)