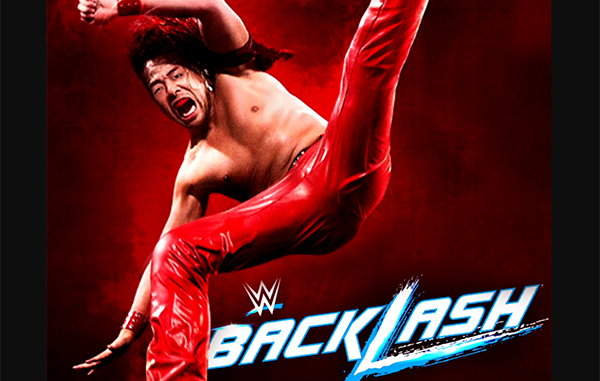 ---
SPOTLIGHTED PODCAST ALERT (YOUR ARTICLE BEGINS A FEW INCHES DOWN)...
---
You are looking LIVE at the McNeill Command Center, where all the stars have come out for this month's WWE pay-per-view. Look, kids! There's Peter Rosenberg!
And the 2017 Slammy Award for the most skippable Kickoff Show goes to… this one.
We're live from Chicago, where the show opens with Shinsuke Nakamura vs. Dolph Ziggler? Don't tell me we're on against LeBron James again.
It's been so long, I've forgotten what three hours with JBL feels like.
Dolph Ziggler is out to steal the show. If he does it now, he can be back at the Marriot before the end of the first quarter.
Let's check in with our Russian announce team, Michael Flynn and Paul Mannafort!
I am pleased to report, after six weeks of training, the WWE Universe can sing along with Nakamura's ring entrance.
Say, remember two years ago, when this would have been considered a dream match? Good times.
"Which one of these men will suffer for their art tonight in Chicago?" After that line, I wish Tom Phillips would suffer for his art.
I do like Dolph Ziggler wearing the Lex Express American flag tights as a heel. Nice touch, big guy.
You know, with a win here, Nakamura can move up the ladder and face Aiden English next month at "Money In The Bank".
Ziggler hits the Zig Zag. Shinsuke kicks out. The crowd goes mild.
I don't think Dolph's feeling this. For one thing, he's working WWE style.
Nakamura hits the Kinshasa for the win. That got almost as big a reaction as… any match from last night.
Dear WWE Studios: I would be happy to help Dolph Ziggler by writing the screenplay for "Countdown 2". Call my agent.
Vince McMahon's mugshot on the Fashion Police bulletin board is a fantastic piece of detail work.
You know the Smackdown Tag Team Titles are a priority when they're on the line in the second match.
I'm feeling back for the Usos in that gear. You couldn't let them wear UnderArmour or something?
Jey Uso breaks Tyler Breeze's mop, then dabs. Just in case you were wondering which team were the heels.
Breeze switches disguises mid-match. Joseph Park has nothing on this guy.
"The last time that happened to me, I paid for it!" What happens in the Bahamas should stay in the Bahamas.
The challengers put in a good effort, but The Usos get the win over Fandango & Gene Parmesan.
Big VIP sale this month at PWTorch.com! 141 episodes of WaybackPlayback for just $1 this month. Sign up now. Coupon code: "may17" to save $9 off any VIP sub.
Sami Zayn vs. Baron Corbin. We're having this match because Corbin is worried about Zayn taking his spot. (Don't look at me. I didn't say it.)
JBL just compared Baron Corbin to Elon Musk. Yeah, that was the first name to come to my mind too.
Lengthy match with a lengthy bearhug spot, and with Zayn getting the victory with the Heluva Kick. Well, damn pal.
With that victory, Sami Zayn earns a spot in the 2017 Money In The Bank. (Yeah, he was going to be in the match anyway. Roll with it.)
We now go to actual clips from "UpUpDownDown", where Xavier's screen name is "Austin Creed". Shoot me now.
That certainly is a nice looking Persian rug.
"Mr. Mahal, welcome to Chicago." "CHICAGO? I knew we should have made that left turn at Albuquerque".
Dear WWE: Bite the bullet, spend the money and get the rights to "Pretty Fly For A White Guy" for Ellsworth's music.
Time for Naomi/Charlotte/Becky vs. The Welcoming Committee. Naomi gets a surprisingly good reaction.
JBL points out that everyone turns on Becky Lynch. Apparently that includes her hair stylist.
The person I feel sorry for here is Jerry Lawler. Ellsworth stole his T-shirt.
U.S. Title match is next. That means they'll use Randy Orton and Jinder Mahal to bring the crowd down before the Luke Harper vs. Erick Rowan main event.
On the Kickoff panel, Booker T & Peter Rosenberg said Styles vs. Owens would steal the show. Well, it HAS been left unguarded all night.
Kevin Owens defends the U.S. Title against A.J. Styles in a battle between former World Champions. The crowd, of course, chants for Chris Jericho.
A.J. Styles's injured leg is an important plot point. It's like somebody put a wrestling match on this pay-per-view.
That's what a Pelé kick would look like if Pelé only had one working leg.
I think this match is pretty great. But nobody's chanting "fight forever," so I must be mistaken.
Note to self: If someone tries to suplex you on the ring apron, don't go up for it.
Shocking moment here tonight, as Special Agent Dale Cooper shows up wearing a leather jacket. Whoops. Wrong channel. Gimme a second.
Yeah, A.J. tried to hit the Styles Clash on the announce table, and his leg went through the hole on top of the table. Owens beats the count and wins by countout, with Styles stuck in the table.
Earlier, on the kickoff show, Tye Dillinger beat Aiden English. Again. Some more.
Harper vs. Rowan. That was strange, and then it ended.
Video package where the character with the turban complains about being stereotyped. Speaking of stereotypes, Jinder's not the one whose Titantron reads "In My Veins."
Like any good babyface, Orton attacks Mahal before the opening bell.
Okay, the actual match is happening. Orton vs. Mahal for the WWE Title, and the crowd is actually into it.
Orton superplex, and both men are down. The action goes to the floor. Orton pauses to beat up the Bollywood Boys and Jinder posts him. RKO by Orton, and the Singhs make the save.
Randy gets tied up by the Bollywoods again, and Jinder surprises him with the Cobra Clutch slam and the pin. The Maharajah of Muscles is your new WWE World Champion.
That's that for that. VIP members can join Wade & the gang for the Roundtable when it goes up. But first, join Greg Parks and me for a spell on PWTorchLivecast.com. Good night!