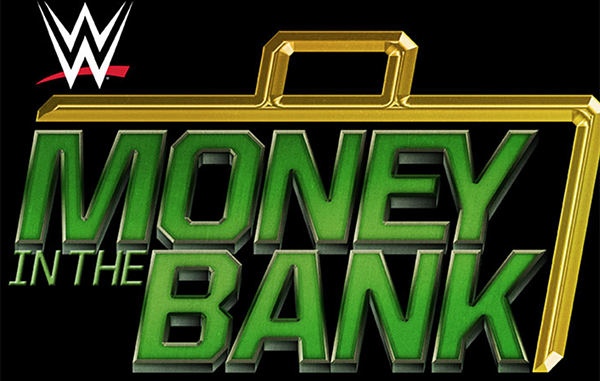 ---
SPOTLIGHTED PODCAST ALERT (YOUR ARTICLE BEGINS A FEW INCHES DOWN)...
---
Don't forget to join Jonny Fairplay and myself on PWTorchLivecast.com immediately following "Money In The Bank".
Our preshow match is the Hype Bros against The Colons. They ain't hype!
"The Colons have changed the complexion of this match". That's right. This match is no longer Caucasian.
The Bros win when Zack hits the Hype Rider on a Colon. A sign in the crowd says "Meh". Dude, hang on to that sign. You may need it later.
Renee throws it to Sam for the final hard sell. Meanwhile, Impact is bringing back Don West. Score one for the Owls. They DO let Sam imply that Nakamura isn't that good in the ring. So he's got that going for him, which is nice.
BREAKING NEWS: Roman Reigns is still on Raw tomorrow night.
Reader @JobeTilt writes: If all the women are down could James Ellsworth go up the ladder and grab the briefcase?
Answer: Only if he's in drag, claiming to be Jane Ellsworth.
We open with the Women's Money In The Bank match. JBL tells us careers will be made, hearts will be broken, shots will be downed…
Now let's say hello to our Kryptonian announce team of Connor Kon-El and General Zod.
There is a revolution happening with women in sport. But not here. Y'all are still underpaid independent contractors.
"Nobody is ever going to forget the first ever Women's Money In The Bank match". Really? I already forgot the first Women's Hell In A Cell match.
I like Tamina's strategy of standing in the center of the ring and waiting for people to bring her ladders.
"Tonight could be a coming out party for Tamina". Maybe you should clear that with her, Byron.
Natalya sets up the first ladder, and has to wait forever for someone to run in and stop her. Charlotte's next, and she has to wait on Carmella.
Natalya whacks Tamina with the ladder. And again. Lots of people chant "This is awesome"! Tamina disagrees.
Carmella struggles to raise the ladder off the ropes. This, I can help with. Lift with your knees, kid, not with your back.
Charlotte comes off the top rope onto Natalya & Tamina on the floor, with a move we'll call the "Really Bad Idea with a Half Twist".
Ellsworth finally gives up on the ladies and climbs the ladder himself, retrieving the briefcase and tossing it to Carmella. The Women's Revolution lives on!
The referees confer at ringside before reaching an agreement. "By order of Mr. McMahon, rules are for suckers! Carmella wins!"
Next month's Raw pay-per-view is "Great Balls Of Fire". In honor of Chuck Berry, next month's Smackdown pay-per-view will be called "My Dingaling".
Backstage, Lana tells Dasha Fuentes the women are lucky she wasn't in the ladder match. (Rusev climbs much faster than James Ellsworth.)
Up next, it's Day One Ish vs. New Day No Ish for the Smackdown Tag Team Titles.
But first, let's say hello to our Earth 2 Announce Team of Thomas Wayne Jr. and Mauro Ranallo.
You know the challengers are serious about this title match, because Xavier Woods has color coordinated his trombone with the team outfits.
Backstage, Mr. McMahon is trying to put together his own boxer vs. wrestler match. At least, I think that's why he googled "is leon spinks dead or alive"?
Jimmy Uso just delivered the slowest suicide dive on record. Meanwhile, Kofi's out there playing Demetrious Johnson.
The guy who had the "Meh" sign earlier now has a "Botch" sign. Someone came prepared.
Those of you who bet on star ratings? I certainly hope you took the over for this match.
I spoke too soon. The Usos walk, and let New Day win by countout. I'm betting we get a rematch next month at "My Dingaling".
I don't want to question WWE, but why is Gold Bond sponsoring this show? You'd think "Great Balls Of Fire" would be a…better fit.
Bob Orton Junior and Sgt. Slaughter are backstage. By showing them, WWE ensures we'll go another ten minutes without internet rumors of their death.
Women's Title match. I heard the opening bars of Lana's song and wondered why No Way Jose was in the building.
"We have no idea what Lana brings to this championship match". If THAT's true, JBL needs to start looking at the monitor.
If someone had just arrived from 2001, he'd think Mr. McMahon had finally put the XFL cheerleaders to good use.
So far, this is going…Anyway, it's going. How about those Nationals? Great year for Scherzer.
"I expected this match to be over in two minutes". If you change "expected" to "prayed to Jesus", I'm right there with JBL.
Hold on, I think Vince just gave up on the match, because Carmella's out at ringside with the briefcase.
Naomi wins by submission. Carmella decides not to use the briefcase. I think the word I'm looking for is…"Meh".
If you're keeping score at home:
– Good match, awful finish
– Good match, awful finish
– Awful match, okay finish
It's "Fashion Vice"! With footage from "Fuji Vice" spliced into the intro.
There's more continuity in these Breezango skits than you'll see on any month of Raw.
It's Maria Kanellis! And Mr. Kanellis! Live at "Money In The Bank"! It's a Miracle!
For seven years, Maria has been looking for the perfect partner. But I was already married, so she found someone in Ring of Honor.
Let Us Take You Back And Remind You Of That Awful Finish We Booked In The Opener.
Congratulations to James Ellsworth on becoming the first woman to win a Money In The Bank ladder match.
Did You Know? Jinder Mahal is the WWE World Heavyweight Champion.
Let's welcome the Saint Louis Legends! I look forward to seeing Larry Wilson and Roger Wehrli
Time for our championship match. Making his way to the ring, from Calgary, Punjab, India: Jinder Mahal!
And your challenger, from St. Louis, Missouri by way of the Voices In His Head (and his veins): Randy Orton!
Randy Orton is taking last month's loss personally? Didn't somebody tell him it's all a work? (You know, like the Tooth Fairy or the election?)
Let's take another look, in slow motion, of Randy Orton landing on the floor and doing nothing which would cause a knee injury.
WWE champion Jinder Mahal is working over hometown star Randy Orton at the announce table. The crowd, of course, chants for Tye Dillinger.
Jinder Mahal locks the figure-four on Randy Orton, and…Jinder's figure-four looks better than The Miz's figure-four! Where's that guy with the "Inconceivable!" gif?
Randy hits the RKO, and one of the Shiras puts Jinder's foot on the ropes. The psychotic guy who hears voices in his head calmly reasons with referee Mike Chioda.
The Shiras get tossed by the referee and go after Bob Orton Junior at ringside. Okay, that's the Randy we know. The 2nd Annual Bollywood Boy Toss is underway.
Despite the fact Orton has been outside the ring for a 150 count, the match continues. At least, long enough for Jinder to hit his finisher and retain the title.
Our main event is still to come, but first it's time for the NBC Universal Sunday Night Mystery Movie. Tyler Breeze & Fandango star as "McMillan & Wife".
It's Breezango against their attackers, The Ascension! If only someone had predicted this in his preview column…earlier today…
Yes, Breezango wins. So, are The Ascension also the guys who have been attacking Enzo & Cass? Tune in to Raw tomorrow and find out!
We need another video package. Why you'd still be watching this show if you didn't know about the Money In The Bank is a question I'm not ready to tackle.
Money In The Bank Ladder Match. Corbin attacks Nakamura on the entrance ramp, ruining his elaborate ring entrance. Now THAT'S how you get crowd heat, kids.
Am I ready for 90 minutes of callers complaining about the prospect of a Nakamura-Corbin feud after tonight's show? Not so much, no.
Corbin and Ziggler team up to hit AJ with a ladder. Seconds later, Tom tells us there are no allegiances in this match.
With Nakamura out, this match is about teasing Sami Zayn climbing the ladder. Oh, and it's about AJ giving Owens an Attitude Adjustment onto a ladder. That part is important too.
Nakamura is back, and he's your fiery white meat, um, ball of fire. He goes after Corbin. He destroys the others.
Styles & Nakamura knock each other out. So, when does James Ellsworth run in to pick up THIS briefcase?
Corbin knocks Styles and Nakamura off the ladder, climbs the ladder, and can't figure out how to unhook the case. That course should come right after Promo Class.
Baron Corbin has the briefcase. Hang on to that case, young man. Then cash it in at WrestleMania.
That was Money In The Bank. Go over to PWTorchLivecast.com for the postgame show, and join Wade and Company for the VIP Roundtable in a couple of hours. Good night, everybody!