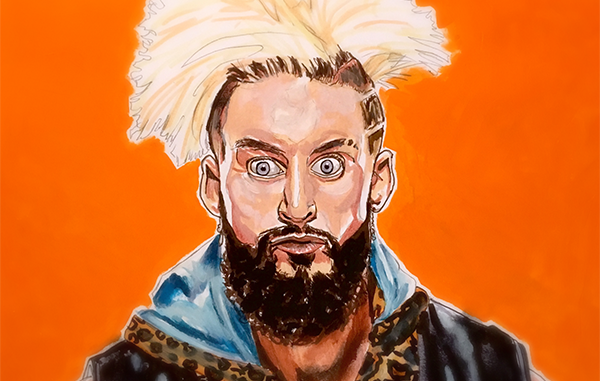 ---
SPOTLIGHTED PODCAST ALERT (YOUR ARTICLE BEGINS A FEW INCHES DOWN)...
---
RAW HITS
Opening Segment: Raw got off to a good start. I hadn't really thought about it much, but after seeing The Shield coming out through the crowd like old times, I feel that people like Wade Keller have been right that it would have been so much cooler if Roman Reigns hadn't been using their music this whole time. It was still cool to see the old entrance. It was interesting, but not surprising to hear the group cheered as a whole with Reigns booed individually. It was a fun segment that set up two big matches for later in the show while also continuing to build towards the TLC PPV.
Gallagher vs. Alexander: This is a minor Hit. WWE handled this better than what they did with them last week by actually putting together a pretty good recap of the storyline involving Jack Gallagher turning heel and joining with his previous opponent The Brian Kendrick to attack Cedric Alexander. That context helped explain this match which wasn't the case last week. The match itself was short, but good while it lasted. It was nice to have Rich Swann come out to even the odds and set up a tag match for the PPV. It is interesting how we are getting these super off brand PPV matches with so many of the top Raw stars in the main event and Brock Lesnar not being on the show and Samoa Joe being hurt. The same can be said for Sasha Banks vs. Alicia Fox which had a nice backstage attack with Fox playing her crazy bit well, but the match itself wasn't quite good enough to make the overall angle a Hit.
Miz TV: This is another minor Hit. It was odd how Cesaro cut the promo with the mouth guard in. The mic work overall was just ok. But, it did add the big stipulation for the main event which didn't feel like that big of a deal before that (since we've seen Reigns vs. Braun Strowman multiple times before). Now something was on the line with Strowman having to win the match to stay in the TLC main event and gain a fifth member for their team. It also started the bit of mystery as to who would be that wrestler.
Rollins & Ambrose vs. Sheamus & Cesaro: This was a good Tag Team Championship match. While not nearly at the level of their match from the last PPV, Seth Rollins, Dean Ambrose, Sheamus and Cesaro delivered a good match. It went 12 minutes, and while I would have liked to see it go a little longer, it still worked well for what it was and I continue to want to see more of these teams against each other.
Reigns vs. Strowman: This was a good main event steel cage match. It wasn't great. We've seen better from these two in the ring and we've seen better from Strowman in a steel cage too. But, it was still fun to watch. I didn't like how Sheamus & Cesaro were able to come to the ring to interfere despite being banned from ringside. Booker T even asked "where is Kurt Angle?" Booker had a much better night than last week and that was a good question. The brawl that ensued was well done as it spilled to the back to allow The Miz to lock both teams out of the arena since he knew what his ultimate plan was for the match. Otherwise, Reigns and Strowman performed well and that superplex spot in particular was very memorable. I wasn't a fan of Kane's appearance, but that will come later.
RAW MISSES
Elias and The Club: I don't mind WWE teaming Elias with Gallows & Anderson. There is some potential there. But, this was really bad. It was supposed to be bad to a certain extent. But, they don't want fans to change the channel which can happen when these segments are purposefully bad to get heel heat, but they go on too long. That was the case here. The six man tag that followed was ok, but the music beforehand was just terrible.
Cruiserweight Title Angle: I appreciate that Enzo Amore is going 100% heel. That is good. He is better in that role. Kalisto is exciting to watch in the ring, but is not good on the mic. His promo making fun of Amore and putting him in his place was bad. It was not well written and was awkwardly performed. Then the beatdown that happened with the heel cruiserweights coming out to help Amore beat up Kalisto didn't make sense. They haven't told the story of how he was able to win over those guys when he originally had insulted the entire division who all helped beat him up after Raw went off the air a few weeks ago. They are setting up Mustafa Ali for a high profile feud against Amore which is fine, but they need to do a better job of connecting the dots and explaining the relationships in the division.
Balor: I forgot to write about the fact that Finn Balor missed an opportunity to do a really cool finish for his last match against Bray Wyatt at the last PPV. I am hoping that we will see it at TLC which would be the only solace in what has been a very bad storyline leading to their third straight PPV match which shouldn't be happening after the first two. That finish is that Balor goes up top for the Coup de Grace, only to have Wyatt do is spider walk like in the last match. Only instead of getting totally freaked out about it, Balor looks resolved and jumps off with the double foot stomp to Wyatt's elevated torso. That would be a cool ending. The rest of this isn't cool at all. It is cheesy. It is hurting Balor. I hated what they did with Wyatt and Sister Abigail last week. I hated this just as much if not more. Balor was wishy washy during his promo. I thought at first that he was going the right direction of saying that it was just cheap mind tricks from Wyatt, but instead he shifted to actually thinking that the dead had risen and possessed Wyatt. Then he did silly special effects too. And since WWE was backwards from the start of this feud, it is hard to get excited about the Demon returning when we already saw that persona against Wyatt in their first match.
Kane: I would have been perfectly happy if WWE had never brought Kane back. I'm sorry, but while he had a great career, it should be over now. I know he got a good reaction from the live fans, but I don't think that will last beyond that initial "oh hey, its Kane, cool, we haven't seen him in a long time" pop. I have mixed feelings about the 4 on 3 nature of the TLC match at TLC. And while the brief mystery of who the potential 5th man would be on Miz's team was fine, I'm less excited about the match on Sunday now that Kane is going to be involved. And it was way too convenient that he was there just in case this stipulation was added by Kurt Angle. So, the ending of Raw after a strong main event left me cold. By the way, we are getting this one TLC match at the TLC PPV, but unless I'm missing something, there won't be a ladder match, a table match, or a chair match. I'm not sure what the purpose of the TLC PPV is if they aren't going to do those matches too.
---
NOW CHECK OUT LAST WEEK'S COLUMN: WWE RAW HITS & MISSES 10/9: Shield Reunion, Strowman-Hardy, Booker T commentary, Mickie and Bliss exchanges, Sister Abigail
---
For another view from the original Hitlist author, compare Jason Powell's views to mine by visiting ProWrestling.net's "Hitlist" section HERE.
---
Jon Mezzera is PWTorch.com's WWE Hits & Misses Specialist, providing his point of view for Raw and Smackdown each week. Email him at jmezz_torch@yahoo.com. Act now and become my 68th Twitter follower@JonMezzera (pretty clever handle right?). Just be aware that I don't live tweet Raw, I don't tweet much about wrestling, and I don't tweet much at all.