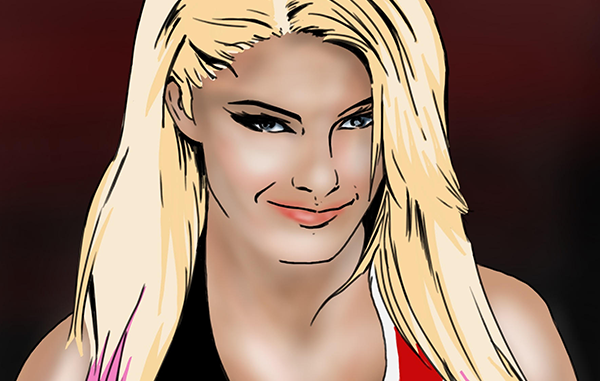 ---
SPOTLIGHTED PODCAST ALERT (YOUR ARTICLE BEGINS A FEW INCHES DOWN)...
---
RAW HITS
Reigns vs. Wyatt: This was a good opening match. It is always nice to see a match kick off Raw since it usually starts with a talking segment. The brief pre-taped promos from both Roman Reigns and Bray Wyatt right before the match were well done and helped to set up what we were about to see. The match was entertaining. It went almost 15 minutes. Obviously Reigns was going to win to get into the Elimination Chamber match. But, that didn't take away from the enjoyment of the match. And while I liked the match and gave it a Hit, it was not awesome. The "This is Awesome!" chants have jumped the shark.
Drake Maverick: I stopped watching Impact many years ago, because it sucked. I stopped watching before the days of Rockstar Spud. So, I have no connection to this performer. That makes me like the vast majority of Raw viewers by the way. I am impressed with what little I've seen of him so far. Normally I wouldn't like having someone like Michael Cole say something like "you used to know him as Rockstar Spud, but now he's Drake Maverick." I don't like the idea of acknowledging someone changing their names for no apparent reason. However, "Rockstar Spud" is not a real name. It is clearly a nickname and it makes sense given the context of his job in WWE that he would go with his real name (and we can pretend that Drake Maverick is his real name). I also appreciate the fact that WWE has given the Cruiserweights their own authority figure. He is hopefully going to help give the division some more focus. And I hope the tournament to crown a new Cruiserweight Champion works well to make the division something special, but I have my doubts.
Asuka vs. Bayley: This was another good match for Asuka on Raw which should have been saved for a PPV. I am worried that they are getting all of Asuka's opponents out of the way because they plan to have her winning streak end soon. They want her to face Sasha Banks, Bayley and Nia Jax while undefeated, and they are going to have her lose soon, so they are rushing to get to these matches. I hope I'm wrong, but fear that I'm right. As for the match, it wasn't as good as Asuka vs. Banks, but it was still definitely a Hit. It went back and forth nicely and Bayley got in a close near fall towards the end, before Asuka got the strong tap out win.
The Bar vs. Rollins & Reigns: The storyline leading up to this match worked to get the legitimately injured Jason Jordan out of the match and get Reigns in as a replacement to team with Seth Rollins to take on The Bar for the Tag Team Titles. The match itself was fun to watch. The Bar have become a very good tag team. They work well together. Reigns and Rollins obviously have good chemistry together as well. It was all on display here along with the individual talent of Rollins, Reigns, Cesaro and Sheamus. It was a good match, but I wasn't a huge fan of the end. The involvement of Jordan was predictable and I'm ok with him getting involved, but it could have been done better (more later).
James vs. Deville: While this match was short at only 4 minutes, I enjoyed it while it lasted. I have been fairly impressed with Sonya Deville so far. She caries herself very well and has performed pretty well in the ring. I'm far more impressed with her as a wrestler than Mandy Rose. I liked the physicality here. Deville and Mickie James were intense and physical in this match. They played up the fact that James' experience allowed her to get the win over Deville which makes some sense. The angle afterwards with Absolution beating James up and Alexa Bliss making the save was intriguing. Bliss and James have history from Smackdown. They played their parts well with James suddenly realizing who had saved her and acting confused. I liked this use of Bliss much better than what we saw with her and Kurt Angle (much more later).
Cena vs. Strowman vs. Elias: While I didn't like the stipulation for this match (again, more later), the main event delivered well. The physicality with John Cena and Elias teaming up to try to take Braun Strowman out of the match worked well. The guitar shot was great and the Attitude Adjustment on the stairs was a good move. The match wasn't long, and Cena seemed too tired at the end based on the length of the match. That was a bit odd. Cena wasn't playing to the crowd like the was the previous week, so I guess that was just a one week thing? I thought they might go back to him seeming upset at the fans, but there was nothing here like that at all. The ending with Strowman recovering to surprise Cena with a power slam and then his failed attempt to power slam Elias, only to have Elias escape and get rid of Strowman and pick up the cheap win was strong. Elias was clearly the right guy to win given the match stipulation.
RAW MISSES
Main Event Stipulation: I was not a fan of the stipulation for the main event. I get the idea of wanting to have this type of stipulation. It did make the match very important. But, the problem is that there was no reason why these three wrestlers got this opportunity while the other three wrestlers in the Chamber match didn't. Why did Cena, Elias and Strowman get a chance to compete to be the last man in the Chamber? Why didn't Reigns? Why didn't Miz? That was stupid.
Angle – Bliss: I hated everything about this segment. Kurt Angle was very poor in his performance. He forgot the name Elimination Chamber. He wasn't smooth in announcing the women who would be in their Chamber match. I hate the idea that Asuka is suddenly in a match against Nia Jax where if Jax wins, she'll be added to the Women's Title match at WrestleMania in a triple threat. That totally cheapens Asuka's victory in the first ever women's Royal Rumble. She had to win the Rumble to get the shot, but Jax only has to win one singles match? That makes no sense. When did Asuka say she was going to challenge the Raw Women's Champion? Last week, she was waiting to see who the Champion would be after Elimination Chamber to decide. This week, she is going to face the Raw Champion and Jax would be added to the match.
I hated Alexa Bliss's role here. I don't like the direction that WWE seems to be going with accusations of sexism. Keep that out of my wrestling. If you want to go there, at least make it real sexism. Having a heel accuse a babyface authority figure of sexism is basically reinforcing the idea which too many people have that women falsely accuse men of sexism (or something worse like sexual assault). This is clearly a false accusation from a conniving woman against a man who is clearly not being sexist. That makes a joke out of sexism. Angle had a decent response at first saying that Brock Lesnar had to defend his Universal Title at the Royal Rumble, while Bliss hadn't defended the Title since October. However, I didn't realize how long it had been since she had defended the Title. They shouldn't point that out as it calls into question the legitimacy of her Title reign and the legitimacy of Angle's authority as the one who makes the matches. I'm worried how WWE will follow up on the sexism claims. It didn't do Angle any favors that none of the announcers stood up for him or called Bliss out for her obvious antics trying to weasel her way out of the match.
I don't understand why Ronda Rousey wasn't mentioned this week at all. She was so big that the women's Rumble ended that PPV, yet eight days later she wasn't even mentioned? If she is full time like they said last week, why wouldn't Angle put her in the Chamber? I don't care that she hasn't had a WWE match, she is still more deserving than Mandy Rose.
Selfies: I continue to dislike the selfie promos. I wouldn't mind one a show, especially from an act that fits the style. I don't like it when the wrestler is randomly walking front ways and then backwards during the promo in a nauseating way like John Cena did. I don't like it when it seems to totally not fit a wrestler's character like Braun Strowman. I can't imagine Strowman deciding on his own to do a selfie promo. And I can't imagine the rebel Strowman falling in line and doing the corporate thing that WWE tells him and all the wrestlers to do. The one The Bar did felt a little more natural and didn't bother me as much. That should have been the only one on this show.
Jordan – Rollins: This is a storyline that for the most part has been well written and well performed by Jordan, Rollins and Reigns. The fans have reacted to Jordan the way WWE actually wants them to react. However, the scripting here felt backwards to me. Reigns came across like a heel here, not Jordan. Jordan had been helpful in the match, so why did Reigns want to kick him out? Then Jordan kept The Bar from walking out on the match. That was good. He was trying to keep them from getting themselves counted out. They attacked him and he protected himself which got Reigns & Rollins disqualified. That's totally understandable. In previous weeks, he wasn't booked as being understandable like he was here. Then Rollins really came across like an ass in the back when he was yelling at him for being selfish. They needed to write him off tv for awhile to recover from his neck injury, but this made him look far too sympathetic on his way out.
For another view from the original Hitlist author, compare Jason Powell's views to mine by visiting prowrestling.NET's "Hitlist" section here.
Jon Mezzera is PWTorch.com's WWE Hits & Misses Specialist, providing his point of view for Raw and Smackdown each week. Email him at jmezz_torch@yahoo.com. Follow him on Twitter @JonMezzera.
---
NOW CHECK OUT LAST WEEK'S COLUMN: WWE RAW HITS & MISSES 1/29: Stephanie McMahon's opening statement, Strowman topples table, Asuka vs. Banks, Selfie Videos, Coach, Cena vs. The Fans