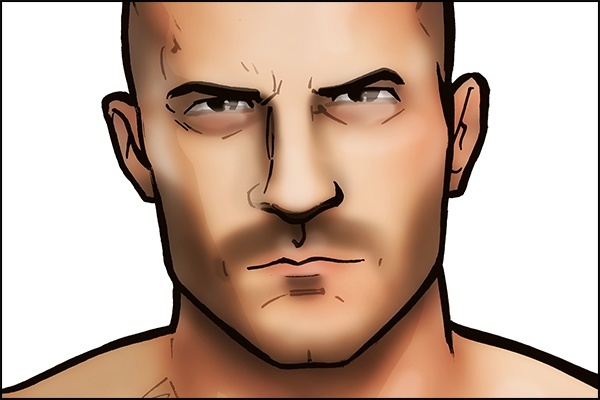 ---
SPOTLIGHTED PODCAST ALERT (YOUR ARTICLE BEGINS A FEW INCHES DOWN)...
---
RAW HITS
Strowman Promo: The first hour of Raw was bad. The second hour started off well with the promo from Braun Strowman talking about how he doesn't need a partner to face The Bar at WrestleMania for the Raw Tag Team Championship. He isn't great on the mic, but he can do a pretty good job like he did here. It was simple and well delivered. It will be interesting to see who ends up being his partner with Elias the favorite at this point.
Strowman vs. Cesaro: Strowman followed that up with a good match against Cesaro. They went 9 minutes which seemed liked the right time for this match. Strowman got the strong win, but Cesaro got in plenty of offense to look ok in defeat. Strowman had to win, but you don't want to make it look like The Bar would have zero chance against him in a handicap match. I'm glad that it won't be and as I said above, I am looking forward to seeing where they go with his eventual partner.
Cena's Promo: I'm not sold on John Cena calling The Undertaker a coward. But, overall the mic work from Cena the last two weeks has been good. What worked well here was how he said it was ok for Undertaker to be retired, but he wanted him to at least say "no" to his challenge for a match at WrestleMania. I chuckled at him saying that Undertaker didn't have to say anything, but at least give him a sign with some of his goofy magic. While he got booed in some parts, I think the fans were more booing the idea that Undertaker might be done wrestling, not booing Cena himself. The fans were with him doing the "Do Something!" chant. Kane's appearance at the end worked ok as it was believable that he might be there to give Cena an answer as he assumed. The chokeslam worked as a mystery. Was that the answer? Was that a message from Taker? Or was Kane doing it on his own? This also allowed them to advertise Kane vs. Cena for next week and build more anticipation for what Undertaker will ultimately do.
Miz-Tourage vs. Balor Club: This is a minor Hit. The Miz's pre-match promo about Seth Rollins and Finn Balor was not good. The whole insider bit with using their former names was stupid. The idea that they are only good in bingo hall indies is so stupid considering Rollins is a former WWE Champion and Balor is the first ever Universal Champion. It is so ridiculous even coming from a heel that Miz loses credibility for saying it. The six man tag was solid to good. Rollins was very good doing guest commentary which helped the match. The aftermath with Rollins reluctantly coming to Balor's aid worked well too.
RAW MISSES
Opening Segment: WWE is taking their Steve Austin playbook and running it play by play with Roman Reigns as the new Stone Cold. Last week it was the Superstar vs. Vince McMahon play. This week, it was the Superstar gets arrested play. This didn't work. Reigns came across like a jerk in dealing with Kurt Angle. He was terrible to the U.S. Marshals who were just trying to do their jobs and weren't doing anything wrong. He beat the crap out of them. That didn't make me want to cheer him. Some fans live in the arena did give him a good reception to be sure, but he also got a "You deserve it!" chant after Brock Lesnar destroyed him. The easiest thing to do is to have Reigns as a heel and Lesnar as a face. It is how most fans want to react to those two anyway. Go with it. If Reigns is going to win the Universal Championship, then have him as a heel Champion going forward. He can still be the centerpiece of Raw as a heel. And where was his Shield brother Seth Rollins in all of this? He should have come out to help. He should have commented on it later in the show. Having him totally ignore the situation considering such a good friend was taken to a hospital (or medical facility in WWE speak) was terrible writing.
40 Minutes of No Wrestling: After that long opening segment and several replays and other videos, and commercial breaks, and an Alexa Bliss promo, we finally saw the first wrestling match of the show. It took about 40 minutes before we heard the bell ring to start that match. That is far too long before having wrestling on a wrestling program.
Asuaka vs. Bliss: That match that we finally got went 12 minutes. Unfortunately, it wasn't a good match. Asuka's streak hasn't looked all that impressive lately as she hasn't gotten strong enough wins. I don't mind a challenge here and there, but too often lately she has taken too long to defeat opponents. Now Bliss is the Raw Women's Champion, so a longer match makes sense in this instance, but not following her other longer matches lately. This match shouldn't have happened in the first place. Nia Jax should have come out right away to get revenge on Bliss. What was she waiting for? The count out was to be expected, but still a let down. Just have Jax interrupt right away to end the match before it starts. Even before Asuka comes out. The match itself wasn't particularly good. As great as Asuka is, I have to say that she should stop doing the hip attack move. It looks terrible. Half the time it doesn't connect much if at all with her opponent. Even when it does, it doesn't look like it hurts much. So much of what she does looks real in terms of her strikes and her submission holds. That move looks so stupid and fake. She certainly doesn't need it.
Bayley – Banks: I thought WWE was going to start going in a good direction with this poor storyline when Bayley started talking about what really upset her about what happened at Elimination Chamber. It wasn't that Sasha Banks had attacked her. It was the fact that Banks enjoyed attacking her. But, neither of them came across looking very good or likable here. She could have pointed out that while Banks turned on her in order to win the match, she still lost so her plan didn't work. The match against Absolution was ok, but nothing special and continued to paint both Bayley and Banks as jerks. I don't think that's what WWE is going for here.
Ultimate Deletion: I know a lot of people were fans of the Broken Matt Hardy character and Universe from Impact Wrestling. I haven't watched Impact in years, so while I heard a lot about it, I never actually saw it. I'm with the vast majority of Raw viewers in that respect. The viewership for Raw is like ten times higher than Impact. So most of us never watched Broken Matt Hardy but are seeing Woken Matt Hardy. The character to me has been Hit or Miss. I haven't had a strong connection to the character, but have found some of what he does to be very entertaining. But, I hated Ultimate Deletion. It was so stupid. It was so cheesy. There were supernatural elements to it with Jeff Hardy magically appearing to say something to Bray Wyatt, but then disappearing. Supernatural elements don't belong in pro wrestling. I never liked that aspect of Undertaker's character and have not wanted to see those elements used for Wyatt. There were some funny bits here and there, but you also had Hardy trying to literally murder Wyatt with a riding lawn mower only to be stopped by Wyatt doing his weird crab walk. That didn't make sense. Murder and magic is why I stopped watching Lucha Underground. Then Hardy appeared to murder Wyatt by drowning him in a lake. And that lake might have more supernatural powers to somehow resurrect Wyatt into a new character. A lot of people are like me in being tired of the Wyatt character, and some of them are happy about how this may lead to a new character. But, let me reiterate that in order for him to have a new professional wrestling character, he first had to drown in a lake and be resurrected. That is idiotic. I really hated this.
---
For another view from the original Hitlist author, compare Jason Powell's views to mine by visiting prowrestling.NET's "Hitlist" section HERE.
Jon Mezzera is PWTorch.com's WWE Hits & Misses Specialist, providing his point of view for Raw and Smackdown each week. Email him at jmezz_torch@yahoo.com. Follow him on Twitter @JonMezzera.
---
NOW CHECK OUT LAST WEEK'S COLUMN: WWE RAW HITS & MISSES 3/12: Cena calls out Taker, Reigns-McMahon, Balor vs. Rollins, Miz TV, Bliss-Jax angle, missing Lesnar and Rousey