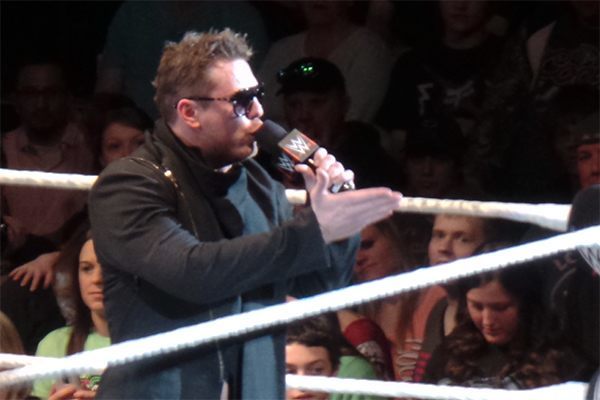 ---
SPOTLIGHTED PODCAST ALERT (YOUR ARTICLE BEGINS A FEW INCHES DOWN)...
---
RAW HITS
Opening Segment: This wasn't a great opening segment, but good enough to get a Hit. Paul Heyman cut a strong promo to start things off talking about Brock Lesnar vs. Roman Reigns at WrestleMania. The physicality between Lesnar and Reigns once Reigns came out to interrupt was good. It was good that Lesnar would go right after Reigns despite Reigns having a chair to use as a weapon. Reigns was able to fight back, but Lesnar still got the better of him to dominate him once again like last week. That should make Reigns' fans want to see him get revenge on Lesnar, while Lesnar's fans are happy to see him beating up Reigns. However, I don't feel this was a good step if WWE is really trying to get the fans to cheer Reigns and boo Lesnar. It was the same as last week in those terms. Maybe WWE realized that was just not going to happen, so they've given up on the idea.
James vs. Jax: This was a good match, although at only 7 minutes with a commercial break, we didn't see much of it. Nia Jax got the strong win despite Mickie James getting in a decent amount of offense. With 14 matches this year (I believe that's one more than last year), WWE needs to have some shorter matches at WM. If WWE wants to go strong with Jax as the new Raw Women's Champion, then I would love to see her just squash Alexa Bliss. That is not a match that needs to be over 5 minutes. A 2 minute squash would be fine withe me.
MizTV: The Miz and the Miz-tourage had me going with their ruse. It is a little too convenient that Seth Rollins and Finn Balor happened to act in the exact way that Miz hoped for the entire segment. But, it still worked. It was entertaining. The fans seemed to be buying into the idea that Bo Dallas and Curtis Axel were turning on Miz and were going to attack him. They all played their parts well. The physicality also worked and pointed to having more tension between Rollins and Balor going forward which is smart.
Asuka Squash: It was a good idea to have Asuka's opponent Jamie Frost get a quick pre-match interview to introduce her to the audience. It was an even better idea to have Asuka getting a 10 second squash to show off her dominance after her matches lately which have gone on too long and had her sell too much. She needed that. Give her another one next week on Raw and then again on Smackdown with Charlotte at ringside.
Kane vs. Cena: This wasn't a great match, but a pretty good one that played well into the No DQ stipulation. What made the match work particularly well was the way that John Cena tried to emulated The Undertaker at times during it. However, I would have liked to see more of it. He did the sit up, the throat slash and a chokeslam. It would have been nice if he did a few other things. At the very least, he should have done Taker's arms crossed on the chest pin at the end. It was a good idea that just should have gone further. The impassioned promo from Cena at the end was strong, but felt like more of the same from him. It hasn't progressed as Taker hasn't done anything. So while it was a good promo, it wasn't anything new. I suspect we will see the same exact promo next week until Undertaker finally shows up and does something. So, I have to call this a marginal Hit.
RAW MISSES
Triple H – Stephanie Video: I get that Triple H and Stephanie McMahon are the clear heels here. I get that heels lie and exaggerate and brag. I don't need to see that out of this particular heel duo going into this match at WM. It works ok for Triple H, but not for Stephanie going up against Ronda Rousey. The biggest issue is when a personal trainer says that she's a better athlete than anyone who he has ever trained including pro athletes and Olympians. With a different style and production, that could work where it is obvious that the guy was paid off to say that about her, but that wasn't the case here. This wasn't tongue-in-cheek. The announcers didn't question Stephanie's bragging demeanor like they should have. They acted like she has a legit chance to beat up Rousey which hurts their credibility. That isn't the story that WWE should be telling for this match.
Cruiserweight Match: I appreciate the fact that WWE brought the cruiserweights back to Raw this week. I suspect that they will be on again on next week's show. I also continue to be a fan of what Drake Maverick is doing as the 205Live general manager. However, if you are trying to get Cedric Alexander and Mustafa Ali over with a larger crowd before their match at WM in the finals of the Cruiserweight Championship Tournament, there are better ways to do it. We didn't get to see Ali's entrance. The match was joined in progress which sends the message that this isn't that important. It was a fine match. Alexander and Ali both got to show some of their cool moves. But, this isn't a great way to have Alexander and Ali connect with that bigger tv audience. I would have rather seen a video package of their journeys through the tournament, followed by the sit down interview that aired the next night on 205Live. Looking ahead to their match, I am hoping for a heel turn for Alexander. He is great in the ring and has some charisma, but hasn't connected as a character the way that Ali is really starting to do on Tuesday nights. Plus, the heel side of the roster is pretty thin after Drew Gulak at this point. Alexander has been saying he will do anything to win the Title at WM, so he could turn heel and cheat to win, or snap after losing. Either way, it would be good to get a rematch with a babyface Ali vs. a heel Alexander in the future.
Bayley – Banks: This continues to be so poorly written. Bayley and Sasha Banks both continue to be so unlikeable. Banks came across slightly more heelish here than Bayley as she attacked her first from behind. So, maybe she's coming across as a heel while Bayley is coming across as an unlikeable heel. Either way, what could have been a stand out singles match at WM has been relegated to part of the women's battle royal. And what's even worse, is that two should-be great characters have been largely ruined at this point.
Rousey: The scripting for the segment was good. I liked what Ronda Rousey had to say in response to the video from earlier in the show. The line about Stephanie being personal trainer tuff, as in not really tuff at all was strong. The interruption by Absolution was fine. Paige was pretty good in her role trying to get Rousey to join their group and trying to convince her that going up against the bosses was a bad move. The physicality with Rousey getting the better of Mandy Rose and Sonya Deville was a good idea to show her ability in the ring. However, Rousey herself was so poor here. Her weird eye make up was really distracting. Her acting wasn't good. Her responses to Paige were not strong enough. She isn't showing much range in her character. I liked the very end how she was about to break Rose's arm before Angle stopped her. She performed well in that instance, but not the rest of the segment.
LISTEN TO WADE KELLER'S PRO WRESTING POST-SHOW discussing this episode with live callers, a live on-site correspondent, and emailers with cohost Jason from Australia HERE.
---
For another view from the original Hitlist author, compare Jason Powell's views to mine by visiting prowrestling.NET's "Hitlist" section HERE.
Jon Mezzera is PWTorch.com's WWE Hits & Misses Specialist, providing his point of view for Raw and Smackdown each week. Email him at jmezz_torch@yahoo.com. Follow him on Twitter @JonMezzera.
---
NOW CHECK OTU LAST WEEK'S COLUMN: WWE RAW HITS & MISSES 3/19: Reigns vs. U.S. Marshalls, cheesy idiotic Ultimate Deletion segment, Cena's latest Undertaker callout, Bayley-Banks dynamic