---
SPOTLIGHTED PODCAST ALERT (YOUR ARTICLE BEGINS A FEW INCHES DOWN)...
---
The Pull List is a feature column that looks at a variety of the hottest movie, TV, comic, and videogame releases along with a take on the hottest topic in wrestling.
FEATURE TAKE: CAN AEW, ROH, AND NJPW WORK TOGETHER?
Officials from AEW and NJPW had a meeting recently and NJPW officials decided to stay loyal to their partner ROH and not work with AEW. After the meeting, they were apparently blindsided by the report in Tokyo Sports where Kenny Omega gave a seemingly worked interview about taking time away NJPW after losing to Hiroshi Tanahashi at Wrestle Kingdom.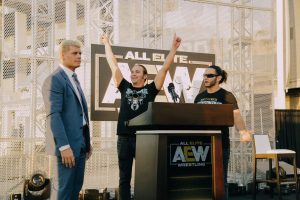 NJPW has gotten bolder in their plans to expand outside of NJPW, especially in the U.S. and the U.K. They've also made some progress in establishing a presence in Australia, but for now, the main focus seems for be for NJPW to run more shows in the U.S in 2019 and they also announced plans to run their biggest show ever in the U.K. in London in August.
So far NJPW has announced a three show tour in the U.S. that will go from Jan. 30-Feb. 2. The shows will feature talent that isn't on the New Beginning cards in Japan as well as talent from the NJPW Dojo in L.A. They will run the first night of G1 Climax in Dallas in July as well.
For now, NJPW is focusing on their G1 Supercard event during WrestleMania weekend that they will co-promote with ROH. ROH does not want AEW talent on that event. It's not hard to figure out why ROH doesn't want AEW talent on that show. They are in competition with AEW for talent right now. They won a battle with them over Bandido and got him signed to a deal. He debuts for ROH this weekend at a house show and a TV taping.
The question coming out of AEW launching on Jan. 1 on an episode of Being the Elite and then holding a rally to announce their next big live event called "Double or Nothing" on May 25 in Las Vegas this past week is what is NJPW going to do without talent from AEW if they plan to grow their audience in the U.S. in 2019?
Kenny Omega was the chosen one to ride the NJPW horse into western territories and grow the audience. When NJPW ran shows in the U.S. on their own during the last two years, there was a heavy focus on The Young Bucks, Cody Rhodes, and Kenny Omega. Adam Page is a fast rising star in the industry that NJPW would certainly benefit from using as well.
The Young Bucks, Cody Rhodes, and Adam Page are all signed to AEW. It's almost a certainty that Kenny Omega will join them when his contract with NJPW expires at the end of the month. It's hard to imagine NJPW will do well in the U.S. and the U.K. without using the cast of Being the Elite on their shows.
Right now it's hard to imagine ROH and NJPW being able to put together a compelling card for G1 Supercard without the cast of Being the Elite. It can be done, but it's not going to be easy for ticket resellers to get rid of all those extra tickets they have available for the MSG show. What big ROH match is going to get fans buzzing for MSG? It's not going to be ROH World Champion Jay Lethal vs. Fake ROH World Champion Matt Taven. Would Hiroshi Tanahashi vs. Kazuchika Okada be enough on top of the card to sell out the venue? It's not a fresh match, but with the IWGP World Hvt. Championship on the line, fans would likely get buzzing for the chance to see Okada and Tanahashi put on a classic for the first time outside of Japan.
The ROH booking team hasn't proven capable enough to build new stars, which is why I'm skeptical the likes of Bandio, PCO, and Mark Haskins will suddenly turn red hot and be over enough to get fans excited about G1 Supercard.
My hunch is that G1 Supercard will be a NJPW heavy show on top, but there's only so much they can do to put on a show worthy of all the excitement that was there when the show was enough and most fans expected the cast of Being the Elite to be on the show.
It would benefit ROH, NJPW, and AEW to work together. NJPW needs the Being the Elite talent the most. Specifically, they need Kenny Omega and to a lesser extent Cody Rhodes and The Young Bucks on their cards if they're going to grow the brand in the U.S. NJPW not working with AEW also means they can't use Chris Jericho.
Without a wrestler that hardcore fans in the U.S and the U.K. can latch onto, it's going to be tough for NJPW to grow> Kenny Omega was that star. He was supposed to be the one that headlined MSG and took NJPW to new heights in 2019 and now that almost assuredly not going to happen unless something changes.
NJPW is going to have to be the one to bend here. They need to be loyal to ROH as they work together to build G1 Supercard, but after that's over, it won't be surprising if NJPW begins using AEW on their U.S. shows and we see AEW talent in NJPW as well.
It doesn't make any sense for NJPW not to work with AEW. AEW wants to change the way wrestling politics work and establish working relationships with as many companies as they can. Obviously, that won't include WWE and likely won't include ROH, but the likely scenario playing out after WrestleMania weekend is that NJPW gets on the phone with AEW and says let's work something out.
If that hurts ROH's feelings, that shouldn't concern NJPW. They need to be able to use Jericho and Omega if they're going to continue to grow in popularity outside of Japan. Without the use of those two, there's not going to be much growth for them in 2019. They should also use Cody Rhodes and The Young Bucks as well to sell tickets to western fans.
Although ROH may not like it, this is something NJPW needs to do and they can still continue to partner with ROH and work together on joint tours.When it comes down to it, NJPW might end up using just Omega and Jericho and not use Cody and The Young Bucks, as there are some hard feelings towards them, which is natural given that they are in competition now. ROH, NJPW, and AEW might not hold hands and sing kumbaya together anytime soon, but NJPW has too many chips on the table and they will likely change their minds and work with AEW for the good of their own business.
NEW BLU-RAY RELEASE REVIEW
"NIGHT SCHOOL"
Available now on Blu-Ray, DVD, & Digital Formats
NOTE: Check out the tweet below for a chance to win a free copy of Night School on Blu-Ray, DVD, & Digital by retweeting the contest tweet below or you can enter by simply emailing radicansean@pwtorch.com with Night School in the subject line.
.@PWTorch contest: To enter simply RT this tweet and you will be entered to win a copy of Night School starring Kevin Hart and Tiffany Haddish from @UniversalPics. I will be reviewing Night School in the next edition of The Pull List. #NightSchool #KevinHart #TiffanyHaddish pic.twitter.com/kZFqPGxjxA

— Radican PWTorch (@sr_torch) January 12, 2019
Night School stars Kevin Hart as Teddy, a BBQ salesman, that never got his high school diploma. Teddy has a beautiful girlfriend, he's employee of the month at this job, but the only problem is his lack of intellect holding him back. Teddy's boss thinks so much of him that he tells him that the BBQ sales store is his when he retires.
Things take a turn for the worse for when Teddy after he gets engaged at the BBQ store and he accidentally blows it up. Without any job prospects, Teddy is forced to get his GED, but the problem is Stewart (Taran Killam), who is the principal of the night school he goes to, was someone he picked on in high school.
I thought this movie was going to be really funny, but it takes a long time to get going. The script spends too much time getting Hart's character to Night School where he and his co-star, Tiffany Haddish, who plays his teacher named Carrie, begin interacting. They do have one previous interaction in the movie at a stop light where they have a funny verbal exchange, but getting Haddish and Hart together for the rest of the movie was a good move.
More characters are introduced once Teddy begins Night School and Teddy's classmates are one the highlight of the movie. One would think that Haddish and Hart would really light up the screen given how funny they both are as comedians, but there's only some mild laughs to be had in this movie. The extras on the Blu-ray seem to allow Haddish and Hart cut loose more than the movie itself. Fat Joe is a highlight playing one of Teddy's classmates that has to take the class on a big screen via prison on Skype.
The best scene of the whole movie is when Teddy and his classmates break into Stewart's office to steal a test so they can pass their GED. The entire scene from beginning to end is hilarious, but Mary Lynn Rajskub, who plays a mom that hates her domestic life, steals the entire scene as she tries to distract Stewart from entering his office where all of her classmates are hiding with sexual advances.
Teddy's exploits begin to cost him everything and the second half of the movie is his path to redemption and Carrie tries to motivate him in different ways. The problem is the scenes just aren't that funny. Carrie tries to help Teddy with his learning disability by causing him physical harm in a MMA cage, she takes the class to promo, and Teddy gets a job as a worker and mascot at a fast food place next to a strip joint called Christian Chicken, but there just aren't many laughs to be had.
The Blu-Ray release is stacked with extras that are really good. There's a full-length director's commentary, but my favorite extra feature was the alternate beginning to the movie. The director, Malcolm D. Lee, explains why he chose to cut down the opening scene. It was really interesting to watch the beginning of the movie and then listen to Lee discuss why he edited down the opening scene from what it was originally.
The scene features Hart walking out of taking his SAT and then humiliating Stewart in front of the whole school. Lee talks about the difficulties in doing flashback scenes and you can see why this scene was difficult, as only Killam can pull off looking young enough to be in high school without the beard he wears playing the older Stewart in the movie.
The other extras are good as well. There's several behind the scenes looks at the big scenes in the movie as well as a gag reel and some extra scenes. Haddish is really funny in a lot of the bonus features and showcases her explosive personality, but in the movie itself she just feels watered down with the PG-13 rating.
Overall thoughts: (6.0) – I thought this was going to be a total thumbs down when the movie started, but there are enough laughs during the second half of the movie for me to give this a mild recommendation. The scene where Teddy and his classmates steal the GED test from Stewart's office is one of the funnies extended comedic scenes I've seen in a long time, but the rest of the movie feels like the headliners, Haddish and Hart, are restrained.
I don't know if a R rating would have made this movie better, but the script just doesn't hit hard enough with comedic punches. I do commend the team that put the Blu-ray together for going in hard with the extra features. There's a ton of fun extras and the director's commentary is a nice addition just to get insight into how the film was made and why certain decisions were made. Mild thumbs up.
RESIDENT EVIL 2 1-Shot Demo (Available on PS4, XBOX One, and Steam)
The original Resident Evil 2 on PS1 got me into the survival horror genre. It was a gripping game to play as you started out in Racoon City as police officer Leon S. Kennedy, who gets split apart from Claire Redfield, the college student he made his way into town with. They come into town just as there's been an outbreak of zombies.
The original game had you play through two complete campaigns, as you did one with Leon and then another with Claire before finishing the game. Capcom has completely rebuilt the original Resident Evil 2 from the ground up, which is incredible considering it's been over twenty years since the original game came out.
I've been looking forward to this game since it was announced last year and Capcom has released a demo ahead of its launch on Jan. 25 called "1-Shot Demo," which is available on XBox One, PS4, and Steam. This is the first chance people are getting to actually play the game.
I had a chance to play through the demo. It only gives you a half hour and you start in the Racoon City Police Station, which is a very familiar location to those that played the original RE2. The catch with the demo is you only get a half hour to explore the police station and when you're time runs out, you don't get anymore time with the demo.
I would have liked to have had more time to explore the police station. I got bogged down in trying to solve a puzzle early on before I ran into a horde of zombies. I don't want to give too much away, but if you explore the first floor, the action gets intense quickly.
I liked the controls and the new over the shoulder camera. Leon moved well for me and I'm glad the game has been modernized in terms of controls and production. I was afraid that Leon might move and turn slowly like he did in the original game, but I had no problem maneuvering him around and aiming my weapon.
Once you finish the playable part of the demo or your time runs out (whichever comes first), you are shown a new trailer for RE2. The trailer serves as a preview of what's to come in RE2 and there's a great tease at the end for fans of the original. The tease at the end of the trailer got me excited, as I believe Capcom is putting out a game that is really going to satisfy new players as well as those that played the original RE2.
Contact Sean at radicansean@pwtorch.com. Follow him on twitter @sr_torch.