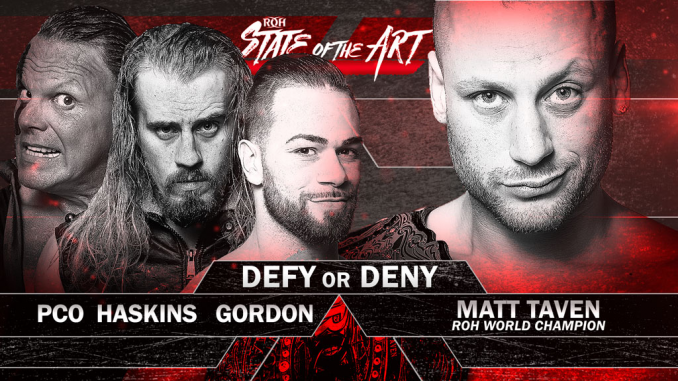 ---
SPOTLIGHTED PODCAST ALERT (YOUR ARTICLE BEGINS A FEW INCHES DOWN)...
---
ROH STATE OF THE ART
JUNE 2, 2019
PORTLAND, OR AT VIKING PAVILION
AIRED ON ROH HONOR CLUB
REPORT BY HARLEY R. PAGEOT, PWTORCH CONTRIBUTOR
Commentary: Ian Riccaboni, Colt Cabana
We opened to the sound of boos.  In the arena Bully Ray stood on the stage, yelling at the commentators.  He marched to ringside and grabbed a mic.  He ordered ring announcer Bobby Cruise and referee Todd Sinclair out of the ring.  He continued to complain about Final Battle and G1 Supercard.  He insulted one fan for being overweight, then another for looking homeless.  He called out anyone from ROH for an open challenge.
Tracy Williams walked out with a trash can full of weapons over his shoulder.  Williams feigned surprise that Ray wanted to make the show all about him.  He said Ray made it clear that he won't just go home like everyone wants.  Williams accepted his challenge and suggested they make it hardcore, no DQ, anything goes.  Ray kicked him between the legs and accepted.
(1) "HOT SAUCE" TRACY WILLIAMS vs. BULLY RAY – NO DISQUALIFICATIONS
Ray clubbed him with the microphone and ran him into the garbage can.  Ray hit a suplex, then berated Sinclair for not counting quickly enough.  Another suplex.  "I invented Suplex City, bitch!"  Honor Club crashed for me.  We came back to Ray getting a table from under the ring.  Kendo stick to Williams' back.  Ray set up the table in the ring and lay Williams across it.  Ray went up top but Williams hit a claw to Ray's crotch.  He set up for a Frankensteiner through the table but Ray shoved him off and across the ring.  Williams surprised him with a crucifix pin.
WINNER: Tracy Williams in 8:03.
-Ray attacked Williams, then punched out Sinclair.  Mark Haskins ran out but Ray immediately got the advantage and powerbombed him through the table.
(Pageot's Perspective:  Much like you Monday night sports entertainment viewers, if you were hoping for a big response from ROH to the buzz from AEW's first pay-per-view, no dice.  Instead we get The Bully Ray Show once again.  Sure, he put over Williams but it was a fluke win and he then easily disposed of Haskins in a fair one-on-one situation.)
-The commentators ran down the card.
(2) DANIKA DELLA ROUGE vs. MAZZERATI
Mazzerati has appeared for Women Of Honor at least once before.  This was the WOH debut for Rouge, who Riccaboni noted recently appeared at both the NXT and ROH combines.  Mazzerati hit a northern lights suplex for two.  Rouge went up top but was crotched by Mazzerati.  They traded kicks.  Eye rake from Mazzerati.  Off With Her Head.
WINNER: Mazzerati in 4:40.
-The Allure hit the ring.  Angelina Love and Mandy Leon attacked both women while Velvet Sky paced at ringside.  Rouge got the lipstick treatment.
(Pageot's Perspective:  Women Of Honor is a joke.)
-Riccaboni announced that the 2019 Top Prospect Tournament will commence in July as 2017 winner Josh Woods made his entrance.  He wore a shirt touting his new "Down To Fight" catch phrase.
(3) MARK BRISCOE vs. JOSH "THE GOODS" WOODS
The men fought to ringside early.  Woods tossed Briscoe into the guardrail and gave him an overheard suplex on the floor.  Woods took him into the ring but Briscoe brought him back out and tossed him into the guardrail twice.  Cactus Jack elbow off the apron.  Briscoe proclaimed he was going to tap him out and locked on a chinlock.  Woods fought out.  Briscoe suplexed Woods onto the apron.  They traded blows.  Woods wanted a German suplex off the apron.  Briscoe barely hung on to prevent it.  Woods persevered and connected.  "Holy shit" chant with both men down on the ringside mats.  In the ring Woods hit a fireman's carry swing-out into a knee.  Briscoe landed next to the ropes and was able to grab the bottom rope to prevent the three-count.  Briscoe rolled to ringside and grabbed a steel chair.  As the referee discarded the chair Briscoe hit a low blow.  Death valley driver.  Froggy-bow.
WINNER: Mark Briscoe in 11:17.
(Pageot's Perspective:  A really nice match.  If anyone can help elevate Woods it's going to be your veteran hands like Briscoe.  Kind of a bold decision to have him lose in only his second match back, though.  For those of you keeping track at home we are at a ratio of 2 low blows to 3 matches so far tonight.)
(4) JEFF COBB vs. "DAREWOLF" PJ BLACK
It was Black's speed versus Cobb's strength.  The Honor Club stream went in and out starting at 6:15 and continuing through to the end of the match.  Cobb won with Tour Of The Islands.
WINNER: Jeff Cobb in 12:05ish.
(Pageot's Perspective:  With the two players involved we can assume this was a fun one.)
-Riccaboni announced that Mark Haskins had been pulled from the main event due to Bully Ray powerbombing him through the table.  It would presumably be a three-way now.
(5) TAG TEAM GAUNTLET FOR A FUTURE ROH WORLD TAG TEAM CHAMPIONSHIP MATCH
Riccaboni said the winners would get their title shot sometime after the upcoming Guerrillas Of Destiny vs. Briscoes championship street fight happening on July 20 in New York City.
(5a) THE VOROS TWINS (Patrick Voros & Chris Voros) vs. ROH WORLD TELEVISION CHAMPION SHANE TAYLOR & "THE TECHNICIAN OF HONOR" SILAS YOUNG

Young started against one of the twins.  Honor Club continued to cut in and out.  Taylor hit a pounce.  The twins got a couple hope spots in.  The stream crashed again.  It appears that Young may have made both twins tap to an abdominal stretch at the same time.
WINNERS: Taylor & Young in 7:30ish.
(5b) ROH WORLD TELEVISION CHAMPION SHANE TAYLOR & SILAS YOUNG vs. RUSH & DALTON CASTLE
Rush and Castle bickered.  The four heels threw hands.  Castle and Young renewed their age old rivalry at ringside while Taylor and Rush paired up.  Taylor and Young double-teamed Castle.  Rush made the tag at 4:00 and cleaned house.  He looked for his finisher on Taylor but Castle tagged himself in instead.  They managed to get on the same page for a moment and hit Young with stereo dropkicks but things quickly fell apart again.  Rush hit The Bull's Horns on Young and pinned him.
WINNERS: Rush & Castle in 5:56.
(5c) RUSH & DALTON CASTLE vs. COAST 2 COAST (LSG & Shaheem Ali)

C2C ran to the ring and pounced on their opponents.  Ali threw Rush to the floor and went after Castle.  The heels(?) trapped Castle in their corner.  Rush turned his back on the apron, ignoring a tag request.  He then gave Castle the middle finger.  Rush eventually tagged himself in.  Castle was offended that Rush did the tranquilo pose.  Rush looked for his finisher on LSG but Castle tripped him.  He took off but Rush chased and they fought on the stage.
WINNERS: Coast 2 Coast in 5:07 by count out.
(5d) COAST 2 COAST (LSG & Shaheem Ali) vs. THE BOUNCERS (Beer City Bruiser & Brawler Milonas)

Finally some babyfaces.  Ali hit a suicide dive onto Bruiser as The Bouncers were taking their sweet time slapping hands with the fans.  C2C took out Milonas at ringside but Bruiser came back.  Top rope blockbuster from LSG to Bruiser.  Crossbody from Milonas.  Closing Time to Ali.
WINNERS: The Bouncers.
(5e) THE BOUNCERS (Beer City Bruiser & Brawler Milonas) vs. THE KINGDOM (Vinny Marseglia & TK O'Ryan)
O'Ryan walked out on stage while Marseglia hopped the guardrail and jumped the Bouncers from behind.  Last Call to O'Ryan.
WINNERS: The Bouncers in 7:41.
(Pageot's Perspective:  I had high hopes for this one but this was a mess.  Four heel teams and one pair of jobbers to only one credible babyface team.  Factor in the Honor Club issues and how short each match was and this didn't help anyone in particular outside of continuing the Castle-Rush feud.  I'm very astonished that the Briscoes-G.O.D. match isn't happening at Best In The World but instead won't take place until late July.  I was excited when G.O.D. won the titles because it was so unexpected and there seemed like a lot of possibilities there.  Instead they've only been around for one short tour and have interacted with nobody but The Briscoes.  The tag division is worse as a result.)
-Kenny King joined commentary.
(6) JAY LETHAL vs. JAY BRISCOE
Briscoe went for a steel chair twice in the opening four minutes.  Lethal grabbed a mic and asked what happened.  He said this wasn't the same Briscoe who was undefeated for two years.  This wasn't ROH World Champion Jay Briscoe.  He suggested they stop with the nonsense and get back to seeing what happens when you put two great wrestlers alone in the ring.  He told Briscoe to drop the chair and man up.  Honor Club went down again before Briscoe could respond.
Briscoe was in control when we came back but bleeding from above the eye.  He remained dominant until Lethal hit a suicide dive at 14:20.  He completed his signature trio.  They faced off in the center of the ring and threw hands.  Lethal Combination.  Superplex from Briscoe.  Figure four from Lethal.  Lethal hit some kicks, prompting King to head to ringside.  He jawed at Lethal.  Briscoe avoided an elbow drop.  Jay Driller.  Lethal kicked out and the stream crashed again.
King had a steel chair and placed it on the apron for Briscoe.  He told Briscoe to handle his business.  "You know what to do."  Briscoe picked up the chair as Lethal got to his knees.  Briscoe looked at the fans, then chucked the chair at King.  Lethal Injection.
WINNER: Jay Lethal in 24:36.
(Pageot's Perspective:  Briscoe does the right thing and loses as a result.  This, coupled with Mark's cheating earlier in the night, would seem to indicate that the brothers are still heels.  But who knows these days?)
-A Matt Taven video package aired.  He was in full conspiracy theorist mode.
(7) ROH WORLD CHAMPION MATT TAVEN vs. ROH WORLD SIX-MAN TAG TEAM CHAMPION PCO vs. FLIP GORDON vs. "OVERKILL" MARK HASKINS – DEFY OR DENY
Defy Or Deny is an elimination match.  If a challenger wins, they earn a future world title match.  If the champion wins, the person he defeats to end the match can never challenge again so long as he's champion.  Cruise announced this would be a three-way due to Haskins' table spot at the start of the night but Haskins staggered out before the bell rang and refused to let the opportunity pass him by.  Taven bailed to ringside and took a seat to watch the other three fight.  The three faces chose to lock up rather than go after him.
Taven tried to steal some roll-ups but immediately ran back into the crowd when Gordon and Haskins kicked out.  Haskins unloaded with chops and knee strikes on PCO but the monster shrugged them off.  Haskins and Gordon caught and double-teamed Taven.  They tossed him in the ring and the trio surrounded him.  They each took turns chopping the world champion.   Taven was left bleeding from the chest.  More tandem offense from the challengers.  Taven moved and Haskins took out Gordon with a knee by accident.  Taven tossed Haskins into the guardrail but was flattened by a cannonball from PCO.  Taven went after the eye that he stabbed in Toronto.  PCO avoided a Climax.  Gordon and Haskins teamed to hit a powerbomb from PCO on the apron to the floor.  Taven followed with a splash onto everyone at ringside.  Then Gordon onto everyone.  Then PCO with a moonsault onto everyone.  Pop-up powerbomb to Taven in the ring.  PCO with a tombstone to Taven + chokeslams to Haskins and Gordon at the same time.
O'Ryan and Marseglia ran out.  O'Ryan distracted referee Todd Sinclair.  Taven hit PCO with a steel chair.  He no-sold and grabbed the chair.  PCO hit Taven with it.  Sinclair saw and called for the bell.  Cabana said Taven's goons aren't allowed at ringside during world title matches but the title wasn't on the line here.
PCO was eliminated at 14:48 by disqualification.
At 16:00 Haskins started to sell a back injury from the Bully Ray table spot for the first time.  Strikes to Taven.  Gordon and Haskins fought and took each other out with suicide dives.  Top rope double-stomp to Taven from Haskins.  He and Gordon kept getting in each other's way of eliminating Taven.  Double-stomp to Gordon.  Taven rolled him up with a handful of tights.
Mark Haskins was eliminated at 19:22.
Gordon and Taven threw hands.  They fought up the ramp and onto the stage.  Gordon with a superkick and a blockbuster off the stage onto Taven in the aisle.  Somehow Sinclair was only at a 9-count despite them being outside the ring for a good three minutes.  Taven rolled out of the way of a 450.  Gordon looked for a running hurricanrana off the apron but Taven caught him and powerbombed him through the timekeeper's table.  Taven with a top rope frog-splash but Gordon kicked out.  (LOL)  Slingblade.  Twisting falcon arrow.  Taven countered a Flip-5 into the Climax for the clean pin.
WINNER: Matt Taven in 25:50.  Flip Gordon can never challenge for the world title again so long as Taven is champion.
(Pageot's Perspective:  An entertaining match, despite ROH's best efforts.  It seems to have become some sort of personal challenge to the bookers to see how many low blows, chair shots, outside interference, and other shenanigans they can cram into one show.  In the late '90s it probably wouldn't have stood out.  But with how rarely we see that kind of nonsense in other promotions these days it always stands out here and the heat always goes onto the writing team, not the characters.  They have so many incredibly talented stars on the roster but none of them get to showcase their full potential due to the half-hearted booking and weak, or nonexistent, storylines.)
---
Find Harley on Twitter @talkinghonor and listen to the PWT team talk all things ROH every Wednesday on the PWTorch Dailycast "Talking Honor."