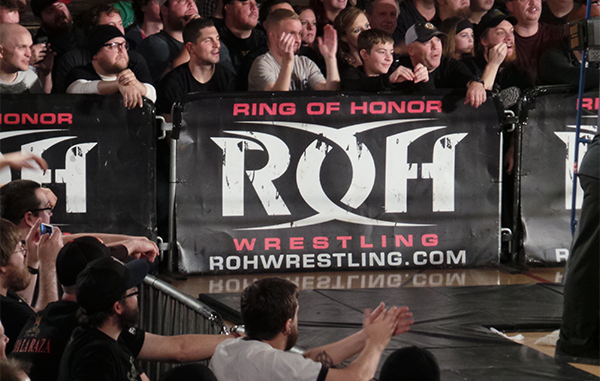 ---
SPOTLIGHTED PODCAST ALERT (YOUR ARTICLE BEGINS A FEW INCHES DOWN)...
---
The following article is part of our Weekly Overview Series to help put in perspective major wrestling promotions with a weekly overview, looking at news and roster developments, results, future line-ups, social media activity, key interviews, plus a timely commentary at the end. We will be featuring similar features on other promotions each week and each will be updated weekly.
---
•Top Stories of the Week
It has been confirmed that ROH's annual December PPV Final Battle will take place in Baltimore, MD at the UMBC Event Center. Typically this event takes place from Hammerstein Ballroom in New York, NY. There have also been rumblings that a large tournament will take place leading up to the PPV.
Ian Riccaboni talked with

wrestlinginc.com

about all things ROH. The most interesting comments were those about fans being upset about Taven winning the world title in April. It is very odd that seemingly every company official has come to the defence of Taven in recent weeks.
---
•Live Event Results
There were no live events this week.
---
•Upcoming Major Show(s)
ROH Honor for All
Nashville Fairgrounds Arena
Nashville, TN 6:00pm 8/25/19
The Briscoes (c) vs. The Rock n' Roll Express for the ROH World Tag Team Championships
Villain Enterprises (c) vs. Lifeblood for the ROH World Three Man Tag Team Championships
Rush vs. Vinny Marseglia
Shane Taylor (c) vs. (winner of the following triple threat match) PJ Black or Chase Owens or LSG for the ROH World Television Championship
Matt Taven vs. Jay Lethal vs. Jeff Cobb vs. Kenny King in a Defy or Deny match
---
•Upcoming Events
ROH Honor for All (Live Event) 8/25/19 in Nashville, TN at the Nashville Fairgrounds Arena
ROH Live (Live Event) 9/6/19 in Dearborn, MI at Ford Community Center
ROH Live (Live Event) 9/7/19 in Chicago, IL at Odeum Expo Center
ROH Live (Live Event) 9/8/19 in Milwaukee, WI at Potawatomi Casino
Death Before Dishonor (PPV) 9/27/19 in Las Vegas, NV at Sam's Town Live
Death Before Dishonor (TV Tapping) 9/28/19 in Las Vegas, NV at Sam's Town Live
ROH Honor United (Live Event) 10/25/19 in London, UK at York Hall
ROH Honor United (Live Event) 10/26/19 in Newport, UK at The Newport Centre
ROH Honor United (Live Event) 10/27/19 in Bolton, UK at the Bolton Whites Hotel UK
All current live events are located on rohwrestling.com.
---
•Latest TV Highlights: 8/11/19 ROH Wrestling
ROH TV Results
August 17th, 2019
New York, NY at Hammerstein Ballroom
Airing on Sinclair Networks and rohwrestling.com
The show opened with a recap of last week's episode. As well as Riccaboni and Quinn McKay talking about the night's main event. Then several video packages and promos aired as has been the case the past number of weeks.
Kelly Klein (c) defeated Karissa Rivera to retain the WOH World Title
Villain Enterprises (w/Flip Gordon) (c) defeated Shinobi Shadow Squad to retain the ROH World Six-Man Tag-Team Championships
---
•LATEST "TALKING HONOR" PWTORCH DAILYCAST COVERING ROH
This week Harley R. Pageot and Emily Fear go live (sort of) to record their podcast while simultaneously watching the new episode of ROH television for the first time. Featuring Villain Enterprises vs. Shinobi Shadow Squad for the six-man titles, Kelly Klein vs. Karissa Rivera for the women's title, a look at this weekend's upcoming events, and Harley's favorite Archie Comics story. Plus a big update on the future of Talking Honor on the PWTorch Dailycast line-up.
---
•Social Media Scene
Below is this week's round-up of social media posts from ROH personalities.
If I ran ROH Twitter, I would do a Photoshop mock job of this entire tweet.
Squad. #XFLTeams pic.twitter.com/Og4yKW07c4

— XFL (@xfl2020) August 21, 2019
Exhibit 2,356 why Dalton Castle is a national treasure.
NOTE TO SELF: While at the gym, do not listen to "this is me" from The Greatest Showman. Doing reverse curls while crying can tend to be slightly embarrassing.

— Dalton Castle (@theDALTONcastle) August 21, 2019
That promo was rough from start to finish.
https://twitter.com/MattTaven/status/1163896722378100737
---
•Closing Commentary
This is another "down" week for ROH. It seems like 20/25 weeks of the year there is not a ton going on with the company. This is a good thing (for the talent and crew) and a bad thing (for the ROH brand).
It is very strange that in an industry like Professional Wrestling a company essentially is in hibernation at least half of every month. A lot of the "buzz," or lack thereof, can be attributed to this, in my opinion. Performers become popular by being active in the sport, as well as being available on social media.
Some performers seem to be able to do one or the other, but very few talents in ROH are able to stay on the mind of wrestling fans in and out of the ring a majority of the time. Is this a cultural issue in the company? Are ROH talents paid enough to not have to hustle in the indies? I for one would be thrilled if this was the case.
But, even if they are paid well, why are they not creating a buzz for the company they work for? My theory is that most, not all, of the ROH talent see the company the way the fans do – a stepping stone to NXT or AEW. Why go out of your way to get "Dalton Castle" over? In NXT they will change your name and adjust your character. So in the meantime, just sit back and keep getting those checks.
---
Tyler has been a wrestling fan for 20 years. He's from Columbus, Ohio. His Twitter account is @ringoftyler and he hosts a podcast over at @tandbwrestling.
---
NOW CHECK OUT OTHER WEEKLY OVERVIEWS HERE.
OR JUMP TO LAST WEEK'S WWE OVERVIEW: WEEKLY OVERVIEW – ROH (thru 7/17): Top stories of week, major show lineups, live event results, schedule of live events, noteworthy social media posts, more