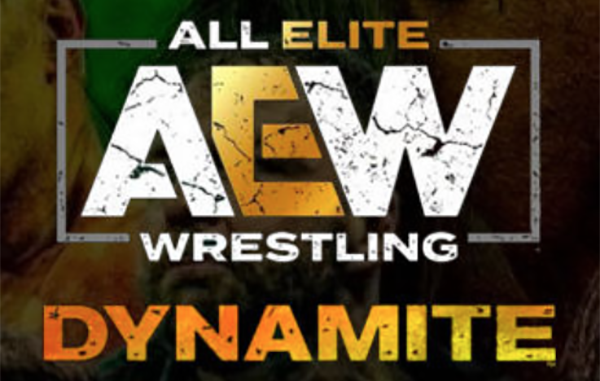 ---
SPOTLIGHTED PODCAST ALERT (YOUR ARTICLE BEGINS A FEW INCHES DOWN)...
---
AEW DYNAMITE REPORT
NOVEMBER 16, 2022
BRIDGEPORT, CONN. AT TOTAL MORTAGE ARENA
AIRED LIVE ON TBS
Commentators: Excalibur, Taz, Tony Schiavone
---
[HOUR ONE]
-The Dynamite opening theme aired. The announcers hyped matches coming up and plugged Full Gear.
(1) CHRIS JERICHO & SAMMY GUEVARA vs. CLAUDIO CASTAGNOLI & BRYAN DANIELSON
Ian Riccaboni joined the announcers and addressed being knocked around by Jericho & Co. Schiavone said something about having a "short cord" and Taz joked he shouldn't talk about that on TV. The announcers speculated on Guevara possibly winning the ROH Title at Full Gear in the four-way. Danielson and Claudio trapped Jericho and Guevara on the mat and dropped a series of elbow strikes on them. A few minutes later, Guevara jabbed Danielson in the eyes and then tagged in Jericho who chopped away at Danielson in the corner. Sammy and Jericho struck a pose together. Fans chanted "You suck!" Danielson made a comeback and landed two running dropkicks in the corner. Sammy avoided a third and send Danielson into the corner. Jericho jabbed Danielson in the side of his head. They cut to a split-screen break. [c]
Danielson made a comeback after the break and tagged in Claudio. He took it to Jericho with uppercuts and a clothesline leading to a two count. Claudio set up the swing, but Guevera broke it up. Jericho put Claudio in a Walls of Jericho mid-ring as Guevara dove through the ropes onto Danielson to prevent him from breaking it up. Danielson recovered and threw Guevara into the ringpost. Danielson then leaped off the top rope and dropkicked Jericho to break up the Walls.
Danielson and Guevara tagged in and exchanged strikes. Danielson threw kicks. Guevara landed a high knee strike and then a GTH attempt. Danielson slipped out and put on an STF. Guevara made it to the ropes. Guevera then landed a top rope cutter. Jericho tagged in and landed a Lionsault, but Claudio broke it up. Claudio landed a lift-and-drop uppercut to Guevara. Jericho and Danielson collided mid-ring and both went down. Danielson leaped to the floor to prevent Guevara from tagging in. Claudio tagged in, but Jericho had a bat. Claudio ducked it and put Jericho in the Giant Swing. Taz said it was mesmerizing and he was bugging out. Claudio put Jericho in a sharpshooter while holding Jericho's bat over his shoulder. Jericho tapped out. Schiavone said Claudio and Danielson have to be favorites now going into Full Gear.
WINNERS: Danielson & Claudio in 18:00.
(Keller's Analysis: Really good tag match.)
-A video package aired on Jon Moxley vs. MJF with soundbites from Jim Ross and Excalibur. [c]
-A vignette aired on Darby Allin focused on a bodybag being body surfed at a concert and then thrown in the back of an old convertible. Darby came out of it bloodied. Sting was the driver. He said, "Full Gear, it's showtime."
-Backstage, Sonjay Dutt, Jay Lethal, and Satnum Singh were ready to cut a promo when Jeff Jarrett walked in and said Sting thinks it's going to be "showtime," but Full Gear will be his last time.
-Max Caster and Anthony Bowens rapped on their way to the ring. Caster made reference to their new video and said "you're all about to get burned like Jay Leno." Bowens threw to the new Acclaimed video. The video opened with Big Show cutting a promo in a silly red, white, and blue singlet as Bowens and Caster were in the role of interviewers. They cut to a fan at home calling in a question and then Acclaimed laughed at the fan's question. Bowens and Caster then rapped about facing Swerve Strickland and Keith Lee, taking digs at them, including Bowens making a reference to "little dick energy." Caster made a reference to "the dirt sheets" having fake stories about how great they are. They stomped the fan who asked the silly question in the crotch over and over to close the video.
(Keller's Analysis: Fun video. It's not for everyone, but it'd fit right in on TikTok.)
(2) "SWERVE" STRICKLAND vs. ANTHONY BOWENS (w/Max Caster, Billy Gunn)
Billy Gunn attacked Strickland on his way to the ring. The referee ejected Billy from ringside. Bowens took control early. Schiavone sent best wishes to Jay Leno, perhaps trying to do a little potential damage control from Caster making a mention of Leno's burns during his rap. Strickland landed a flip dive onto Bowens at ringside a minute in and then kicked him off the ring apron. Strickland then dropped Bowens onto the ringside barricade and he fell into the front row of fans. They cut to a split-screen break. [c/ss]
Strickland worked over Bowens during the break. He concentrated on Bowens' shoulder and then landed the Swerve Stomp for a near fall. Strickland focused on Bowens' shoulder and then landed a JML Driver for the clean win.
WINNER: Strickland in 9:00.
-A vignette aired hyping the Jade Cargill vs. Nyla Rose match at Full Gear including soundbites from Rene Young and both competitors. Cargill said nobody is doing anything about Rose stealing her belt.
(Keller's Analysis: I still can't really tell who fans are supposed to cheer for here. Rose stole her belt, but is that supposed to be a good mind-game strategy or unjustified theft.)
-Schiavone stood mid-ring and introduced Samoa Joe. The announcers said Joe took exception to Wardlow talking about how he could take any championship he wanted. Excalibur said Joe took it personally. Joe told Schiavone it was a pleasure and honor to share the ring with him. He said it in a way that made Schiavone nervous. Joe said people say it was shocking and unexpected what he did to Wardlow. Joe asked if it's shocking for a man to refuse to be a victim and he takes action.
He said Wardlow ran his mouth and failed to recognize the most dangerous man in the room. He said for that mistake, he paid the ultimate price. (Ultimate?) He said he refuses to be a victim, unlike most of the fans in the arena tonight. He said they're the type who sit around and wait for the storm to hit and wait for someone to save them. He said if anyone has a problem with his actions, they can take it up with him. Powerhouse Hobbs's music began to play. Hobbs walked out and said he's been kicking Wardlow's ass the past several weeks, so maybe he should go to the ring and kick Joe's ass too. He threw the mic down. Joe told him to get his ass in the ring.
Wardlow's music then played. He entered the ring behind Joe and surprised him with a spear. Hobbs joined in and attacked Wardlow. A bunch of wrestlers ran to the ring to pry them apart. Fans chanted, "Let them fight!" Wardlow was left standing with members of Dark Order. They backed away. Wardlow then landed a flip dive onto a crowd of wrestlers and security guys at ringside.
(Keller's Analysis: Good segment overall. I think fans will still cheer Joe despite him insulting them.) [c]
-Britt Baker cut a backstage promo. She said Saraya said she isn't a star. She talked about her three years in AEW. She said she was given an opportunity and ran with it until she became undeniable. She said fans all say it with her when she says she is "DMD." She said she hasn't wrestled in MSG, but she did wrestle in Daily's Place for over a year. She said they kept the fire of pro wrestler burning in the darkest of times, which is an era Saraya never know. She said she respects that she paved the ground for her to be standing where she is in the business, but the business owes her nothing. She said the business has moved on, and she can't stand there and belittle her because she's stuck in the past. She said she is the heart and soul and pulse of AEW. She said if she thinks she's above that, she can get the hell out. "This is my house," she said.
(Keller's Analysis: Not even a hint of being a heel there. That seemed to establish that Saraya is a heel acting like a superior bigshot because her resume has WWE on it.)
(3) DEATH TRIANGLE (Pac & Rey Fenix & Penta El Zero Miedo) vs. DARIUS & DANTE MARTIN & A.R. FOX
Taz talked about Fox being a 15 year veteran who has trained a lot of high-fliers making his Dynamite debut. Excalibur talked about this being Darius's return match after a life-threatening car accident. As expected, everyone took turns pairing off for athletic exchanges. They cut to a split-screen break. [c/ss]
Eventually Death Triangle finished Fox with a Broken Arrow by Pac. Excalibur said Death Triangle look unbeatable.
WINNER: Death Triangle in 12:00.
-After the match, Pac asked if they think they're stupid. He said they've seen the videos and heard the rumors. He said if there are certain individuals ready to make their return at Full Gear and they think they can march in and beat them, that's ridiculous. A scattered weak "Elite" chant started. Pac paused. It didn't gain speed. He said if they want some, then show up on Saturday. He said they run from nobody. A graphic on the screen revealed the match is official for Full Gear – Death Triangle vs. Kenny Omega & The Young Bucks. Pac said, "Finally, some transparency." He said the Elite think they're coming for them, but the truth is they've been waiting for The Elite.
-A promo aired with Ricky Starks who talked about how the Lance Archer attack set him back a week, but this Friday, he's ready to face him. He said he doesn't talk in ifs, ands, or maybes. He said he talks in absolutes, and he will beat him on Rampage.
(4) ETHAN PAGE (w/Stokely Hathaway) vs. BANDIDO – Eliminator Tournament match
Ethan cut a promo on the way to ring, insulting the fans and vowing to win the tournament and then beat either Mox or Max. Taz said he thinks Ethan is the favorite to win. Schiavone talked about others in the tournament. They cut to an early split-screen break. [c]
Bandido countered a top rope Ego's Edge with a head scissors sending Ethan hard to the mat. He followed with a top rope frog splash for a very near fall. Ethan and Bandido battled on the top rope a few minutes later. Ethan landed a top rope shoulder tackle and then an Ego's Edge mid-ring for the win.
WINNER: Ethan in 9:00.
-A video package aired hyping the Luchasaurus vs. Jungle Boy match at Full Gear.
-Renee Paquette interviewed Saraya about having her first match in years. Saraya said she feels very lucky and fortunate to have this second chance. She said she's tired of the back and forth with Britt. She said she wanted to come back and she wanted to face Britt because she's the best. She said she'll see her on Saturday.
(Keller's Analysis: Saraya didn't lean into being the heel here at all.)
-Eddie Kingston hyped his tag match on Rampage with Ortiz against Takeshita & Jun Akiyama. (Alan Counihan has a tremendous feature-length column on Kingston-Akiyama in this week's PWTorch Newsletter #1799, available to VIP members online in PDF and text formats.)
(5) TONI STORM vs. ANNA JAY
They cut to a split-screen break a couple minutes in. [c/ss]
Storm won after some hip attacks and then a Texas Cloverleaf.
WINNER: Storm in 7:00.
-After the match, Jamie Hayter walked out to the ring and asked if she and Storm could talk. They had a staredown. Hayter shoved her and then left the ring as Storm held up her belt.
(Keller's Analysis: Not exactly an electrifying final segment in terms of building their match at the PPV, but at least they shared a staredown mid-ring. Fans seem more inclined to cheer Hayter than Storm.)
-Excalibur plugged AEW going to London, England next year. He hyped Rampage matches: Hook vs. Moriarty, Athena vs. Madison Rayne, Starks vs. Archer, and Kingston & Ortiz vs. Akiyama & Takeshita. Then the announcers ran down the Full Gear line-up.
-Jon Moxley made his full ring entrance. He was joined by William Regal. He said he is the best pro wrestler on planet Earth and talks shit and backs it up. He wasn't bleeped. He said he has researched MJF and realized he is a good singer. He said he also learned he has exactly one win in AEW the last six months. "He beat my young boy, actually," he said. He said he took a vacation after some embarrassing Brian Pillman stuff. He said then someone handed his a poker chip "in the worst ending to a ladder match I've ever seen." He said now he's cashed it in for a World Title shot. He said, "So forgive me if I'm not exactly shaking in my boots." He said MJF shows a perfectly curated version of himself, but he sees a kid playing the role of a pro wrestler, nervous he won't live up to the hype. He said fans will see something very special at Full Gear. He said MJF isn't challenging him, he's challenging MJF to show him something. He asked him to show him why everyone thinks he's going to be the future of the industry.
Hathaway walked out. Moriarty rushed at Mox, but Mox shoved him aside. W. Morrisey knocked Mox over and then stomped on him. The rest of The Firm attacked Mox and held off Regal. MJF's music played and he walked out. He knocked over each member of The Firm as they charged at him one at a time until he met Morrisey. He kicked Morrisey between his legs. Ethan mistakenly kicked Morrisey. MJF kicked Ethan in the crotch, then played to the crowd to mixed response. MJF told The Firm to get out of Connecticut before he shoves his boot up Hathaway's ass.
MJF told Mox saved him because he doesn't want any member of his pissant fan club making excuses when he beats him at Full Gear. "No Dynamite Diamond Ring necessary," he said. He got in Regal's face and then said his goal when he got into pro wrestling was to become the best pro wrestler in the world. He told Mox he knows he's in for the fight of his life, but he's not the same person Mox faced the first time they fought. He said he can make him bleed buckets and break his bones, but he won't stop. He said he needs that AEW belt more than he needs water, food, or oxygen. He said when you hold the AEW Title, that makes you the best wrestler on God's green Earth "and it's my time."
He said he heard Mox last week tell him he isn't the Devil. He said the best trick the Devil ever pulled was convincing the world he didn't exist. He'll find out on Saturday that he's the Devil himself. He closed with his catch phrase, but Mox interrupted and yanked the mic from him. "You know, I never really saw what the big deal is with you anyway, but this weekend at Full Gear, we're going to find out." He told him if MJF doesn't find it in himself, he'll reach in and pull it out of him. He asked MJF if it's Saturday or Sunday. MJF said it's Saturday. Mox then said the training wheels come off at Full Gear. They talked off mic with Regal standing between them listening and nodding.