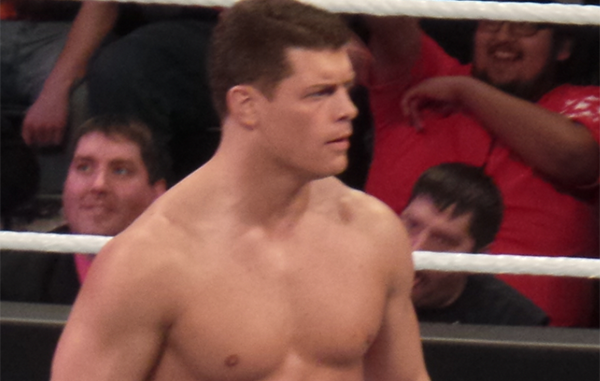 ---
SPOTLIGHTED PODCAST ALERT (YOUR ARTICLE BEGINS A FEW INCHES DOWN)...
---
The following report was originally published on PWTorch's VIP website ten years ago this week…
---
KELLER'S WWE SMACKDOWN REPORT
JANUARY 25, 2013
SACRAMENTO, CALIF.
AIRED ON SYFY
[Q1]
-Highlights aired of Royal Rumble developments on Raw.
-Josh Mathews introduced the show alongside JBL as Kane and Daniel Bryan made their way to the ring. The announcers hyped that Kane and Bryan will defend their tag titles at the Rumble plus participate in the Rumble match. They threw to a clip of the hug-fest on Raw.
Back in the ring Kane was about to speak when a chant of "Yes! Yes!" broke out. Kane declared he was going to win the Rumble and go on to headline WrestleMania. Bryan had been cheering him on, but then stopped and took exception to Kane declaring he'd win. Kane said he's been in 13 Rumbles, more than anyone else, and in one Rumble he eliminated 11 other "Superstars," also the most ever. Bryan pointed out Kane never won a Royal Rumble match. He said that's exactly what he's going to do this Sunday – win. Bryan and Kane argued over who would win the Rumble match. Big Show's music interrupted.
Show walked to the ring. He told them no one cares about their plans. He said they have a one-in-thirty chance each of winning the Rumble, whereas he has a 100 percent chance of reclaiming his title from Alberto Del Rio. He said the only plans they should be making are retirement plans. When Bryan said he beat him for the World Title last year, Show yelled that he's not having any of his crap. He said Del Rio stole his championship from him.
He vowed to squish Del Rio, calling him a cockroach, and then threatened to squish Kane and Bryan if they don't leave his ring. Kane said they're not a couple of bugs, they're the tag team champions. He said they are not going anywhere. Bryan said, "In other words… No! No! No!" The Rhodes Scholars's music interrupted.
Damien Sandow and Cody Rhodes walked toward the ring. Sandow said they're putting the cart before the horse, "or in your case, the goat." Cody laughed. Sandow said just as Goliath underestimated David, they are underestimating Team Rhodes Scholars. Damien said their destruction of them will be of Biblical proportions. Cody said they'll take their tag team championships at the Rumble. Sandow proposed to Show an alliance. Show said, "A what!?!" Sandow said since by this time next week all three of them will be champions, he suggested they attack Team Hell No right then and there. Del Rio's music interrupted. He and Ricardo marched to the ring to prevent such an attack.
Booker T walked out and said he appreciates their passion and desire to fight, "because that's what we do on Smackdown – we fight." He booked a six-man tag match for the TV main event with those wrestlers in the ring.
(WK Reax: I got a kick out of how Booker revealed the two teams as if there was suspense involved in what six-man tag match he was creating for later. When he revealed Del Rio would team with Kane & Bryan, they even added a crowd pop as if the crowd was shocked and overjoyed with that news.)
Show tried to attack Del Rio, but Del Rio side-stepped him. Del Rio threw him some air kisses. JBL said Del Rio shouldn't poke that bear.
-Mathews said C.M. Punk will call out the Shield tonight. JBL hyped that Rock will comment on the Shield's attack on Raw on Monday. Mathews plugged the Sheamus vs. Wade Barrett match up next.
[Q2] [c]
(1) Sheamus pinned Wade Barrett in 12:00. Good pace to the back-and-forth action in the early minutes. They cut to a break at 2:00. [c]
Back from the break Barrett was in control and he knocked Sheamus over the top rope. Mathews said if that happens Sunday, Sheamus would be eliminated. The pace picked up at 8:00 with Sheamus battering Barrett with ten forearms to the chest, then a forward roll slam for a two count. JBL cited Fit Finlay as doing that signature move. At 12:00 Sheamus landed the Brogue Kick for the clean win.
(WK Reax: Very nice TV match. Clean finish after some hard-hitting, fast-paced back and forth action with dramatic near falls in the final minutes.)
[Q3] [c]
-They went to JBL and Mathews at ringside. They threw to highlights from Raw of the Rock-C.M. Punk verbal sparring and the Shield attacking The Rock.
-They showed Paul Heyman and Punk chatting backstage as they plugged that Punk would call out the Shield later.
-Great Khali, Natalya, and Hornswoggle walked to the ring together. JBL called it "an interspecies group." [c]
[Q4]
(2) Natalya defeated Rosa Mendez via tap out in 3:00. Khali and Hornswoggle joined the announce table and added commentary. So did Primo & Epico. JBL made a joke based on Tattoo from "Fantasy Island," a show from the 1970s, asking if Hornswoggle would shout "Da plane! Da plane!" Hornswoggle didn't know what JBL was walking about.
(Quotebook – JBL: "Hornswoggle turned to me and said, 'I'm not really happy.' I said, 'Sorry, which one are you?'")
Primo asked, "Can we please talk about the action in the ring?" Mathews thanked him. JBL asked Khali if he's met The Anvil. Hornswoggle interpreted what Khali's answer was. Hornswoggle danced on the announce table, which distracted Rosa and opened up Natalya to apply the Sharpshooter for the win.
-Mathews and JBL pushed the Royal Rumble Fan Fest. Then they plugged The Rock coming out later. Mathews said Punk would try to clear up that he's not working with The Shield. [c]
-Punk and Paul Heyman walked out. Heyman held the WWE Title belt while Punk strutted in his black hoodie. JBL declared Punk the best in the world and said his record proves it. Mathews noted Punk will be stripped of the WWE Championship if the Shield gets involved on Sunday.
(Quotebook – C.M. Punk: "I am scared, so frightened I can't sleep at night. And what I'm afraid of is my own potential.")
Punk said he's just scratched the surface of his potential and that terrifies him. He said his title reign of 432 days has been "unparalleled brilliance." He said one thing can make it go poof. The crowd chanted "Rocky! Rocky!" He said, "No, it's not The Rock. The Rock is a man, The Rock is breakable, and I will break him." He said he's talking about the Shield "and their independent actions." He said Vincent K. McMahon wants to steal the championship from him. He said the champ has a problem and the champ's gonna fix it. He said he's going to do what no one has had the stones to do since they debuted on the scene. He then walked to ringside and said, "I want the Shield and I want the Shield out here right now!" He set up a folding chair in the ring and said he won't leave it until they show up. It didn't take long for the Shield's music played. They walked down the steps toward the ring among the fans.
[Q5]
-As the Shield surrounded Punk and Heyman on the ring apron, Punk said he can only explain himself in the simplest of ways. He said he never asked them to attack Rock or Ryback. He said he's never asked them for anything in his life, so "stay out of my way." The Shield looked unimpressed and undeterred.
(WK Reax: Roman Reigns has been a pleasant surprise in terms of his body language and facial expressions so far. He doesn't at all seem green or bland standing next to Seth Rollins and Dean Ambrose, who are very good with their presence.)
Punk said he never asked for their help because he doesn't want their help because he doesn't need their help "because I'm the best in the world." He said if justice is what those three stand for, then "we never have to cross paths again." A chant of "Rocky! Rocky!" broke out. The Shield dropped to the floor at ringside and left through the crowd.
Punk bragged, "Now that is how the Champ takes care of business." He said he doesn't whine and cry, he gets things done because he's the best in the world. He said The Rock is The Great One, but he's the Best in the World. He said Rock is like all of the fans in the crowd – inferior to him. As he kept bragging, The Rock's music played and The Great One walked to the ring.
Rock entered the ring and turned his back to Punk, playing to the crowd and getting cheered. Rock then looked down at Punk – glaring at him with bug-eyed intensity. They circled each other as Punk held the belt in front of him and taunted him with it. Another "Rocky!" chant broke out.
(WK Reax: This feels "too big" for Smackdown. Nice to see Smackdown getting some top shelf segments and stars in line with Raw.)
Rock said he will put an end to his garbage "right now." He said he doesn't believe him for a second when he denies involvement with The Shield. He said his gut says he's a liar, but his heart says he just doesn't give a damn. He said his boots say it's getting shoved straight up his candy ass. Rock told Punk that his walls are closing in because this Sunday at the Rumble he will panic and he will crack, and when that happens, he is going to hook him for the Rock Bottom. He flexed his arm as he demonstrated the technique. He said when he lifts Punk, time will stand still. He said it won't be that he's the Best in the World or the greatest of all time, but rather his final thought will be "It's over." He promised he will beat him in the middle of the ring and become champion. "It's over." He leaned in and said slowly, "If you smell what The Rock is cookin'." Rock left the ring.
(WK Reax: Man, those red bags under Punk's eyes are worse than ever. Is he getting any sleep? Now is no time to slow down, but damn he looks like he could use a week to just get away from it all between now and WrestleMania.) [c]
[Q6]
(3) Randy Orton defeated Drew McIntyre via DQ when Jinder Mahal interfered in 1:00.
(Quotebook – JBL on 3MB: "This is what happens if the Mean Street Posse ends up at a karaoke bar.")
(Quotebook – JBL: "I don't think Randy Orton participated in that group hug last week. I think he was… hugged.")
Orton dished out some RKOs on all three members of 3MB after Mahal's interference led to a very early DQ win.
(4) The Miz beat Darren Young (w/Titus O'Neil) in 3:00 with the figure-four. Antonio Cesaro joined in on commentary. He said Miz represents everything he hates about America. Cesaro vowed to smack the smile off of Miz's face on Sunday. JBL pointed out Cesaro went to the same college as Albert Einstein. Cesaro said it's true because Europe's system is better than America's education system.
(Quotebook – JBL on Josh Mathews: "He speaks donkey. And he speaks nerd. He speaks video game.")
(Quotebook – Antonio Cesaro on America: "Americans have everything handed to them on a silver platter. This is a great country, it just needs a population transplant. Those people do not deserve the great country they live in. They have everything handed to them on a silver platter and they still can't take advantage of it.")
Miz finished Young with the figure-four leg lock. He put it on right this time.
(WK Reax: There were no wise-ass comments from JBL or Cesaro about Miz applying the figure-four correct this time, so apparently mocking his disastrous figure-four from Raw on Monday is not allowed. While Miz applied it correctly, he did that thing where you grab the foot and pump it and make a face, but he had zero actual torque on the foot so it looked kinda fake at that point.)
-A clip aired of the Rock-Punk confrontation earlier. [c]
[Q7]
-A plug aired for Raw Roulette on Monday in Las Vegas.
-JBL plugged The Heavy's "What Makes a Good Man?" as the official theme of Royal Rumble.
-They showed the capitol building in Sacramento.
-The Royal Rumble match video aired with the female narrator listing an array of facts: 36 Hall of Famers have participated and headlined 25 WrestleMania main events; 724 have participated since 1988 only to be eliminated; Shawn Michaels followed by Kane have eliminated the most – 36 and 35 respectively; 201,497 pounds have competed in the match (that has to be made up or estimated, obviously); 440,004 members of the WWE Universe have witnesses the Rumble in person; 62:12 is the record length anyone lasted by Rey Mysterio; 1 second, the shortest eliminated by Santino; no. 1 and no. 30 have produced the same number of winners; 27 is the luckiest number with a record four winners; 58 percent of Royal Rumble winners have gone on to win the championship at WrestleMania.
(WK Reax: That's always a fun video.)
-Lilian Garcia introduced Ricardo Rodrigues who introduced Alberto Del Rio. [c]
(5) Kane & Daniel Bryan & Alberto Del Rio beat Damien Sandow & Cody Rhodes & The Big Show in 13:00. The main event began with 17 minutes left in the show. Del Rio went for an early pin on Rhodes after a round kick to Cody's head. Kane chokeslammed Sandow and pinned him at 2:00 to eliminate him.
(WK Reax: Sandow does seem to job more often than seems advisable if they're trying to give him more credibility than Santino or Zack Ryder.)
[Q8]
Kane hit a flying clothesline off the top rope onto Show's shoulder. Kane knocked Show over the top rope and followed him to the floor. He charged at Show, but Show landed his KO punch. Kane didn't get up before the ten count. Kane was eliminated. They cut to a break at 5:00. [c]
Show KO'd Bryan and knocked him to the floor and he was counted out. Show and Del Rio brawled at ringside at 10:00. Del Rio kicked the top rope into Show's crotch as he entered the ring. Then he super-kicked Show off the ring apron to the floor. Show clutched his right knee and didn't beat the ten count. Del Rio then nailed Cody with a barrage of clotheslines and a backbreaker. He played to the crowd and then nailed Cody with a super-kick for a near fall at 13:00. He nailed his running enzuigiri in the corner to finally take Cody down for the pin.
(WK Reax: That was a record for count-outs in an elimination match on WWE TV, I think.)
-Show gave Del Rio his KO punch at ringside behind the announce table after the match. Then he tipped the announce table on Del Rio, despite Ricardo's pleas that he not do it, and made it seem like he was tipping over a car the way he struggled. He then led his own count to ten to make the point that he will regain his title by countout at Sunday's Royal Rumble. In a nice touch, he counted in Spanish. His music played as Ricardo acted like that guy did in "Return of the Jedi" when Jabba the Hut was killed.
(WK Reax: Good final angle to create a sense that Del Rio's title reign is in jeopardy. Although Smackdown is less and less its own show compared to Raw with the brand split fading to near nothing, it's noteworthy that an angle with Show and Del Rio regarding the World Title was the final scene rather than Rock-Punk.)
NOW CHECK OUT THIS PREVIOUS 2013 FLASHBACK: 10 YRS AGO: ROH Live Event in Milwaukee, Wisc. Report (1-19-2013): Adam Cole, Kevin Steen (KO), O'Reilly, Matt Hardy, Rhino, Haas, Fish, Jacobs