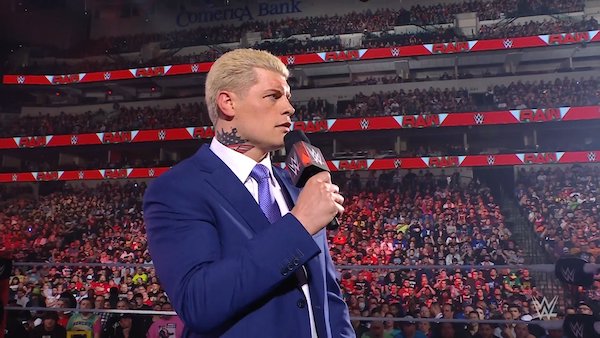 ---
SPOTLIGHTED PODCAST ALERT (YOUR ARTICLE BEGINS A FEW INCHES DOWN)...
---
This week's episode of WWE Raw has wrapped. Let's take a stroll down memory lane and relive some of the madness.
-Cody Rhodes needed to bring it with his first promo since returning from injury and winning the Royal Rumble and brought it, he did. Rhodes was authentic and believable — two of his most important personality traits as a wrestler — as was able to hone in on his mission to win the world championship in an effective way. Cody teetered on the edge of being too meta in certain instances, but never crossed the line. All of that said, this can't be the promo we hear from him 6 weeks from now. The foundation is set. Now they have to build on it and tell a near perfect story with Roman Reigns.
-All of the Elimination Chamber qualifying matches went the way I thought they'd go and all were good matches, too. Seth Rollins and Chad Gable was excellent and the other two bouts helped round out the show.
-Thumbs to the idea of running with the United States Championship as the prize to be won in the men's EC match. Why the hell not? A priority for Paul Levesque since taking over for Vince McMahon in the summer has been to make the mid-card champions mean more. Putting the title on the line in a key match like the Elimination Chamber helps to that end. Smart.
-The Cody Rhodes promo to open the show was excellent, but Rhea Ripley's may have been more notable simply because it highlighted how much she's grown as a character, act, and performer in the last seven months. Ripley looked damn comfortable out there, acted the part of a winner, and balanced all of that with mannerisms and phrasing that match her character perfectly. This was wonderful and a coming out party in a lot of ways that signaled the new Rhea Ripley was around to stay.
-As for Ripley choosing Charlotte Flair, well, it makes the most sense. Put the torches and pitchforks away. It does. Ripley is as hottest as she may ever get and the lingering story with Flair hangs out there to clean up. Go with it while Ripley is hot. Also, Ripley has a good chance of getting cheered at WrestleMania regardless of who she faces. Frankly, Charlotte can recover from fans revolting on the character alignment quicker than Bianca Belair could. She's more at risk for long term damage than Flair is. Smart of WWE to just stay away from that potential and wait on Ripley vs. Belair until Belair's character is in a better position.
-Austin Theory was excellent as part of the VIP Lounge. He's a prototypical WWE star and the ability to do segments like this one and have good matches is very valuable to the company. It's why he is where he is at this point.
-Good to see Rick Boogs back, but he's just not a character I can get behind. He may hit a hot streak of momentum here or there, but unless the character changes it has a hard ceiling on it.
-Really good promo between Becky Lynch and Bayley. It's about time they fight one another! Some of the material was below the belt stuff, but the feud outstayed its welcome by a week. This needs to wrap up once and for all next week on Raw. Time for Becky to move on.
-Real quick on Bronson Reed. If I'm I Levesque, I'm building him up to be a late year challenger for the world title. He found his intensity when he was working on the independent circuit and it's translated so well to his WWE character now that he's back.
-Pretty cool watching Finn Balor and Cody Rhodes wrestle on television. They had a good little match, especially for Cody's first singles match back. Cody bookending the show worked this week and the ratings held up too. A good sign for his Road to WrestleMania.
---
CATCH-UP: Raw Rating Report: No TV show had more viewers in core demo last night on cable or broadcast, key stats and perspective