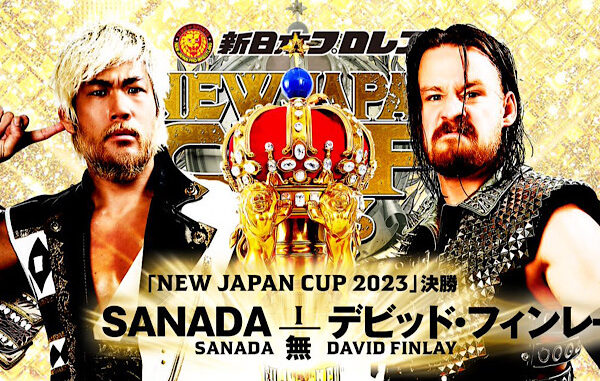 ---
SPOTLIGHTED PODCAST ALERT (YOUR ARTICLE BEGINS A FEW INCHES DOWN)...
---
RADICAN'S NJPW NJPW CUP 2023 FINAL REPORT
MARCH 21, 2023
NIIGATA, JAPAN
AIRED LIVE ON NJPW WORLD
Announcers: Kevin Kelly and Chris Charlton
Taka Michinoku introduced Taichi and Douki to a big pop before the opening match. Tanahashi got a big pop coming out for the match.
(1) JUST FIVE GUYS (Taichi & Douki w/Taka Michinoku) vs. YUTO NAKASHIMA & HIROSHI TANAHASHI
Kelly pointed out that Douki had gotten into tremendous physical shape recently. Nakashima grounded Douki with a headlock during the early going. Nakashima got cut off and Douki and Taichi took turns working him over. Tanahashi got the tag and got a big pop for his first appearance in the match. Nakashima had a good showing late in the match before falling short to Naichi.
WINNERS: Taichi & Douki at 10:03. (**¾)
(Radican's Analysis: This was a fun opener with a hot crowd.)
(2) SHOTA UMINO & RYOHEI OIWA vs. KOSEI FUJITA & ZACK SABRE JR.
Oiwa and Fujita kicked the match off trading holds on the mat before coming to a stalemate. Kelly and Charlton talking about Fujita getting a big head since TMDK took him under their wing. Kelly pointed out that he still had to do his duties as a young lion. Fujita gave Umino all he could handle. He couldn't tap him out with the STF, so he used the Death Rider. Kelly pointed out that it usually doesn't take a finisher to put away a young lion.
Umino signaled that he wanted a shot at the NJPW World TV Championship. Sabre accepted and told Umino to ask Moxley for another leather jacket.
WINNERS: Shota Umino & Ryohei Oiwa at 9:44. (**¼)
(3) BULLET CLUB (ELP & Chase Owens & Kenta) vs. TAMA TONGA & TOMOHIRO ISHII Tomohiro Ishiii
Tonga set up for a Gun Stun on Kenta, but he got tripped from the floor. Kenta ended up hitting him with a DDT. Honma hit a rocket Kokeshi, but ELP kicked out. Honma went up to the second turnbuckle and went for a Kokeshi, but ELP got out of the way. ELP hit Sudden Death. He decided not to pin Honma and he hit the CR2 for good measure for the emphatic win.
WINNERS: ELP & Chase Owens & Kenta at 8:14. (**¼)
Kelly asked if David Finlay won the NJPW Cup and ELP would support him. Ishii and Owens went at it at ringside after the match. Ishii ended up decking Owens. Kelly asked if any of these men would accompany Finlay to the ring for the final match against Sanada. ELP told Finlay to bring the NJPW Cup to Bullet Club.
(4) HOUSE OF TORTURE (Evil & Yujiro Takahashi & Sho & Dick Togo) vs. Ryusuke Taguchi & Toru Yano & Ren Narita & El Desperado
House of Torture jumped their opponents as they made their entrance for the match. They ended up tossing Taguchi into the ring and they put the boots to him with his partners down on the outside. Taguchi had Takahashi in the ankle lock, but Sho hit him in the head with a wrench. Takahashi then hit him with Pimp Juice for the win.
WINNERS: Evil & Yujiro Takahashi & Sho & Dick Togo at 2:45. (*½)
(Radican's Analysis: Who knew something so short in length could be so unpleasant?)
After the match, Sho ripped off Desperado's mask. Takahashi spray painted HOT on Narita's chest. Evil got on the mic and said they wanted the NEVER Openweight Six Man Tag Team Championship back. Bullet Club got together for a group too sweet, but Desperado tried to attack them all. Desperado was quickly overcome. Narita then got put into a leg submission. Bullet Club finally left and Desperado got his mask back on and attacked them on the entrance ramp. Evil took his mask off again.
A video package aired saying something was heading for Japan. It showed some science fiction themed clips straight out of a sci-fi movie. The clip ended by saying "coming soon."
(5) THE UNITED EMPIRE (The Great-O-Khan & Aaron Henare) vs. LIJ (Tetsuya Naito & Shingo Takagi)
Kelly said Naito lost to Sanada in the tournament and then lost him as a member of LIJ as well. Shingo Takagi lost in the NJPW Cup to Aaron Henare in the first round. Kelly said he would look for revenge when he defended the KOPW Provisional Championship against him in a couple of weeks. The fans fired up big time for a strike exchange between Takagi and Henare during the early stages of the match. Naito got worked over for a long period of time until he tagged out to Shingo. Henare also tagged into the match and they traded headbutts. Henare caught Takagi with a kick to the head from off the turnbuckles. Henare set up for The Ultima, but Takagi used his strength to block it.
Takagi ended up tagging in Naito, who went at it with O-Khan. Naito went for a Destino on O-Khan, but he countered it into a piledriver. He set up for an eliminator on Naito, but Naito rolled him up for the win.
WINNERS: Tetsuya Naito & Shigno Takagi at 12:43. (***¼)
(Radican's Analysis: This was a good match that set up a future match between Takagi and Henare for the KOPW Provisional Championship.)
All four men brawled after the match. Henare eventually handed the belt over to Takagi. O-Khan showed Naito the British Hvt. Championship, but they didn't indicate a match was likley between the two on commentary.
(6) THE UNITED EMPIRE (Mark Davis & Kyle Fletcher & Jeff Cobb) vs. CHAOS (Yoshi-Hashi & Hirooki Goto & Kazuchika Okada)
This match is clearly a setup for Mark Davis & Kyle Fletcher to challenge Bishimon for the IWGP Hvt. Tag Team Championship. The announcers mentioned Davis stepping in for Ospreay when he suffered a shoulder injury during the tournament. Cobb hit the J-Trigger on Goto for a two count.
The match eventually broke down with both teams going back and forth. Okada nailed Cobb with his signature dropkick and both men went to the floor. Aussie Open eventually hit Coriolis to put Hashi away.
WINNERS: Aussie Open & Jeff Cobb at 11:13. (***½)
(Radican's Analysis: The action was good and the crowd was red hot for some of the exchanges. This was a very enjoyable match.)
After the match, Aussie Open challenged Goto & Hashi for their belts. Cobb also seemed to indicate that he wanted a shot at Omega.
(7) HIROMU TAKAHASHI vs. LIO RUSH (w/Yoh) – IWGP Jr. Hvt CHampionship match
Lio Rush came out with half his face painted black. Kelly said that was half of his dark form and if we saw his whole face painted, that would be his darkest form. The opening bell rang and the fans fired up with HUGE chants for Takahashi. The announcers said Takahashi would have to get a hold of Lio Rush to beat him in this match. He noted that it took two men to get a hold of him and beat him at Wrestle Kingdom earlier this year. They had a crazy exchange early and Rush hit a lope to wipe out Takahashi. Takahashi tried for a sunset bomb to the floor, but Rush held onto the ropes. Rush eventually hit an apron bomb and then a Blu-ray into the guardrail. WOW!
Takahashi controlled the action back inside the ring. He hit a sliding dropkick off the ropes and then wrapped his legs around Rush's neck to work it over with a headscissors submission. They went to another fast exchange and Rush eventually took Takahashi down with a leaping lariat and the fans fired up. Rush hit a handspring kick to send Takahashi off the apron and into the guardrail. He hit a lope and then a twisting springboard dive to the floor to wipe out Takahashi. Rush favored his back after hitting the dive to the floor. Rush countered a Time Bomb attempt and hit Rush Hour for a nearfall. Rush hit Final Hour. He went up top and tried for Final Hour again, but Takahashi got his knees up and hit Time Bomb for a nearfall and the fans lost their minds!
Both men went at it again. They hit clotheslines at the same time and went down. They got up and hit clotheslines at the same time again. They both got up, but Takahashi went down to a knee. Rush went off the ropes and Takahashi got up> Rush nailed him with a Spanish Fly for a two count. Takahashi got a pinning combination for a nearfall a short time later. Rush kicked out and hit a huge leaping kick. Rush hit a DMV, but Takahashi kicked out!! ARE YOU KIDDING ME?! Rush went up top for Final Hour, but Takahashi got out of the way. Rush managed to land on his feet, but he took a belly-to-belly suplex right into the turnbuckles and both men were down.
Rush tried to counter Takahashi several times, but he eventually lifted him up and slammed him to the mat. Rush fired back a short time later with a huge superkick. The fans fired up and Rush hit Yoh's Direct Drive! Rush went up top and the fans roared. He went for Rush Hour, but Takahashi got out of the way. WOW! The 20 minute mark came and went and it felt like five minutes had gone by in the match. Takahashi fired back and hit a Dynamite Plunger. Takahashi yelled out from his knees and NAILED Rush with a big running clothesline. He then hit Timebomb 2 for the win. My goodness what a match!
WINNER: Hiromu Takahashi at 21:27 to retain the IWGP Jr. Hvt. Championship. (****¾)
(Radican's Analysis: This was two of the best in the world going at it full speed for over 21 minutes. This match felt like it lasted five minutes and I was on the edge of my seat the entire time. This was state-of-the-art junior heavyweight wrestling.Rush just couldn't put Takahashi away in this match.)
Rush was eventually helped to the back by Yoh and he got a big ovation.
Zack Sabre Jr. came out and got on the mic after the match. He asked who is the next challenger for Takahashi. He said it is the newest member of TMDK. Sabre said he had a video message for Takahshi.
A video played showing a man yelling a tapping. A picture of the IWP Jr. Hvt. Championship was shown. A man was then shown with his back to the camera. He turned around and it was Robbie Eagles. Eagles was wearing a TMDK shirt. Eagles challenged him to a match at Sakura Genesis on April 8 for the title. Sabre left and Takahashi got on the mic and said he was worried Sabre was going to challenge him. He asked when Eagles had joined TMDK. He said there's only a couple of weeks until Sakura Genesis. He said there's been a lot of messages challenging for titles these days. He asked if challengers were determined by whoever could make a video and get it to the producers. He then fired up and said he accepted Eagles's challenge. Kelly said on commentary Eagles didn't want to be third in line in Chaos, so he went to TMDK where he was the only junior.
A video package aired showing Sanada beating Naito and then leaving LIJ to join Just 5 Guys. The package then focused on David Finlay's journey through the NJPW Cup. Finally was shown saying this is his cup and his club.
(8) DAVID FINLAY (w/GEDO) vs. SANADA (w/Just 5 Guys) – NJPW CUP 2023 Finals
Finlay has beaten Ishii, O-Khan, and Tonga to reach the finals. Finlay is on a quest to take everything Jay White had and more. Charlton said White never won the NJPW Cup. Kelly mentioned that Finlay has won all of his matches clean. Sanada came out flanked by Just 5 Guys to face Finlay in his hometown for the NJPW Cup. Sanada is now sporting shorter dark hair instead of the longer blond hair he had featured previously.
The opening bell rang and the fans chanted for Sanada. Finlay took control on the floor and jawed with the members of Just 5 Guys before going back on the attack. Sanada mounted a comeback and hit a slingshot splash to the floor. The fans fired up and Sanada pointed to his ear and fired them up and they cheered even louder.
Sanada eventually got Skull End and put the hooks in. He let go and went for the Muta Moonsault, but Finlay managed to get his knees up. Finlay went on the attack. Sanada countered a dominator, but ate a uranagi backbreaker for a two count. Finlay then successfully hit a Dominator for a 2 count. Finlay went for the backslide he used to beat Tonga, but Sanada escaped and hit a pop-up cutter. Sanada was slow to get up after hitting the move and could not capitalize right away. Sanada hit a Tiger Suplex a short time later. He went up top and hit the Muta Moonsault for a nearfall. Charlton noted that Sanada was wrestling much more aggressively than he has in the past. Sanada went for a skull end again, but Finlay countered and hit a cutter of his own. They went back and forth and Finlay caught Sanada with a Blue Thunder Bomb for a nearfall.
Finlay set up in the corner and hit a spear on Sanada for another near fall. Finlay went for Trash Panda, but Sanada blocked it with a knee strike. Sanada flipped over Finlay and got the skull end he went for his new DDT, but Finlay blocked it and hit a German. Sanada got right up and Finlay nailed him with a clothesline. Sanada got right up again and Finlay hit several headbuts, but Sanada fired back with a pair of discus elbows. They went back and forth. Sanada blocked Trash Panada and hit a shining wizard. He then hit new DDT for the win.
WINNER: Sanada to become the NJPW Cup 2023 winner. (****½)
(Radican's Analysis: This was a tremendous showing for Sanada. He showed a new fire in the ring that he hadn't shown previously. As for Finlay, it will be interesting to see where his storyline with Bullet Club goes from here now that he didn't win the NJPW Cup. The crowd was red hot for Sanada down the stretch and provided a fantastic atmosphere.)
Sanada got on the mic and said he had won the NJPW Cup in his hometown. He said he's not satisfied and he wants to win the IWGP World Hvt. Championship. Sanada asked Okada to come out if he was still in the building. The fans fired up with chants for Okada and gasped when he came through the apron. Okada walked briskly to the ring with a serious look on his face.
Sanada spoke to Okada and said he would change the landscape around the IWGP World Hvt. Championship. He thanked Okada for the effort, which is what Okada said to Tanahashi after he beat him. Okada got on the mic and congratulated him on winning the NJPW Cup. He thanked Sanada for the effort and said he's been waiting for him. He asked Sanada why it has taken him so long. He asked what this talk is of a new landscape. Okada asked if he thought he could beat him because he changed his hair and allegiance. Okada said he will show the difference between the IWGP World Hvt. Champion and the NJPW Cup winner. He promised to beat the living hell out of him at Sakura Genesis.
Okada left the ring and raised his title with his back turned to Sanada on the apron. Okada went to the floor. Sanada said he had just won the main event and asked Okada to leave. Okada then left and walked to the back. Sanada said he will be the IWGP World Hvt. Champion next time they see him.
Contact Sean at pwtorchsean@gmail.com. Follow him on Twitter here