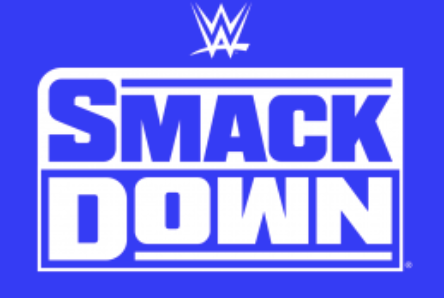 ---
SPOTLIGHTED PODCAST ALERT (YOUR ARTICLE BEGINS A FEW INCHES DOWN)...
---
WWE SMACKDOWN TV REPORT
APRIL 7, 2023
PORTLAND, ORE.
AIRED LIVE ON FOX
Announcers: Michael Cole, Wade Barrett
Ring Announcer: Samantha Irvin
---
[HOUR ONE]
-A graphic acknowledged the death of Bushwacker Butch (1944-2023).
-They opened with a WrestleMania 39 video package introduced by Kevin Hart and closing with Roman Reigns beating Cody Rhodes in the main event with shots of fans reacting with shock and dismay.
-Michael Cole introduced the show.
(1) THE BRAWLING BRUTES (Sheamus & Butch & Ridge Holland) vs. IMPERIUM (Gunther & Gionvani Vinci & Ludwig Kaiser)
As the Brawling Brutes made their entrance, Cole hyped Triple H's speech later along with Sami Zayn vs. Jey Uso and Rey Mysterio & Santos Escobar vs. Damien Priest & Dominik Mysterio. Cole and Wade Barrett talked about how hard-hitting the Triple Threat match was with Gunther and Sheamus. They didn't mention Drew McIntyre, perhaps tellingly. The bell rang eight minutes into the show. They cut to a break at 3:00. [c]
Gunther had Butch grounded in a chinlock after the break. Butch grabbed Gunther's fingers and yanked on them to break the grip. Gunther quickly tagged out to Kaiser and Holland tagged in for Butch. Holland landed an Alabama Slam for a near fall. Gunther powerbombed Holland and then twisted him into a Boston Crab mid-ring.
Holland crawled over and hot-tagged Sheamus while in the hold. Sheamus powerslammed Gunther, who then rolled to the ring apron. Sheamus gave him his barrage of forearms while bending him over the top rope. He followed with a Brogue Kick attempt, but Gunther avoided it. They exchanged strikes mid-ring. Gunther landed a boot and set up a piledriver. Sheamus countered into a White Noise for a near fall. Butch and Kaiser entered and fought. Holland knocked Kaiser out of the ring. Vinci and Holland battled. Butch then landed a moonsault off the top rope onto Kaiser at ringside. Sheamus then kicked Vinci out of mid-air in the ring. He pounded his chest and then delivered a Brogue Kick for the win.
WINNERS: Brawling Brutes in 12:00.
(Keller's Analysis: Good action throughout, as you'd expect with those six.) [c]
-Cole said nobody has taken Reigns to the limit like Cody Rhodes did at WrestleMania. He said Cody's lifelong dream almost came true. A three minute video package aired on Reigns vs. Cody at WrestleMania and then Brock Lesnar attacking Cody on Raw.
-They went to Cole and Barrett at ringside to react to Lesnar's attack. Cole said they still don't know why Lesnar attacked Cody. Barrett said he heard that Lesnar told WWE officials he was upset that his match went on first at WrestleMania.
-Kayla Braxton interviewed Paul Heyman and Solo Sikoa backstage. Heyman told the audience not to boo him. They booed louder. She asked if he knows why Lesnar did what he did. Heyman asked why this night is different than all other nights. He said he wants to bypass her question and talk about something more relevant. He said Reigns is now approaching 1,000 days as champion. In walked Jey, all smiles. He shook hands with Heyman. Jey said he hasn't seen Jimmy all night and wondered if they have. Solo didn't answer and just stared back at him. Heyman said his brother isn't there because the Tribal Chief wanted him to stay home and watch on TV so he could see him take out Sami all by himself and cement his legacy. Heyman gave him what amounted to pep talk. He said he can solve the Sami Zayn problem once and for all and cement his legacy on the Island of Relevancy. Jey looked at Heyman and Sami and said "Yeet." As Jey walked away, Heyman told Solo that Jey has to solve the Sami problem or else Solo should solve "our problems tonight."
(Keller's Analysis: The plural by Heyman there suggested that if Jey can't solve the Sami problem, he's directing Solo to go after both Sami and Jey. The continued hints that Heyman knows what Lesnar is up to could be suggestive of something significant in terms of Heyman hiding a continued alliance, which Reigns clearly is still concerned about.)
-Ricochet made his ring entrance. [c]
-WrestleMania highlights aired.
(2) RICOCHET vs. IVAR (w/Vallhala)
Cole said Erik wouldn't be there for Ivar nor would Braun Strowman for Ricochet since Adam Pearce banned tag partners from ringside, but he said Vallhala would be and he called her "strange and creepy." Ricochet dove at Ivar at ringside, but Ivar caught him and rammed him in to the ringside barricade. Back in the ring Ricochet made a comeback and attempted to lift Ivar, but he collapsed. Ivar took over and climbed to the top rope, but Ricochet head scissored him to the mat. He followed with a top rope shooting star press for the win.
WINNER: Ricochet in 4:00.
-Backstage Sami caught Kevin Owens staring at the tag team title belts. Sami said he was doing the same thing earlier. KO told Sami his match later against Jey is a great chance to put the Bloodline stuff behind them. He said he can settle whatever is left to settle between him and Jey and then they're done with it. Sami said something feels off to him, though. He told Owens that what he says is true, but he can't shake a feeling and he has to talk to Jey. KO asked what he wants to talk to him about. Sami said it sounds weird, but he feels a sense of obligation. Owens said he doesn't know what he's saying. Owens told Sami the Bloodline is crumbling which makes Jey more dangerous than he's ever been rather than more likely to have a reasonable talk with him. He said he knows he can't talk him out of it, but he shouldn't do it and it's a bad idea. Sami said he's right, but he has to and it'll be okay.
-Raquel Rodriguez and Liv Morgan made their ring entrances. [c]
(3) RAQUEL RODRIGUEZ & LIV MORGAN vs. SHOTZI & NATALYA
As Shotzi and Natalya made their entrance after the break, Natalya said they want to prove they're deserving of a tag team title match, not Raquel & Liv. Shotzi said they're not ready for "ballsy baddies." Cole said they have a major match scheduled for Raw in Seattle, Wash. on Monday – Lita & Becky Lynch defending against Rodriguez & Morgan. Cole passed along condolences to the family of Bushwacker Butch. He said he was part of the Bushwackers, "one of the most if not the most entertaining tag team in the history of WWE."
When Natalya set up a Hart Attack clothesline double-team move on Morgan, Rodriguez intercepted Natalya. Morgan then gave Shotzi a tornado DDT and her Oblivion for the win.
WINNER: Morgan & Rodriguez in 3:00.
-They went backstage to Madcap Moss and Xavier Woods playing video games. In walked L.A. Knight who said there was one glaring omission at WrestleMania Weekend. Xavier stood and asked why Knight was upset. He asked if he was sad that Daddy didn't pat him on the head and tell him how special he is on his big day. He said if he worked as much as he talked, he'd be on WrestleMania. He said he'll beat him again if he'd like. Knight snapped his controller and threw it down. Moss had to hold Xavier back as Knight walked away after saying "Yeah!"
-They showed Triple H walking backstage and heading toward the entrance for his speech. [c]
-WWE touted the 800+ million social media views for WrestleMania with Logan Paul leading with 27.5 million.
[HOUR TWO]
-Triple H made his ring entrance. Cole said, "One of the all-time greats, now runnin' this place." He looked around and smiled at the reception as his music ended. He said as long as there is breath in his body, that will never get old. He said WrestleMania is a place where hearts are broken and dreams are fulfilled. He said a record-setting millions of fans watched around the world. (He actually said "fans" a few times and didn't say "members of the WWE Universe.") He talked about the gross of $21.6 million. He noted merchandise sales and sponsorships. "If there's a record, you name it, we broke it," he said. "Including on digital, almost a billion viewers this week alone."
He said with WrestleMania behind them, they look to the future. He said that's why he is out there. "Are you ready?" asked. "I said are you ready!?" He said in just a few short weeks, it is once again time for the WWE Draft. Fans cheered. "A night that changes the future and the destiny of every WWE Superstar in the back." He said it'll be bigger than it has ever been before because every eligible Superstar will be part of it. "When it is all said and done, this year's draft will truly change the game."
He then introduced Rhea Ripley. As she made her entrance, Cole talked about the WWE Draft announcement. Triple H shook hands with Ripley on her way to the ring. She was accompanied by Dominik Mysterio, Damien Priest, and Finn Balor.
-Ripley stood mid-ring with the Smackdown Title belt and took in a deep breath. She smiled and said Apr. 1, 2023 will go down in history as the night sports entertainment changed forever because she did the impossible. She said she destroyed and dethroned Charlotte. She said it's time that everyone rises for Mommy. She got some cheers as she held up her belt, but not enough to satisfy her. She insisted fans rise for the greatest champion in all of WWE. Barrett said she ain't lyin'.
Balor asked what kind of sicko resorts splitting his head open just to get a win. He said even though he got 14 staples in his head, Edge is nowhere to be seen and he is still standing on Smackdown.
Dominik stepped up with the mic and the boos amplified exponentially. He said he decided not to show aggression toward his dad. Boos drowned out his words. He and Balor said they'll stand there all night if he has to. Cole said, "Please stop booing," not wanting them in the ring the rest of the show. Fans loudly chanted, "You suck! You suck!"
Dominik said what sucks is a father who lays his hands on his own son. He said he pulled his punches because he knew at the end of the day he couldn't hurt his own father. He said he loves him. He said he can't say the same for him, though, because he could see the anger in his eyes when he stood in front of him. Dominik spoke in Spanish a bit. He said he understands where the lines are drawn, so he told Rey and the rest of his family to go to hell. He said he can take Bad Bunny and his little friends with him.
A clip aired from WrestleMania of Bad Bunny yanking the chain away from Dominik, which then led to Rey hitting a 619 to win. Then a clip aired of Austin Theory beating Rey thanks in part to interference from Dominik followed by Dominik and Priest getting into it with Bad Bunny at ringside. They showed Priest chokeslamming Bunny through the table. Cole said they don't have a medical update other than "he's in a bad way."
Priest said he hopes Bunny can find it in his heart to forgive him "because I forgive you for making me do what I did to you." He smiled. Rey's music played. Cole said there's a Spanish word he could use to describe them, but he won't do it on Fox.
(4) SANTOS ESCOBAR (w/Joaquin Wilde, Cruz Del Toro, Zelina Vega) & REY MYSTERIO vs. DAMIEN PRIEST & DOMINIK MYSTERIO (w/Ripley, Balor)
Cole referred to Rey, Escobar, Wilde, Del Toro, and Vega as the LWO, so that wasn't a one-off. Priest held Rey as Dominik punched him early in the match. Barrett gave Cole a hard time for the clip of him going bonkers for Rey's win over Dominik going viral. Cole defended his emotional investment in the situation. Dominik slapped Rey around a little and suplexed him as Cole talked about how disgusting The Judgment Day's actions were against Bunny, whom he said was a guest of theirs. Escobar rallied and threw Rey into Priest, who head-scissored him to the floor. Escobar and Rey dove through the ropes on opposite sides of the ring onto Priest and Dominik at ringside. Escobar and Rey celebrated. Escobar put Rey on his shoulders as they cut to a break. [c]
Cole talked about how Eddie Guerrero created the LWO and now Rey has brought it back and invited Legado del Fantasma into it. Rey rallied against Dominik in the ring, which the crowd ate up. Dominik countered Rey into a Michinoku Driver for a two count. Rey rallied a minute later and landed a springboard moonsault on Dominik for a two count. Ripley yanked Dominik out of the path of Rey's 619. Vega went after Ripley at ringside. Ripley got mad and pursued her at ringside. Vega ran away through the crowd, luring Ripley to follow her. Rey, meanwhile, gave Dominik a 619. Escobar lifted Dominik onto his shoulders, but Priest was the legal man. Priest saved Dominik and then hit South of Heaven for the win.
WINNERS: Judgment Day in 10:00.
-They showed Sami walking backstage asking a producer if he's seen Jey Uso anywhere. The guy pointed a certain direction. [c]
-A sponsored video package aired on Shinsuke Nakamura, who returns next week. (I reported on the VIP Wade Keller Hotline "Ask the Editor" edition last Wednesday that Nakamura was on the sidelines but there was no injury issue or anything else going on at the time and he was likely to return soon.)
-Sami approached Jey Uso and told him he has something to say to him before they go out there. He said he's told him for months that there's an out for him. He said The Bloodline is crumbling after they lost the tag titles. He said Jimmy isn't there, Roman is mad at him, Heyman is selling him lies, and Solo looks like he's on the verge of dropping the hammer on him any minute. He said he'll beat him over and over until it sinks in that it doesn't have to be that way. Jey seemed receptive to the message, but conflicted as usual. They heard a noise elsewhere backstage. Sami ran over where a heavy crate had been dropped on Owens's leg. Sami lifted it and checked on Owens who was writhing in pain. Sami called for a trainer and looked up at Jey.
-They went to Cole and Barrett at ringside. Cole said the attack was clearly from Solo. Barrett said Sami should have been with Owens.
-Jey Uso made his ring entrance alone. Cole said now Sami has to be focused on the match after his tag partner and friend Owens was attacked. [c]
-Cole and Barrett plugged next week's Smackdown featuring Knight vs. Xavier.
-Kayla asked Sami for an update on KO's condition. Sami said he's being looked at by the doctor. He said KO was right that the Bloodline are more dangerous. Sami said Jey will find out that he's not the only one with a problem that needs to get solved now.
(5) JEY USO vs. SAMI ZAYN
Sami made his entrance. The bell rang 44 minutes into the hour. After a rally by Sami, Solo walked to the ring. Barrett said if Jey can't get the job done, Solo is on mop up duty. [c]
Jey kicked Sami out of mid-air at 8:00 and scored a two count. Sami rallied a minute later and hit the Blue Thunder Bomb for a near fall. Sami rallied and then climbed to the top rope. Jey kicked Sami off balance and then went for a superplex. Sami resisted and hit him with forearms. Jey knocked Sami off balance. Sami fell onto the ring apron. Solo hit Sami with a Samoan Spike as Jey was arguing with the ref. Jey superkicked Sami and scored the pin. Cole said Solo is the enforcer and problem-solver.
WINNER: Jey in 10:00.
-Afterward, Solo stood over Sami as he grabbed at his throat. He then turned to Jey kneeling in the corner. Jey nodded at him as if to say "we're good, thanks." Solo pulled him up to his feet. Solo turned back to Sami and punched away at him. Fans booed. He was going to deliver another Samoan Spike, but Jey blocked him. Solo turned to stare at Jey. Fans chanted, "Jey! Jey! Jey!" Jey then superkicked Sami. Fans booed. Cole said, "Jey said we're going to do it my way." Jey punched Sami. Riddle ran out for the save and went after Jey. Solo charged at him, but Riddle fended him off and then clotheslined him over the top rope. He said Riddle has unfinished business and is ready to settle the score. He said The Bloodline has a new dangerous enemy.