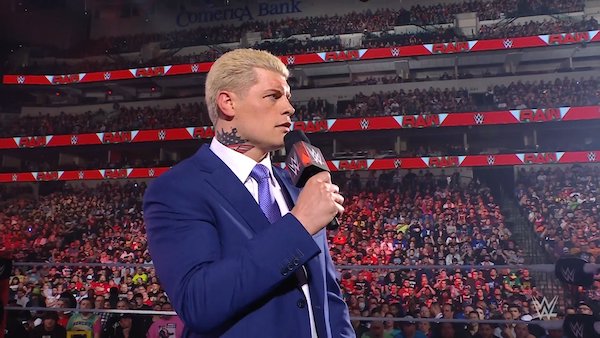 ---
SPOTLIGHTED PODCAST ALERT (YOUR ARTICLE BEGINS A FEW INCHES DOWN)...
---
This week's episode of WWE Raw has wrapped. Let's take a stroll down memory lane and relive some of the madness.
-It's smart of Paul Levesque to change up how WWE Raw begins from time to time. It keeps things fresh and the Brock Lesnar attack on Cody Rhodes not only did that, but it also set a hook for which the rest of the show built on. Really good. Lesnar was aggressive and tremendous as a bully and Rhodes sold the attack perfectly. He's great when asked to do stuff like this.
-They tried to set another hook to hold viewers with the little Imperium promo opposite Sami Zayn and Kevin Owens. Nothing special here, but it worked and gave insight into the WWE strategy being used to maintain ratings and eyeballs.
-A good match between Bronson Reed and Ricochet. Reed as huge upside and shows it on a week to week basis. It's time to get him involved in something of substance, though. I don't mean a title match, but some sort of feud where he can be tasked with carrying a story forward.
-Apollo Crews got some mic time this week and in typical Crews fashion, didn't use it to the fullest potential. He looked uncomfortable while talking and while Dominik interrupting pulled the right reaction from the audience, it showed the low ceiling that Crews has on the main roster.
-Once again, the sit down interview with Seth Rollins this week regarding the new WWE World Heavyweight Championship was fantastic. It wasn't just entertaining to watch, either. These pieces have worked wonders in building up the new world championship. That title stands in a much better position from a perception perspective now than it did when it was announced and much of the reason for that falls on the shoulders of Rollins and the work he did in these interviews. Great stuff.
-Well, hello heel Finn Balor. He showed off some strong mic work and while it was all for a little television match with Nakamura, it showed the level of comfort and authenticity that he was with his character right now.
-If you're a Candice LeRae fan, the match this week between her and Zoey Stark isn't what you want to see. LeRae is a role player at this point and nothing more. Starks looked good.
-Is Mustafa Ali going to somehow defeat Gunther for the Intercontinental Championship at Night of Champions? Honestly, probably not, but it kind of seems like it. He's getting time on television, more than ever, to set the match up. He kind of dropped the "positive" gimmick too. I'm watching this, because something is afoot.
-Ok, let's dive into this Brock Lesnar vs. Cody Rhodes angle. I liked the execution of it. Lesnar looked like a damn monster and Cody came across as a wrestler with lots of fight and will power. Some stupidity, too and that's where I have an issue with what happened. Rhodes is a babyface and likable, but he shouldn't be totally void of common sense. It's 100% not believable to think Cody would reasonably want to fight Lesnar there. The match is just days away. This didn't make much sense even if it worked from an execution standpoint.
-Maxxine Dupree with American Alpha? Is Gable getting a makeover? I'm here for that.
-Shinsuke Nakamura seems a little more interested these days, doesn't he? A good match with Balor this week and more importantly, strong reactions from the audience. Positive signs…
-It's not working for Raquel Rodriguez. She's not getting any luck and just isn't believable as a babyface. Time to think about turning her heel and letting her run over the roster as a monster of the division like she did when she rose into prominence in NXT.
-Is there anyone cooler than Becky Lynch? The answer is no. The promo between her and Trish Stratus was excellent and gave the feud a nice little cherry on top of an already well crafted sundae. Trish was fine needling Lynch and Lynch gave her back the ultimate middle finger in essentially ignoring her. Well done across the board.
-The Dominik heat wave continues. Keep bringing it as it works and helps elevate talent like Crews.
-Surprised to see the Zayn/Owens/Riddle team go over so easily in the main event. On one hand, I get it, they are working a major match at Night of Champions and Gunther really isn't. At the same time, if Imperium collectively is going to be something of note on Raw, they need to show it with wins.
-Seeing Cody Rhodes and Triple H on screen together was a fun way to end the show. I like the attempt at setting the hook for viewers with the Cody story, but I just don't think the audience ever really thought Rhodes wasn't going to face Lesnar on Saturday. For that reason, the interaction between Triple H and Cody was a little flat in terms of drama.
---
CATCH-UP: WWE Raw Results (5/22): Keller's report with analysis of Nakamura vs. Balor, Lesnar and Cody in arena, Imperium vs. Riddle & KO & Sami