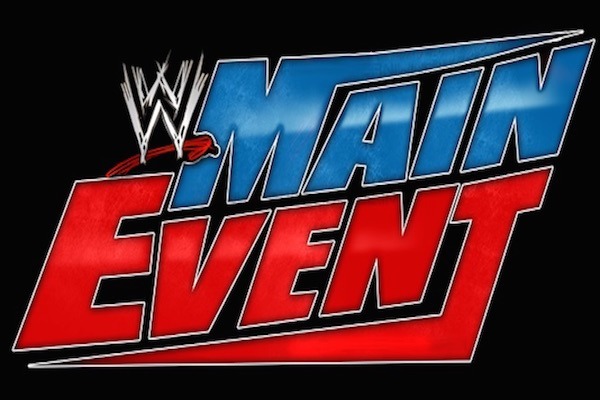 ---
SPOTLIGHTED PODCAST ALERT (YOUR ARTICLE BEGINS A FEW INCHES DOWN)...
---
WWE MAIN EVENT TV REPORT
MAY 31, 2023
HULU STREAMING TV
REPORT BY MIKE F. MEYERS, PWTORCH CONTRIBUTOR
Announcers: Byron Saxton, Kevin Patrick
REASONS TO WATCH…
Nox and LeRae deliver fun match
(1) DEXTER LUMIS vs. AKIRA TOZAWA
Tozawa bounced around his side of the ring while Lumis stood motionless. When they locked up, Lumis shoved Tozawa to the mat with ease. Tozawa fired back with forearm shots, then took Lumis down with a head scissor. Tozawa chopped Lumis twice in the chest, then faked a third chop. Instead, he jabbed Lumis in the jaw with his other hand. Tozawa ran the ropes and was taken down by Lumis with a drop toe hold. Lumis lifted Tozawa into a suspended vertical suplex, then covered him for a one-count.
Lumis fired Tozawa into the ropes, then knocked him down with a reverse elbow strike. He dropped two elbows to Tozawa on the mat, then covered for two. Lumis applied a chinlock. As the crowd cheered on Tozawa, Lumis slammed him to the mat back-first. He scoop slammed Tozawa, then locked his hands on Tozawa's traps. Tozawa battled out, then ran the ropes and rolled up Lumis for a surprise two-count. Tozawa ducked a clothesline and hit another head scissor takedown. Tozawa climbed to the top rope and hit a flying reverse elbow, then covered Lumis for two.
Tozawa climbed to the top rope again but Lumis dodged his flying attack. Lumis punched Tozawa in the jaw, then slammed him to the mat with a uranage. Lumis covered for the three-count.
WINNER: Dexter Lumis by pinfall in 4:15.
(Meyers's Analysis: Nothing too special or amusing in this brief match.)
(2) TEGAN NOX vs. CANDACE LERAE
As LeRae made her entrance, Nikki Cross appeared behind her on the stage and nervously followed LeRae to the ring.
The bell rang and Nox went hard on the offense, clobbering LeRae in a corner with forearm strikes. She transferred the attack to the opposite corner. Nox snap mared LeRae to the mat, then covered for two. LeRae came back with a European uppercut that knocked Nox onto her keister. Nox suplexed LeRae to the mat and covered for a one-count. Cross chanted "Candace!" along with the crowd. Nox took notice and choked LeRae against the middle rope, turning the chants into boos. LeRae landed several forearm shots, then took Nox down with a low drop kick.
LeRae began to climb a corner, but Nox rolled to the apron, seemingly out of harm's way. LeRae met her on the apron, where Nox hoisted her in a suplex position and dropped her face-first. LeRae tumbled to the floor as we cut to break.
Nox maintained control through the break with a chinlock. Nox covered LeRae with her knee across LeRae's face – instead of counting, the ref admonished Nox and told her to "get off her face!" Nox rightfully informed the ref he didn't know how to do his job and called him an idiot.
Nox kicked LeRae a few times against the bottom rope. She shrugged and smiled at the audience when LeRae slumped over onto the mat. LeRae applied a chinlock. LeRae tossed Nox away with an arm drag, but Nox came back immediately with a clothesline and another two-count cover. Nox yelled at the idiot ref some more. Nox went for a suplex, but LeRae countered it into a DDT. Cross bounced enthusiastically at ringside. LeRae leveled Nox with a clothesline, then back-splashed her in the corner. LeRae hit three step-up sentons to Nox's back, then covered for two. LeRae climbed to the middle rope but Nox ran to meet her there. Nox shoved LeRae to the mat, then jumped into a diving uppercut that took Nox down. Nox missed a running attack in the opposite corner, allowing LeRae to hit a missile drop kick and then a springboard moonsault – LeRae remained there for the cover and three-count.
WINNER: Candace LeRae by pinfall in 7:50.
After the match, Cross entered the ring and happily hugged LeRae around her waist. LeRae was standoffish and kindly pushed Cross out of her personal space before exiting the ring.
(Meyers's Analysis: Pretty fun match! Cross's appearance was a little mysterious, both to the audience and to LeRae. Nox's heel work was nice, though I agree with her assessment of the ref's capabilities.)
SHOW SCORE (0-10): 8.0
Find Mike Meyers on Twitter: @themikeshow42
---
CATCH-UP: 5/25 WWE MAIN EVENT TV REPORT: Nikki Cross vs. Emma, Brooke vs. Nox, more