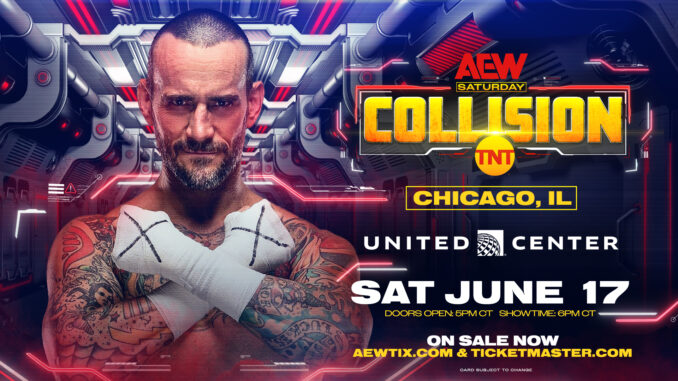 ---
SPOTLIGHTED PODCAST ALERT (YOUR ARTICLE BEGINS A FEW INCHES DOWN)...
---
The relative calm after C.M. Punk's return to AEW events earlier this summer, a result of separating him from top wrestlers he's had backstage issues with and stationing him exclusively on Collision, has come to an end. Punk took overt digs at "Hangman" Adam Page in a non-televised promo after AEW Collision aired last Saturday night, and stories have begun to surface of Punk creating a bunker of sorts at Collision events and even confronting wrestlers he sees as being aligned with his enemies and not him. Ryan Nemeth, Matt Hardy, and Christopher Daniels are reportedly among those Punk has essentially banned from attending Collision events.
On Saturday night, Punk spoke to the crowd after Collision ended.
"Earlier today I went to a local supermarket and I figured out why they call him Hangman," Punk said. "It's because the pegs in the toy aisle are full of Hangman action figures because nobody wants to buy them. He's a peg warmer, unlike me who moves merchandise and pops ratings and sells toys. And then everybody in AEW is saying, 'I'm the heart, I'm the soul, I'm the spirit.' Well, that's objective."
By all indications, that was not part of a planned attempt to build a match, but rather Punk venting. Hangman had shown up at the Greensboro Coliseum before Collision, planning to record a promo for the following week's Dynamite. He was turned away and told the promo would have to be taped somewhere else, an incident first reported by Fightful Select. Punk's meltdown at the All Out media Q&A last year included him venting about Hangman taking what he felt were personal, uncalled for digs at him months earlier on TV which had gnawed at him all summer.
Punk reportedly also made it clear he didn't want Matt Hardy or Christopher Daniels attending Collision in person, according to a Wrestling Observer report this week. Daniels is a top member of AEW talent relations.
When Punk made an unadvertised appearance at Dynamite on June 21, PWTorch has learned that he confronted Ryan Nemeth backstage over a tweet where Nemeth indicated loyalty to The Elite. Nemeth had referred to Punk as "literally the softest man alive" in response to Punk referring to the Young Bucks as "Counterfeit Bucks."
Nemeth is known to be close to the Bucks, as he has appeared in their "Being the Elite" YouTube video series.
At that Dynamite, PWTorch sources indicated Punk confronted Nemeth in the locker room. The story conveyed to PWTorch is that Punk cornered Nemeth in the locker room, got inches from his face, and angrily and aggressively asked if they had a problem or if they needed to settle things outside. Punk cited to Nemeth that his comments on Twitter inflamed existing tensions and that the optics of the tweet sent a bad message. This incident was witnessed by numerous wrestlers and was characterized as awkward and weird.
Nemeth moved the argument to the hallway, where Punk continued to berate him, according to our sources. Nemeth defended his judgment in calling Punk "soft" since Punk fired the first shots at the Bucks. Punk pushed back that his timing was bad and worked against the public image they were going for that everyone was either on the same page or at least not inflaming prior issues. Nemeth then asked Punk if he shouldn't react to things Punk says on TV and Punk said that'd be the right choice at that time. Then they shook hands, but apparently the tension was still high as they went their separate ways.
Nemeth confided the incident in friends backstage and asked how to handle the situation. Nemeth has almost no leverage in AEW compared to Punk, who is a much bigger star, so Nemeth backed off and laid low, since his job could be at risk if Punk spoke out behind the scenes against him. He even has since deactivated his Twitter account.
Nemeth arrived at the Colision in Greensboro on Saturday night for his first scheduled match in a while, but was told he wasn't needed anymore and was given itinerary to return home, according to a Fightful report.
Wrestlers are in an awkward position when it comes to speaking out against Punk in any way since Tony Khan has made it clear he's not only a big part of AEW's business strategy to sell tickets, sell PPVs, and draw ratings – with Collision being launched in great part to be a vehicle for Punk – but also that Khan himself is personally a big fan of Punk.
When Punk first returned earlier this summer after his hiatus dating back to the prior year's All Out media Q&A, Khan stood up backstage in the gorilla position with his headset on and started pumping his fist and chanting "C.M. Punk!" enthusiastically as Punk walked by. The feeling backstage among wrestlers not in a position of power with a big contract is to lay low when it comes to Punk because you don't want to be on what is essentially his enemies list.
Punk otherwise has received good reviews for his leadership behind the scenes. He is fiercely protective of Collision being a low drama environment, which is why he doesn't want wrestlers he perceives as disloyal or too closely aligned with The Elite crew to be backstage at Collision. He sees Collision as his show and his chance to provide the type of leadership that he is critical of the executive vice presidents not providing on Dynamite, but that has extended to Punk having essentially veto power over who can be present backstage at Collision events.