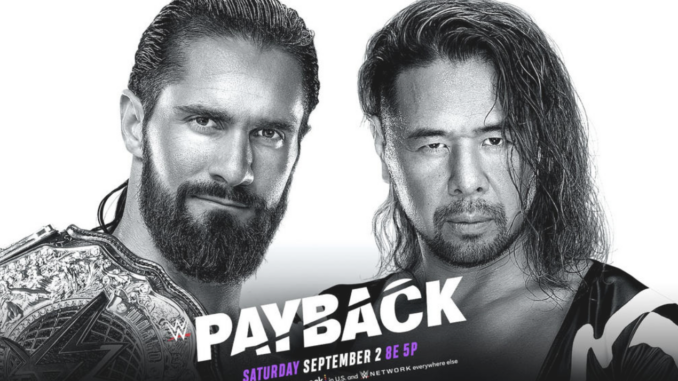 ---
SPOTLIGHTED PODCAST ALERT (YOUR ARTICLE BEGINS A FEW INCHES DOWN)...
---
LECLAIR'S WWE PAYBACK 2023 REPORT
SEPTEMBER 2, 2023
PITTSBURGH, PA AT PPG PAINTS ARENA
AIRED LIVE ON PEACOCK (U.S.), WWE NETWORK (Int.)
Announcers: Michael Cole & Corey Graves
-The opening video package ran through the show's major matches, and the appearance of John Cena.
-Fireworks shot from all corners of the signature stage. The camera cut to a sweeping lower bowl shot of the PPG Paints Arena. Michael Cole thanked fans for spending part of their Labor Day weekend with WWE. Corey Graves immediately turned focus to the steel cage match opening the show. Cole tossed to a video package.
-Becky Lynch headed to the ring first to a strong ovation. Trish Stratus followed to a big chorus of boos. She strutted smugly to the ring, throwing out her arms. She got in the face of a fan in the front row while removing her entrance jacket. Lynch stared at her confidently from the ring. The camera cut to Tiffany Stratton watching the match from the crowd.
(1) TRISH STRATUS vs. BECKY LYNCH – Steel Cage match
Becky Lynch and Trish Stratus stood on opposite ends of the ring as the bell rang. They approached one another in the center. Lynch looked for a lock-up, but Trish ducked her and rushed toward the door to escape. Becky quickly pulled her away. The two tossled in the corner. Becky walked the veteran from post-to-post, slamming her against each corner. Michael Cole noted that, despite the length of her career, Trish has never before competed in a steel cage match.
"The Man" delivered three consecutive Bex-Ploder Suplexes and dared Trish to stand. Stratus walked into more offense, but managed to rip Becky down to the mat by her hair. Trish immediately tried to climb the cage, but Becky met her quickly. The two teetered on the top rope, hanging onto the cage wall for balance. Becky knocked Trish back into the ring. Trish immediately pulled Becky off the cage. Stratus posed to the crowd for more boos.
Stratus ran Lynch from cage wall to cage wall, tossing her face haphazardly into the chain-link. She choked her against the middle rope, then contorted her face in the steel cage. "Get a close up!" she told the ringside camera. Trish called for the door to be opened, but Lynch quickly cut her off. Stratus dropped her foe with a clothesline and covered her for a two count just before 4:00. Trish used the wall of the cage as a weapon again. She tired Becky up in the middle ropes and applied a double fish-hook. "Cheese!" she said to camera. Trish patted herself on the back, riling the crowd up again. She slammed Becky's head into the mat. Trish gave Becky some body kicks as she marched around the ring.
A small "Becky" chant grew from the crowd as Lynch pulled herself to her feet. She managed to counter Stratus and toss her into the wall of the cage. Lynch hoisted Stratus onto her shoulders and rammed her into the steel repeatedly. She dropped Trish and covered her for a two count. Becky immediately transitioned into the Dis-Arm-Her. Stratus managed to prevent her elbow from being fully straightened, allowing her to regain position and control. She tossed Lynch into the steel again, then leaned backward onto her hands in crab position. Lynch leg dropped her sternum and covered for two.
The two women fought onto the apron, sandwiched between the ropes and the steel. They traded head bounces off the wall. Lynch got the upper hand and Trish crumbled to the floor. Becky pulled her up by her hair and draped her over the top rope. She used the cage to steady herself, then delivered her signature leg drop, flipping Trish inside out. Becky hooked the leg for a near fall just after 8:30. Trish came up with a welt forming on her forehead. Becky gave no quarter, leaping onto Trish in the corner. Becky sat herself on the top turnbuckle. Trish leapt up to meet her in position for a 'rana. Becky caught her. Trish wrapped her legs, then used her arms to hoist herself up onto the cage to try to escape. Lynch dropped off the turnbuckle and got underneath Trish, pulling her off the cage and delivering a Powerbomb for a stack cover and two count.
Both women were laid out on the mat. Lynch rose first, looking for a Man-Handle Slam. Trish blocked it. She bounced Lynch off the cage, then gave her a Widow's Peak. She covered for a near fall. Cole noted that the first ever women's steel cage match in WWE was Lita vs. Victoria, and the latter used the move as her finisher. Trish hooked Becky's neck and set up for Stratusfaction. Becky spun out of it, grabbed Stratus and delivered a Twist of Fate for a cover and near fall of her own. Graves noted that it was, of course, an homage to Lita.
Lynch leapt to the middle rope and dove at Trish, but Stratus moved. Lynch telegraphed it and rolled through it. She came up lame on one knee. Trish grabbed her from behind and delivered Stratusfaction for a near fall. Growing frustrated, Trish slammed Becky's face against the mat repeatedly. She began climbing the cage. Trish nearly got a leg over the top, but Lynch caught her at the last moment. The two teetered on the top rope again. Lynch grabbed on for a Man-Handle Slam, but Trish elbowed free. She turned it into a Bulldog off the top rope. She hesitated momentarily in making the roll-over cover, giving Lynch time to kick out at two-and-a-half.
Corey Graves noted that Stratus may have jammed her tailbone on the landing. She used the ropes to stand, again trying to ascend the cage. Lynch grabbed her leg, but Trish still got a leg over. Becky followed. The two women straggled the top of the cage, trading punches. Trish kicked Becky back into the ring and began her descent down the other side. Becky leapt up the cage wall and caught Trish by the hair. Trish's leg got caught inside the piping of the cage. Becky threw a bunch. Trish flew backward, hanging upside down off the top of the cage. Becky pulled her back up. The two continued to trade punches, Trish teetering on the outside edge.
Trish freed her legs, but wound up trapped in Suplex position on Lynch's shoulder. Becky delivered a mega-avalanche Suplex and threw an arm over Trish for a cover and last moment near fall at 17:10. Becky sat up first, trying to get her wits about her. A sizable "this is awesome" chant broke out. Becky began climbing the cage. Trish had just started to come to, she began crawling toward the door. Realizing Stratus would beat her to the escape, Lynch leapt off the cage and came to intercept Trish. Zoey Stark appeared, trying to help drag Trish out of the ring.
Stark pulled at Trish's arms. Lynch pulled at her legs. Becky won the tug-o-war. She tried to escape, but Stark slammed the door in her face. Trish went for the Chick Kick, but Lynch ducked. She gave Trish a Man Handle Slam. Becky hooked the leg, but Zoey Stark broke up the pin. The Protege began dragging her mentor toward the door. Lynch stepped in the way and slammed the door shut. With Becky and Stark tied up, Trish began climbing the cage. Lynch managed to dispatch Stark long enough to rush to Trish. She pulled her from the cage wall and onto the top rope. Becky delivered the Man Handle Slam for a cover and three count.
WINNER: Becky Lynch in 19:59
Zoey Stark helped Trish Stratus to her feet as Becky Lynch celebrated outside the cage. Trish said something to Zoey and shoved her. Stark closed the cage door. Trish tried to attack, but Zoey quickly dropped her with Z360.
(LeClair's Analysis: I really enjoyed this. Both women worked incredibly hard. I really appreciated the call backs to Lita and Victoria's steel cage match, and Cole taking the time to specifically call them out. I don't think this feud has gone as well as any party would have hoped, but I've enjoyed seeing Trish Stratus around again on a regular basis, and it's kept Becky at the forefront of television where she belongs, even if its become a little overwrought in recent weeks. Lynch and Stratus have shown to have good chemistry, and, even at her age, Trish is a gifted natural who can still hang with some of the most talented of today's crop of women wrestlers. Lynch needed the big finale, clean win here and I'm glad they kept it simple. Starks turning on Trish felt a little short-sighted, but I can be swayed to think differently if we learn that Trish's time is limited going forward. A really strong opener.)
-After a break, Cole talked up the main event for the World Heavyweight Championship.
-John Cena's music hit and the megastar darted out onto the stage, making his signature entrance. Mike Rome introduced him as "the greatest of all time."
Cena welcomed the audience to the show and called the opening cage match "awesome." He said he's done a lot of things on these shows – from opener, to closer, champion to challenger, but never a host. He said his job is make the night special. Cena said there's no better way to make it special than to become the special guest referee for a match between L.A. Knight and The Miz.
The Miz's music interrupted Cena. The A-Lister sauntered to the ring. Cole reminded everyone that Cena and Miz once main evented WrestleMania. Miz asked for a microphone as Cena cleared a path for him. The crowd booed him loudly. "I'd expect this from L.A. Knight, but not from you, John." Miz said, "pandering to this audience?" He told Cena he sucks as a host. Cena said it's his first time, and Miz has a lot of experience. He asked for advice. Miz told him you don't make yourself a special guest referee in his match.
"That was my one idea, do you have any other advice?" Cena questioned. Miz told him when they called him to a Mer-Man in the Barbie movie, he should've said no. Cena chuckled. He said he was serious about the advice. Miz said he should be more involved and dress for the role – "you dress like a Teletubby." He told John to take more initiative. Cena said that sounds like declearing himself the special referee. Miz told Cena he has no referee shirt. Cena was handed one. He argued back and forth with Miz, then pointed to the stage.
L.A. Knight's music hit and he marched to the ring to a big ovation. A huge "L.A. Knight" chant broke out as his music faded out and The Miz stalled getting in the ring. They were using an old "WWE Network" ring apron. (Haven't seen one of those in a while!)
(2) THE MIZ vs. L.A. KNIGHT – Special Guest Referee: John Cena
The Miz got in the ring long enough for John Cena to ring the bell. He immediately rolled to the outside and began jawing at Cena, L.A. Knight, and the fans antagonizing him in the front row. Miz threw his hands up and began leaving the ringside area. "I hate this city, I hate L.A. Knight, I hate John Cena, you all suck!" he yelled. L.A. Knight gave chase. Miz tried to telegraph him, but Knight still got the better of it. He brawled with Miz back to the ring and tossed him inside.
Knight and Miz traded quick punches to a backdrop of loud "YEAH!" chants. He gave Miz a quick Suplex, then hoisted him onto the top turnbuckle. Cole said that Knight is especially popular in a blue-collar city like Pittsburgh. Miz gave Knight a front Suplex off the top, staying perched on the turnbuckle. Knight grabbed at his nose and chin, checking for blood. Miz hopped down and began to work over Knight methodically. He told the fans to shut up. He shot Knight of the ropes. L.A. ducked a clothesline and gave Miz a spinning Powerslam, followed by a flurry of mounted punches.
The two men battled to their feet. Miz got Knight tied up and went for a Skull Crushing Finale. Knight fought free and went for Blunt Force Trauma, but Miz blocked it. Knight tossed Miz to the outside. He followed, slamming the A-Lister's head against the announcers desk repeatedly. Cena began counting. Knight rolled in the ring to break it and threw a "YEAH!" in Cena's face. Knight slid back outside, but Miz grabbed him and slammed him hard into the desk as the match crossed 4:00.
Miz began mocking the crowd's "YEAH!" chant while bouncing Knight's head off the crowd barrier repeatedly. He got a running start at Knight, who hoisted up and over the barrier into the timekeeper's area. Knight tossed Miz back to ringside and cleared an office chair out of his way so he could leap onto the barrier and deliver a diving clothesline to Miz. Cena rounded the ring, trying to get the action back between the ropes.
Graves admonished Cena for "not enforcing he rules as strictly as he should." Miz cornered Knight and Cena counted to five. He grabbed Miz by the waist and pulled him away. Knight then cornered Miz, again utilizing the full count. Cena pulled Knight off Miz. LA. got in John's face and the two began to argue. Miz attacked Knight from behind. He stomped at him near the corner. Graves said you can't take your eyes off a veteran as dangerous as the Miz, "not even for half a second." Miz choked Knight over the middle rope, this time listening to Cena's break count. Knight tried to leap to the middle rope, but Miz kicked his leg out and delivered a Codebreaker for a cover and two count.
L.A. Knight battled to his feet and out of a grounded headlock. He and Miz worked to the corner, then up over onto the apron. Miz ripped Knight to the floor, catching his forehead on the edge of the ring on the way down. He tossed Knight back in the ring and paced around confidently. Miz began throwing the "it" kicks. Knight tried to use Miz's tights to stand, but Miz kept delivering kicks to the chest. Knight ducked a spin kick and delivered a side-release one arm slam as the match crossed 10:15.
Both men rose slowly. Knight countered a punch and delivered a leaping neckbreaker. He perched himself on the middle rope and a hit a Bulldog, followed by a sliding kick to the back of the head for a cover and two count. Miz retreated to the corner. Knight gave him a series of stomps, then a running hip attack. He lifted Miz onto his shoulders, but Miz slid out of it. He hooked Knight for the Skull Crushing Finale, but Knight countered a second time. The two traded spin-out counters until Miz caught Knight with a pair of DDTs for a cover and near fall. Miz called for the finish again. Knight slid out of it and into a roll up for a two count.
Knight caught a charging Miz in the corner, spinning him into a Hangman's DDT off the middle rope for a near fall of his own. Miz used the ropes to steady himself and create separation from Knight. He looked for a jawbreaker, but Knight blocked it. Miz rolled Knight up and grabbed onto the middle rope. Cena caught him and kicked his hand away. Miz got in Cena's face. Knight went for the B.F.T. again. Miz rolled free, nearly sending Knight to collide with Cena. The momentary distraction allowed Miz to hit the Skull Crushing Finale. He hooked the leg for a very near fall just before 15:00.
John Cena looked on as The Miz began to exaggerate an attempt at the Five Knuckle Shuffle. Knight popped up and gave Miz the B.F.T for a cover and three count.
WINNER: L.A. Knight in 15:43
After the match. Cena met L.A. Knight at the top of the entrance way. He took off his referee shirt and offered his hand to Knight, talking about respect. Knight hesitated, but accepted. Cena gave him a friendly slap on the shoulder and said, "your moment" before turning to leave. Graves called it a a big endorsement.
(LeClair's Analysis: It's been a long time since we've seen The Miz have a serious match at a Premium Live Event. I think the results were mostly serviceable, though I think they could've shaved off a couple of minutes and been fine. I appreciate the fact that they kept Cena's involvement to a minimum. He had words with both Miz and Knight, and the latter wasn't afraid to display a great deal of confidence against an all-time great. I thought they had enough entertaining sequences to make this fun, and the crowd was in full-throat support of Knight from start to finish. Knight needed another clean win here on his ascent up the card. This served its purpose, and giving Knight a moment of respect with Cena afterward is a great sign of confident. A big endorsement, for sure, as Graves noted.)
-After a break, Austin Theory headed to the ring for his United States Championship rematch. Graves said a lot of his married friends didn't bring their wives to the arena tonight because, "they didn't want to leave divorced" because of Theory. Cole said that Theory had the longest U.S. title reign in a decade. Rey Mysterio entered to a strong reaction, flanked by all four members of the LWO. They gave Rey hugs and let him head to the ring alone.
(3) REY MYSTERIO (c) vs. AUSTIN THEORY – WWE United States Championship match
Austin Theory overpowered Rey Mysterio at the outset, cornering him with a number of rapid shoulder thrusts in the corner. Rey quickly battled out and ran Theory into the adjacent corner for some mounted punches. The two men battled out. Theory sent Rey crashing into the ropes, catching his neck on the top. On the ricochet, Theory dropped the champion with a big clothesline. He followed it up with a leaping knee from the apron and a Fisherman Suplex for a cover and a two count.
The challenger pulled Mysterio to his feet by his hands and smoothly moved him right into a second Fisherman Suplex. He tried for a third, but Rey turned it into a roll up for a two count. Theory popped to his feet and dropped the champion with a back elbow. He grabbed a rear-chinlock, dragged Mysterio to his feet and spun him around by the neck before slamming him into the mat in the same hold. The camera pulled back as Cole noted that there are over 14,000 in attendance in Pittsburgh.
Mysterio bridged his body, using his lower body strength to take pressure of his neck. Theory kicked him in the back of the legs and choked him against the middle rope. He tossed Rey chest first into the top turnbuckle. Mysterio clutched his chest, gasping for breath. "You're the champ, right?" Theory asked in between head punches. "You ain't nothing!" Theory threw his arms out, posing for the crowd. They booed him loudly. The former two-time U.S. Champion seated Mysterio on the top turnbuckle and began ripping at his mask. He'd nearly removed it when Rey started throwing elbows. Theory didn't let up, but Rey eventually knocked him off the turnbuckle with an elbow to the face.
Rey delivered a leaping Moonsault onto a standing Theory below. Both men struggled to their feet as the match crossed 5:30. Rey threw a couple low kicks. He hit the ropes and sent Theory packing from the ring with a tilt-a-whirl headscissor. Rey slid through the bottom rope and dropped Austin with a Tornado DDT. Rey tossed the challenger back in the ring before looking to the crowd. He climbed to the top turnbuckle and delivered a seated Senton for a cover and two count.
The U.S. Champion went for a springboard off the middle rope, landing on Theory's shoulders. Theory spun him around into a Spin-Out Powerbomb for a stack cover and near fall. Austin set up for A-Town Down, but Mysterio fought free and countered with an Enziguri. Theory stumbled toward the ropes and on to the apron. He hit Rey with a rolling dropkick through the middle rope. Rey hit the ropes and, on the walk back, caught Theory with a basement dropkick.
Both men worked slowly to their feet at 9:00. They began trading punches. Theory turned them into knees to the gut. Rey tripped Theory into the middle rope and delivered a 619. He went for the Splash off the rope, but Theory got his knees up. He hoisted Mysterio up for A-Town Down. Mysterio countered it into a roll up for a surprise three count.
WINNER: Rey Mysterio in 9:50 to retain the WWE United States Championship
(LeClair's Analysis: Good match. Austin Theory's strength was on display in this one, as he tossed Mysterio around with ease for some really cool sequences that had a lot of flow. Though I thought the action was strong, it wasn't unlike something you'd see on a weekly episode of WWE TV, and the crowd seemed only mildly invested. The U.S. title was in a much better place months ago, but the back half of Theory's run left a lot to be desired, and Mysterio's title reign, thus far, feels like a bit of a stopgap until they think of something better. I'd really like to see them re-establish the title in a way they succeeded with Gunther's Intercontinental title.)
-Cathy Kelly was backstage to welcome Becky Lynch. She asked her what's next for her. Tiffany Stratton walked on-screen, cutting her off. She referenced her message about being the greatest NXT Women's Champion of all time. She apologized to Lynch for calling her a former champion. Becky said she appreciates her "coming out of her Mattel box to come to Payback" and told her to prepare for her title match on NXT. "Maybe I'll see you soon," Lynch concluded.
-Cole tossed to a video package for the tag team title match for Premium Plus subscribers.
-Kevin Owens was first out of the curtain following the break. He held the titles out as the camera captured him from behind. Sami Zayn's music cut in and the fan-favorite ran into view. He and Owens marched to the ring to a strong ovation. Samantha Irvin introduced the "Steel City Street Fight." Damian Priest and Finn Balor faded into view under a cloud of smoke and faint purple glow. Priest let the Money in the Bank briefcase swing loosely at his hip. The two shared a fist bump at ringside before approaching from separate steps.
(4) SAMI ZAYN & KEVIN OWENS (c) vs. FINN BALOR & DAMIAN PRIEST – Steel City Street Fight for the WWE Undisputed Tag Team Championships
Right hands flew the moment the bell rang. Kevin Owens and Damian Priest quickly spilled from the ring and began brawling up the entrance way. Sami Zayn and Finn Balor spilled to the northwest corner of the ringside area before the former tossed his Judgment Day foe back into the ring. Zayn retrieved a trio of steel chairs from underneath the ring, then went to retrieve Balor. Finn caught him with a Kendo stick to the head from just below the apron. He pulled out more Kendo Sticks, and a steel bucket.
From the bucket, Balor poured a handful of Steelers Terrible Towels. He spun one briefly, then stomped on it and flexed. Kevin Owens appeared and dropped him with a clothesline. Priest quickly came back into view to take down KO. Sami came flying over the top rope onto Priest. He and Owens retrieved trash casn from underneath the ring and began clocking Judgment Day with them. "They're gonna take out the trash," Cole remarked. Both Owens and Zayn dented the cans over Balor and Priest's heads.
KO ripped off his shirt to reveal a Terry Funk tribute tank underneath. He and Sami put a trash can over Balor's head and took turns smacking it with Kendo sticks. Balor eventually collapsed comically in a heap in the center of the ring. Zayn and Owens posed on the apron for the crowd, who soaked them in adoration. Zayn retrieved a table from underneath the ring, to the crowd's further delight. Damian Priest returned, trash can in hand, and took down both champions as the match approached 5:00.
Priest tossed a can at KO's head, then Balor dropped Zayn with a chair to the stomach. Balor and Priest isolated Owens in the ring, taking turns driving the edge of chairs into his chest and stomach. Priest fed Owens to Balor for a trash can shot. Zayn returned to the ring in a flurry, but Judgment Day snuffed him out with a swarm of punches in the corner. Balor worked Zayn back to the outside. He gave him an elbow to the forehead. Priest tossed several more chairs into the ring. Balor mounted Sami on the announcers desk and continued to throw wild rights. In the ring, Owens exploded with stomps to Priest. He cracked him with a chair, but then ate a shot of his own from Balor.
Sami Zayn hit the ring, steel chair in hand. He cracked Finn over the back with it twice. Balor spilled to the outside. He and Priest leapt over the barrier and into the crowd. Zayn and Owens followed. They worked them over against the wall of the hard cam section. Suddenly, Dominick Mysterio rushed into frame, attacking the tag champions from behind. Dom hilariously wore a "I Was There" Payback shirt. Dom helped the challengers toss KO and Sami into the lower bowl of the arena. They discussed strategy. Suddenly, the crowd exploded. The camera panned to show Sami Zayn and Kevin Owens, standing in the penalty box, each wearing a Pittsburgh Penguins hockey jersey, hockey gloves, and holding hockey sticks. Owens was bleeding profusely from his forehead.
The champions fought Judgment Day back into the entrance way and threw off their gloves. They beat both men with hockey sticks, walking them all the way back to the ring. Zayn gave Balor a Blue Thunder Bomb onto a pile of steel chairs for a cover and near fall just before 11:00. KO returned to the ring, face now clear of blood. He and Zayn worked together to set up a bunch of chairs in the center of the ring. Priest returned and took them both out with a hockey stick. He gave Sami a Suplex onto the seats of the chairs. He covered, but Owens broke it up quickly.
Judgment Day tossed Sami to the outside. Priest held onto Owens arms, leaving him vulnerable to Balor's punches. Owens briefly broke free and tried to attack, but the challengers overwhelmed him. They tossed him over the announcers desk and then into the crowd. Corey Graves had to leap the barrier to escape. "Are we getting hazard pay for this?" he asked Cole. Owens, Balor, and Priest bralwed all the way to the east end of the floor, then to the kick-off show set. Sami Zayn returned to even the odds.
Sami climbed atop the kick-off desk and dove onto Balor and Priest. He let out a primal yell. Dominick Mysterio attacked him from behind. Owens met him with punches. He walked Dom toward a tunnel alcove and dragged a table that was propped against the lower bowl. KO tossed Mysterio onto the table, then climbed the edge of the lower level. He reached the top of the tunnel area and used a fan's shoulder to steady himself before delivering a Swanton onto Dominick below, a la Jeff Hardy at Royal Rumble 2000. A replay showed a really neat camera shot from a camera man positioned inside the tunnel, looking up at Owens.
Back in the ring, Sami Zayn set up for a Heluva Kick on Finn Balor. Priest tossed a trash can into Zayn's face. Finn covered for a near fall. Judgment called for an end. Priest hoisted Zayn up in position for a Crucifix Bomb. Balor was stationed on the top turnbuckle. Zayn slid free and kicked Balor to the outside. Finn got back up on the apron. Sami shoved him off, sending Finn crashing through a table. Sami went for another Heluva Kick, but Priest caught him by the throat. Damian looked for a chokeslam, but KO returned and blocked him. He gave Priest a Stunner. Sami followed up with a successful Heluva Kick. He covered, but J.D. McDonagh pulled Zayn out of the ring.
Owens attacked J.D. immediately. He gave him a Pop-Up Powerbomb through the announcers desk. Owens turned around, and was immediately speared through the timekeeper's area by Rhea Ripley. Ripley laid beside Owens for a moment, screaming out some pain. Back in the ring, Balor and Zayn slowly rose to their feet as the match approached 20:00. Balor caught Zayn with a Sling Blade, then a dropkick into the corner. He set up for the Coup De Grace. Sami moved. He hit an Exploder into the corner. Zayn ripped off his shirt and delivered a Heluva Kick for a cover. Dominick Mysterio hit Zayn over the head with the Money in the Bank briefcase. Balor rolled onto Zayn for a three count.
WINNERS: Finn Balor & Damian Priest in 20:44 to win the WWE Undisputed Tag Team Championships
(LeClair's Analysis: Phew. This was a whirlwind from the jump. Essentially, WWE's significantly less violent answer to last weekend's Stadium Stampede at Wembley. This was quite a spectacle. All four men worked unbelievably hard to make this feel like a main event match, and I think the results were mostly really good. I'm never an advocate for overwhelming amounts of interference, but it has been the name of the game for Judgment Day throughout the entire run and it's not something I expected them to give up here. Given that Rhea and Dom were holding gold, it made plenty of sense to get some titles on Damian and Finn as well. This should also, theoretically, prolong the teased break-up, which I think is a pretty big positive overall. Zayn and KO have been entertaining as champions, but it very much feels like they'd taken a significant step backward since exiting the Bloodline story. I'm interested to see what they can do outside of the tag title picture for a while, especially if we see them do some singles work while continuing to support each other.)
-Out of a break, Grayson Waller stood in the ring for his segment with Cody Rhodes. He trashed Pittsburgh's reading levels, then introduced his guest. Cody got his full, elaborate entrance to a big pop and sing-along. Grayson Waller called for the "whoa" with Rhodes.
Cody sat down at the desk with Grayson Waller. He went for his usual intro, but Waller cut him off. "I'm just being honest, no one cares what Pittsburgh wants to talk about," Grayson said. He said it must be hard seeing someone handsome for the first time. Waller turned to Cody's pending announcement. He said Rhodes has had so many ups, and emphasized "so many downs" this year. He called Cody "kid", telling him he believes tonight will be the start of something great for him.
Rhodes called it a great speech. He ran down a list of previous wrestling talk shows and surmised how things may go, ending with a destruction of the set of a Cross Rhodes. Waller said he's a professional and it's not going to happen. Rhodes suggested they subvert expectations. He said he asked to be on the Grayson Waller Effect. "Thank you for the rub," Cody joked. He offered Waller a "big scoop." Rhodes asked Waller if he watched Raw and NXT. Waller said he does. Cody shouted out Carmelo Hayes.
Cody said he saw what he perceived to be an egregious wrong a few weeks ago on Smackdown. He said he pulled some strings, whatever clout he had, and introduced the newest member of the Raw roster – Jey Uso. Jey bounced to the ring with brand new music and a massive ovation from the crowd. Jey shared a respectful nod with Cody at ringside, then danced into the ring. He marched around Waller's table. Grayson told Jey to calm down, he's only been gone for a couple weeks. He said he wished he had some questions prepared. The crowd drowned him out with an "Ucey" chant.
"As successful as you've been in a tag team, you've achieved absolutely nothing," Waller concluded. He said Jey is in desperate need of the Grayson Waller rub. Jey gave him a Superkick. He tipped over a plant and posed on the turnbuckle, looking toward Cody Rhodes at the entrance way. The whole arena bounced with Jey.
(LeClair's Analysis: Well, this certainly felt like an odd way to re-introduce Jey Uso. Look, I'm not sure it wasn't smart to attach Cody to another massive fan favorite. It just felt a little forced, and it's the second time tonight they used a respected roster member to full endorse another. Though, unlike Cena, Cody is an active full-time guy. Ultimately, it shouldn't be a big deal, though. Jey is too important a character right now to be left off television, and whatever got him back in the fold quickly is fine by me. This also keeps him well removed from any and all Bloodline drama for a while, which I think is best. Now, we'll get to see how the "main event Jey" character fares on its own.)
-After a break, Raquel Rodriguez headed to the ring for her Women's World Championship match. Rhea Ripley followed, holding the title out for the camera. Graves said she's been enjoying "unmatched dominance." Cole said these two faced each other a couple of years ago in NXT, with Raquel defeating Ripley. When asked if Raquel had her number, Ripley said she's a "different Rhea Ripley now." Samantha Irvin gave championship introductions.
(5) RHEA RIPLEY (c) vs. RAQUEL RODRIGUEZ – WWE Women's World Championship match
Rhea Ripley cracked a sly smile as the bell rang. She bared her teeth as she leaned into a lock-up with Raquel Rodriguez. The challenger backed Ripley toward the northwest corner of the ring. Rhea quickly broke free of her grasp and returned to center. She shoved her opponent, testing her. Rodriguez grabbed a side headlock. Ripley broke free. Raquel hit the ropes and delivered a shoulder tackle to Rhea. Ripley only stumbled. Raquel brushed her shoulder. Rhea delivered one of her own to a mimicked reaction.
Rodriguez hoisted the champion onto her shoulders, but Ripley quickly slid free. The women hit adjacent ropes and crossed each other. Raquel caught up and dropped Ripley. The champion rolled to the outside to regroup. Rhea returned to the ring before to long. She was immediately cornered by Raquel. The challenger caught Ripley with a couple of knees to the stomach before Rhea powered out. Ripley delivered short-arm clotheslines while holding onto Rodriguez' wrist. Raquel challenged Ripley to hit her harder. She shrugged off Rhea's grip and dropped her with a clothesline, then a big body slam. Rhea stood and kicked Raquel to a knee. The champion hit the ropes and hit a brutal looking boot right to the side of the temple, caving Rodriguez' face in on the slow motion replay.
Ripley came up with a small bit of blood around her nose. She cornered Raquel, beat her a little, then took a bow for the referee. Ripley flexed to the hard cam and received some cheers. She slammed the weight of her hips into Raquel's back, repeatedly dropping her. Rhea covered arrogantly for a quick two count at 5:30. Ripley stalked her opponent back to the corner. She gave her a Snapmare and a stiff kick to the spine. Ripley applied an Abdominal Stretch from a grounded position. Raquel tensed her body, trying to find the momentum to rise. Rhea blocked a hip toss and began throwing wild knees at Rodriguez' face. She grabbed a front face-lock and tried to settle in, but Raquel tossed her away.
Brief separation allowed Raquel to catch her breath. She stepped to Ripley, but the champion kicked the rope back right into her face, maintaining full control. Raquel got in a few punches, but Rhea hit her with a missile dropkick. She drove her fists into Raquel's side and back repeatedly. She slapped her chest with an open palm, then swung at the back of her head. Graves wondered if Ripley is "playing with her food." Ripley dragged Raquel up by her chin. Rodriguez grabbed Ripley's throat and dropped the Eradicator with a Clothesline. Rhea ducked a second one, but Raquel caught her in the back of the neck instead. She followed it up with a Fallaway Slam.
The champion retreated to the corner. Raquel charged at her, but Rhea sidestepped and kicked Rodriguez in the spine. She hung her upside down in the middle rope and stomped at her sternum. Ripley casually stepped through the ropes onto the apron and climbed the turnbuckles. She gave Raquel a number of headbutts. Raquel stunned her with a boot to the face at 10:00. Ripley fell, draped over the turnbuckle. Rodriguez delivered a delayed Suplex from the mat. She followed with a spinning corkscrew elbow for a cover and two count.
Raquel went for a Taxana Bomb, but Rhea blocked it. She caught her challenger with a sliding knee for a lackadaisical cover and two count. Graves argued it would've been three if she'd hooked the leg. Rhea set up for Riptide, but Rodriguez blocked it. She lifted Rhea up for a Powerbomb, but fell under the weight of Rhea on her shoulders. Both women landed awkwardly. Raquel pulled herself up and gave Rhea a running clothesline. She hoisted her onto the top turnbuckle and gave her a forearm to the chest.
Both women struggled on the top turnbuckle. Rhea caught Raquel with a shot to the face. Raquel spilled into the ring, stepping awkwardly and grabbing at her knee. Ripley gave Raquel a chop block to the back of the knee. Cole and Graves talked about the previously injured knee of Raquel. Ripley applied a revers Cloverleaf and clubbed at the injured knee. Raquel used the ropes to climb and free herself.  The two came face to face in the center of the ring and began throwing wild punches. Both spilled toward the ropes, and then to the outside.
Outside the ring, Ripley kicked Raquel toward the crowd barrier. Rodriguez delivered a boot the face in return. She lifted Rhea into Powerbomb position and slammed her first against the ring post, then into the timekeeper's wall. Raquel retrieved the champion and tossed her like a lawn dart into the ring post. She slid Rhea back in the ring. Suddenly, Dominick Mysterio came stumbling down the ramp, nursing his wounds from earlier. Raquel dragged him in the ring and gave him a Running Powerslam.
Ripley immediately went back to work on the bad knee, kicking it repeatedly. She pulled Raquel up and into the Riptide for a cover and three count.
WINNER: Rhea Ripley in 17:21 to retain the WWE Women's World Championship
(LeClair's Analysis: Good match that could've stood to have a few minutes trimmed from the middle. Rhea Ripley matches present an interesting challenge for crowds, because despite wanting to boo her for her association with Judgment Day, and, more specifically, Dominick Mysterio, she's one of the coolest people on the roster, both in terms of presentation and in-ring work and style. The result is typically a subdued reaction to her babyface opponent, and thus, a lack of interest in the beats of the match itself. This was no exception. Raquel was solid for the most part, and despite a couple of rough spots here and there, this was both her best and longest bout on the main roster, as far as I can recall. She worked well with Ripley, but it was harder for her offense to stand out against someone who can do all that she can do even better. I would've done without Mysterio's involvement at the end, though. Ripley is the strongest member of the faction and should be able to win these matches definitively on her own.)
-The camera cut to John Cena, wearing a suit coat and pink bow tie over his usual get-up. He referenced his character from Southpaw Championship Wrestling. He said he's using his powers as host to become a backstage interviewer. He welcomed the new Undisputed Tag Team Champions. Balor and Priest said they're brothers, and sometimes they fight, but on the same stage, no one can stop Judgment Day. Priest said they'll always rise. Balor said it's time to celebrate, because Judgment Day has all the gold.
-After a a quick promo video for WWE Fastlane, Cole tossed to a video package for the main event.
-Seth Rollins entered first, sporting black and gold gear and an oversized gold jacket. He slapped hands with fans as he weaved back and forth down the entrance way. The crowd serenaded him the whole way. Rollins stood frozen in the center of the ring, bathed in a spotlight as the crowd sang through the silence. He took a bow to close it out. Shinsuke Nakamura spoke in Japanese over series of animated comic clips prophesying Seth's downfall. It bled into his signature entrance. The crowd sang him to the ring, too. Michael Cole noted that one of Nakamura's great inspirations, The Great Muta, is in attendance. He followed that up by mentioning that this is Shinsuke's first WWE Pay-Per-View/Premium Live Event main event.
Samantha Irvin provided championship match introductions. Nakamura got a mixed reaction, Rollins received significant cheers. Graves said that he feels like we're seeing a "return to form" for Nakamura.
(6) SETH ROLLINS (c) vs. SHINSUKE NAKAMURA – WWE World Heavyweight Championship match
A dueling chant broke out as soon as the bell rang. Seth Rollins and Shinsuke Nakamura circled one another, feeling things out. Nakamura flamboyantly slid free of an attempted grasp from the champion. Seth loosened up and stepped into a tie up. He worked Nakamura's arm behind his back and wrenched it. Shinsuke rolled through it and into a hold of his own. He took Seth down with a headlock takeover. He swung wildly, but Seth ducked. The two reached a stalemate in the center.
Seth stroked his beard and stepped forward for another lock up. He tripped Nakamura to the mat and tied up his legs. Seth used Nakamura's hair to gain position in a headlock. He leg go of the legs and floated over. Nakamura worked quickly to his feet and backed Seth into the ropes. Shinsuke rubbed Seth's back mockingly, referencing the injury. He backed up and challenged Rollins with his signature "come on" taunt. Seth charged, quickly backing Shinsuke into the southwest corner of the ring. Nakamura countered an Irish whip to the opposing corner. Seth leapfrogged him and tossed Nakamura to the outside. He dove through the middle rope and looked around at the crowd for approval.
Graves said that Rollins' back seems fine thus far. Cole said he grabbed it immediately when he jumped out of the ring. Nakamura attacked Seth in the back as the match crossed 5:00. He worked the champion toward the corner and drove his boot into Seth's neck, then shook wildly for his signature Good Vibrations. Nakamura laid Seth atop the turnbuckle and looked for a running knee strike. Rollins slid onto the apron. causing Nakamura to knee the pad instead. Seth dropped his challenger and went for a springboard Moonsault from the apron. Shinsuke moved, but Seth landed on his feet. Nakamura rolled to the outside, so Seth dove onto him again.
Rollins walked Nakamura around ringside, slamming him into the announcers desk along the way. He slid in the ring quickly to break the count, then climbed the barricade. Shinsuke shot to his feet and dumped Rollins onto the desk. The table didn't break, but Seth's lower back connected with the corner of a monitor. Shinsuke followed it up by tossing the champion back-first into the ringside barrier. Nakamura tossed Rollins back in the ring and laid him out over the top turnbuckle again. This time, he delivered the running knee successfully to the gut. He rolled Seth onto his back and delivered the same knee to the spine.
The champion rolled to the mat, grabbing at his back. Nakamura covered for a quick two count. Graves noted that it's death by a thousand paper cuts for Rollins, who's back is further injured by having to push Nakamura's weight off of him to kick out. Shinsuke slapped at the back of Rollins' head, then began booting him. Seth grew enraged, firing a slap Nakamura's way. Shinsuke shook it off and kicked Seth in the head. He covered him for another two count. Shinsuke pulled Rollins body half out of the ring. He hit a drive-by knee to the face from the floor. He followed up with a shin to the upper back and neck from the apron.
Nakamura delivered a step-through kick to the head as the match approached 11:00. He turned Rollins over into a half crab. The crowd tried to will Seth to life. Rollins rolled onto his back and used his free leg to kick at Nakamura. The crowd began to sing his song, but Nakamura cut him off with a shoulder than carried Rollins back to the corner. Nakamura sat atop the turnbuckle. Seth tried to fight back with some knife-edge chops. He climbed to the top rope, setting up Nakamura for a Superplex. Shinsuke tried to slip free. Seth gave him a few more clubs to the back, then delivered a Hurricanrana from the top rope. Graves said it was a smart pivot to save the impact on his back.
Both men rose slowly, trading punches. Shinsuke hit a trio of quick forearms. Seth returned the favor with several of his own. Rollins hit the ropes and bounced back with a clothesline. He caught a couple more elbows, then gave Nakamura a Slingblade. The champion climbed to the top rope and delivered a massive frog splash for a cover and near fall just before 14:00. Champion and challenger met in the center of the ring. Rollins pulled Shinsuke in, perhaps looking for a Buckle Bomb. His back wouldn't allow it. Nakamura broke free and went for a spin kick. Seth ducked it and caught Shinsuke with a ripcord clothesline for a weak cover and two count.
"I know my back is messed up! I know the risk I take! My wife worries!" Rollins yelled to a downed Shinsuke. He punched the back of Nakamura's head repeatedly. Seth set up for the Stomp, but Nakamura moved. He tried to grab a hold, but Seth fought free. Nakamura leapt to the middle rope and caught Rollins with a leaping knee to the jaw for a cover and two count. Shinsuke pounded the mat in frustration. He began kneeing Rollins repeatedly. He scooped the champion and gave him a body slam. Nakamura delivered a snap Suplex. Graves said he loves the growing confidence of the challenger. Nakamura hooked Seth again, but Rollins slid down his back. He rushed to the ropes, but Shinsuke followed and kicked him in the back. Nakamura slid underneath him for his patented sliding German Suplex. Shinsuke covered for a two count.
Shinsuke called for, and executed the Exploder Suplex. He set up for the Kinshasa, but ran into a Superkick from Rollins. The champion covered for a near fall. The camera pulled back as Cole reset the stage. The two men stumbled around the ring, using each other for balance. Seth hit a couple short-arm clotheslines and looked for a third, but Nakamura pulled Seth into a Triangle Arm Bar. Seth tried to dead-lift Shinsuke into a Powerbomb, but his back gave out. Nakamura wrapped his legs tighter. Seth looked to be fading, but with one final exasperated gasp, he hoisted Nakamura into the air and delivered a sit-out Powerbomb for a two count.
Gasping for air, the champion wiped hair and sweat from his eyes and grabbed at his back. He challenger met him at a knee. Rollins and Nakamura stood forehead to forehead and began throwing punches. Both looked out on their feet. The punches turned into elbows and forearms. Rollins caught a rolling strike, then went for a ripcord. Nakamura caught him with a kick to the head on the turnaround. Both men wound up down and out on the mat. The match crossed 22:00. Rollins stood first. He stumbled toward the northeast corner, climbing slowly to the top turnbuckle. Nakamura attacked him from behind. He pulled Rollins onto his shoulders and delivered a Landslide off the top. He hooked the leg, but Rollins kicked out at the last moment. He immediately grabbed at his lower back, screaming in agony.
The challenger sized up his foe. He hit a Kinshasa to the back of the neck. Seth crumpled. Nakamura wasn't satisfied. He called for a second one. Rollins collapsed before he could charge. Shinsuke went to pull Rollins to his feet. Seth gave him a hard slap to the face, then the chest. Shinsuke dropped him again with hard knee strikes. Seth covered up against the ropes. Nakamura drove his boot into Seth's face repeatedly, necessitating a break from the official. He tried to Suplex Seth back into the ring, but Seth flipped over the back. He hit Nakamura with a Pedigree.
Madness filled Rollins' eyes. He used the ropes to pull himself up, looking for a Stomp. Before he could even get into position, Nakamura cut him off with a kick to the head. Rollins rolled to his feet. He set Nakamura up for a Buckle Bomb. Nakamura forced his weight forward, dropping Rolls for a roll up. Seth slid out from underneath it. He stood quickly and caught Nakamura with the Stomp for a cover and three count.
WINNER: Seth Rollins in 25:58
Seth struggled to stand as Shinsuke seethed outside the ring, pacing with disappointment. Rollins continued to sell his back as the show faded out to a recap video package.
(LeClair's Analysis: I thought these two had a lot of work to do to feel like a true WWE main event, especially in a year where these shows have been so strong. While this certainly never rose to the level of Nakamura's work in Japan, or even his match with Sami Zayn in his NXT debut, I thought it was one of his better main roster encounters. I liked the story they told with Seth's back, and the way Nakamura methodically worked it over. Cole and Graves did a lot of lifting here, explaining the psychology behind Nakamura's strategy and selling the reasons why it might spell the end for Rollins' title run. The crowd seemed to enjoy the action, but there's no doubt that they felt that this wasn't really a hugely consequential program. Rollins has had some impressive matches as the inaugural title holder, but there's still an overwhelming feeling that this title is secondary to the one missing in Roman Reigns' absence. WWE hasn't exactly done a great job to combat that, either, lining up a lot of opponents who failed to meet fans' lofty expectations for their careers when they were first called up to the main roster.)
FINAL THOUGHTS: It's not hard to give this show a thumbs up on wrestling quality alone, but it did feel decidedly second rate to almost every other WWE Premium Live Event this year. Unlike other B-events in the line up, this lacked a special international location or significant hook to give it a leg up in feeling important. We got more or less exactly what I expected – a solid show that wasn't particularly newsworthy, save for the return of Jey Uso, now wrestling for Raw brand. One notable knock: four the six matches tonight contained some level of interference. WWE had been a little better about this for a while, but they've been on a bit of a backslide and it was particularly noticeable tonight. There's got to be better ways to establish and keep heel heat, especially for Judgment Day, and in particular, Rhea Ripley. That aside, this was a well paced night of  enjoyable action, but certainly at the bottom of the list of this year's PLEs.