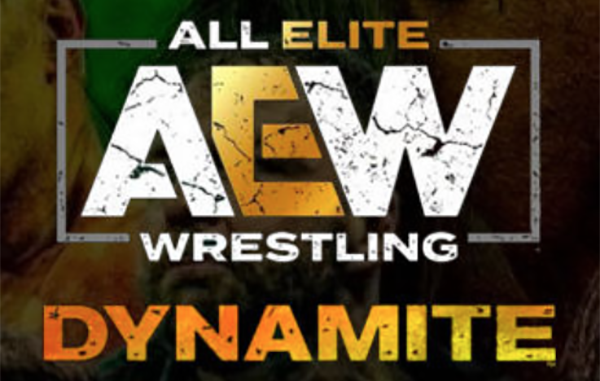 ---
SPOTLIGHTED PODCAST ALERT (YOUR ARTICLE BEGINS A FEW INCHES DOWN)...
---
AEW DYNAMITE REPORT
SEPTEMBER 27, 2023
BROOMFIELD, COL. AT 1STBANK CENTER
AIRED ON TBS
Commentators: Excalibur, Taz

Ring Announcer: Justin Roberts
---
[HOUR ONE]
-After the Dynamite opening, Excalibur introduced the show. He said Tony Schiavone was on assignment.
(1) REY FENIX (w/Alex Abrahantes) vs. JEFF JARRETT (w/Karen Jarrett, Satnum Singh, Sonjay Dutt, Jay Lethal) – AEW International Title match
Excalibur said Jarrett says he has held 85 championships during his career. Fenix leaped onto Jarrett and Lethal at ringside before the bell. Jarrett fought back at ringside. He then head scissored Dutt into Singh. He threw Jarrett into the ring and the ref called for the bell.
Fenix landed a top rope moonsault press for a two count right away. Jarrett then took over as Excalibur hyped upcoming matches. Fans chanted, "Let's Go Fenix!" A dueling "Let's Go Jarrett!" chant broke out. Jarrett did his strut. Fenix threw a punch that showed light and then a leaping reverse side kick that also showed light. (That sequence looked awful.) Jarrett came back with a quick DDT. They cut to a split-screen break at 6:00. [c/ss]
Jarrett stayed in control during the break. The crowd was chanting "Jarrett sucks!" as they returned from the break. Aubrey Edwards shoved Karen down at ringside. Excalibur said there's a history between them. Fans briefly chanted, "Aubry! Aubry!" That distraction gave Fenix a chance to recover.
Fenix hit a springboard armdrag into a double-stomp of Jarrett's chest and scored a two count. He then hit Jarrett with a thrust side kick that looked much better and scored another two count. Lethal climbed to the top rope. Sonjay stood on the ring apron. Fenix walked the top rope and kicked Dutt off the ring apron. Dutt complained to the ref. Jarrett hit Fenix with a low blow and then rolled him up for a two count. Jarrett followed up with The Stroke finisher. Fenix shifted toward the bottom rope and put his boots around the ropes to break the cover.
Singh stood on the ring apron and Jarrett whipped him toward him. Fenix slidekicked his ankle. Jarrett went back on the attack with a figure-four attempt, but Fenix countered with a small package for the win.
WINNER: Fenix in 8:00 to retain the AEW International Title.
(Keller's Analysis: A mostly well-executed match, with some notable exceptions. The usual array of distractions and shenanigans that are part of Jarrett matches. It seemed believable Jarrett was actually going to win a couple times there. What did Jarrett do to justify getting a title shot?)
-A clip aired of last week's main event where Adam Cole ran out and injured his ankle.
-A skit aired of Adam Cole on crutches hanging out with MJF and going on a boat ride on Long Island, N.Y. Cole asked if it's his boat. MJF said it's his dad's boat, but "that schmuck doesn't need to find out." Cole, oddly overacting, yelled at the camera, "Dude, what the ffff??" Then they did cheesy scenes of their boat ride together. Cole thanked MJF for bringing him out there. MJF said it's a magical place. MJF asked Cole about how long he was on the phone with Roderick Strong and gave him a hard time for not coming to the ring with him as a result. MJF told Cole to hold his beer.
MJF in the background put on his ring. Cole, without looking back, asked him if he came out there to hit him with the Dynamite Diamond Ring and throw him overboard. Cole told MJF it's normal to have more than one friend. "I know this friendship thing is new to you, but having more than one friend is normal and healthy," he said. "That doesn't mean I don't care about you." MJF said having more than one friend is not for him, but if it's normal, he supports Cole. MJF said he almost got caught the last time he threw someone overboard, so this is great. Cole yelled that he appeared to catch a big fish with his pole. They cut to Paul Wight on a floaty. They all were shown drinking beers together on the boat.
-A video aired of Don Callis walking through Tokyo, Japan with Takeshita. Callis said they are hunting Kota Ibushi. [c]
-Renee Paquette interviewed Don Callis and Takeshita mid-ring. A clip aired of the angle last week with Kenny Omega running out for the save for Chris Jericho. Renee asked if it's safe to say that Sammy Guevara has joined the Don Callis Family. Renee acknowledged how hard it was hear with the loud boos. Callis said he's proud to say Guevara is no longer under the toxic influence of Jericho. He introduced Guevara as his newest family member. Guevara walked out with sunglasses, white jeans, and flower print button up shirt while chomping on gum. Guevara hugged Takeshita and Callis.
Callis said he warned everyone that Ibushi wasn't safe. He said he hired his own camera crew when visiting Japan so they could show everyone what happened. The screen said they were in Gunma, Japan. They entered a wrestling training gym. They attacked Ibushi two-on-one and then choked him.
Back live, Guevara said he's not the bad guy, he's the hero. He said Jericho is the villain. Fans chanted "F— you, Sammy!" He said every time he was flying high, Jericho would clip his wings. He said he thought Jericho was going to pass him the torch, but he never did, so how he's going to become the star he was born to be without him.
(Keller's Analysis: It's good to hear Guevara justify his actions and decision to leave Jericho. This showed what a better heel than babyface he is, too.)
-A clip aired of the Bryan Danielson-Ricky Starks match from Collision.
-A clip aired of Starks saying he survived. "I didn't lose, I survived," he said. He said Danielson will never tap him out or pin him, so as far as he's concerned, he's ahead of him in the rankings. Wheeler Yuta walked in and said it was wrong that he put his hands on him. Starks said the next time he puts his hands on him, he'll make sure he doesn't walk out of the ring. Yuta got heated and said he's an entitled prick, all style and no substance who just whines and complains and moans. He challenged him to a match Oct. 1 in Seattle, Wash. at WrestleDream. Starks walked away.
-Excalibur said Tony Khan made it official for Sunday's PPV.
(2) NICK JACKSON vs. BRIAN CAGE (w/Prince Nana) vs. CLAUDIO CASTAGNOLI – Winner Gets International Title match next week on Dynamite
The bell rang 33 minutes into the hour. Nick hit an early springboard flip dive onto Claudio and Cage at ringside. Nick hit a smooth sequence of moves and then played to the crowd. Claudio then took over with a boot to the face. They cut to a split-screen break at 2:00. [c/ss]
At 7:00 Claudio gave Cage his Giant Swing. Nick broke up the subsequent cover. Nick sent Claudio to ringside and then leaped off the top rope toward Cage, but Cage caught him and hit a big cutter for a near fall. As they took turns with rapid fire offense and near falls, a "This is awesome!" chant broke out. Claudio powerbombed Cage, but Nick then sent Claudio out of the ring with a head scissors and then covered Cage for the win. Nick sat up and smiled and said "Wow!"
WINNER: Nick Jackson in 10:00.
(Keller's Analysis: Fun match with a mix of styles on display.)
-A vignette aired with The Righteous. They were cutting out people with construction paper and drawing on them. They talked about karma and consumerism. "It's easier to forgive your enemy than it is to forgive your fake friends," they said. They snapped their fingers. The paper cutouts had "LOL" and "liar" written on them. [c]
-MJF and Adam Cole came down the ramp. Cole was on crutches and had his left ankle in a cast. Yikes. A fan held up a sign that said, "No Mids Allowed." Cole sat mid-ring. MJF said, "Cut the music." Fans loudly chanted "MJF!"
Cole said this is a sad chapter in their story. He said his ankle basically exploded and broke in three places and tore ligaments. He said he has to go get surgery. He said the news is soul-crushing, but he will do everything in his power to get back as soon as possible. He said he and MJF are the ROH World Tag Team Champions, but because they can't defend the titles, they are relinquishing them. MJF interrupted with a "Whoa! Whoa! Whoa!"
MJF told Cole he made him wrestle twice in one night only to relinquish their titles to The Righteous. He asked the fans if they want that. Fans yelled "No!" MJF said Cole wouldn't be hurt if not for him because he needed his help at Grand Slam. He said he knows how much those ROH Tag Titles mean to him, so when he comes back, they will be waiting for him. MJF said he's sliding into Seattle and he'll defend those titles in a handicapped match. "And we will win, because we are better than you!" he said.
Roderick Strong yelled "Adam! Adam!" as he was rolled in a wheelchair onto the stage by Mike Bennett and Matt Taven. Roddy was in a hospital gown. He told Cole he learned about friendship on the boat, and he should go do what he's got to do, and he'll be waiting for him when he gets back. Cole stood and they hugged. Excalibur said he can't imagine how MJF will win against two opponents. Taven and Bennett began to roll Roddy to the back and called for Cole to join them. MJF asked everyone to give it up one more time for Cole.
MJF was about to say more when he was interrupted by Jay White's music. White walked out with Juice Robinson, Colten Gunn, and Austin Gunn. Juice carried the Jay White cardboard cutout, also. White headed to the ring alone. MJF leaned in the corner and stared suspiciously at White.
White leaned in the opposite corner as some fans chanted "Too sweet!" Then a louder "MJF!" chant broke out. White told MJF to shut up and said he thinks the fans want to hear his "sweet, exotic accent for a change." Fans booed. He said MJF looked worried when he came out with everyone else, but he came to the ring alone so he could "relish in his one-on-one time with the Switchblade."
MJF said he must be smoking some strong Colorado grass. The crowd began chanting "Weed! Weed!" MJF said he's got weed in the ring and he was about to yank it out. He told Switchblade his mid-mic-work ain't going to cut it with him. He said he best not miss when he comes for the king. He said his goatee is a pubic hair glued to his chin. A "Pubic Hair!" chant broke out.
[HOUR TWO]
MJF said people have compared him to a lot of people, but they'd say "he's no blank." He said as his stature rose, the names got bigger. He said it never bothered him until someone said, "Sure, MJF is good, but he's no Jay White." Fans booed. A "Bullshit!" chant broke out. He said he never understood why it bothered him so much, but now he has realized it. He compared himself to a filet mignon. He said nobody is on the level of the devil.
He said White is very talented, but he's managed to confuse even the smartest of wrestling fans that he's also filet mignon. He said he's actually tofu. Fans chanted, "Tofu!" He said tofu takes on the flavor of whatever you want it to, but you need to add something to it to trick you into thinking it has taste. He said White has been given everything – all the finest spices and herbs – a good entrance, nickname, big entrance, t-shirts, big match opportunities. "You were handed the keys to one of the greatest wrestling factions of all time," he said. He said if you pluck it all away, you're left with nothing but boring, bland, tasteless tofu. Fans chanted "Tofu!" again.
He said White is trying to steal some of his flavor. He said White is all hype. "You're nothing more than an intelligently-produced mass-market vision of what someone in Japan thinks is a top guy," he said. He said if he were him, he'd leave the ring and stop talking smack "to my poors." He said if he doesn't, for the rest of their careers, when their names are mentioned in the same sentence, it'll be, "Sure, Jay White is good, but he's no Maxwell Jacob Friedman."
White stepped out of the corner and applauded. "Thank you, that's what I came out here for," he said. "My own personalized MJF experience." He said he's a little bit let down. Fans loudly chanted "Tofu!" White said something is a little different about him these days. He said he thinks he's a little distracted by his bromance with Cole. He said he doesn't think the fans love MJF as much as they love Cole. Fans chanted "MJF!" White told fans to shush.
White said he injured Cole at Forbidden Door and that set in motion all of the good things that happened that led to Cole's knee injury, which was MJF's fault. He said he's been ruining MJF's life from a distance for a while, and now he's up close and ready to ruin it in the flesh. He said MJF calls himself the Devil and nobody is on his level. He said he needs to find another level that doesn't exist for him in order to stop him from taking the belt from him.
He went into his catch phrases and nicknames with a rhythm. He said he'll be a truly elite champion after which MJF can go sulk with his scumbag fans. Fans chanted "Shut the f— up!" White said he will be the new and true AEW Champion "because it's still my era." He said MJF has gone soft and he knows it.
MJF yelled, "You don't have a goddamn clue what I'm capable of, so why don't you shut up!" MJF threw his belts down and unbuttoned his shirt. White bailed out and skipped away with a smug smile of satisfaction that he rattled MJF.
(Keller's Analysis: No more mystery now. MJF is staying babyface and the whole Cole payoff has been delayed indefinitely. White got to show off what he can do on the mic there and that was a lot of fun. It was a bit too meta on MJF's part.)
-Jim Ross had a sitdown interview with Christian Cage and Darby sitting on either side of him. Christian said he proved on Saturday that he's better than Darby "when I successfully retained" the TNT Title on Collision on Saturday. Ross told Christian that Darby beat him twice, so what makes him think he can win on Sunday. Christian dismissed them as flukes and non-title situations. He said Darby isn't in his league. He said Darby will be exposed in his hometown in front of his family and friends. He asked if his uncle will be in attendance. Then he brought up that his uncle is dead after taking his five year old nephew on a drunken car ride.
Darby said he's not afraid of dying and he can't beat him in Seattle. Christian told Darby to bring his mom, his brother, and Nick Wayne's mom. Christian said he'll call her. He told him to bring Buddy before stopping and pretending he briefly forgot Nick's dad Buddy is dead. Christian told Darby that he's not the mentor Nick needs. He said he doesn't need to hide half his face behind his facepaint. Darby poured water on his face and began to wipe away his paint. Christian said he is the face of TNT now and forever. Darby stood as they cut away.
-Orange Cassidy made his ring entrance. Hook joined in briefly on the stage. [c/ss]
(3) ORANGE CASSIDY (w/Hook) vs. PENTA EL ZERO MIEDO vs. AUSTIN GUNN vs. MATT JACKSON
The rest of the ring entrances took place during the break. The bell rang 18 minutes into the hour. They cut to a split-screen break at 4:00. [c/ss]
Late in the match, all four battled mid-ring. Matt and Penta kicked Cassidy and Austin out of the ring, then hit each other with simultaneous clotheslines. Austin tripped Penta and yanked him out of the ring. Orange then caught Matt as he turned around with the Orange Punch for the win. Excalibur said members of this match will all battle with their partners for a future shot at the AEW Tag Team Titles.
WINNER: Cassidy in 13:00. [c]
(4) JULIA HART (w/Brodie King) vs. WILLOW NIGHTINGALE
As Hart came out, Excalibur said Apr. 25, 2022 was the last time Julia lost, and it was against Kris Statlander, and that's who she'll be facing at WrestleDream. The bell rang 36 minutes into the match. Willow had her left eye covered. Taz said Julia is loving she's wrestling an opponent who can only see out of one eye. Excalibur noted this is the first-ever one-on-one match between them. At 2:00 Willow went for a stampede slam, but Julia slipped out and crawled under the ring. When Willow went after her, Brodie distracted her. Julia came out the other side of the ring and then jumped Willow from behind. [c/ss]
Julia grounded Willow during the break. Willow made a comeback after the break. Excalibur hyped Rampage. Julia avoided a cannonball at 8:00 and then landed a top rope moonsault for the win.
WINNER: Julia Hart in 8:00.
(Keller's Analysis: Competitive match, and Julia was the obvious heavy favorite with a winning streak going into Sunday. I'm not sure if this is the best use of Willow at this point.)
-Julia put Willow in a hold mid-ring afterward. Statlander ran out for the save. Julia bailed out and hid behind Brodie.
-Excalibur ran down the line-up for WrestleDream on Sunday.
-Swerve Strickland began his ring entrance. [c]
-Renee Young introduced "Hangman" Adam Page from mid-ring. Strickland was already sitting at the contract signing table. Swerve told Hangman he's been showing impressive fire lately, but it's a little late. He said it's better to be prepared on the approach instead of the landing. He asked if he knows what he's walking into since he's from Seattle He said this is different than anything he's experienced. Swerve said he's nothing like him. "What's a Cowboy to Mogul, what's a Buckshot to a Killshot." He slammed the mic down.
Hangman said it sounds like he's fired up for the match. He said a few weeks ago he said a few things to him that stung a little bit, but now that he's had time to think about it, he wanted to thank him. He said he hadn't had new gear or a new t-shirt in a year. Hangman said deep down he knew it. He said for a year and a half, every day he came to work, he felt there was a black cloud above his head he couldn't get rid of. He said he did beat Jon Moxley in a Texas Death match and he reunited with his friends in The Elite, and it felt like he should've been the happiest man in the world, but every time he started to smile, that black cloud came back and it started to rain.
He said at first it annoyed him and then it pissed him off. He said he knew he couldn't say anything about it. He said as long as God let it rain on him, he didn't dare open the umbrella. He said that's over with and he weathered the storm. "I'm still here," he said. He said Swerve helped him realize that the downpour washed something out of him. He said he's come to realize these people deserve more from him and the best of him. Fans cheered. He said he'll get the best of Hangman at WrestleDream.
Swerve laughed maniacally. Fans began chanting "Cowboy shit!" He said it was the most pathetic thing he's seen, even worse than Russell Wilson and the Denver Broncos. He laughed about dumping Wilson from Seattle to Denver. He said it's not a personal thing between them. He said Hangman just happens to be his opponent. He said truth be told, he might have mental issues because he makes an enemy out of somebody every day of his life. He said he is motivated to take his position from him. He said it rains an awful lot in Seattle.
Hangman told Swerve that if he wants to be a main event guy, he has to beat him. He said Swerve claims if he had opportunities like he did, he'd have been the first black AEW World Champion. He said it might be true, but he knows that every opportunity he's been given he's hit out of the park. He stood and told Swerve he doesn't have what it takes to fill his boots. Swerve slapped Hangman. Hangman stabbed Swerve's hand with the pen as Swerve was about to sign the contract. Security pulled them apart. Excalibur said Swerve basically signed the contract in blood.
-The show ended with a bunch of people in masks beating down Jay White backstage. Someone was wearing an MJF devil mask (but it probably wasn't him).