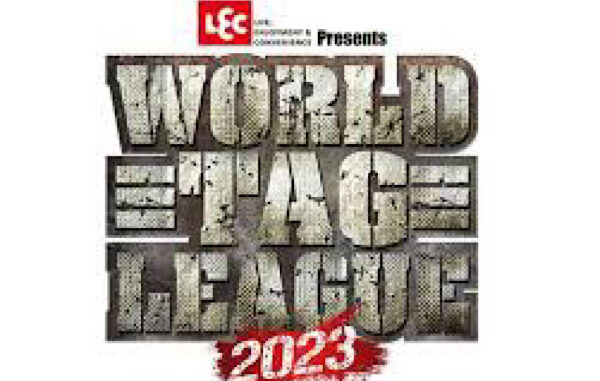 ---
SPOTLIGHTED PODCAST ALERT (YOUR ARTICLE BEGINS A FEW INCHES DOWN)...
---
New Japan's World Tag League is a typically Japanese annual round-robin tag team tournament, the winner of which receives a shot at the IWGP world tag team championships at WrestleKingdom. If you're a new follower of NJPW, WrestleKingdom is essentially their Wrestlemania. It happens in the Tokyo Dome on Jan. 4 every year, and will quite often feature a card of nothing but title matches.
The 2023 installment of World Tag League starts this pn Nov. 20, so what better time than now to go over the teams and make a few predictions? This year we have sixteen teams divided into two even blocks. Each team will face the other seven in their block, and will get two points for a win and one for a draw. The two top points-getters from each block will move to the semifinals where the winner of each group will face the runner-up in the other group. Naturally, the semfinal winners will face off in the final to win the whole shebang.
A Block
Shota Umino & Ren Narita – This is the first entry for these two NJPW Dojo graduates, who recently ended a feud between them with a handshake and show of respect. They have little experience as a team, having lost to the current-era Dream Team of Tanahashi and Okada in their first tag team effort, but they are two of the four young gun talents being eyed as the next generation of NJPW superstars (along with Yota Tsuji and Yuya Uemura, also in this tournament but in B block). I think it's a little unlikely they progress out of the block, but I do expect them to be in contention for the first few rounds. How they fare against Bullet Club will be a solid indicator of how their tournament might go. It's their second match, and a win against the other young team could mean they will progress.
Chaos (Tomohiro Ishii & Toru Yano) – If ever a team defined the term "odd couple," it is the unmitigated nonsense of Yano combined with the straight-ahead, through-you-or-over-you nature of Ishii. They have entered the competition three times before, though they have never won as a team. They'll be good for an upset win or two but looking at the block, so I have them at or near the bottom.
United Empire (Great-O-Khan & Henare) – One of the established teams in the block and also one of the more successful. This is their third straight year in the competition and though they have yet to win it, O-Khan is a former tag champion. Both men have had some standout singles performances this year, so I think it is slightly unlikely they will get pushed as a team for this year's competition. I have them third on my list of potential qualifiers, though. It will be fun to see both these gents facing off with Ishii.
TMDK (Mikey Nicholls & Shane Haste) – New viewers might know this team as TM61 from their time in WWE. It will likely not surprise you that they have been treated better in NJPW. Given the tendency of the NJPW bookers to have at least one surprise team moving on to the semis, I have TMDK as one of the picks at the top of the list. Their match with United Empire will be one to watch, as will the one with Umino and Narita.
Bullet Club War Dogs (Alex Coughlin & Gabe Kidd) – One of my picks to advance, these two have come up through various indies and the NJPW LA Dojo to be a fixture on both NJPW Strong and the main NJPW roster. They are former NJPW Strong Openweight tag champs. Last year they went 1-8 in the tournament, but they have come a long way since then. They are hard-hitting brawlers who fit in well with the current Bullet Club direction. We often see storylines woven through NJPW tournaments, and with the relative weakness of the group I can see a world where they tell a story of turning their results around from one win to one loss. Their match with United Empire will be a good one for those who enjoy the more physical style.
House of Torture (Evil & Yujiro Takahashi) – This team is one of the two wildcards in this group in the sense that I cannot get a handle on how they will perform. The usual House of Torture interference shenanigans are usually good for a couple of wins, but it seems to only be Evil who can parlay that into a strong enough record to advance. Will the addition of a partner change that? I think so. They've been in the last three editions of the tournament and have yet to win it (though they were finalists in 2021). That said, those tournaments were not in the block format. They are in a weird spot for me in that I generally hate watching their matches because of the inevitable ref bump, but I also like when it backfires. I guess that means it's working? I think they will finish middle of the pack, but I would not be shocked if they made the semis.
Kaito Kiyomiya & Ryohei Oiwa – Here's the other wildcard team, a true dark horse pairing of a New Japan Young Lion and one of the faces of NOAH. Oiwa is currently on excursion in NOAH, which basically means he's an intern there. He's been tagging with Kiyomiya in NOAH and they recently had an unsuccessful title shot against the tag champs in that promotion. Kiyomiya took part in the most recent G1 earlier this year, but had a largely unremarkable performance. Oiwa is unlikely to score many pinfalls, but I could see Kiyomiya picking up some wins. I'm especially curious how they line up with Narita and Umino. I have a hard time seeing this team getting off the bottom of the table, but if they do it will be because House of Torture's shenanigans fail more often than not.
Gates of Agony (Bishop Kaun & Toa Liona) – Tony Khan has been sending an act to compete in New Japan tournaments for a while and this is his latest offering. It seems more like a slap in the face than previous ones have been, as Gates of Agony is a team with one televised win in 2023. We can't even really call them AEW talents, as they are current RoH Six-man title holders who have less than half a dozen matches for AEW. That said, they are exactly the type of team that Japanese fans love: monster heels. They'll also learn a lot from the likes of Chaos and TMDK. Foreign tournament entries who are not major names tend to finish mid-table, and I see no reason that won't happen here.
Bishamon (Yoshi-Hashi & Hirooki Goto) – Bishamon are the current tag team champions, and if they were to win the tournament they would be able to choose their own opponent for WrestleKingdom. This is the same rule as in the G1 singles tournament, and it has only happened twice there. They've won the last two World Tag Leagues and have won the titles on WrestleKingdom on both occasions. No team has won three years in a row, making it even more unlikely we see this being the year the champions win the tournament. However, I think it's a lock that they make the semis.
Hikuleo & El Phantasmo – The current NJPW Strong Openweight tag champs are going to be in tough in this group with so many strong (small s) teams contending for the top two spots. They have worked pretty well together and El Phantasmo has done a sterling job to make the team a success, but with Bishamon almost guaranteed a spot I don't think these guys will take the other one. Maybe a third- or fourth-place finish.
Yuji Nagata & Minoru Suzuki – This pairing makes me simultaneously happy and sad. Happy, because I have greatly enjoyed watching these two slap the ever-loving daylights out of each other as opponents and seeing them do it simultaneously to two poor souls sounds twice as fun. Sad, because they have no shot at winning the block and in fact I can see them finishing with no points. At least their losses will be a lot of fun…
Just 5 Guys (Taichi & Yuuya Uemura) – Taichi has won tag gold three times in NJPW, all with Zack Sabre Jr., but he has never won World Tag League. Uemura has only recently returned from excursion to join the faction and these two are not a regular team. Taichi has been very popular with the New Japan crowd, but I don't think this is his year to finally win the tournament. Their matches will be entertaining, especially with Taichi's old enemies in Bishamon, but I think they will be knocked out of contention on the penultimate night.
Los Ingobernables de Japón (Yota Tsuji & Zandokan Jr) – Up until the morning of Nov. 19, Tsuji's partner was unknown. There was all sorts of speculation, but most of it turned out to be wrong as CMLL's Zandokan Jr was the mystery man. He's been flagged as a potential future star for the Mexican promotion, but still seems to be something of a work in progress. That makes him an interesting partner for Tsuji, who is arguably the most complete package of the NJPW next generation talent (Tsuji, Umino, Narita, and Uemura). With both members of this team still being developed, much like the team of Narita and Umino, a top finish would seem to be off the table. That said, there is a world where both teams make the knockout rounds and face each other. There's been a tendency to have members of that group go to time limit draws when they go head-to-head, so this scenario could make for a very interesting series of events. Sadly, I do not think that's the road we will be traveling.
Atlantis Jr. & Soberano Jr. – A team made up of two CMLL standouts will no doubt give rise to some unique interactions and matchups. As a CMLL neophyte I have no personal experience watching these two in the ring outside of their match at Royal Quest II in October. After Titan made the finals of the last Super Juniors it would be a mistake to rule out a deep run for these two, and they certainly have the in-ring skills to make it believable. They are a dark horse pick for me, and I have then advancing if for no other reason than a demonstration of good faith towards CMLL.
Monstersauce (Lance Archer & Alex Zayne) – I tried a few times to write this without letting my bias show and I have failed. Miserably. My Lance Archer fandom is second only to my Alex Zayne fandom. They both have very entertaining offence, Zayne's being innovative on top of that, and neither gets the attention or kudos they deserve. I would love to say that they have any chance of moving to the semis, but honestly I think they finish just above Nagata and Suzuki. This block looks like it will be tight for second place, so they may be in contention late nonetheless. Watching them against ELP and Hikuleo, a rematch of their recent tag title shot, could be interesting for NJPW Strong story followers. Personally the match with Bishamon is more appealing as it will be an indication of whether or not they can hang with the best.
Bad Luck Fale & Jack Bonza – Fale has been around forever as one of the founding members of Bullet Club and frequent entrant into this tournament. In recent years, he has teamed up with Chase Owens, but this year he's bringing Australian standout Bonza as his partner. Fale has two modes in tournaments like this: not caring and ending with zero points or being a threat on any given night. I expect this appearance is more as a vehicle for putting Bonza on the NJPW map, so I would predict closer to that zero end of the scale. Bonza looks like Erick Redbeard but six inches shorter. His in-ring style seems to be more akin to Kurt Angle (although clearly not at the same level). He will fit in well in Japan. A mid-table finish is the best they can hope for realistically.
Knockout phase
I think the semifinals will come down to Bishamon vs. War Dogs and TMDK vs. Atlantis Jr. & Soberano Jr. That last pick is a little out of left field, but B block looks to be all about parity and I think that makes for a good chance at a surprise. You can sometimes tell from the planned matches on the last night who will be in contention and it comes down to the CMLL team or Hikuleo and El Phantasmo in my mind.
War Dogs will get the surprise win over Bishamon thanks to some nefarious tactics and TMDK will beat Atlantis and Soberano. That leaves a final of TMDK and War Dogs, an unusual one with two foreign teams, but I see TMDK taking the win. That will give Bishamon a defence against War Dogs before WrestleKingdom, which will likely take palce in the main event of one of the "Road to" shows.
Now, will the winners actually win the title at WrestleKingdom? With the next tag champs set to be the 100th champions, I think the honour will go to a special team. Unless Narita and Umino are going to pull off a massive shock in winning this thing AND winning on Jan. 4, I don't see that team in this lineup.
How far off-base will I be? We can start to find out this week as the tournament gets underway. Quite often one of the advancing teams will lose an early match, so that's something to watch.
I'd love to hear your thoughts at lansdellicious@gmail.com or on Twitter @lansdellicious . Thanks for stopping by!