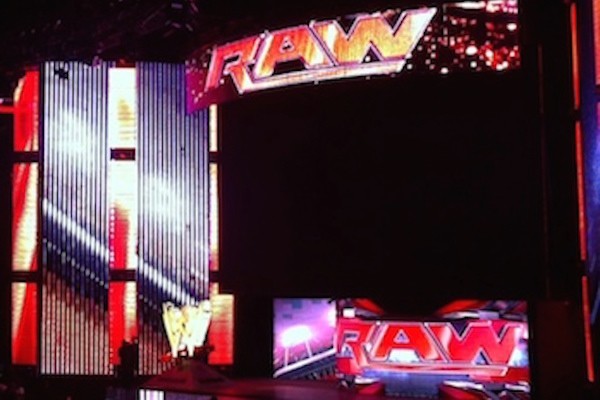 ---
SPOTLIGHTED PODCAST ALERT (YOUR ARTICLE BEGINS A FEW INCHES DOWN)...
---
WWE has experienced a double-digit decline in TV ratings and viewership through the first 10 months of 2015 compared to 2014.
Does the blame mainly go to three-hour Raws, which has trickled down to affecting Smackdown?
How much of the decline is due to a shifting TV landscape and consumer habits?
In September and October, there was doom & gloom about "cord-cutting" as fall TV numbers came in lower-than-expected across the board for both broadcast and cable channels.
According to BusinessInsider.com, the number of people using TV in the key adults 18-49 demographic was down eight percent compared to the same time last year.
The number grew to 20 percent among "millennials" in the 18-24 demographic.
This followed concern over summer TV performance, where viewership was down nine percent in July compared to the prior year period.
USA Network and Syfy were hit particularly hard. As top-rated shows Raw and Smackdown fell, so did their network partners. USA still ranked #1 over the summer, but was down 17 percent with 764,000 a18-49 viewers, narrowly topping Discovery, which was actually up 11 percent with 723,000 a8-19 viewers. Syfy was down 13 percent and ranked #14 with 415,000 a18-49 viewers.
In total viewers, USA actually tied for third-place with an average of 1.86 million viewers in prime time, down 18 percent from the prior year period. Syfy was down 8 percent and ranked #11.
In the summer TV demos, Raw tied for #5 in adults 18-49 and also ranked #5 in total viewers. Ballers, the half-hour comedy starring The Rock on the premium HBO channel airing on Sunday nights, ranked #10 in a18-49, just one-tenth of a rating lower than Raw over the summer. Smackdown did not make the Top 20. (Variety Report)
So, with the major downturn in summer TV viewing, the slow start to the big 2015 Fall TV Season, and a major cable network like ESPN cutting staff, does that mean WWE is off the hook? Is it case of people just canceling their cable and satellite subscriptions in huge waves and moving to different methods of video consumption?
Not so fast.
Suddenly, big-money players came out the past few weeks saying their subscription numbers are actually healthy, providing upbeat news about the state of the industry. TWC said they had their smallest quarterly decline since 2006, placing the cable provider on-track for a potential net gain for the year.
Charter says their residential customers actually increased by 12,000 in the latest period. This follows Comcast joining TWC and Charter in "blowing away expectations for video subscriber losses," according to research analyst Craig Moffett, as quoted by Deadline.com. "All three are now outperforming Pay TV as a whole. Cable is taking share."
The cable providers know they have to improve their service to reach customers whose expectations are different from even five years ago. And, come up with more innovative marketing and sales plans to reach customers, especially to offset cord-cutting.
Then, there are content-providers, such as Discovery, who as noted above had a great summer and nearly beat USA Network during the period. Discovery threw water on the panic fire by saying subscription numbers from Comcast, Time Warner Cable, AT&T & DirecTV, Charter, and other providers were "better than what we had planned," anticipating a potential decline. Discovery CEO David Zaslav said even though the numbers were "very encouraging," they are still taking a wait and see approach.
Zaslav added: "It's way too difficult to prognosticate where the ad market is going. We're going to continue to ride this out and hope the advertising market stays."
It's similar to what WWE management said in their third quarter earnings report – they are going to follow the money and try to win at every platform they are involved in – cable TV, online, social media, over-the-top, or wherever else content is consumed.
So, what is the cause of WWE's double-digits decline in TV viewership? It looks like a combination of cord-cutting and the main TV audience not engaging in current content.
With the general population having so many choices on broadcast, cable, and off-network outlets such as Netflix, there are higher expectations for TV content.
Right now, WWE is underwhelming their audience, as evidenced by the decline in Raw and Smackdown ratings year-over-year. Or, three-hour Raws are simply too long and Smackdown is too irrelevant to be worth even half of a five-hour investment in the main WWE TV shows.
Don't forget about the trend among millennials of binge-watching, where consumers can sit down over the course of a weekend and watch 10 or 12 episodes of a full season. There is a light at the end of the tunnel. With WWE, there never is a true conclusion. WWE's "year" ends at WrestleMania, but "Opening Day" is the following night on Raw. In this environment of viewers wanting to watch a complete season without having to "wait until next Wednesday" to see the next episode, it's easy for long-time WWE viewers to simply check out after they miss a week or two.
Yes, WWE programming is easy to "pick up" again because of the video packages and basic themes, but WWE's 52-weeks-per-year format is built on viewing habits. When those habits are broken, even for a few weeks, it's hard to get those viewers back. There are just too many options on TV. And, the prospect of sitting through a three-hour Raw, even on fast-forward, is a daunting task for many viewers. So, Raw just sits on the DVR playlist without being watched. Not same-day on Monday night to count for live viewership. Not Tuesday night or Wednesday night or Thursday night to count for 3-plus DVR viewership. And next week's show sits there, too. Suddenly, viewing habits are broken. I guess I can live without another Raw.
Of course, WWE touts itself as "DVR-proof" because of the sports-like nature of their live or semi-live arena shows. That was their central sales pitch when negotiating a new domestic TV contract last year. However, in 2015, the number of people actually watching Raw and Smackdown has fallen dramatically.
Through the first 10 months of 2015, Raw averaged 3.789 million live viewers over the three hours. Through the same period in 2014, Raw averaged 4.263 million viewers, representing an 11 percent decline in 2015.
In its new preferred timeslot on Thursday nights, Smackdown averaged 2.419 million viewers through the first 10 months of 2015. This was down 9.4 percent from 2.669 million viewers through the same period on Friday nights last year.
The pie has shrunk for WWE, and their boast of being DVR-proof has removed sympathy that might be generated from changes to the TV landscape.
So, is this a one-year downturn or a sign of long-term issues? Like, the tail-end of a decision made three years ago to take the money and turn Raw into a weekly, three-hour show?
Other content-providers, like Discovery, have proven if that if you have a hit show or a major star/attraction, you can weather the storm of TV changes. USA had a summer hit with "Mr. Robot," but Raw's downturn really set back to network.
Many programmers have not been able to find the combination of strong, compelling, original content that draws in an audience no matter the TV environment. For WWE, it's trying to find their audience again – whether irregular/casual viewers who drifted away or hardcore viewers who were turned off. It will take the right mix of content while sleeping in the bed they made when they shifted to three-hour Raws.
The other key is trying to push online consumers to Raw and Smackdown. If that ship has sailed, then WWE might just have to wait for Nielsen to unveil a new metric that could help WWE's numbers look better to advertisers and TV partners.
Nielsen is working on a major overhaul to their audience tracking system that will "make it all count" – traditional TV viewing, DVR views, digital viewing, connected devices, and any other significant way people watch content. That is scheduled to roll out in First Quarter 2016. (Full Preview at AdWeek.com)
WWE has a strong social media presence and they are #1 on YouTube, which has not always translated to traditional TV watching. Sometimes people tweet about a show they're not really watching or just watch a four-minute clip of what happened on Raw rather than sitting through the entire show.
In 2016, the expectation is all of that will count with a "Total Audience Measurement."
"Through total audience, we're now picking up all of their viewing across DVR, VOD, and connected TV, and able to add that together so they can get a real sense of their audiences, and not just be restricted to reporting out or talking about their live audiences," said Nielsen's Megan Clarken, who headed up the two-year project.
"Live and DVR is very dominant in the older demographics, very less predominant in the younger demographics, so being able to measure that is extremely valuable."
According to Nielsen, there is an estimated $70 billion worth of ad dollars that are waiting to be spent – it's just a matter of where the money will flow. And how much Nielsen's new metric affects the perception of a show's marketability and reach compared to the current TV Ratings system.
WWE, especially Raw, is a major part of the new TV era. As the #1 show on the #1 cable TV network, they are a bellwether. Many people in the TV industry don't want to think of WWE in that role, but because WWE appeals to older and younger fans, they will be a weekly test of how the different generations watch TV going forward.
But, WWE is no longer a dominant #1 show and USA is no longer a dominant #1 network. WWE has been hurt by their own programming and Creative decisions, which combined with changes to the TV environment, has created a sharp downward trend in TV ratings and viewership this year.
The key for WWE is using these final two months of the year to set up for a turnaround in 2016. The goal being to make 2015 just a bad year because of internal and external factors, and not the start of a trend.
WWE might get some relief in 2016 with Nielsen's new metric. But, instead of depending on external factors to enhance its standing, WWE can take ownership of a turnaround by figuring out what works for their entire audience and being the type of compelling programming that draws viewers no matter the TV environment.