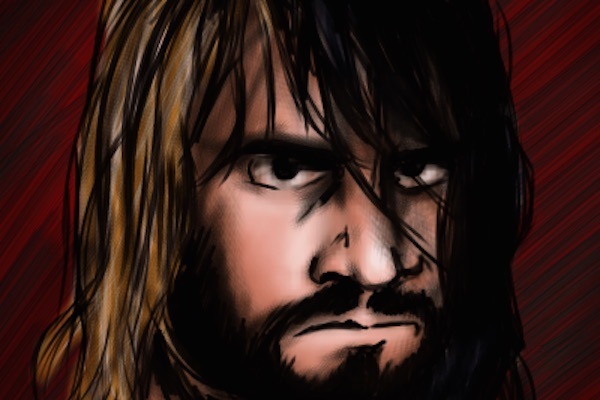 ---
SPOTLIGHTED PODCAST ALERT (YOUR ARTICLE BEGINS A FEW INCHES DOWN)...
---
WWE released video of former World Hvt. champion Seth Rollins going through the rehabilitation process after tearing his right knee earlier this month on the European Tour.
The video shows Rollins doing tedious exercises trying to rebuild strength in his knee. Dr. Kevin Wilk of "Champion Sports Medicine" noted that it's a slow rebuild because of the severity of Rollins's knee injury.
"The fact that he completely tore his medial collateral ligament as well as his ACL lends a complex surgery and a little bit longer rehabilitation," Dr. Wilk said.
"Seth comes in twice a day, which most people find hard to believe, and each session lasts about two-and-a-half hours, so he's actually rehabbing five hours a day."
Rollins added: "The therapy sessions are really brutal, a lot worse than I expected them to be. I'm just getting around trying to live a normal life – even a sedentary life that I'm not used to. It's really frustrating sometimes for me. It's a complete 180 from the life I lived before."
The initial timeframe for Rollins's recovery was 6-9 months. Dr. Wilk said that Rollins is ahead of the curve when it comes to this type of rehab because of how motivated Rollins is and the time he's willing to put in, making it sound like Rollins will be closer to six than nine months of recovery.
"We expect a full recovery. We expect him to be even better than before," Dr. Wilk added.
The video closed with Rollins vowing to regain the WWE World Title that he was forced to relinquish due to the injury.
Seth Rollins begins physical therapy on his knee: WWE.com Exclusive, November 25, 2015
ARE YOU VISITING OUR SISTER WEBSITE,  PWPODCASTS.COM?
Written summaries of pro wrestling's most popular celebrity-hosted podcasts. Don't have time to listen? No problem. Keep up on the revealing, newsworthy comments from the hosts and their big-name guests in our detailed reports. Use it as a guide to know what to listen to and use the links to directly stream the shows. CLICK TO VISIT.