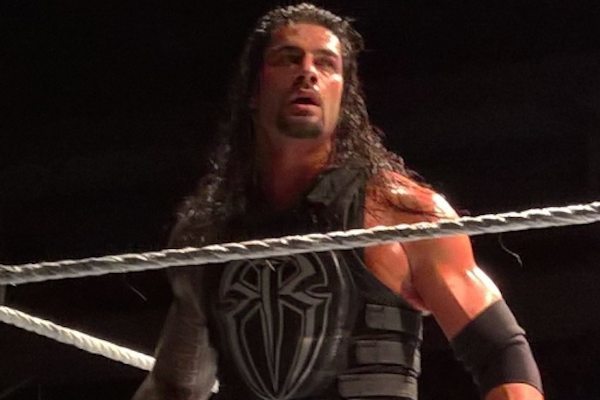 ---
SPOTLIGHTED PODCAST ALERT (YOUR ARTICLE BEGINS A FEW INCHES DOWN)...
---
Two years ago, Roman Reigns's 2013 Topps Best of WWE Autograph was the hottest wrestling card in years. It spiked in value from December 2013, when most sales hovered around $15, to March 2014, when sales sometimes topped $100.
Savvy collectors knew that WWE saw Reigns as the heir apparent to John Cena, and his ascension was fast-tracked when the Shield split up in June of 2014.
Collectors had different opinions of Reigns's 2013 autograph card. Some thought that, since it was Reigns's first certified autographed trading card, it could be viewed as a rookie card, of sorts, and may retain some of its value if Reigns grew into the star WWE wanted him to be. Others speculated that once Topps released more autographs – including his 2014 Topps WWE Chrome Autograph, released in the summer of 2014 – the value of his 2013 card would drop.
What no one knew in 2014 was just how strongly the WWE audience would reject Roman Reigns.
Reigns was quickly pushed as WWE's top star, but he never had the audience support that usually goes along with that spot. Crowds weren't anti-Reigns for most of 2014, but the reactions he got were pretty tepid. By the time Reigns won the 2015 Royal Rumble, those lukewarm reactions turned to all out mutiny, as WWE crowds flat out rejected Reigns.
Over the last two years, secondary market sales of Reigns' trading cards have plummeted. Like Reigns's career path over that time, there are a multitude of reasons for waning interest in Reigns's trading cards – some of which were Reigns' doing, others of which were out of his control.
Sale Prices Fall
As previously mentioned, Reigns's 2013 Topps WWE autograph sold in excess of $100 at times in 2014. When Topps included Reigns's signature in its 2014 WWE Chrome product, prices of the 2013 card understandably softened. Chrome is a premium Topps product that a rich history in other sports.
Plus, the 2014 Chrome set featured on-card signatures, while Reigns' 2013 card had a signed sticker attached to it; on-card autographs almost always fetch higher prices than sticker autographs.
That summer, sales of Reigns's 2013 card leveled off at around $50 – down considerably from the $100-plus a few months before, but still very respectable sales prices for a wrestling card. Throughout the year, Reigns' Chrome signature regularly sold in the $75-100 range, with highly graded copies often selling for $150 to $200.
However, since then, secondary market prices of these two cards have plummeted. The two most recent completed eBay listings for Reigns's 2013 card ended at $25 and $28, respectively. Reigns' 2014 Chrome signature can usually be found for less than $40, and a gem mint copy with a Beckett Grading Services (BGS) grade of 9.5 with a grade of 10 on the autograph recently sold for just $51.
Enough Autographs for an Empire
The single biggest resign for the decline in sale prices is over-saturation of the market. During most years from 2005 to 2013, Topps released just one or two wrestling products per year. In addition, Topps usually changed up the signers from one year to the next; if top stars like Randy Orton and John Cena signed one year, they likely wouldn't sign the next.
Topps has changed its approach to wrestling cards since then. In 2014, Topps released three WWE products: the basic 2014 Topps WWE product, 2014 Topps WWE Chrome and 2014 Topps WWE Road to WrestleMania. In 2015, Topps cranked out five WWE products, and will produce at least four in 2016.
But the bigger concern for collectors in the long run is the abundance of each wrestler's signature. Topps usually adds a few new signers with each product (usually legends or new NXT talent), but doesn't cut back on the existing stars. By the end of 2014, Reigns' signature appeared in just three products: 2013 Topps Best of WWE, 2014 Topps WWE Chrome and 2014 Topps WWE Road to WrestleMania.
By June 2016, Reigns's autograph appeared in eight more sets – 11 altogether. In addition, Reigns's autograph often appears in multiple subsets in one product, such as basic autographs and autographed relics from 2015 Topps WWE Undisputed – each of which also had multiple serial numbered parallels.
If you're in the market for a Reigns autograph today, you can find one on eBay for $8 or less; that's almost unheard of for a top wrestling star. From 2010 to 2013, TRISTAR unleashed a plethora of Jeff Hardy autographs in its TNA products, and those never sold anywhere near that low.
The Infamous "RR"
Next to the abundance of cards available, the thing that hurts sales of Reigns's autographed trading cards the most is his horrible signature. The Philadelphia crowd bombarded Reigns with chants of "Roman's sleeping" during his 2015 Royal Rumble win, and Reigns's signature usually looks like he's signed it in his sleep.
Reigns's "RR" signature doesn't exactly inspire fans to spend money. Reigns may not have any control over how many cards Topps produces, but he could certainly help his cause by putting some effort into his signature.
Signs of Things to Come
Fans have been clamoring for a Roman Reigns heel turn for more than a year. A role as an arrogant bad guy seems like a natural fit for Reigns, but will it really make a difference? Many fans may be calling for a heel turn when what they really want is for Roman to go away. A heel Roman Reigns may be pushed even harder than the babyface version.
As far as Reigns' cards go, it's difficult to imagine a scenario where they really increase much in value. The sheer quantity of cards – combined with Reigns's sloppy signature – will probably keep prices down. There's a good chance that they may recover from the $8 lows fans are paying today, but the days of $100 sales of Roman Reigns cards for all but the scarcest cards are gone.
PWTorch Collectibles specialist Michael Moore can be reached at michaelmoorewriter@gmail.com. Follow him on Twitter @MMooreWriter.