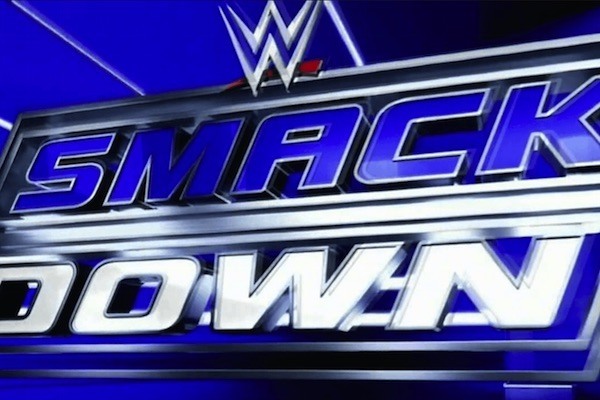 ---
SPOTLIGHTED PODCAST ALERT (YOUR ARTICLE BEGINS A FEW INCHES DOWN)...
---
WWE Smackdown review
July 14, 2016
Taped 7/12/16 in Grand Rapids, Mich.
Aired on USA Network
By Greg Parks, PWTorch Columnist (Twitter: @gregmparks)
– WWE Open.
– Kevin Owens, in a Finn Balor t-shirt, addressed the camera backstage. He showed a card that Sami Zayn had given him last year to pass on to his son for his birthday, before everything went south between them. Owens never gave the card, and was disgusted that Zayn had only given his son $20 Canadian. Owens plugged his upcoming match with Dean Ambrose and warned Zayn not to get in the way.
– A limo pulled up earlier in the day. Dana Brooke and Charlotte emerged. Charlotte addressed Sasha Banks as they walked into the arena. Charlotte said Sasha can't even lace up her boots. Dana said she'll teach Banks that lightning won't strike twice.
– Elsewhere, Maryse was helping The Miz with his makeup. Miz said Bob Backlund thinks he can make Darren Young great again…and he'll tell them why he's wrong.
– Dean Ambrose, in a dimly-lit part of the arena, talked about the WWE Draft and said tonight he's going to do his favorite thing with one of his least favorite people. Ambrose said he'll splatter Owens all over the mat.
– Smackdown Open.
– Sasha Banks came to the ring for her match against Dana Brooke. As she did, the announcers were shown at ringside: Mauro Ranallo, Jerry "The King" Lawler, and Byron Saxton.
1 – SASHA BANKS vs. DANA BROOKE
Charlotte came to the ring with Brooke. Banks with a few couple early pinning predicaments before Brooke escaped to ringside. A distraction by Charlotte allowed Brooke to take over with a chop block. Hey, some Tic-Tacs appeared next to the fallen Banks at ringside. Nothing gets by me! Brooke pounded away on Banks back in the ring before settling into a chin-lock. Brooke flexed and stepped on the mid-section of Banks. Banks made a comeback, complete with cross-body off the top for a two-count. Double-knee in the corner missed and Brooke took advantage. O'Connor roll by Brooke but it was reversed by Banks. Charlotte got on the apron and Banks knocked her down. Brooke tried to pin Banks off the distraction, but Banks turned it into the Bank Statement for the tap-out win.
WINNER: Banks, via submission, at 3:43. Better than their Raw match at least, but the match length could have something to do with that.
Charlotte delivered a big boot to Banks post-match. She then tossed Banks over the announce desk, sending Banks into those comfy, leather chairs. As Charlotte posed on the announce table, the finish of the match and post-match was replayed.
– The announcers reacted to what we just saw. Ranallo transitioned to talking about the move to Tuesday nights, live.
– Footage from Raw of Mr. McMahon announcing the new Commissioner of Smackdown was shown, as well as the follow-up announcing Shane McMahon was subsequently removed from power on Raw.
– A Tweet from Shane was shown, saying he'd reveal on Monday night the man he's going to put in charge of Smackdown.
– Shane was shown talking to Dean Ambrose backstage as the announcers talked over the muted conversation.
– Dolph Ziggler faces Rusev, next.
[Commercial Break]
– The announcers directed fans to WWE.com, where they can conduct their own WWE Draft.
– Lana was in the ring. She introduced Rusev. During Rusev's introduction, they showed Sheamus beating Zack Ryder on Raw. That was followed by an attack by Rusev in which he verbally accepted Ryder's challenge for a U.S. Title match, a match that will take place at Battleground.
2 – RUSEV vs. DOLPH ZIGGLER
Ziggler tried some amateur wrestling with Rusev, but Rusev bested him by opting for kicks in the corner instead. Ziggler jumped right into the clutches of Rusev, who dropped Ziggler with a Boss Man Slam. They went to break at 1:03 of the match.
[Commercial Break]
Back at 4:56 with Rusev attempting a splash off the second rope. It missed. Right hands were how Ziggler fought back. Byron Saxton brought up the first of what will likely be many "where could these two end up after the Draft?" talking points tonight. Catching Ziggler on a Fameasser attempt, Rusev picked him up and powerbombed his foe. Jumping side kick missed by Rusev and Ziggler applied a sleeper. Fameasser finally connected for Ziggler, but only for a two-count. Rusev brought Ziggler down across his knee and hit a side-kick follow-up. Before he could apply the Accolade, Ryder's music played and he walked to ringside. Lana tried to get in his way, but Ryder wouldn't let her. Ziggler tried a sleeper again, but Rusev launched Ziggler in the direction of Ryder to ringside. He tossed Ziggler into Ryder, then both men were tossed into the ring. Rusev stupidly tried to go after Ryder, who escaped, while Ziggler rolled up Rusev for the win.
WINNER: Ziggler, at 8:49. Wrestler made to look like an idiot + overdone, cheap finish = vintage WWE. Minus 1,000 more points for the announcers not bringing up Lana and Ziggler's previous relationship.
Rusev tore apart the turnbuckle pads after the match in anger. He went to ringside, ripping up the announce desk and tossing around monitors.
– Ambrose vs. Owens is still to come.
– Tonight, Enzo & Big Cass vs. A.J. Styles & Karl Anderson.
– Next, we'll see what happened when The New Day met The Wyatts on the family's own turf.
[Commercial Break]
– The announcers talked about The Wyatt-New Day fight from Raw. It was replayed here.
– A graphic aired for New Day vs. Wyatt Family in six-man tag action at Battleground.
– The Club came out for the next match. A.J. Styles and Karl Anderson face Enzo and Big Cass after the break.
[Commercial Break]
– Clips were shown of John Cena hosting the ESPY Awards last night.
– Enzo and Big Cass came to the ring with Enzo doing his usual spiel. Enzo said he's tired of The Club saying they're too sweet – at the end of the day, even salt looks like sugar. Cass said the last thing they want to do is hurt them before Battleground. But, it's still something to do. That strong emotion sure convinces me, the viewer, to stick around. Now, where's that sarcasm font…
3 – A.J. STYLES & KARL ANDERSON vs. ENZO AMORE & BIG CASS
Headscissors take-down by Enzo of Styles. He picked A.J.'s ankle and dropped him face-first on the mat. Standing dropkick sent Styles into his corner. Cass tagged in and ran over both Anderson and Styles. Empire Elbow on Anderson. Both Club members found themselves outside the ring, discussing things with Luke Gallows. Cass pressed Enzo over his head and dropped him on The Club. Enzo and Cass celebrated as they cut to break at 1:30 of the match.
[Commercial Break]
The show returned with Cass having Anderson cornered, and sending his partner flying into Anderson. Eventually, the heels took back over when Styles cheap-shotted Amore. Nice back-breaker by Styles to Amore. Styles went to work on the left leg of his opposition. Outside the ring, Enzo sent Anderson into the barricade and tripped up Styles on the apron. He desperately tried to tag Cass when Anderson came out of nowhere and delivered a running knee to the mid-section that sent Amore back outside the ring. Anderson ran into a knee in the corner. Bodyslam from Anderson but a senton missed. Styles yet again prevented an Amore tag. However, Enzo landed a tornado DDT. Amore dove for the tag, but Gallows pulled Cass off the apron as the ref was dealing with Anderson trying to interfere. Calf Crusher by Styles to Amore. He ended up tapping.
WINNERS: The Club, at 10:52. I like the twist on the usual WWE tag formula with Enzo never being able to make the hot tag. The Club acting as the Alliance to End John Cena…has a nice ring to it.
– The announcers talked about Brock Lesnar's return to the octagon. They showed still photos from Lesnar's performance in UFC 200 last Saturday night. Once again, they aired a brief clip from his post-fight press conference where he said he was "doing" Summerslam against Randy Orton. Saxton said the match is 14 years in the making.
– At Battleground, Orton will join Chris Jericho for the Highlight Reel.
– Dean Ambrose vs. Kevin Owens is still to come tonight.
[Commercial Break]
4 – TYLER BREEZE vs. KALISTO
Breezango was finishing up their entrance out of break. A 7pm Smackdown Live pre-show on the WWE Network was plugged for next week. Kalisto got in some high-impact moves early before a distraction by Fandango at ringside led to Breeze bringing Kalisto down throat-first across the top rope. Supermodel Kick by Breeze for only two. Inside cradle by Kalisto, but after Breeze kicked out, he caught Kalisto with a kick. Kalisto flipped away from a right hand, then hit a springboard twisting splash. Another springboard, but this time Breeze moved. Salida Del Sol for the pinfall.
WINNER: Kalisto, at 3:08. Felt like Breeze had trouble keeping up with Kalisto a few times, or Kalisto was just moving too quickly. Otherwise, some nice athleticism from Kalisto to add to the show.
– Shane-O-Mac was backstage talking to Becky Lynch. Like earlier, we couldn't actually hear anything they were talking about.
– Next, Darren Young and Bob Backlund will guest on Miz TV.
[Commercial Break]
– Ranallo thanked Skillet for "Feel Invincible," one of the official Battleground themes.
– Maryse introduced The Miz for Miz TV. Miz discussed the WWE Draft. He said of his next guests, one has made history, and another is searching to make his own history. He introduced Young and Backlund, who came out to Young's new music, which is really no good. They showed a clip of Young winning the battle royal on Raw. Young vs. Miz with the Intercontinental Title on the line, is set for Battleground. Miz gave some background on Backlund, then had the production truck roll a video package that described Backlund's history. The crowd gave him a nice ovation, of which he stood and recognized. Miz ordered the career highlights for Young to be rolled, but instead, all that came up on the TitanTron was a test pattern.
Young said he'll take the IC Title from Miz at Battleground. Miz said Young didn't really win the battle royal on Monday. Backlund told Young that we need a great champion, a role model, and that "young man," Miz, is not it. Maryse told Backlund that 1980 called and said Backlund is old. Miz said Backlund looks like Howdy Doody as Backlund contorted his face in response. Young got out of his seat and into Miz's face. He said Miz may disrespect him, but he's not going to disrespect his life coach, a WWE Hall-of-Famer. Miz said Young needs to be taught a lesson by a champ from this century. Young interrupted and said he'll teach Miz a lesson about respect at Battleground. Miz warned Young about touching his mic. Young took it from him and threw it on the ground after challenging Miz. Miz backed down and he and Maryse left the ring.
– R-Truth and Shane were having a conversation backstage that included some dabbing.
– They re-showed Shane's Tweet where he mentioned his General Manager pick has been made, the reveal coming Monday.
– Next, Kevin Owens vs. Dean Ambrose.
[Commercial Break]
– Sasha Banks was still getting medical attention after her match when Charlotte and Dana Brooke walked in. Referee John Cone tried to separate them when they wanted to go at it. Charlotte said she's giving Banks a match at Battleground…but not a Women's Title Match. She signed a tag match and wished Banks luck finding a friend who will team with her.
– As Dean Ambrose came out for the main event, they plugged Ambrose vs. Rollins for the WWE Title at the upcoming Raw. And for Owens, at Battleground, he faces Sami Zayn. When both competitors were in the ring, Seth Rollins came out. He took a seat at the announce desk next to Byron Saxton.
5 – DEAN AMBROSE vs. KEVIN OWENS
At the bell, Owens attacked Ambrose from behind. The match immediately went to ringside. Rollins got involved then.
WINNER: Ambrose, via disqualification, at :34. It felt like, starting the match at about 9:39 EST, was giving these guys a bit too much time.
Sami Zayn ran out to save Ambrose. Expect a tag match after the break.
[Commercial Break]
6 – DEAN AMBROSE & SAMI ZAYN vs. KEVIN OWENS & SETH ROLLINS
The bell rang right after they returned from break. Ambrose tossed Rollins into the barricade, and Owens returned the favor to Ambrose. Ranallo won me over with a Giancarlo Stanton reference. Rollins dropped a knee on Ambrose in the ring. Lawler queried Ranallo about which one of these guys he'd choose with a #1 draft pick. Ranallo opted for Ambrose. Senton from Owens missed, and he tagged Rollins back in. He missed a corner splash and Zayn tagged in at 2:42. Spinning DDT by Zayn. He side-stepped a charging Owens, sending him outside as well. Stereo pescados from the babyfaces. Back in, Rollins hit a sling blade on Zayn thanks to a distraction from Owens. The heels were in control, with Owens taunting Zayn, as they cut to break at 4:21.
[Commercial Break]
Back at 7:37. Zayn was being worked over by the bad guys. Just when it seemed all was lost, Zayn hit a desperation Michinoku driver. He tagged Ambrose at 9:27. Back suplex by Ambrose, then an elbow off the top for a two-count. Blind tag by Rollins as Amborse bulldogged Owens. Neck-breaker by Ambrose on Rollins, but Owens broke it up. Zayn dropkicked away from a pop-up powerbomb. Rollins ridded the ring of Zayn, but Ambrose hit his rebound clothesline. Ambrose back-dropped out of a potential Pedigree, then tagged Zayn, who hit a cross-body for two. Exploder suplex in the corner from Zayn. Owens caught a suicide dive attempt by Ambrose, sending him into the steel steps. In the ring, Zayn hit Rollins with a tornado DDT. Owens pulled Rollins out of the way of a Helluva Kick, allowing Rollins to plant Zayn with the Pedigree.
WINNERS: Owens and Rollins, at 13:14.
Some key moments of the match were replayed. Owens set to powerbomb Zayn outside the ring, but Ambrose broke it up. He turned his attention to Rollins, who was still in the ring. The two brawled there, with referee Chad Patton not seeming interested in trying to break it up. Rollins ran away before Ambrose could down him with Dirty Deeds. A last plug for Ambrose vs. Rollins for the WWE Championship on Monday night and Smackdown Live next Tuesday with the Draft.
Did you watch Thursday's Smackdown episode? Send your 0-10 score & Reax to pwtorch@gmail.com for our TV Reax feature.
Greg Parks has been covering WWE Smackdown for PWTorch.com since January of 2007. He is the host of "Moonlighting with Greg Parks," a PWTorch VIP-exclusive audio show posted each weekend. Follow him on Twitter @gregmparks for live Tweeting during Raw, Impact, and PPVs, as well as other bits of wisdom. Comments, questions and feedback are welcome, and can be sent to g_man9784@yahoo.com.