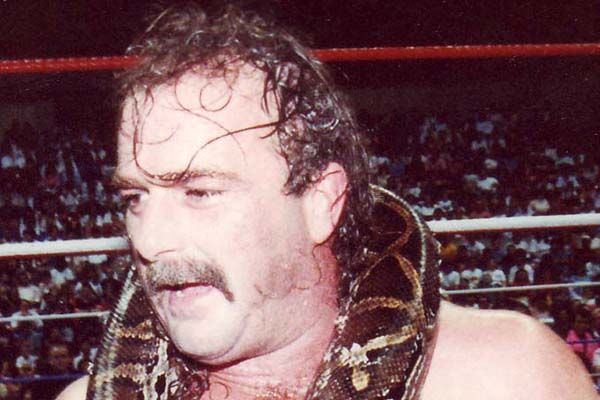 ---
SPOTLIGHTED PODCAST ALERT (YOUR ARTICLE BEGINS A FEW INCHES DOWN)...
---
By Michael Moore, PWTorch Collectibles specialist
Topps recently released its fourth WWE trading card product of the year, 2016 Topps WWE Heritage. It's very similar to most WWE Topps products:
24 packs per hobby box with two hits per box (usually one relic and one memorabilia card OR two relic cards) at about $50 a box.
$19.99 retail blaster boxes which guarantee one hit.
Autographs, shirt relics, mat relics, kiss cards, and manufactured relics.
A 110-card base set full of current stars, legends, and NXT wrestlers.
Insert sets include the continuation of The Rock Tribute and Walmart-exclusive Brock Lesnar Tribute, WCW/NWO All-Stars, Record Breakers, and Turn Back the Clock.
Five serial numbered parallel sets, from Bronze numbered to 99 to Red numbered to just 1
From a design standpoint, Heritage is always one of the coolest sets of the year; the 2016 WWE version doesn't disappoint. The cards are based on the 1986 Topps Baseball set, which has such a simple yet appealing look. The autographs look fantastic; they're signed on-card on a faded area that really makes the signatures pop. The only exception is Brock Lesnar, who apparently only signs stickers. Dual autograph cards also utilize stickers and are serial numbered to 11.
The WWE Autographs insert set features 27 different signers, and unfortunately, it's a lot of the same names Topps has put into its products over the last two years: Nikki Bella, Bayley, John Cena, Dean Ambrose, Roman Reigns, etc. It's exciting for a box breaker to pull an autograph of a top star like Cena or Bayley, but the sheer quantity of Topps autographs on the secondary market has driven values way down.
Topps added some new signatures of former WWE stars, the best of which is Jake "the Snake" Roberts. Jake's signature last appeared in a Topps WWE product in 2012, but he has signed for a few different Leaf sets since then.
Jim Neidhart's signature appears on a Topps WWE card for the first time. Other "legends" signatures in this set aren't likely to excite too many fans: Tatanka, Brian Knobbs, Jerry Sags, and Typhoon.
There are eight subjects in the Divas Kiss Cards, serial numbered to 99 each: Asuka, Billie Kay, Charlotte, Dasha Fuentes, Mandy Rose, Naomi, Nia Jax, and Peyton Royce. Topps also included a limited number of autographed version of each kiss card.
The Swatch Shirt Relics and two mat relic insert sets pretty much are what they are, and what they have been for more than a decade. Swatch Shirt Relics feature a piece of a t-shirt worn by a wrestler; there are 26 cards in the set, including everyone from Aiden English to John Cena.
There are 20 different Survivor Series Mat Relics, which includes a gray swatch of the Survivor Series canvas. There are 10 different NXT University of Central Florida Special Mat Relics that contain a black piece of mat from that event.
Topps keeps its prices low and guarantees two hits by counting manufactured relic cards as hits. In the past these have included such things as Belt Plate Relics and Hall of Fame Rings.
For 2016 WWE Heritage, Topps has produced Commemorative All Star Patches, which features a picture of a wrestler and a cloth piece with an embroidered company logo.
Logos include WWE current, WWE Legends, ECW, WCW, NWO, and NXT. Some collectors like these cards, others dread pulling them. The brand-specific patches may appeal to longtime fans of WCW or ECW.
Leaf Adds Wrestling Personalities to 2016 Pop Century
Leaf Trading Cards's Pop Century brand is one of the go-to sets each year for celebrity autographs. Over the years it has included a mash-up of actors, musicians, politicians, models, comedians, athletes and more.
Top signers this year include Daisy Ridley, Gene Wilder, Megan Fox, Norman Reedus and Kevin Costner, among others.
Leaf 2016 Pop Century also includes a couple wrestlers and several celebrities with prominent ties to pro wrestling. Mick Foley and X-Pac, who have signed for Leaf wrestling sets in the past, can also be found in this product.
The set also includes signatures from:
Alice Cooper, who accompanied Jake Roberts to the ring at WrestleMania III.
James "Buster" Douglas, who refereed a match between Hulk Hogan and Randy Savage and eventually knocked out Savage.
Dennis Rodman, a member of the NWO.
Nicholas Turturro, who appeared at WrestleMania XI.
Samantha Fox, the 1980s pin-up model who was supposed to appear at WrestleMania III.
William Shatner, who has appeared on WWE programming dating back to 1995.
Kato Kaelin, who must have had SOME tie to pro wrestling.
Pop Century is a higher end product, and may not be for all wrestling fans. Each box contains just four cards (all autographs or memorabilia cards) and retails for around $125.
PWTorch Collectibles specialist Michael Moore can be reached at michaelmoorewriter@gmail.com. Follow him on Twitter @MMooreWriter.