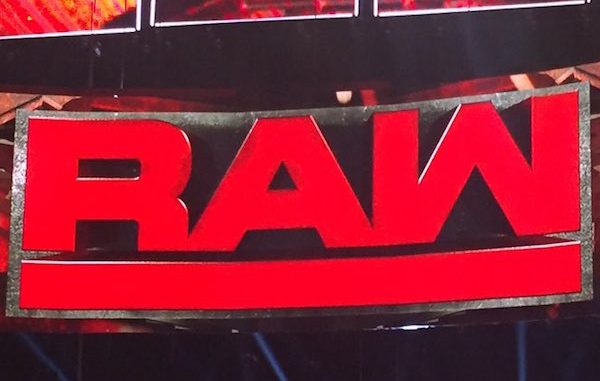 ---
SPOTLIGHTED PODCAST ALERT (YOUR ARTICLE BEGINS A FEW INCHES DOWN)...
---
WWE will determine a new Universal champion Monday night in Houston following Finn Balor's injury situation. Who will be the new champion in a fatal four-way Universal Title match? …
WWE Raw TV Report
August 29, 2016 – Episode #1,214
Live in Houston, Tex.
In-Person Report by James Caldwell (@JCTorch), PWTorch assistant editor
Reporting live from the Toyota Center tonight with Superstars results, Raw, and post-Raw happenings to follow…
Superstars Taping Results
(1) Shining Stars beat Golden Truth at 4:29. Goldust was surprised with a roll-up for the three count. Not what the crowd expected for the opener.
(2) U.S. champion Rusev (w/Lana) beat Jack Swagger in 12:00 via submission to The Accolade. This turned into a pretty darn good match. They worked on an even playing field with Rusev continuing to sell injured ribs from the last two weeks of TV. After a lengthy submission counter exchange that engaged the crowd, Rusev locked in Swagger with The Accolade. Rusev did not appear on Raw…
Live Raw Results
Before Raw went live, the Universal Title match participants walked down to the ring in the dark. Cue the Raw pyro. To start Raw, Corey Graves was in the ring with Roman Reigns, Kevin Owens, Big Cass, and Seth Rollins to talk about the title match. Owens and Rollins went back and forth, and Cass had his moments on the mic. The crowd was really into Owens and Cass as the fresh faces in the title picture. Reigns did not talk, but ended up standing tall once the inevitable verbal exchange turned physical. Before that, Reigns was booed every time he was shown on-camera. So, Reigns stood tall, which eliminated him from winning…
Still to come: Paul Heyman addresses Brock Lesnar's Summerslam actions.
[CB]
(1) Chris Jericho submitted Neville at 10:50 to the Walls of Jericho after avoiding the Red Arrow. Really nice match set up by a Jericho pre-match promo. They got people excited for the Red Arrow again after it became a little too ho-hum in recent TV matches. Neville needs something added to his character to make him relevant again.
Earlier Today: Bayley toured the hallway, linking up with New Day. Dana Brooke ruined the moment, referenced Bullet Club, and then became the butt of the joke. New Day and Bayley celebrated to break. So, that's Bayley's side-track after initially being put into the Women's Title picture last week, but it appears Sasha Banks is coming back from injury for a Women's Title re-match.
[CB]
WWE ran a spot for The Rock as the world's highest paid actor. On cue, Nia Jax was introduced for a squash match.
(2) Nia Jax won a squash over an unidentified jobber at 1:16. Time to go somewhere with this, as the crowd was more into the ironic "Let's Go Jobber" chant.
Last Monday: The Club put The Dudleys in retirement. Karl Anderson and Doc Gallows were back to their doctor pre-tapes, sans lab coats, saying they applied their O.L.D. F.A.R.T. treatment program to the Dudleys. Now they turn their attention to the Tag Titles. Dana Brooke played a nurse and took this running gag from a 4 to a 2.
[CB]
(3) Sami Zayn hindered Jinder at 3:04. Zayn won with a Helluva Kick to end a match that captured WWE having nothing for Zayn. Zayn sold the leg injury from last week.
[CB]
With Sasha Banks coming back from injury to face Charlotte, Bayley shifted to a Happy Fun Time pairing with New Day to face mood-killers Club and Nurse Dana in a six-person tag. Bayley was super over pre-match.
2ND HOUR
(4) WWE tag champs New Day (Kofi Kingston & Big E. w/Xavier Woods) & Bayley beat Karl Anderson & Luke Gallows & Dana Brooke at 13:25 in a mixed tag. Charlotte was on commentary. The match built to a hot tag to super-over Bayley, who pinned Dana with Bayley-to-Belly after chaos between the male teams. New Day vs. Club for the Tag Titles feels D.O.A. at this point; New Day needs someone else to feud with if The Club is going to be treated like a mid-card joke act.
Backstage, Cesaro talked about his series against Sheamus, which continues tonight.
Smackdown plug: The Bryan-Miz angle from last week's "Talking Smack" spills over to tomorrow's Smackdown when Bryan addresses Miz.
The return date to Houston is December 6 for Smackdown Live.
[CB]
(5) Sheamus submitted Cesaro at 11:12 to go up 2-0 in their series. On the outside, Sheamus back-dropped Cesaro into the ringpost. Back in the ring, Sheamus immediately applied a Texas Cloverleaf to get a quick tap-out. Cesaro sold the back for a while in the ring. Cesaro was helped to the back by multiple refs. Big-time sell during the commercial, with Cesaro acting like he could barely move on his own.
Obit: Mr. Fuji's career was spotlighted to applause.
[CB]
(6) Braun Strowman squashed an unidentified jobber at 0:56. The jobber appeared to represent the Lucha Cruiserweight division in a goofy mask and outfit. Strowman took the kid's mask as a trophy after the match.
Stephanie McMahon was shown walking down the hallway to speak next.
[CB]
CW division spotlight: Tommaso Ciampa, Cedric Alexander, and Johnny Gargano are coming.
3RD HOUR
Stephanie McMahon flubbed her promo saying they are about to crown the first Universal champion tonight. She then addressed Brock Lesnar giving her brother Shane an F5 at Summerslam. Paul Heyman interrupted. This produced "ECW" and "C.M. Punk" chants. The former was acknowledged, with Stephanie gloating about buying ECW years ago. Heyman tried to talk over the Punk chant, which sent this promo on a downward spiral. Heyman produced a giant stack of one dollar bills to pay Lesnar's $500 fine. Steph said she will not be patronized. And there is a storm coming for him and Brock. Heyman said she is wrong. There is a storm coming for her. There was some complicated deal about the Board of Directors and Steph eventually accepted his apology and stormed out of the ring. Whatever this corporate junk was made no sense live. So, the crowd chanted for Punk again.
Video: Finn Balor had surgery after relinquishing the title last week on Raw.
[CB]
(7) Darren Young (w/Bob Backlund) beat Titus O'Neill at 4:04. The match just kinda ended with Young crucifix-pinning Titus out of nowhere. D-Young and Bob celebrated, then O'Neill sneak-attacked them. The crowd just wanted to get to the main event at this point three hours into the night.
Backstage: Mick Foley talked to Steph about the main event. She flubbed it again, saying they are about to crown the first Universal champion. (Are they scrubbing Finn Balor from history one week later, or was Steph really absent-minded tonight?) Seth Rollins then walked into the shot and vowed to win. He gave Steph a big hug. So, he's eliminated.
[CB. NXT hype: New NXT champ Shinsuke Nakamura was highlighted. Huge pop and the crowd started singing his theme song.]
Main Event time. Enzo Amore came out with Big Cass, who vowed to shock the world by winning tonight. So, he's not winning. That leaves one person. They did formal ring intros before they cut to a break. Big Cass was over at a Superstar-level. The crowd definitely wanted Cass or Owens to win, but Rollins and Reigns had their pockets of supporters. The break before the main event forced the wrestlers to mill around in the dark while yet another WWE commercial ran.
8 – Roman Reigns vs. Seth Rollins vs. Big Cass vs. Kevin Owens – elimination match for the vacant Universal Title
After a wild 12 minutes, Owens pinned Cass with a top-rope frog splash for the first elimination. Cass was given a big spotlight before taking the first fall. They also did the Reigns-Cass showdown for the second and third time on the night. It was obsessive how many times they went to the big-man showdown tonight.
After Cass was eliminated, the building came way down during what felt like a commercial. It came back to life with a Tower of Doom spot. Tons of nearfalls followed, rocking Toyota Center. Everyone spilled to the floor next to Stephanie and Mick, who were down at ringside. And suddenly Triple H returned from post-WrestleMania hibernation to knock out Reigns, who beat Hunter for the WWE Title in April. Hunter nailed Reigns with a Pedigree on the outside and Rollins covered Reigns back in the ring.
So it was Rollins vs. Owens. Rollins thought he had the match won, but … Hunter turned on Seth by nailing him with a Pedigree. Hunter told a shocked Owens to cover Seth and it was good for a three count. NXT Takeover complete. Huge pop for Owens winning.
WINNER: Kevin Owens new Universal champion.
The crowd just reacted in the moment, not trying to sort through the storyline elements and complicated heel/heel/heel/heel dynamic here, as they were excited for a big moment and a big moment for Owens. This was evidenced by the "You Deserve It" chant at Owens, which came from the NXT-like crowd that was present when WWE came through Houston one month ago for an NXT Live show. It was the audience putting aside the storyline of Owens being "gifted" the Universal Title when a heel screwed another heel to help another heel win while another heel stood confused down at ringside, and recognizing that WWE was recognizing what they recognized about Owens.
Afterward, Hunter yanked the title away from Mick Foley down at ringside and glared at his wife Steph, who sold being shocked. She was forming tears to sell being embarrassed by what happened. After Hunter presented Owens with the belt, he stomped back through the crowd to the back of the arena while Owens did a big celebration in the ring. Owens then left the ring to the back.
Down at ringside, Seth conferenced with Steph, who sold not being able to explain what was going on. Foley, Steph, and Seth then walked separately up the ramp to the back. Seth was the last one to leave, selling being dumbfounded by the events. That closed the taping. Big buzz in the crowd for an historic title event and night after the show ended.
Overall, they had to go a new direction heading into the Fall TV season after Finn Balor's injury, and Owens as champion is that new direction. That first big promo next Monday on Raw, as well as what storyline direction they decide to go trying to sort out all of these heels and who is sympathetic, will be really interesting. Plus, it sets up a likely Owens vs. Rollins title match at Clash of Champions and gives them a Hunter vs. Reigns match when they want to play that card.
Top Pops Tonight
(1) Big Cass main event intro
(2) Kevin Owens title win
(3) Bayley
(4) Shinsuke Nakamura NXT video package
Overall, the three-hour live TV format really dragged in the middle, especially with the crowd really anticipating the main event title match. During commercial breaks, WWE ran Network plugs, commercials, DVD hype videos, and other advertising materials trying to do as much business as possible. Perhaps a better option would be running more character-driven video packages highlighting the roster or telling interesting stories about the wrestlers to better connect with the audience. It just seemed like the crowd was inundated with an endless stream of commercials and ads trying to fill the down time during TV breaks.