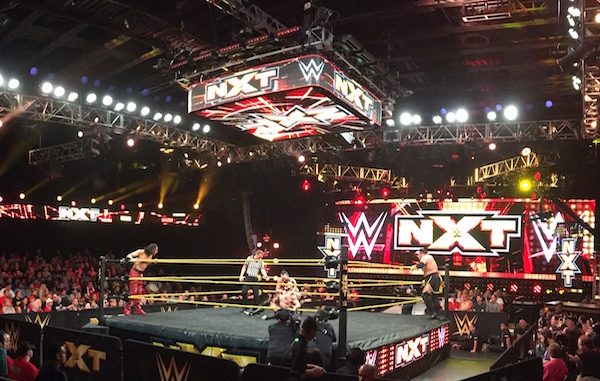 ---
SPOTLIGHTED PODCAST ALERT (YOUR ARTICLE BEGINS A FEW INCHES DOWN)...
---
KELLER'S NXT TV REPORT
OCTOBER 5, 2016
TAPED 9/15 IN WINTER PARK, FLA. AT FULL SAIL UNIVERSITY
AIRED ON WWE NETWORK
-William Regal announced that last year's Dusty Rhodes Classic Tag Team Tournament was such a success, they are doing it again this year, and the first-round matches will be on NXT tonight.
-The NXT show opening aired.
-They cut to the crowd chanting "NXT!" as Tom Phillips introduced the show.
-A soundbite interview aired during the Bollywood Boyz ring entrance where they said they were going to make a statement and bring a butter chicken beatdown.
(1) BOLLYWOOD BOYZ (Gurv and Herv Sihra) vs. THE AUTHORS OF PAIN (Akam & Rezar w/Paul Ellering) – Dusty Rhodes Tag Team Classic First Round match
Graves was excited about the Bollywood Boyz entrance and stopped Phillips from talking so he could soak up their energetic dancing. Paul Ellering then led the Authors of Pain to the ring, billed at a combined 615 pounds. Rezar opened against Harv. Phillips talked about it being a mismatch on size alone, and he wondered who will give this team "a run for their money." Cliche alert. Gerv tagged in and made a spirited attack that was thwarted immediately. They won with a double-team clothesline. Graves said the Bollywood Boys just lived a plot for a Bollywood horror film. They face the winners of Tony Nese & Nick Gulak vs. No Way Jose & Rich Swann in the tag bracket.
WINNERS: Authors of Pain in 2:00.
-A vignette aired hyping Dan Matha wrestling tonight by filming his muscles from ankles to head in a way that probably made Vince McMahon very, very excited. [c]
(2) RICH SWANN vs. PATRICK CLARK
Graves said Swann is one of the most entertaining people he's ever met in and out of the ring. He said he's a musician, he dances, and he has fun. Graves said Clark looks like he raided Prince's Paisley Park. Graves said he's much different than what they saw on Tough Enough in 2015. Swann shot a look at Clark that seemed to judge Clark's new look. It was a bit over the top rope, but funny. Patrick said that will be a meme or a gif on the Internet in a heartbeat. The crowd sang at Clark, "Can you handle this?" When Clark got in offense, he gloated and tended to his hair. Swann then outmaneuvered Clark and celebrated as the crowd chanted "Let's Go Swan!" They billed Clark at 227 pounds. He hit a spinebuster and then settled into a half nelson chinlock. Swann came back with a reverse sidekick to the chest and won clean with a back handspring moonsault.
WINNER: Swann in 3:00.
Keller's Analysis: Clark had a good presence in a formative stage as he tests out a heel persona. Swann just seemed delighted to be wrestling, and the fans ate it up.
-A clip aired from two weeks ago of Cedric Alexander beating Andrade Cien Almas, then Almas giving him a handshake and a hug, which the crowd applauded. Graves said they decided to team together in the Dusty Rhodes Tag Team Classic as a result of earning each other's respect in that match. [c]
-They finally went to Phillips and Graves on camera about one-third of the way into the show. They threw to a clip from last week of Asuka beating Liv Morgan in seconds via tapout last week, after which Asuka said nobody is ready for her.
-They went to a clip from backstage last week where Billie Kay and Peyton Royce approached Liv as her shoulder was being tended to by a medic and made fun of her. "Should we call her Liv anymore? She barely survived?" Peyton snickered.
(3) PEYTON ROYCE (w/Billie Kay) vs. DANIELLE KAMELA
Phillips talked about the fellow Aussies bonding in NXT. Phillips said Kamela has been a broadcaster for Fox Sports in Arizona, a dancer with the Phoenix Suns, and a Cheerleader with the Arizona Cardinals, and now she's a newer recruit in NXT who has also trained with Rikishi. Royce locked Kamela down with a chinlock. Kamela broke free, but Royce went right back on offense and won with a Northern Lights Suplex.
WINNER: Royce in 4:00.
Keller's Analysis: Kamela has a good look and size, but didn't get to show a lot here as nearly half the match was a long chinlock. Royce is flexible, sometimes I question whether she's held together with actual bones.
-In a backstage interview, Bobby Roode and Tye Dillinger talked about training to team in the Dusty Tag Tourney. Roode interrupted Tye at the start and said this was a chance for Tye to take the next step by teaming with him. As Tye talked about how much Dusty meant to him, Roode did the Glorious pose behind him. Tye shot him a look and said, "Are you okay?" Roode asked him if he can feel how glorious it will be when they're victorious. Roode then interrupted Tye and told him he's expecting big things from him next week. When asked if they're concerned about facing Sanity, Roode said everyone is talking about the Glorious 10, their team name. Roode stopped Tye from talking yet again and dragged him away.
Keller's Analysis: Seems like they're setting up a feud between these two. Roode was obnoxious and Tye played off of his self-absorbed narcissism well. [c]
-A commercial aired for NXT coming to Osaka, Japan on Dec. 3. "Time subject to change," the voiceover said at the end, which was odd.
-Dan Matha came out for his ring entrance for his in-ring debut. He was billed at 6-8, 290 pounds, who played at the University of Pittsburgh and briefly for the Cincinnati Bengals, and an All-American in wrestling in high school. He came out in white trunks and boots, with a bald head and beard. Phillips declared him a "big time superstar" and said there's a lot of buzz about him at the Performance Center.
Before his opponent could be announced, Samoa Joe walked out and just attacked Matha with a headbutt and series of punches. Phillips clarified that the Joe's not Matha's scheduled opponent. Phillips said Joe told Regal beatdowns like this won't stop until he strips Shinsuke Nakamura of the NXT Title.
Joe took the mic and said, "Tick, tock, tick, tock, who will be the next to get their head rocked?" He asked Regal how many more must suffer because of him. He said he just took out his golden boy blue chip prospect and more will suffer until he gets what he wants. "Bring me Nakamura or hand me my championship." As he left, he yelled at the camera and said Regal has one more week before he escalates things.
Keller's Analysis: Great angle. They did a good job building up Matha, only to have Joe just plow through him. It doesn't really hurt Matha as he wasn't ready for Joe's attack, but it put Joe over as trying to spoil Regal. [c]
-They showed the exterior of Full Sail University while they touted WWE's involvement on the Susan G. Komen breast cancer charity.
-In a backstage interview, No Way Jose and Rich Swann talked about why they decided to team together. Jose said he chose Swann because he tried to put him down, but he said "No way!" Swann said he chose Jose because people take him lightly because he likes to go out there and dance, but he's full of Dominican fire so why wouldn't he want him on his side. They began to sing and dance to "Can you handle this? No – Way – Jose!"
-A vignette aired advertising Sanity arriving.
-Phillips talked about the Dusty Rhodes Tag Team Classic forming last years to celebrate the late Dusty.
(4) ANDRADE "CIEN" ALMAS & CEDRIC ALEXANDER vs. THE REVIVAL (Scott Dawson & Dash Wilder) – Dusty Rhodes Tag Team Classic First Round match
Almas, sans the hat and outfit he wore in early months in NXT, wore a t-shirt with his face and name on the front and "100" on the back. Philips predicted a possible tournament win for them, which almost assures they won't win based on WWE parlance. Graves listed other potential winners of the tourney. Graves said one "tell" working against Almas and Alexander is they came out separately. Phillips pointed out Graves was a tag team champion, but he didn't come out with Neville. Graves said they held the tag titles, but he didn't consider them the greatest tag team on the planet like he does the Revival. The Revival took over and held control for a few minutes before a blind tag in by Cedric led to a rally for the babyface duo. The Revival tried to flee, but Cedric did a running dive onto them at ringside onto the ramp. Cedric went for a pin and got a two count on Dawson. The Revival took over on Almas and they cut to a mid-match break.
Keller's Analysis: The job NXT has done framing The Revival as the greatest tag team in the world reminds me of when Paul Heyman did that with the Eliminators. The Revival are way better than the Eliminators were, and that of course helps, but mostly it just shows that two guys who on first glance could be seen as jobbers or lower card singles guys in the WWE aesthetic can be made into something much greater if the narrative is consistent and convincing. [c]
Back from the break, Dawson was working over Almas's arm. When Dash tagged in, he'd have made Al Snow proud with how he was wrenching on Almas's arm. Almas sold it well, too. Graves did a great job pointing out little things Dash & Dawson were doing strategically to retain control and not take chances that could backfire. Dawson tagged in just before Cedric also tagged in. Cedric rallied. He nailed his handspring enzuigiri on Dawson, with Dash making the save. Cedric sunset flipped into the ring and scored a near fall on Dawson. Phillips sold it as a near huge upset in the first round. When Cedric went for a tag, Dawson yanked Almas off the ring apron. Then Dash & Dawson hit Cedric with the Shadow Machine for the win.
WINNERS: Dash & Dawson in 9:00 to advance.
-After the match, Andrade attacked Cedric from behind, stomping away at him. The crowd booed him, with permission, so to speak, for the first time since his arrival in NXT. He took it to Cedric at ringside, dropping him over the ringside steps. He looked at the camera and went into a angry rant.
Keller's Analysis: Good angle to end the show, using the tag tournament format to create a new promising team, and as soon as they lose to Dash & Dawson, have one turn on the other to set up a feud and hopefully better position Almas. Just his disposition as he was about to attack Cedric followed by his rage afterward is the most personality he's shown yet in NXT. This is what he needed. I love the booking cadence of having Almas lose to Cedric as a way to lay the foundation for him being bitter and more apt to turn on Cedric when Cedric took the fall in their tag match. It kept there from being any sympathy for Almas just reacting to a loss because he was still likely bitter over losing to Cedric one-on-one even though he pretended to be a good sport about it.
FINAL THOUGHTS: Good show. On another more general note, Graves talked during the match about Dusty's influence being felt for years to come and heaped praise on his memory, it's striking how different Dusty's rep is now even among hardcore fans due to his contributions to NXT and nostalgia for his time out of power in the 1990s than when he was the no. 1 enemy of hardcore fans for years in the late 1980s as the booker whose ego drove Jim Crockett Promotions out of business and was seen as the rival who was undercutting Ric Flair. It's good because he should be remembered as more than his worst run decades ago, but it's striking how his rep has been turned completely around with the hardcores.