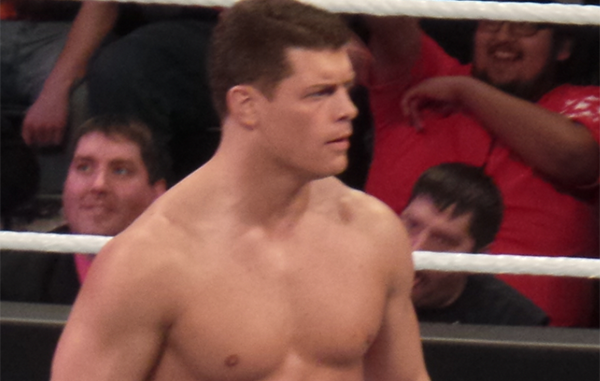 ---
SPOTLIGHTED PODCAST ALERT (YOUR ARTICLE BEGINS A FEW INCHES DOWN)...
---
Cody Rhodes talked with Brian Fritz of The Sporting News about his departure from WWE and his ROH debut tomorrow night. The following are key quotes from the interview. You can read the full article HERE.
---
•On the decision to leave WWE for the indy scene: "It's just so new that I prefer it. I know some people think that's crazy. You walked away from the biggest game in town. I just think in the day of social media and streaming, there really is way more than one game in town. They seem to be having more fun and I want to be part of the fun."
Keller's Analysis: You hear a lot that wrestlers dream of getting to the big time, but once there, it's not always the dream they imagined in terms of pay, the grind of the schedule, and especially creative freedom. Having grown up in the business, I'm not surprised Cody wouldn't be enamored with the glitz and prestige and would value being able to be a bit of an outlaw and independent spirit and just test his skills and creative ideas where he'd have more freedom and a wider array of opponents.
•On his "bucket list" of goals in pro wrestling after leaving WWE: "The list was very pivotal to me in terms of let me assure fans who liked me or people intrigued by the story, let me be a man of my word. Hey, here's what I didn't like about WWE and I publicly griped and I don't want to be just some whining, complaining, wrestler that had delusions of grandeur. So this is my attempt and making it all right. Here's some matches that I thought I'd never be a part of, places I thought I'd never step foot in and things I thought people would never see, and I hope they deliver so that, to me, I can be vindicated."
Keller's Analysis: Not many people would get to leave WWE and fulfill a list of that type, but Cody is a respected pro who handled himself well and was mature enough in the industry to know how to approach every situation and make them happen.
•On life after WWE: "So far, everything has exceeded expectations by a great deal. I was very confident in my exit, but then when you actually put pen to paper … artistically you can judge things, but from just a business standpoint, the number one thing for me is how many people are coming to these events, and every one we've done, literally every single one, we've had a record crowd for that independent brand, and that's a huge honor. I kind of keep wondering when's it all going to end. It's been huge business, which I wasn't expecting because I left WWE and kind of made it clear it wasn't a money thing. This is a soul thing, but it's nice to see it's generating a lot of dollars for folks, and I'm excited to be a part of it."
Keller's Analysis: A lot of times wrestlers in WWE never get a sense of whether they're really contributing to the crowd sizes and ratings, or if they're just a cog in the machinery that is interchangeable, so the crowd responses he is getting and the attendance increases that can linked to his appearances has to be fulfilling.
•On debuting for ROH on their "Final Battle" PPV tomorrow night: "I'm particularly very excited about Hammerstein and about Final Battle because I rode with some of Ring of Honor's various alumni: Cesaro, Daniel Bryan. I became good friends with Kevin Owens. I know how much the WWE locker room respects Ring of Honor."
Keller's Analysis: Cody has his fair share of stories to tell from growing up with his dad and big brother in the business, but I suspect he always was a little curious, if not jealous, of those who "made it on their own" and were "one of the boys," rather than the "son of a legend."
•On Hammerstein Ballroom where the ROH PPV takes place: "Most of what anybody who's been at Hammerstein will tell you, it's the greatest crowd ever, the most engaging and most rewarding. However, I've watched a couple Hammerstein Ballroom shows myself and, on occasion, they'll eat someone alive. It's one of those things as a competitor, you can be confident but there's always that little bit of pessimism, that little part of you that's like you can't remotely stink here because they will let you know."
Keller's Analysis: It seems pretty clear he didn't want to just leapfrog to the big league and never experience the more organic, grass-roots experiences wrestlers who work their way up through regional indy circuits do. I totally understand his desire and excitement to experience Hammerstein and venues and crowds like it. The crowd reaction will be interesting. Standards are high among many indy crowds, and as Matt Hardy found out many years ago on an ROH event, they don't give you slack for being a TV star.
•On his future in ROH: "I'm really looking to maybe put a little bit more long term into Ring of Honor. I've been able to bounce all around and not maintain exclusivity anywhere, but Ring of Honor is bigger than me. It's a total honor to be part of Final Battle. It's an honor to stand across from Jay Lethal. It's a decision that's already been made because it was the right decision to give them a little bit more of my time. For me to accept and be honored to have a little more of their time, for me it's a matter of making the schedule obtainable. I can't give any (booked shows) away and the ones I already have with Ring of Honor lined up, if everything goes well, are some really killer matchups."
Keller's Analysis: ROH could use someone like Cody to be an integral part of their ongoing storylines and in the top mix just to change up the look and feel of the style. He also can bring new people to ROH who want to continue to follow his career who liked him in WWE but felt he was underutilized.