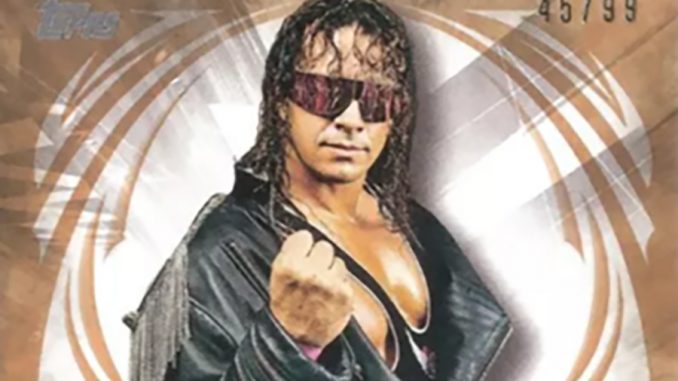 ---
SPOTLIGHTED PODCAST ALERT (YOUR ARTICLE BEGINS A FEW INCHES DOWN)...
---
Best and worst lists are always subjective – that's what makes them so much fun.
This past year was one of the better years for pro wrestling trading cards in quite some time. Topps continued to pump out quality WWE products, Leaf Trading Cards gave collectors the chance to chase autographs of retired and current stars, and independent cards from Pro Wrestling Guerilla and Golden Stars featured the trading card debut of wrestling's top young stars.
In this article you will find the author's picks for the best and worst wrestling cards of 2016. In addition, a very casual, informal poll was sent to 10 Torch readers who are card collectors, looking for their input. If you have a favorite card or product from 2016, or some wrestler's autograph blew you away or drove you nuts, please keep the conversation going on Twitter (@MMooreWriter).
Best Card: Andre the Giant 2016 Leaf Signature Series Wrestling History of Wrestling Cut Signatures
It's almost unfair to call this card the best of its kind, because there is only one in existence. But no wrestling card has ever drawn the kind of attention this one did. A certified Andre autograph has never appeared in a card set before, so this card is truly something special. Cut signatures rarely feature photos of the person, but Leaf managed to get an item that had Andre's signature next to his picture and was able to fit a good portion of it into the slabbed card. 
On a more mainstream level, AJ Styles' 2016 Topps WWE Undisputed autograph – his first signed WWE card – was one of the best and most popular of the year. Topps deserves kudos for getting these cards signed and into packs less than six months after AJ's WWE debut.
"I haven't really bought many cards this year, except the first AJ Topps WWE on-card auto," said Anthony Mamo of Australia. "I love that card."
Best Product: 2016 Topps WWE Undisputed
One-autograph-per-pack trading card products are nothing new to most sports collectors, but 2015 marked the first time such a wrestling product was offered. In late 2015, Topps released its first WWE Undisputed set, with each $20 pack containing a handful of cards and one certified autograph or autographed relic. Topps followed that up with another WWE Undisputed set in mid-2016; many collectors loved the 2016 set just as much as the 2015 set, if not more. Of the 10 Torch readers who responded to the informal survey, everyone who responded to this particular question picked Undisputed as the best product of 2016.
"No doubt the best product was Undisputed," said Matt Lorenzo. "(My) favorite cards are the blue numbered to 25 Undisputed cards. They just look so good."
Best Signature: Joanna Jędrzejczyk
OK, this pick is going to drive the MMA haters crazy. But really, look at her signature and just try to argue that she doesn't have the best autograph in sports. Despite a long, complex name, "Joanna Champion" signs every letter of her name legibly. Meanwhile, Dean Ambrose gives collectors a sloppy "DA" and John Cena's eight-letter name is completely illegible in his autographs.
Readers who responded to the questionnaire had varied responses as to whose signature looks best.
"My favorite sig is Bret Hart," Mamo said. "So much effort goes into it, not just a scribble."
Bill Clark picked Bret's old Hart Foundation partner, Jim "the Anvil" Neidhart, as having the best signature. "His is a throwback to when people actually wrote their names," Clark said. "His auto reminds me of classics like (Joe) Namath and (Ken) Stabler: nice clean, clear, crisp autos."
Other readers preferred signatures that were somewhat less legible, but creative. Gary Graham selected Randy Orton's "kinda odd, but cool" autograph, while Lorenzo mentioned Becky Lynch's "unique" signature.
Worst Signature: Dean Ambrose and Apollo Crews
It was really hard to decide which signature was worse: Ambrose's sloppy "DA" or Crews' miniscule "AC." They're really both equally lazy and awful. Some athletes have a hard time fitting their signatures onto labels that are then applied to cards, but it wasn't a challenge for Crews, who wrote "AC" in tiny letters in one little corner of the sticker.
Ambrose's sloppy signature continues to draw the ire of fans and collectors. Several readers who responded picked Ambrose's autograph as the worst, and Cena wasn't far behind.
"Cena's is terrible," Lorenzo said. "Some cards he signed sideways. Some other ones you can't really read: Balor, Sheamus and Cesaro. Balor's is probably the worst and looks like scribbles."
PWTorch contributor Todd Martin made an interesting point about autographs of wrestlers who use names given to them by WWE.
"One area where I think those stupid fake names hurt WWE is their memorabilia stuff," Martin said. "I wouldn't think for a moment about getting one of the WWE (autographs), because who wants them signing some name they've had a year and a half and have no attachment to?
"It would be like getting an autograph of Forrest Gump rather than Tom Hanks."
Best Multi-Person Autographed Card: Young Bucks 2016 Leaf Signature Series Wrestling
Since launching its first wrestling line in 2012, Leaf Trading Cards has focused mainly on legends and stars of yesterday. The company's only 2016 offering, Leaf Signature Series Wrestling, was certainly heavy on the legends, but also included a few of today's top independent stars. The Young Bucks have consistently been the top independent wrestling stars over the last few years, so the inclusion of this card was a real treat for fans of the Bucks.
This card also had the added wrinkle of trying to find one with both Bucks' signatures. Both Matt and Nick signed some stickers "Young Bucks" without a formal autograph, so collectors paid a premium for cards that had both brothers' signatures.
Worst Multi-Person Autographed Card: Stardust and the Ascension 2016 Topps WWE Undisputed Triple Signed Booklet
Pulling a booklet autograph from any sports product is a thrill for most fans. But this is by far the worst wrestling booklet ever produced, and probably one of the worst sports booklets overall. By the time 2016 Undisputed was
released, the Stardust character was dead, Cody Rhodes was gone from WWE, and the Ascension were … well, still the Ascension.
Best Independent Set: Pro Wrestling Guerrilla 2016 Battle of Los Angeles
PWG's Battle of Los Angeles tournament is arguably the hottest independent wrestling show in the country year in and year out. This past year, the promotion distributed a 28-card set of wrestlers who participated in the show. This set includes the first licensed trading cards of independent talent who could be top mainstream stars within the next five years, including Dalton Castle, Pentagon Jr., Kamaitachi, Jeff Cobb, Tommy End, Trevor Lee, Fenix, Marty Scurll and Jack Gallagher.
The checklist is great, but also worth mentioning is the overall look of the cards. The cards are very sharp and professionally done, with great photography and a design that looks like a throwback to 1990s WCW cards.
Sets are selling for around $140 on eBay; most single cards are selling in the $10 range, with some of the bigger names fetching $15 each.
Best Independent Card: Zack Sabre Jr. Golden Stars Autograph
Ruben Cabral deserves a lot of credit for what he accomplished with the 2016 Golden Stars set. Instead of sitting back and wishing for trading cards of top British talent, he went out and made his own.
The cards feature professional profile pictures of the wrestlers on a black and gold background, and each card is signed by the wrestler pictured. Cabral kept his prices very low, charging just £2.95, or approximately $3.67 per card.
The set featured a lot of top British talent, but the standout card was the one signed by Zack Sabre Jr. Sabre is generally regarded as one of the best wrestlers in the world, and created a buzz with his participation in PWG's Battle of Los Angeles and WWE's Cruiserweight Classic.
Best Memorabilia Cards: 2016 Upper Deck Contours Hockey High Profile Fans
Wrestling memorabilia cards have been very ho-hum over the last 15 years. While companies like Topps, Panini and Upper Deck chop up game-worn and game-used items like jerseys, basketballs, footballs, football helmets, cleats, bats and a variety of other items, wrestling fans haven't been given much outside of T-shirt and mat relics.
Kudos to Upper Deck, which included pieces of hockey jerseys worn by Bret Hart and CM Punk in its 2016 Contours Hockey product. The basic High Profile Fans cards include an oversized piece of jersey and an autograph. A more limited version includes an autograph and a prime piece of the jersey, such as a logo, number or nameplate swatch.
Worst Memorabilia Cards: Any Topps WWE Mat Relics
Topps has done a lot of great things for wrestling trading cards over the past 11 years. Unfortunately, the company also continues to churn out thousands of mat relic cards per year, which very few collectors actually want.
Even under the best circumstances, cards with pieces of mat from Money in the Bank or SummerSlam events have a very limited appeal. But considering how often WWE changes its mat during a big show, there's a good chance the guy pictured on the card never even touched that particular mat.
It's understandable that Topps needs to insert these cards into cheaper retail products. But many collectors agree that mat relics shouldn't be included in hobby boxes.
PWTorch Collectibles Specialist Michael Moore can be reached at michaelmoorewriter@gmail.com. Follow him on Twitter @MMooreWriter.
NOW READ OUR PREVIOUS COLLECTIBLES COLUMN: Collectors Pick Favorite Figures of 2016