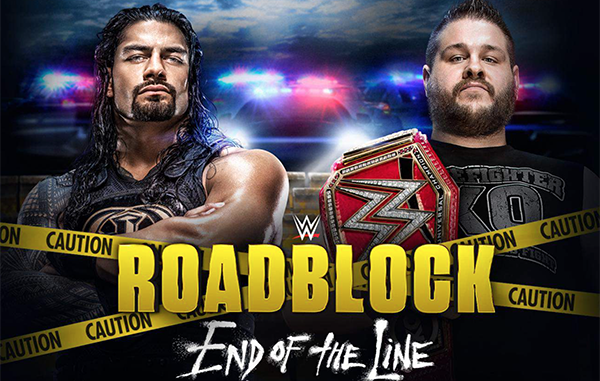 ---
SPOTLIGHTED PODCAST ALERT (YOUR ARTICLE BEGINS A FEW INCHES DOWN)...
---
It's nearly Christmas time and time for a new WWE Special Event (formerly known as a "PPV"). Now it's Raw's turn and Christmas used to mean Armageddon in WWE land. However, tonight we get "Roadblock: End of the Line."
Predicted Running Time: 2 hours 50 minutes plus 1 hour Kick-Off Show.
Rusev vs. Big Cass (Kick Off show match)
Early Betting Odds Favourite: Rusev
Steve's Prediction: Hard to go against the Bookmakers on this one. Whilst this feud has had a partial buildup (including the infamous hotel shenanigans), it still feels like what it is, a kick-off show filler. Rusev to win with The Accolade following failed interference from Enzo in 15 mins.
Follow Up: We should get Enzo vs Rusev at some point in the next few weeks. I can't see that being a Royal Rumble calibre match so may see it tomorrow on Raw.
Chris Jericho vs. Seth Rollins
Early Betting Odds Favourite: Seth Rollins
Steve's Prediction: Whilst Jericho has arguably delivered some of the best work of his WWE run in the past few months,  the past few weeks of 'Are they friends or not' seems to have run it's course. But before things come to a head at the end of the night, expect to see a failed Owens run-in attempt, allowing Rollins to win by Pedigree in 15 minutes.
Follow Up: See Main Event…
Rich Swann vs. TJ Perkins vs. The Brian Kendrick – WWE Cruiserweight Championship 
Early Betting Odds Favourite: Rich Swann
Steve's Prediction: I can't see Swann losing the title so soon, especially after some great recent outings on Raw and 205 Live. Swann to pick up the win in 20 mins with pinfall over The Brian Kendrick.
Follow Up:  Expect a TJ Perkins heal turn at some point in the match/aftermath to lead to a Swann vs Perkins run likely culminating at the Royal Rumble.
The New Day vs. Sheamus & Cesaro – WWE Tag Team Championship
Early Betting Odds Favourite: Seamus & Cesaro
Steve's Prediction: Betting odds are indicating a title change tonight (or at least a DQ/Countout loss by New Day). Now that New Day are firmly in the record books as longest reigning WWE Tag Team Champions, then I think it's the right time for a title change to freshen up the Tag Title picture. Expect Cesaro to be on fire in this match and to pick up the win with the Neutraliser in 18 mins.
Follow Up: Obligatory re-match tomorrow night on Raw with a possible title switch back or we could see interference from Anderson and Gallows in the mix.
Sasha Banks vs. Charlotte Flair – WWE Women's Championship 30 Minute Ironman Match
Early Betting Odds Favourite: Sasha Banks
Steve's Prediction: If I was a betting man then I would go against the bookmakers tonight. Whilst the WWE Women's championship has flip flopped more times than a Ric Flair turnbuckle bump lately, I think WWE will continue with their 'Unofficial Charlotte only winning on Pay Per View Events streak'. I predict a 2-1 win for Charlotte with her final submission coming in the 5 minutes overtime after tieing 1-1.
Follow Up: Time for Bayley to step up to the title picture only for Sasha to take offence tomorrow on Raw, heal turn and feud with Bayley. Leaves a gap for someone else to step up to challenge Charlotte. Maybe Nia Jax in a turn not many people will care about.
Roman Reigns vs. Kevin Owens – WWE Universal Championship 
Early Betting Odds Favourite: Roman Reigns
Steve's Prediction: I'm torn. There are two possible outcomes to this match. They either put the belt on Reigns and pull the trigger on the long overdue heal turn, or Jericho's interference dupes Reigns and the whole WWE Universe to allow Owens to retain the title and show that the best are friends are still just that.  I'm going with the latter. Roman Reigns wins by DQ in 25 minutes following Jericho's interference with 'The List'. Owens remain WWE Universal Champion.
Follow Up: Kevin Owens vs Chris Jericho at The Royal Rumble as a 'Thank You' for the assist. Reigns has to enter the Rumble to try to regain another title shot.
It's been a bumper packed year of WWE Special Events, especially since the Brand Split. Look forward to the next outing of WWE Royal Rumble in January. Happy Holidays everyone.
NOW CHECK OUT OUR RELATED ARTICLE: PPV PRIMER – WWE Roadblock End of the Line: Owens vs. Reigns, Banks vs. Charlotte, New Day vs. Sheamus & Cesaro, Rusev vs. Enzo, Braun vs. Sami