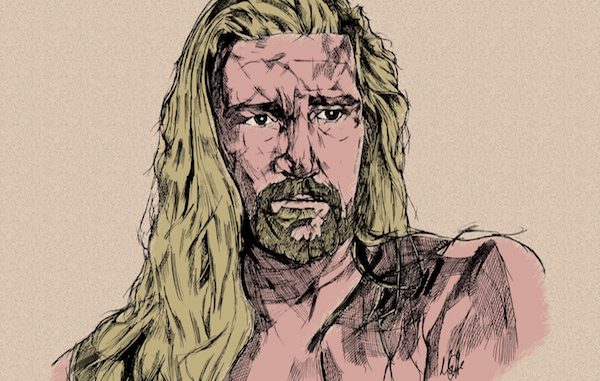 ---
SPOTLIGHTED PODCAST ALERT (YOUR ARTICLE BEGINS A FEW INCHES DOWN)...
---
HITTING THE HIGHSPOTS: CHRIS HERO 2016 RETROSPECTIVE
RELEASED BY HIGHSPOTS IN DECEMBER 2016
BY SEAN RADICAN, PWTORCH COLUMNIST
AVAILABLE AT HIGHSPOTS.COM & HIGHSPOTSWRESTLINGNETWORK.COM
"Hitting the Highspots: Chris Hero 2016 Retrospective" features Rob Naylor and Chris Hero discussing Hero's incredible 2016, as he has been red hot in the ring all across the world. Hero, who recently underwent medical testing for WWE, is expected to sign with WWE in the near future. Hero will leave a big hole on the indie scene, but WWE has signed so many people and the indies seem to still be doing well in general, as more and more talent continues to step up and take advantage of opportunities presented to them.
Hero begins the interview talking about how he prefers to put his own schedule so he knows how everything is going to go on certain trips and he doesn't use an agent. He says promotors reimburse him for his travel and he makes his own plans depending on where he's working on a given weekend. Hero keeps track of his entire year in a notebook, which he uses to help guide the interview starting in January up until the interview was recently filmed. Hero talks about how he gave himself certain weekends off and how he gives certain promotions like AAW, EVOLVE, and PWG priority when it comes to booking him.
The most interesting part of Hero and Naylor's march through 2016 up until the end of November when this was filmed isn't necessarily the match-by-match discussion, but instead it is Hero talking about the overall psychology of his matches that he's developed during his hot run where he starts off hot on his opponents and they have to take their comeback or he eats them alive. Hero and Naylor talk about how the psychology of his matches is a very human story that relates to all fields such as business and sports where you have to fight right away and there is nothing given. This psychology is especially effective because Hero is usually bigger than most of the oppoenents he faces on the indie scene.
Hero has faced many different opponents like Trevor Lee, Matt Riddle, and Zack Sabre Jr. on multiple occasions across different indie promotions and Hero talks about how he likes to make each match different. Hero talks about how he makes his matches with Sabre different for example by running through sequences in the matches in a different order from match to match. Hero's insight is illuminating, as he talks about how switching things up not only keeps the fans entertained, but it also helps he and Sabre not get bored facing each other. Hero discusses how he changed things up when facing Matt Riddle on multiple occasions in EVOLVE, as he took the fight to Riddle right away in their second match and they wrestled a sprint that was very different from their first EVOLVE match.
Highspots has access to some of Hero's footage from 2016 including some of the footage from WXW, PWG, and WrestleCon, which help enhance the interview when Hero is talking about his matches in those promotions. I enjoyed Hero talking about teaming with J.T. Dunn as Death By Elbow. Dunn is someone that wrestles locally near me all the time and really made a name for himself in Beyond Wrestling by teaming with Hero.
Hero talks about teaming with Dunn all over the place in 2016. It was really cool to listen to Hero talk with pride about how good Dunn has gotten and there's some great footage of Dunn shining with Hero against The Young Bucks in PWG and in the WXW Teague Tournament when they faced Marty Scurll & Zack Sabre Jr. in block action. Hero makes a good point when Naylor brings up how he hasn't gotten the credit he deserves and they point to the Death By Elbow vs. Matt Sydal & Ricochet match at "All Star Weekend XII: Night 2" as an example of how Dunn has improved. Hero mentions that Dunn was a big part of the finish of that match and he would have stuck out like a sore thumb if he wasn't up to par with the other big names in the match holding up his part of the bargain.
Hero has had a great run in EVOLVE and PWG in 2016, but his matches in AAW have been getting a ton of buzz. AAW is a promotion worthy of more attention and Hero talks about how he has feuded with Trevor Lee across multiple promotions and he talks about how one of his best matches of the year was against Lee in AAW.
One thing that stands out about Hero's schedule is that he gave himself weekends off in order to maintain a heck of a schedule. At one point during the interview, Hero and Naylor talk about an insane stretch where Hero went back and forth between the U.S. and Europe. Hero also talks about another stretch where he recently wrestled 11 matches in 10 days, which is mental.
Hero and Naylor have good chemistry together. Hero ribs Naylor a lot during the interview in a playful way and it is fun to watch them interact. Naylor did an insanely long interview with Hero for Smart Mark Video before Hero signed with WWE for the first time. That was a tremendous interview, but I think this one surpasses that. One of the highlights of the interview is Hero calling out Naylor for having Top 5 lists, but only mentioning one thing on the list and not filling in the rest.
Overall thoughts: (9.0) – This was a tremendous interview covering Hero's entire year minus December. Hero and Naylor do a great job of not getting lost in the minor details of each match he was in. Instead they really go in-depth painting a broader picture about the success he's had in the ring this year and why his style has worked. Hero also tells a lot of great stories about certain matches he was in. The story about using a big Dusty Rhodes head against Cody in EVOLVE back in August is a classic, but the best story he tells involves him and Tracy Smothers in IWA-MS. Both stories are best heard with fresh ears, so I won't spoil them.
You can purchase "Hitting the Highspots: Chris Hero 2016 Retrospective" on DVD by visiting Highspots.com. You can also purchase this release on MP4 at Highspots.com, on VOD at DIYWrestling.com, or watch it with your monthly subscription at HighSpotsWrestlingNetwork.com.
You can also watch Highspots titles from The Kevin Steen Show, Best Friends, CZW, PWG, and more at HighspotsWrestlingNetwork.com subscription service, which is now available on Roku. Highspots has really ramped up their offerings on the Highspots Wrestling Network in recent months, as all of their releases outside of PWG go up right away with a Highspots Wrestling Network subscription. Right now for just $9.99 per month.  
***
Email Sean at pwtorchsean@gmail.com
Like the Radican's Wrestling Community Audio Facebook fan page at Facebook.com/SeanRadicanRWC
Follow Sean on Twitter at Twitter.com/seanradican