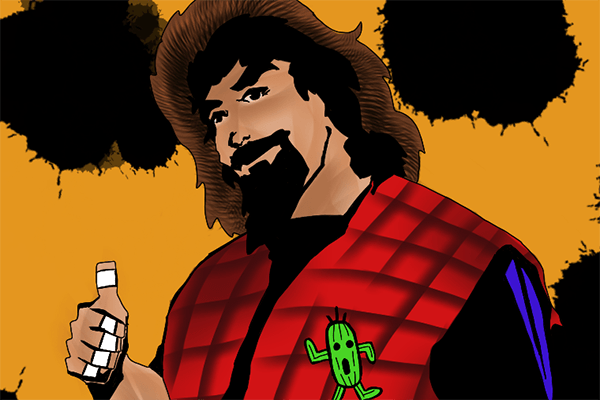 ---
SPOTLIGHTED PODCAST ALERT (YOUR ARTICLE BEGINS A FEW INCHES DOWN)...
---
Best and Worst of the Week takes a look back at the week that was in WWE and TNA. The highs. The lows. The nonsense. Basically, everything that that makes us proud and ashamed to be a wrestling fan!
WORST OF THE WEEK
5. More Sparkle Crotch
Nothing ruins a heated segment more than a grown man yelling at another grown man, "You gonna come down here Sparkle Crotch? Huh?" Thus was the tale of Seth Rollins this week on Raw. Rollins and Jericho needed to add some major heat to their upcoming "Roadblock: (*sighs deeply*) End of the Line" match, but in an attempt to really get under Jericho's skin, The Architect went back into his unfunny bag of tricks to pull out sparkle crotch once more while his promo was reaching a crescendo. There were two distinct sounds heard immediately afterwards: Vince McMahon falling of his chair laughing, and everyone else over age 12 changing the channel.
4. Enzo the Idiot
Okay, so going off of last week, we definitely know that Enzo knew a cameraman was in the motel room when he tried to hook up with Lana. This is because Lana and Rusev themselves showed the footage on Raw! This then makes you wonder: Why was he stupid enough to try to sleep with her if he knew there was a cameraman right in front of him? How was he planning on getting away with it?
WWE should have left well enough alone, as replaying the footage opened up way too many questions. Still, it makes more sense than Big Cass claiming he was wearing pants on Raw.
3. Uranus?
Gabriel Iglesias is a professional comedian. He appeared on Smackdown this week in a segment with Apollo Crews. He gets paid to be funny, and to make fun of people, and yet the shot he took at Miz's outfit this week? "What planet did you get that from? Was it Uranus?" Uranus? URANUS? That's all he had?!?
Miz rightfully responded with, "Uranus. What are you? 12?" Damn good point. That has to be one of the oldest, most tired jokes in all of existence. What made it even sadder was that Crews ate it up, acting like it was one of the most clever insults he'd ever heard. It was simply WWE's trademark lame style of humor at its worst.
2. Orton the Good Guy
Randy Orton is in the Wyatt Family. He's possessed, he does evil things while on the job, and he can't be bothered to buy a pair of overalls. But he also finds free time now and then to star on mediocre USA shows! This week WWE was put in the unenviable position of promoting Orton's "Sniper" appearance on Smackdown, by showing extensive behind-the-scenes footage of him being chummy and affable.
In a better wrestling world, Vince McMahon would have said to the network, "Are you crazy? Why would we damage our own narrative by making Orton seem like a good guy when he's a crazy psychopath on our show? Oh yeah, and cancel the third hour of Raw!" Sadly, that thought no longer occurs to him, and thus, we're left with fourth-wall-breaking nonsense on a near weekly basis.
1. Total Nonstop Deletion
It's just not worth it. Look, it was fun. I like fun! I got a few laughs out of Tag Team Apocalypto, and I was entertained throughout. But this is unsustainable. You can't build a heavily edited, engaging, two hour wrestling show built off of nothing but complete nonsense every week. At some point we have to care about the wrestlers, and the journey they're on. The Broken Matt Hardy story has none of that; it's just comedy. Mostly good comedy, but comedy.
If 500,000 people tuned into for Total Nonstop Deletion, I'd say, "Well, go for it!" But fewer people watched the show than watched the Dec. 2 edition of Impact. Yes, we saw some fun stuff like Hornswoggle and The Hurricane showing up, but we also saw Hurricane fly and Crazzy Steve get shot out of a volcano (and, you know, casually murder a dude). If he can survive being shot out of a volcano, then what the hell is a bodyslam anymore?
Don't get rid of Broken Matt, just bring this universe back to some sort of normalcy, before it becomes impossible to take any other storyline in the entire company seriously.
BEST OF THE WEEK
5. Harper Gets A Shot
Okay, so Luke Harper in the main event of SmackDown made no sense. Kane has beaten him twice, so shouldn't he (and half the roster) get a No. 1 contender opportunity before him? But this is WWE, and Vince doesn't like details. Still, it was nice to see Harper in the main event of SmackDown, and it seemed that the fans were digging him before Dean Ambrose had to ruin the fun. Perhaps management will notice, and finally treat Harper as a credible threat. Just don't get your hopes up.
4. Gallagher Announces His Interference
Gallagher continues to be the lone bright spot in the Cruiserweight Division. Perkins has underwhelmed. Swann has come off a bit strange. Kendrick is fine, but familiar. Gallagher is something new, and he's great in the role. While talking about being a gentleman should theoretically pick him up a lot of heel heat, he's so good at it, and so tongue-in-cheek, that he's winning people over. His announcement on Raw that he was about to interfere in a match was genuinely funny, and more work like that should solidify him as the most over competitor in the division in no time.
3. Familiar Faces
While I knocked Tag Team Apocalypto above, the night (and match) had quite a few fun surprises that kept things interesting. There's never a bad time for a Disco Inferno cameo, and TNA proved that on Impact. Road Warrior Animal, The Rock 'n' Roll Express, ODB, Hurricane and "Sugar" Shane Helms certainly kept things interesting as well. It's a bit of a shame there weren't more tag teams from "time and space" to join in on the fun, but that was probably a bit of a pipe dream due to all the top names having contracts with WWE or ROH.
2. Foley and Zayn
This storyline is a bit convoluted as we've seen Sami Zayn go to toe-to-toe with John Cena and Kevin Owens for extended periods of time, and hell, we saw Braun Strowman taken down by Shane McMahon, so the idea them facing off shouldn't feel like a death sentence. However, Zayn showing some fire for an extended bit on Raw opposite of Mick Foley was long overdue, and that earns him a hit.
If Zayn is going to be the next great underdog character on the main roster, he needs to make us believe that he can actually overcome the odds now and then, which Raw accomplished nicely. This was also some of Foley's stronger work lately. Yes, he once again screeched his way through a segment, but it at least matched Zayn's intensity, so he didn't feel like an unhinged maniac for once.
1. New Day Breaks The Record
Sorry to complain in the hits again, but this story is also too messy to fully embrace. New Day acted like heels the past few weeks by protecting their titles at all costs, and now we're supposed to celebrate with them? Either WWE got cold feet on a heel turn, or it's still coming soon or their heelish ways were simply due to bad writing. All three scenarios feel equally possible.
While we can lament the fact that New Day is a trio of jokesters, and the tag division itself is largely a big, dead fish in the middle of the road, for at least one night, WWE took things seriously and gave Raw an interesting hook that ended the night on a dramatic and exciting note. If only they could be bothered to do that more often.
NOW CHECK OUT LAST WEEK'S ARTICLE: BEST AND WORST OF THE WEEK (Thru 12/9): Enzo-Rusev, Snow-Shera, Corbin, Big Show gives up, Nakamura-Joe, Sandow/Rex
---
(This is a new edition of Andrew Sousek's new "Best & Worst of the Week" feature. It will run on a weekly basis right here at PWTorch every weekend.)